Blueberry Surprise Lemon Cupcakes are a light lemon based cupcake, filled with fresh blueberry jam and topped with a lightly sweet buttercream frosting.
Disclosure: This post contains affiliate links. Please read my Disclosure Page for more information.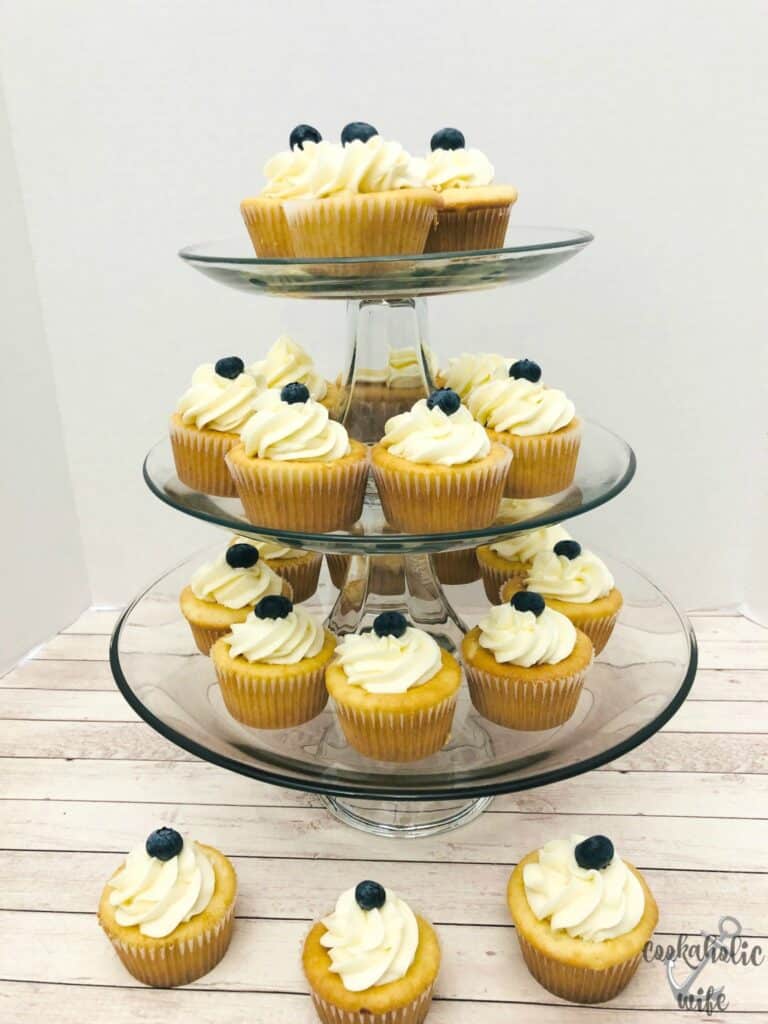 Cupcakes are my favorite dessert to make. I've made a ton of them recently and they've all been gobbled up in a very short period of time, so I feel like I must be doing something right. My mom is having her annual family pool party next weekend and I'm making cupcakes for that. Then in August, we're having a family party for my aunt and uncle's birthday and I've been requested to make cupcakes for that.
My favorite part about these cupcakes, and the Strawberry Lemonade ones I made recently, are that you get a surprise in the center. Filling cupcakes with curd or jam makes them so much more delicious and no one knows it's in there so they're totally surprised when they bite into it and get that additional sweet burst of flavor.
Lemon and Blueberry are such a classic pairing that I couldn't pass up using it for these cupcakes. Since I made them for Blueberry Week, I did keep the lemon flavor mild and instead let the blueberries shine.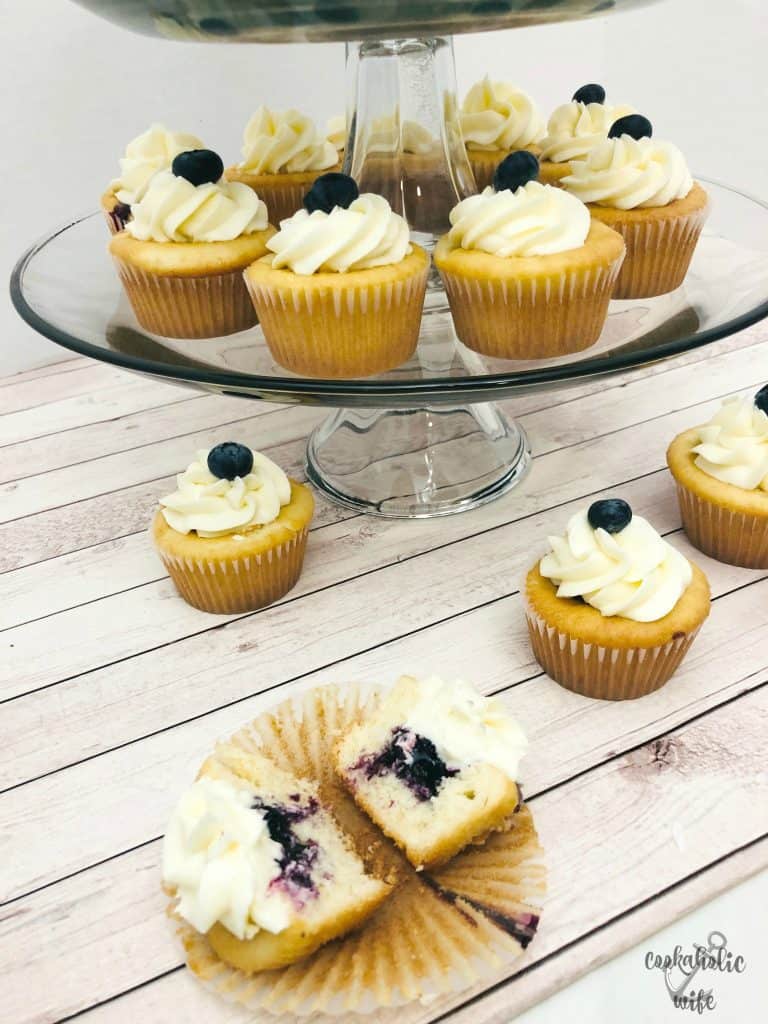 FROM SCRATCH CUPCAKES VS. BOX MIX
For me, it's all about timing. Of course I would love to make every single cupcake I make from scratch, but sometimes that just isn't possible. Box mix isn't a bad thing to use and it's really easy to dress it up and make it appear to be homemade. Also, you don't have to worry about softening butter or letting eggs come to room temperature when you use a box mix. And you know that unless you way over or under fill the cupcake pan, you're getting exactly 24 cupcakes.
TRICKS TO MAKING BOX MIX BETTER
Personally, Duncan Hines is my preferred box mix for cupcakes and cake. I think it tastes the most similar to a from scratch recipe.
Replace the water in the recipe with whole milk
Add a teaspoon of extract (vanilla, lemon, almond, peppermint, etc)
Add in a ¼ teaspoon of salt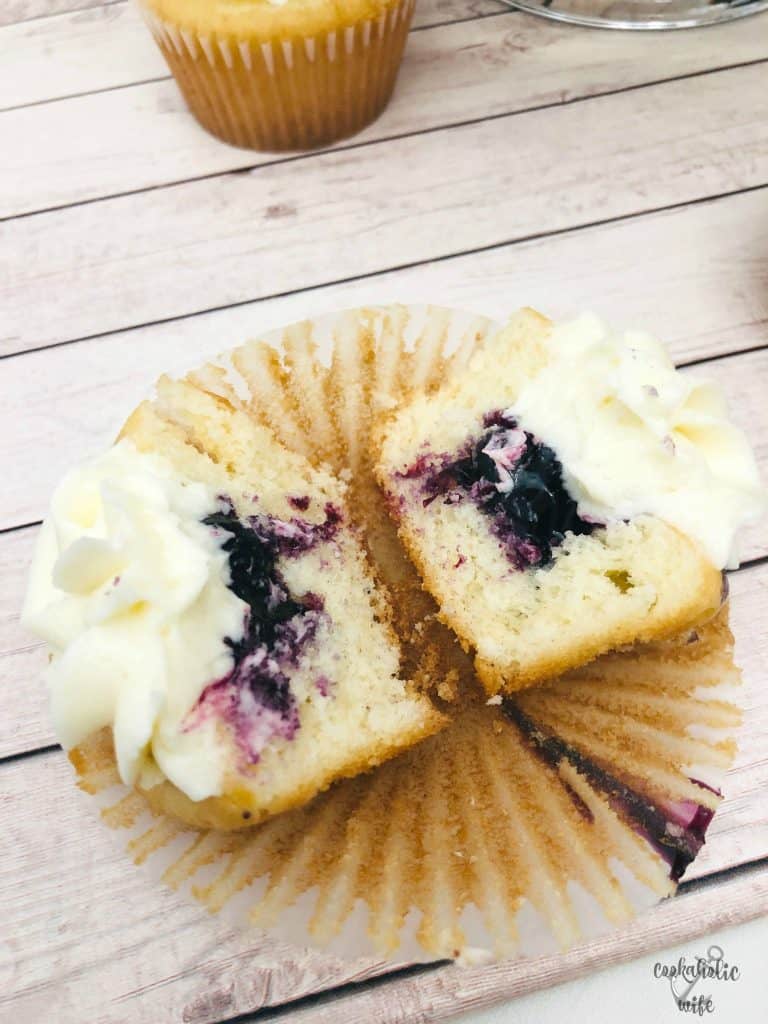 BLUEBERRY COMPOTE FILLING
It doesn't take very long to make a fresh fruit compote, like this blueberry one, but it does need to set up in the refrigerator before you can add it to the cupcakes. I'd suggest making it the night before. But if you don't have time for that, simply buy a good quality blueberry jam or preserves to fill the cupcakes with.
BUTTERCREAM FROSTING
A boxed cupcake needs a homemade element and I always, always, always make a buttercream frosting. To be able to pipe a tower of frosting on top of your cupcakes, you'll need 2 ½ to 3 sticks of unsalted butter. Most recipes that call for that much butter call for 7-8 cups of powdered sugar. I must have been a dentist in a previous life, because I just can't do that. I use 6 cups at at absolute most but usually end up with 5 cups. Adding a little salt to my buttercream is my secret. It cuts through the sweetness and just makes the cupcake better in my opinion.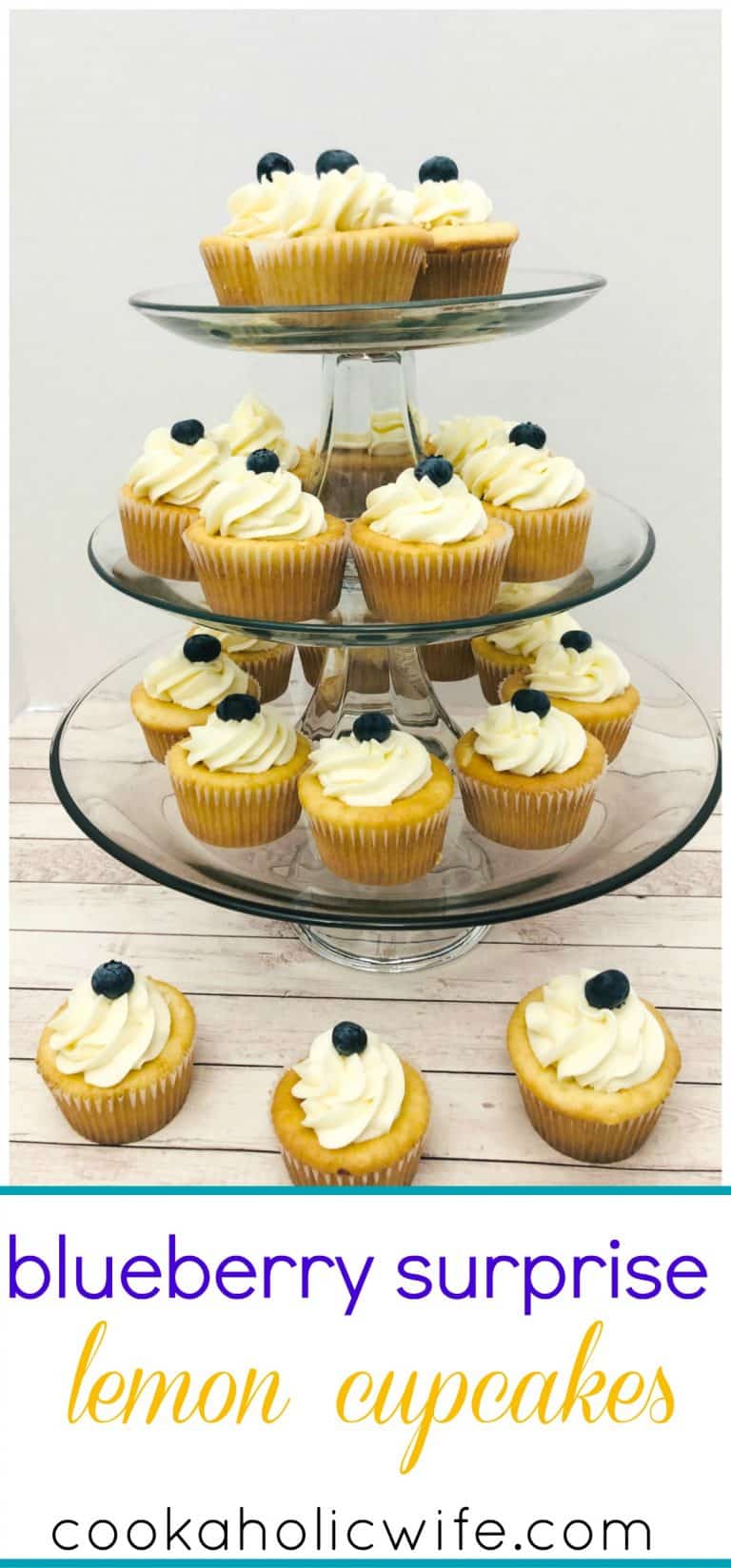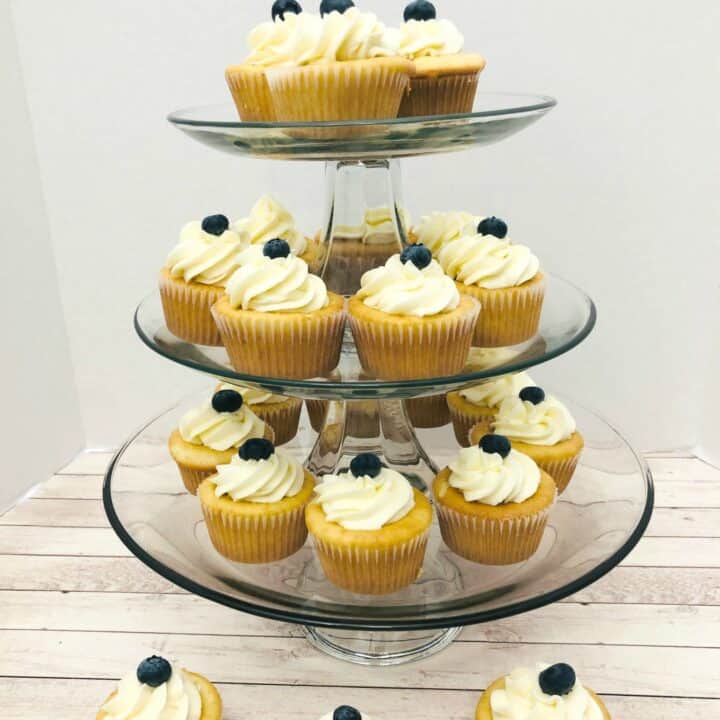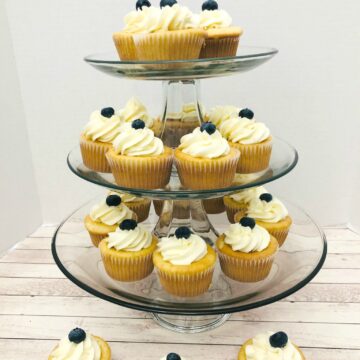 Blueberry Surprise Lemon Cupcakes
Blueberry Surprise Lemon Cupcakes are a light lemon based cupcake, filled with fresh blueberry jam and topped with a lightly sweet buttercream frosting.
Ingredients
For the Blueberry Compote:
10

oz.

frozen blueberries

⅓

cup

sugar

2

tablespoon

cornstarch

1

tablespoon

lemon juice
For the Cupcakes:
15.25

oz.

box Duncan Hines yellow cake mix

3

large eggs

1

cup

milk

⅓

cup

vegetable oil

1

tablespoon

Adam's lemon extract

zest of ½ a lemon
For the Frosting:
3

sticks unsalted butter

at room temperature

5

cups

powdered sugar

1-2

tablespoon

milk or cream

1

teaspoon

salt

½

teaspoon

Adam's lemon extract

Optional: fresh blueberries

for garnish
Directions
For the Blueberry Compote:
Combine all of the ingredients into a medium saucepan over medium low heat.

Bring to a simmer, about 10 minutes, stirring occasionally to incorporate all of the ingredients.

Once simmering, turn it down to the lowest setting your stove goes and allow it to thicken, anywhere from 5-10 minutes.

Once thickened, transfer to a container and refrigerate for at least an hour, but up to 3 days.
For the Cupcakes:
Preheat the oven to 350 degrees and line two cupcake pans with paper liners.

Add the dry boxed cake mix to the bowl of a stand mixer, along with eggs, milk, oil, extract and zest.

Mix for 2-3 minutes on low speed or until no lumps remain.

Divide batter into the prepared cupcake pans, filling each about ⅔ of the way full.

Bake for 18-21 minutes or until lightly golden. Remove from the oven and transfer cupcakes to a wire rack to cool completely.

Once cooled, use a sharp knife to cut a hole out of the top of each cupcake. Spoon the cooled blueberry compote into the center of each, about a teaspoon in each one.
For the Frosting:
Add the butter to the bowl of a stand mixer and beat on medium speed for 3 minutes.

Add in the powdered sugar, 1 cup at a time, waiting until each cup is fully incorporated before adding the next.

Add in 1 tablespoon of milk, the salt and the lemon extract and mix until combined. If the frosting is still thick, add the additional tablespoon of milk and more as needed until it reaches your desired consistency.

Transfer the frosting to a piping bag fitted with a large tip. Pipe frosting onto cupcakes and garnish the top of each with a fresh blueberry if desired.
Notes
Cupcakes could also be topped with yellow and/or blue sprinkles, lemon zest or a candied lemon in place of a blueberry.
Recipes on Cookaholic Wife are for information purposes only. Nutritional Data provided has not been evaluated by a nutritionist.
PRODUCTS USED FOR BLUEBERRY SURPRISE LEMON CUPCAKES
Family Around the Table and Christie from A Kitchen Hoor's Adventures for hosting #BlueberryWeek. More than 20 top notch bloggers are sharing a variety of blueberry recipes from breakfast to dessert. Follow #BlueberryWeek on social media so you don't miss one delicious recipe.
Breakfast
Dinner
Dessert