Disclaimer: I receive free products to use in my recipes. All thoughts and opinions are my own

I think every state has a dessert known to their state, right? In Maryland, it is the Smith Island Cake.
Among other things, Maryland is known for the Eastern Shore, where fishing and catching crab is not just a weekend event, but a way of life. Near the bottom of the state, on the Chesapeake Bay is a 400-year old island, named Smith Island. There are only 250 residents on the island and it's only accessible by ferry or boat. There are no cars on the island.
The island is a fishing community and the story goes that in the 1800's the wives of the fisherman would create this thin layered yellow cake topped with a chocolate fudge frosting and send it with their husbands when they went out for the annual oyster harvest. But it took until 2008 before Maryland declared the cake it's State Dessert.
No one knows for sure who decided that the cake should have so many layers, but it cannot be considered a Smith Island cake unless there are at least 8 thin layers, but up to 14 of them. It's an ambitious cake for any blogger to make.
Especially one who isn't very good at frosting cakes, which is what came to mind at 9:57 pm when I was carefully placing the fourth layer of the cake on top of the third. I'll admit, this cake isn't perfect. The layers should be thinner and I should have used a fudge frosting. I also can't get the perfectly smooth look with icing that some bloggers can, but an 8 layered cake is no easy task and I think I did pretty well.
Recipe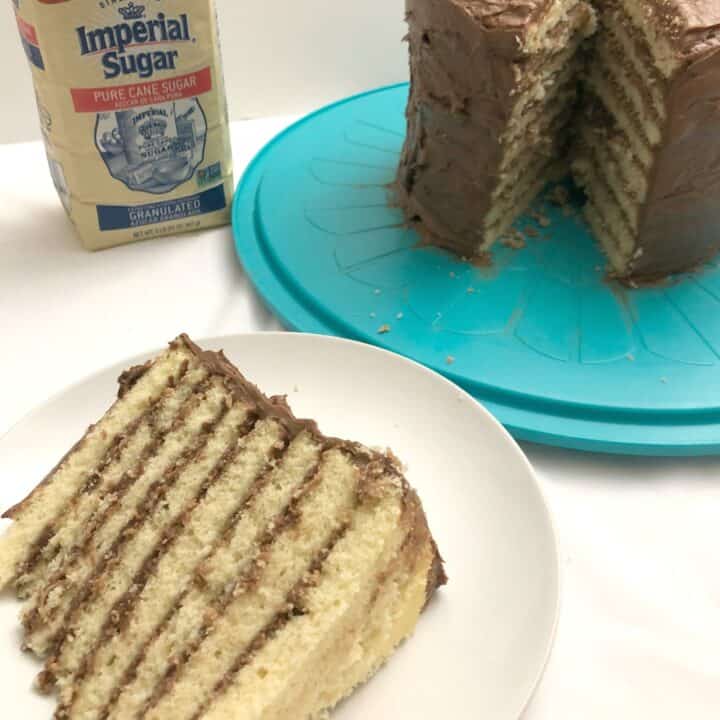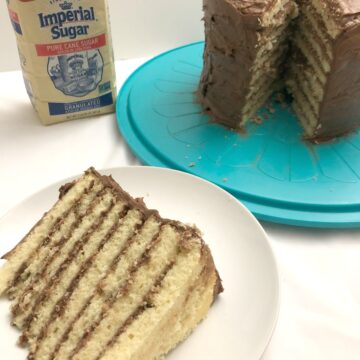 #Choctoberfest: Smith Island Cake
Maryland's state dessert is the Smith Island cake, an 8+ layer traditionally yellow cake with chocolate fudgey frosting.
Ingredients
for the cake:
3

cups

all purpose flour

1

heaping teaspoon baking powder

½

teaspoon

salt

2

sticks unsalted butter

at room temperature, cut into small pieces

2

cups

white sugar

such as Imperial Sugar

5

large eggs

1 ½

cups

evaporated milk

2

teaspoon

vanilla extract

½

cup

water
for the frosting:
3

sticks unsalted butter

at room temperature

3

tablespoon

cocoa powder

1

teaspoon

salt

7-8

cups

powdered sugar

such as Imperial Sugar

2-3

tablespoon

milk

2

teaspoon

vanilla extract
Directions
1. Preheat the oven to 350 degrees. Grease 8 8-inch round cake pans or as many as you have, using again as needed.

2. Sift together the flour, baking powder and salt.

3. Add the butter and sugar to the bowl of your stand mixer and beat on medium speed until light and fluffy. Add in the eggs, one at a time, mixing until fully incorporated before adding the next one.

4. Reduce the mixer speed to low and sift ½ cup of the flour mixture in, followed by a little bit of the evaporated milk, repeating until both are used, ending with the flour. Finish with the vanilla extract and the water.

5. Fill each cake pan with a scant ⅔ cup of batter, spreading it evenly over the pan. Tap the pans on the counter to release any air bubbles.

6. Bake for 8-9 minutes or until just golden around the edges and starting to pull away from the pan. Repeat with any remaining batter until you have at least 8 layers of cake baked.

7. Allow cakes to cool in their pans. Meanwhile, prepare the icing.

8. Add the butter and cocoa powder to the bowl of a stand mixer. Beat on low speed until combined, then add in the salt.

9. Add in the powdered sugar ½ cup at a time until fully incorporated. Add milk and vanilla extract to thin out the frosting. If it is too thick, add more milk. If it is too thin, add more powdered sugar.

10. Turn out one layer of cake onto a cake stand. Spread ½ cup frosting on top and spread to the edges. Repeat with each layer of cake. Don't worry if the cake breaks, you won't be able to tell once it is all together.

11. Spread frosting over the top and down the sides of the cake, using an offset spatula to make it smooth.

12. Using a large serrated knife, slice halfway into the cake and cut a thin wedge. Serve cake on its side to showcase the layers.

13. Refrigerate if you are not serving right away.
Recipes on Cookaholic Wife are for information purposes only. Nutritional Data provided has not been evaluated by a nutritionist.
I have really bad luck with fudge-like frostings so I decided to go against what is standard in the cake and use a buttercream instead. I found out that buttercream was initially used, but then it was changed to a fudge frosting because it would last longer for the fisherman.
Since it's not the 1800's and I'm only taking half of this cake into work for my coworkers, I think the Smith Island residents will forgive me.
I won't lie, I was cringing and incredibly scared to cut into this cake, but I forced myself to do it and gasped. While assembling the cake I couldn't tell if it was going to turn out looking like the ones I've seen online or had in a restaurant, but it did!
Imperial Sugar is the gold sponsor of #Choctoberfest and they are incredibly generous, sending ALL of the bloggers 88 pounds of sugar. Yes, you read that right. Eighty-eight pounds. Which of course, we turned into a hashtag on social media and I think most of us even ended up apologizing to our UPS delivery person for hauling that from the truck to our front doors. 😀
Don't forget to enter the giveaway! You can find it on Monday's welcome post, here.