I know that stuffing made using cranberries, walnuts, pecans, sausage, oysters, etc. are pretty popular, but I've never had any type of stuffing other than ones very similar to the Old Fashioned Celery and Onion Stuffing I shared with you on Monday. Stuffing is simple – bread, celery, onions, stock, seasonings. There's no need to make it fancy.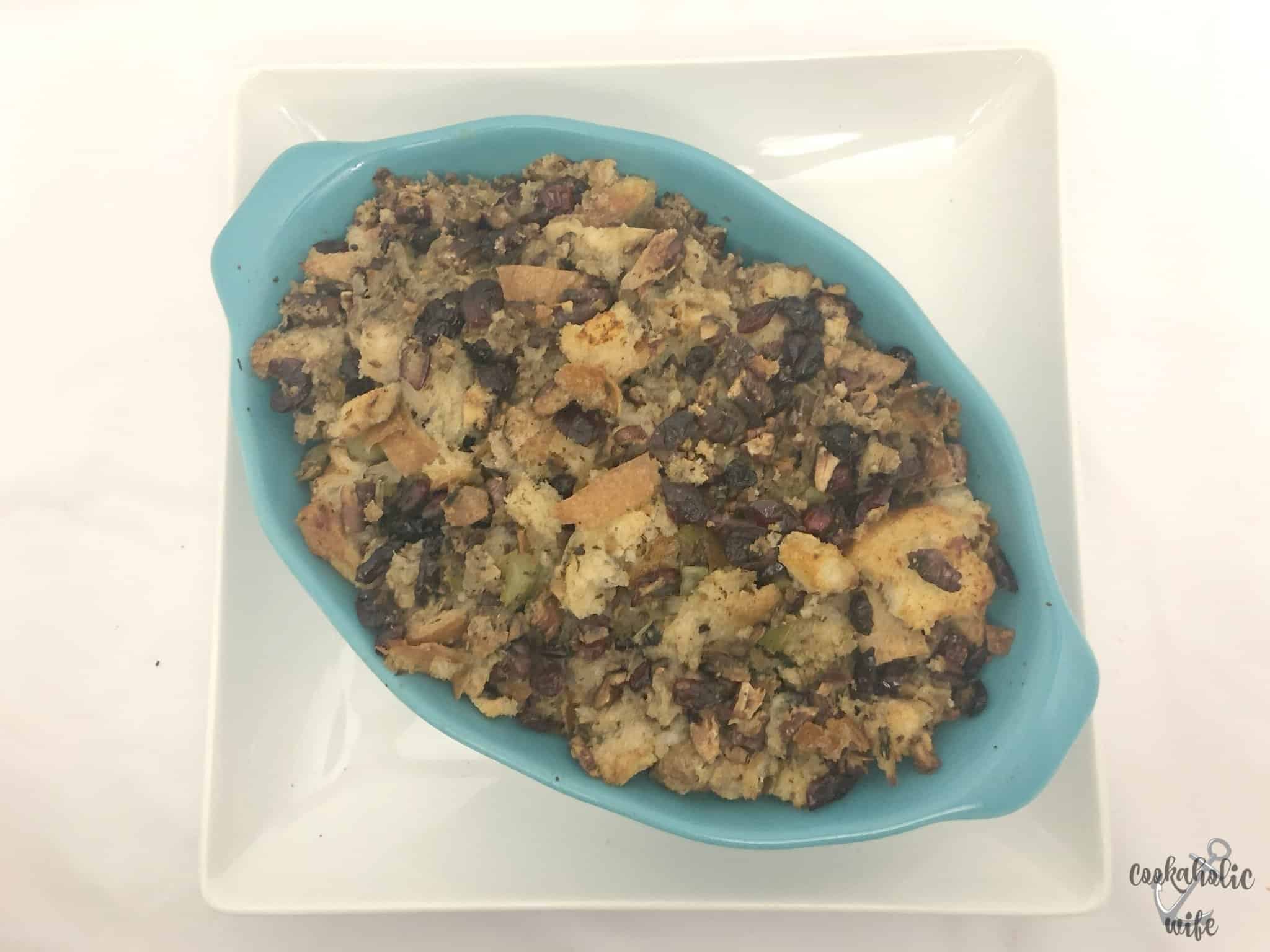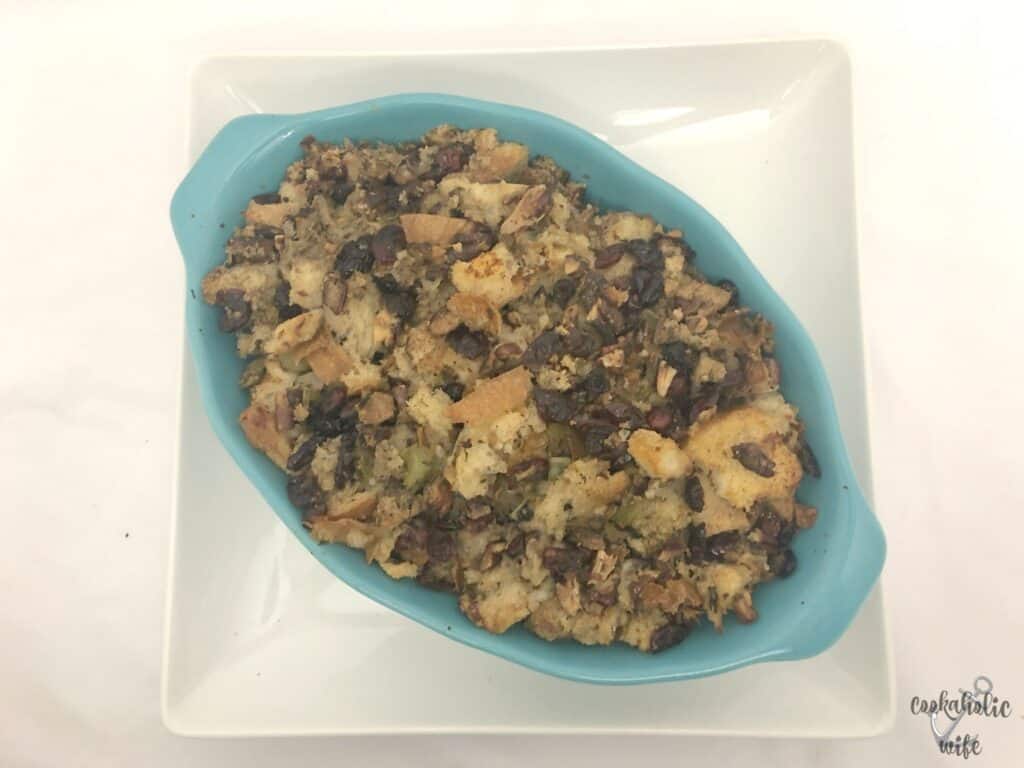 Well, at least I used to think that. And then I was thinking about what we could eat with a cherry pork loin that I had planned for dinner and I realized I still had a lot of ingredients left to make up another batch of stuffing and maybe I should take a chance on a sweeter version using dried cranberries and toasted pecans.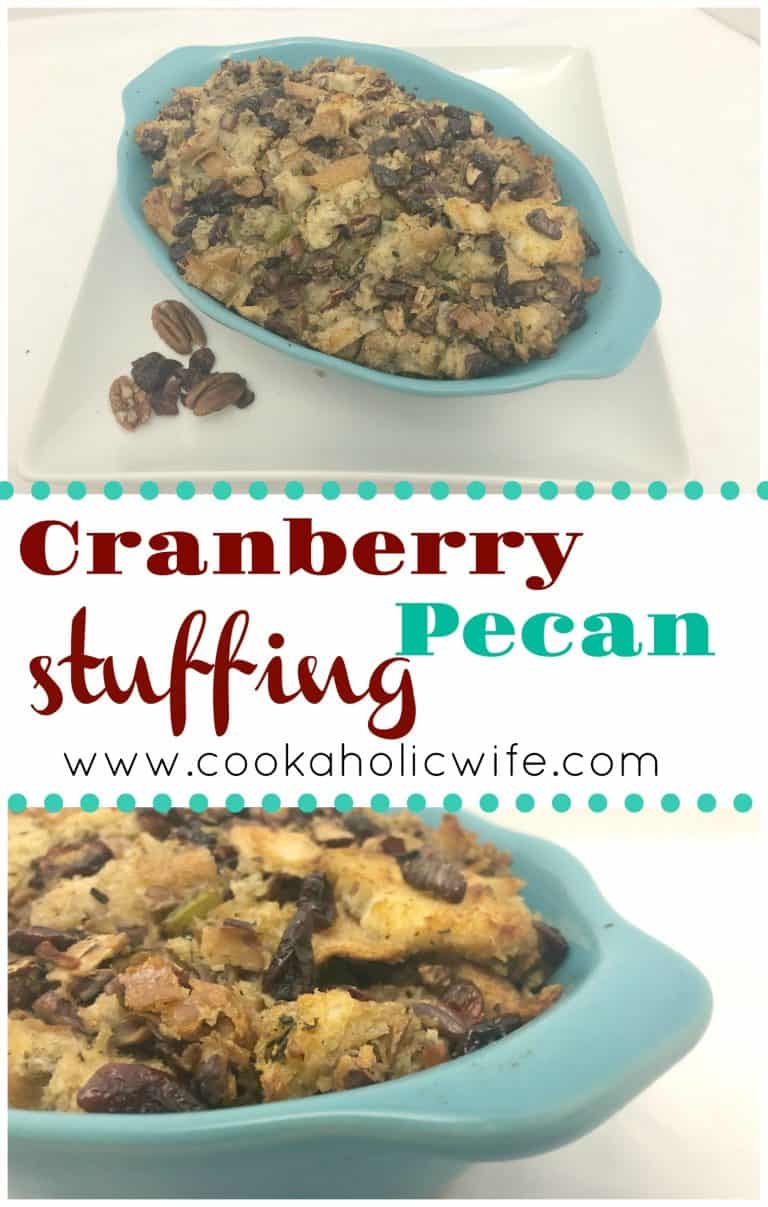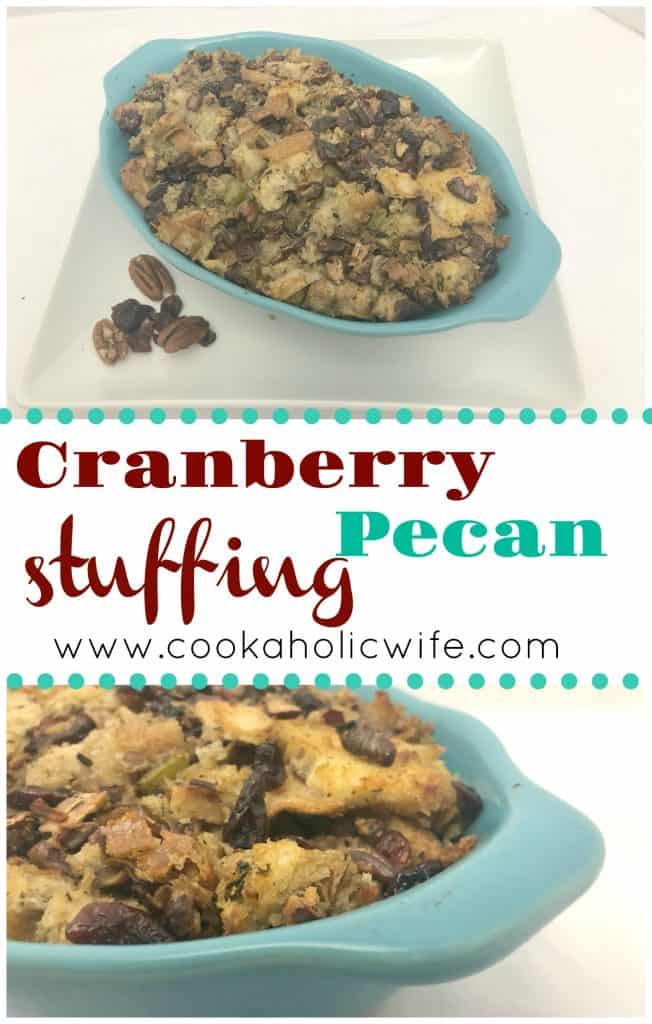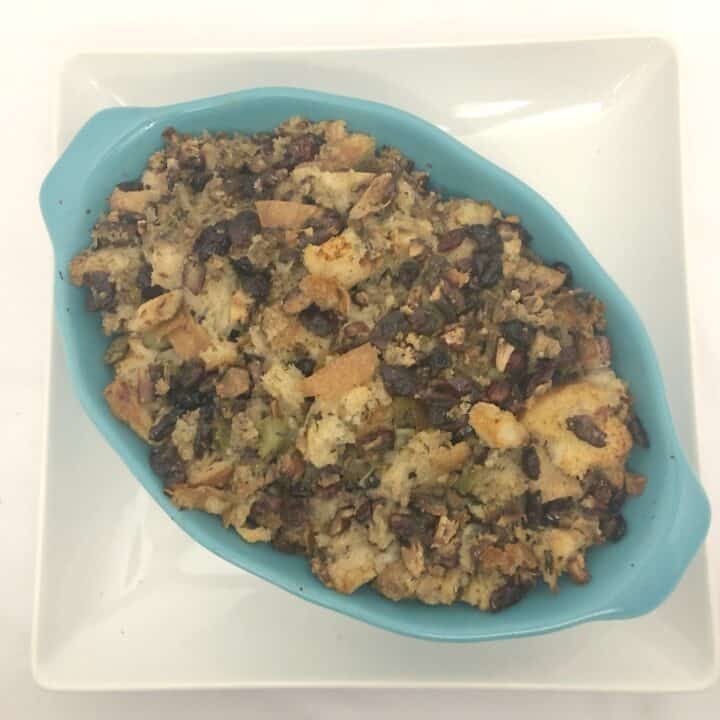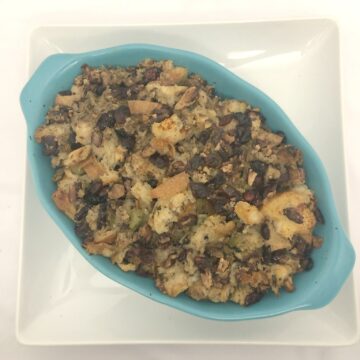 Cranberry Pecan Stuffing
A simple stuffing recipe is dressed up with dried cranberries and toasted pecans.
Ingredients
2

tbsp

butter

1/2

cup

celery

diced

1/2

cup

onion

diced

1

tbsp

fresh sage

chopped

1

tsp

kosher salt

1

tsp

black pepper

6

slices

slightly stale bread

broke into pieces

1 1/2

cups

stock

vegetable, chicken, turkey

1/2

cup

toasted pecans

chopped

1/2

cup

dried cranberries
Directions
Preheat oven to 350. Spray a 2 quart baking dish with cooking spray.

Melt the butter in a medium skillet. Add the celery and onions and cook until softened. Stir in sage, salt and pepper. Cook 1 minute more then remove from the heat.

Add celery and onion mixture to a large bowl, along with the bread. Add in stock until moistened. Mix in pecans and cranberries.

Transfer mixture to the prepared bowl.

Bake for 20-25 minutes or until lightly toasted on top.
Recipes on Cookaholic Wife are for information purposes only. Nutritional Data provided has not been evaluated by a nutritionist.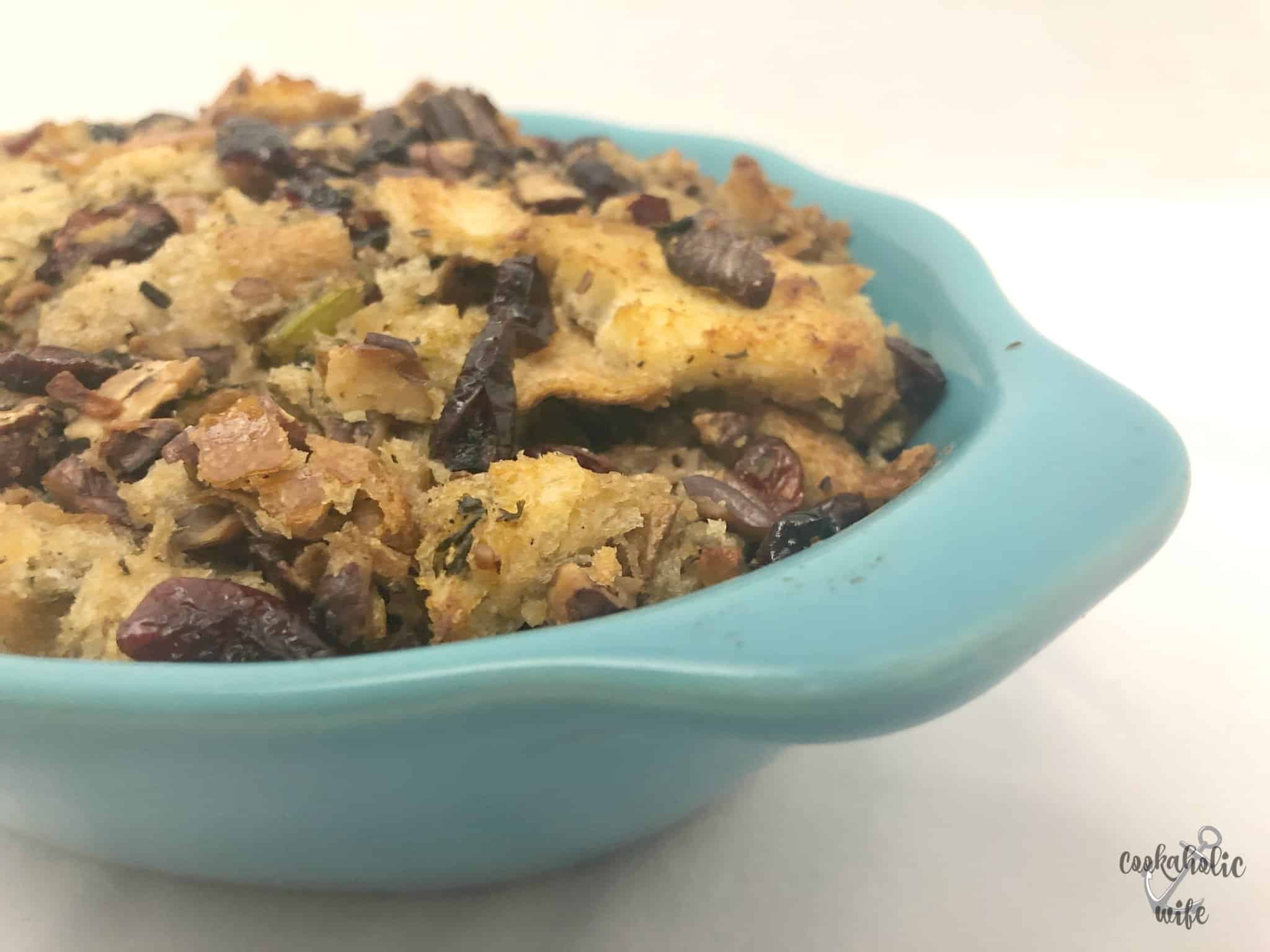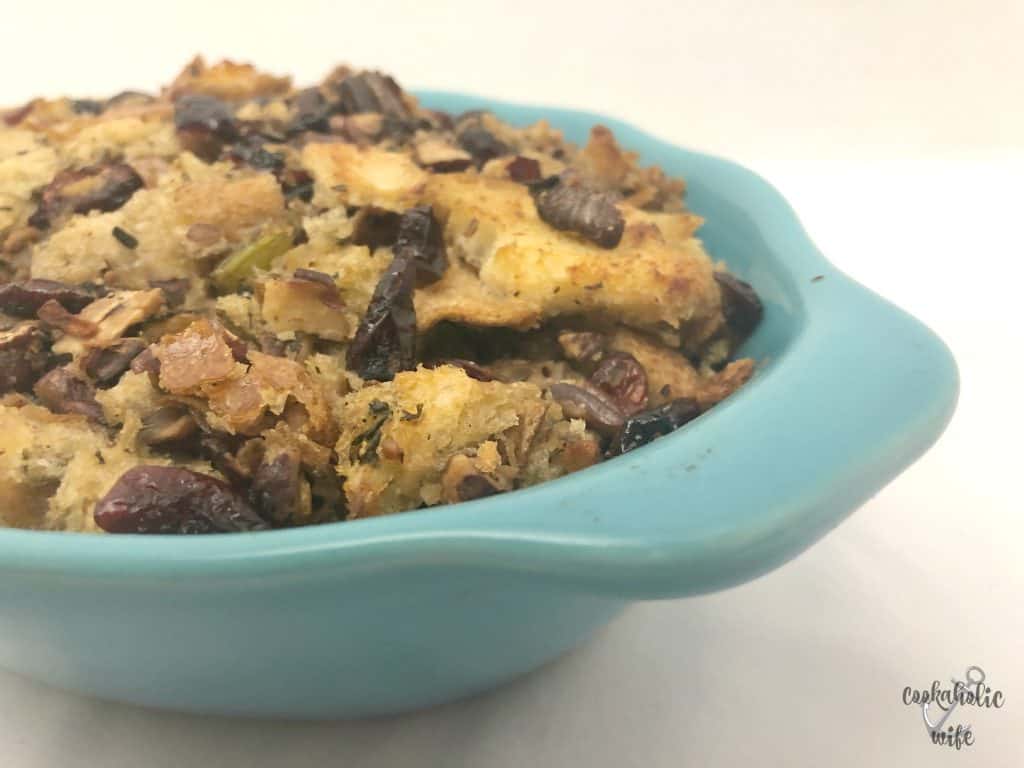 This stuffing paired really, really well with the cherry pork loin I made. I'd actually consider replacing the cranberries with dried cherries if I made this again. Tom wasn't a huge fan of it but he did think it went really well together. I served this with a simple side of green beans.
If you're looking for a slightly different take on stuffing to serve on Thanksgiving, I hope you'll give this one a try.