Ever since Tom mentioned that he was going to make a real effort to eat vegetables, I've been determined to make him try as many things as possible that he would never eat before. Cranberry sauce is one of them. I figured if I added enough sugar, he'd definitely eat it and I was right!
Recipe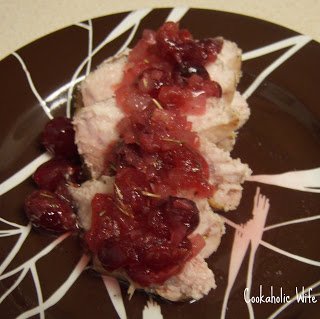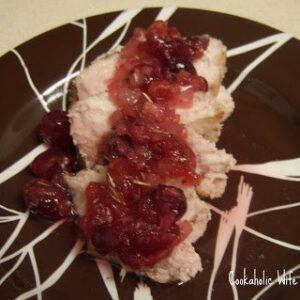 Pork Loin with Cranberry Sauce
Ingredients
Cranberry Sauce:
½

cup

fresh cranberries

½

cup

cranberry juice

½

cup

sugar
Pork:
1

lb.

pork tenderloin

fat trimmed

1

small onion

chopped

1

cup

chicken broth

1

tsp.

dried rosemary

olive oil

salt and pepper

to taste

½

cup

cranberry sauce
Directions
Cranberry Sauce:
1. Bring the cranberry juice and sugar to a boil in a saucepan over medium heat.

2. Add the cranberries and reduce the heat to medium-low. Cover and let simmer for 10 minutes or until the mixture has thickened.
Pork:
1. Preheat the oven to 425.

2. Heat olive oil in a skillet over high heat. Season both sides of the pork with salt and pepper.

3. Place the pork in the skillet and sear for about 1 minute on each side until a brown crust forms.

4. Transfer the pork to a roasting dish and place in the oven. Cook for approximately 20 minutes or until the pork reaches 160 degrees.

5. Add about 1 tbs. of olive oil to the pan and saute the onions until they become tender. Add the chicken broth and rosemary, stirring well to combine.

6. Add the cranberry sauce in and cook for 5 minutes. Remove from the heat and let thicken.

7. Remove the pork from the oven and let rest on a cutting board for 5 minutes. Slice the pork and serve with the cranberry sauce on top.
Recipes on Cookaholic Wife are for information purposes only. Nutritional Data provided has not been evaluated by a nutritionist.
I really love cranberry sauce and now that I know Tom will eat it too, I will definitely make this recipe and others a lot more often. I served this with roasted red potatoes in garlic sauce and green bean casserole.