Easy Homemade Apple Pie is the classic American dessert. Sweet and tart apples are sliced up and baked into a flaky pie crust for the perfect slice of deliciousness! 
Ten years ago today, I shared my first recipe with you, an apple pie. I've probably made at least 30 apple pies since then, each a little bit different than the last one. Seeing as it has been 10 years since I started Cookaholic Wife, it only seemed fitting to mark the occasion with how it started.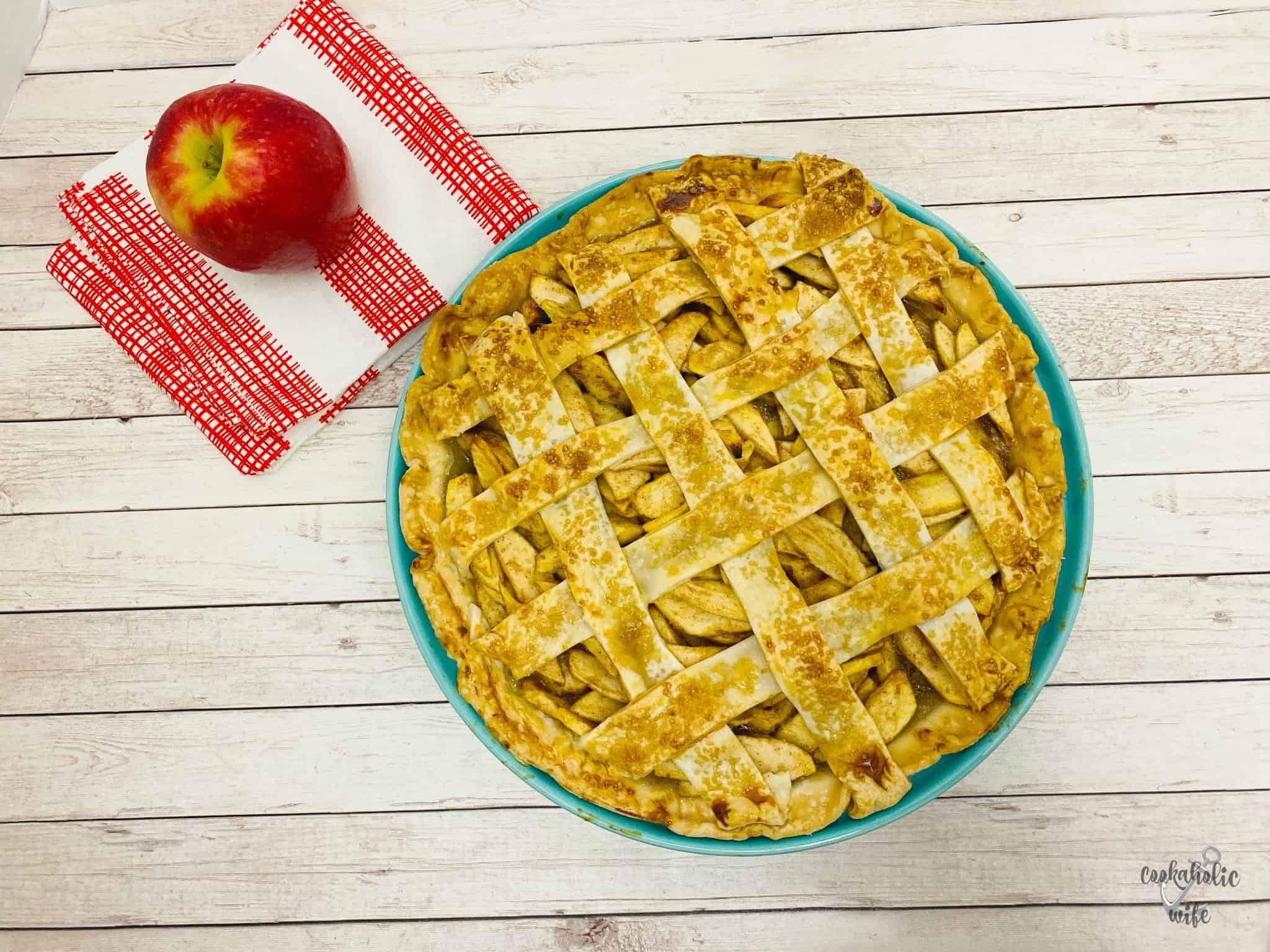 Apple pie is the second dessert I learned how to make from scratch. The first was black bottom cupcakes. Some apple pies that I've made have included making the crust from scratch, others haven't. Some have had lattice tops and others have had a full pie crust top. Today I wanted to share an easy go-to version that I've made a bunch of times.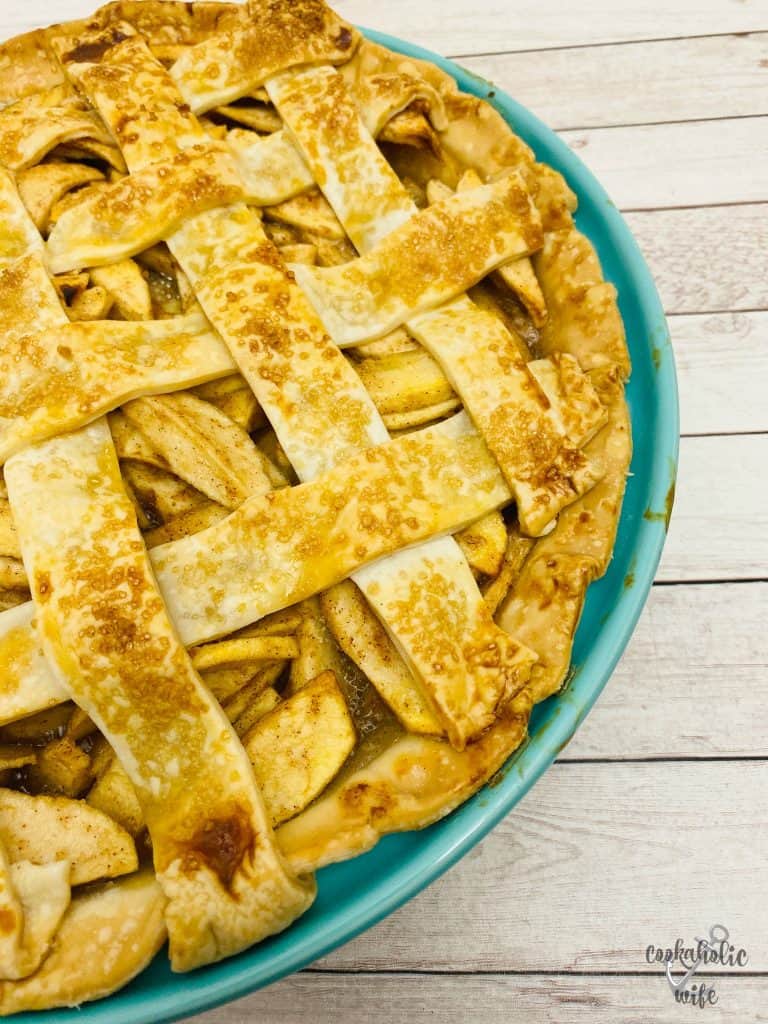 But before we get to the pie, let's talk about the blog for a minute, shall we? Back in 2009, it felt like everyone had started blogging, especially food blogging. I had started cooking and baking a lot more then, as Tom and I had recently moved in with each other. Combining that with my love of writing (and talking), it only seemed fitting to start my own food blog.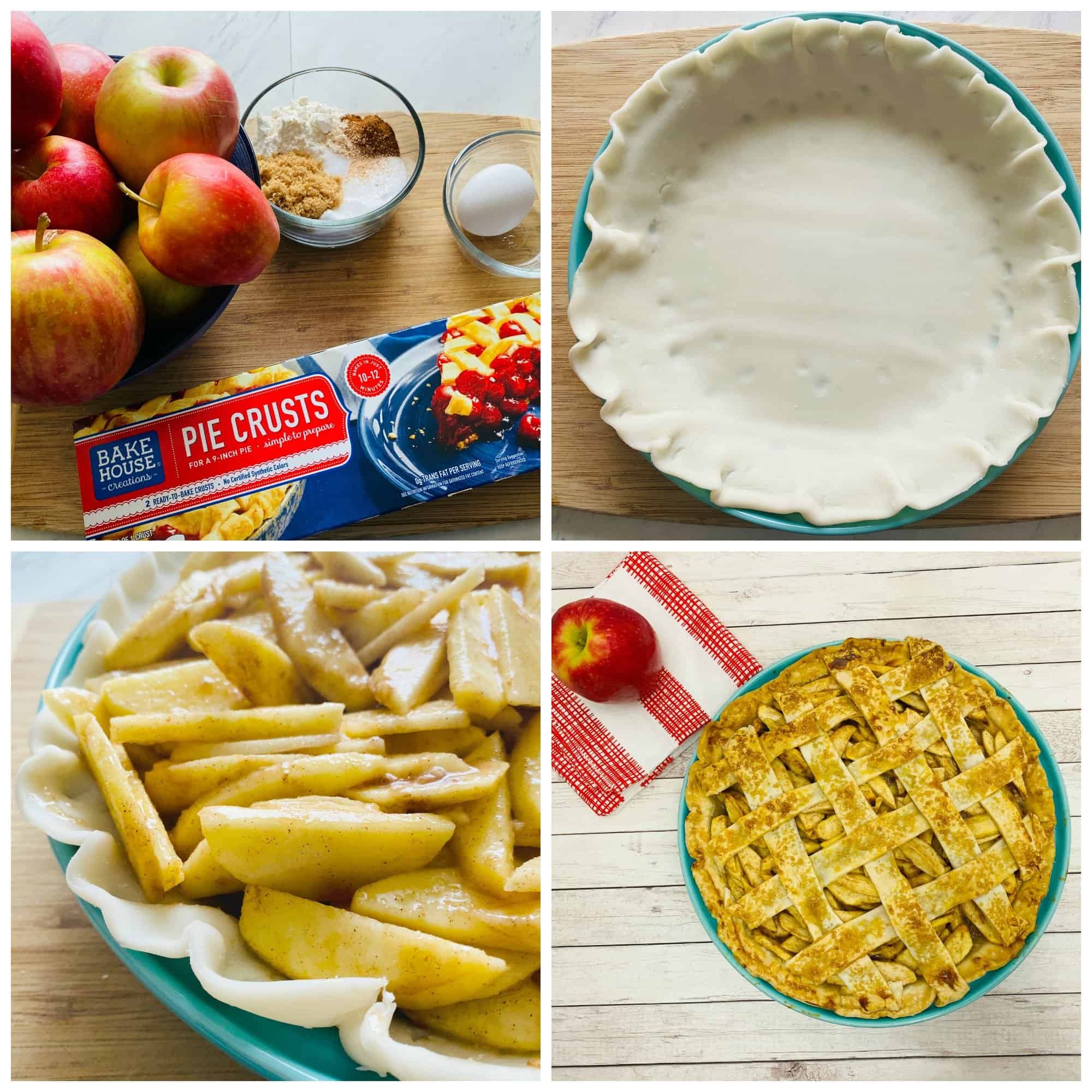 I've learned a ton along the way and blogging has changed pretty significantly. Back then, you (mostly) blogged food because you liked doing it. Now, it's much more than that. There's a technical side that I admit to barely understanding and just barely keeping up with. SEO, readability, ads, hero shots, call to action...none of this was really even a thing yet. Hell, Pinterest and Instagram weren't EVEN A THING when I started blogging.
Cue "now back in my day" comments...
Anyway, I know some of you have been around from the beginning. Some of you drop in randomly and some of you are new. But to share my appreciation of you, for however long you have been following along, I have a giveaway.
It's nothing fancy, to be honest. It'd be cool if I could give you a mixer, or an Instant Pot, or an air fryer, but that's not gonna happen. Instead, I'd like to give you products that I love and that are from my home state of Maryland. But before I share what I'm giving you let's talk about this apple pie to make my "readability" happy. 😜
WHERE DID APPLE PIE ORIGINATE?
Even though Apple Pie is known as the classic American dessert, apple pie actually originated in England way back in the 1300's. The pie became popular in America during the Civil War when soldiers from both sides scavenged for the ingredients and made pie. The recipe gained in popularity and by World War II, there was even a saying that the soldiers were "fighting for mom and apple pie". Pretty cool huh?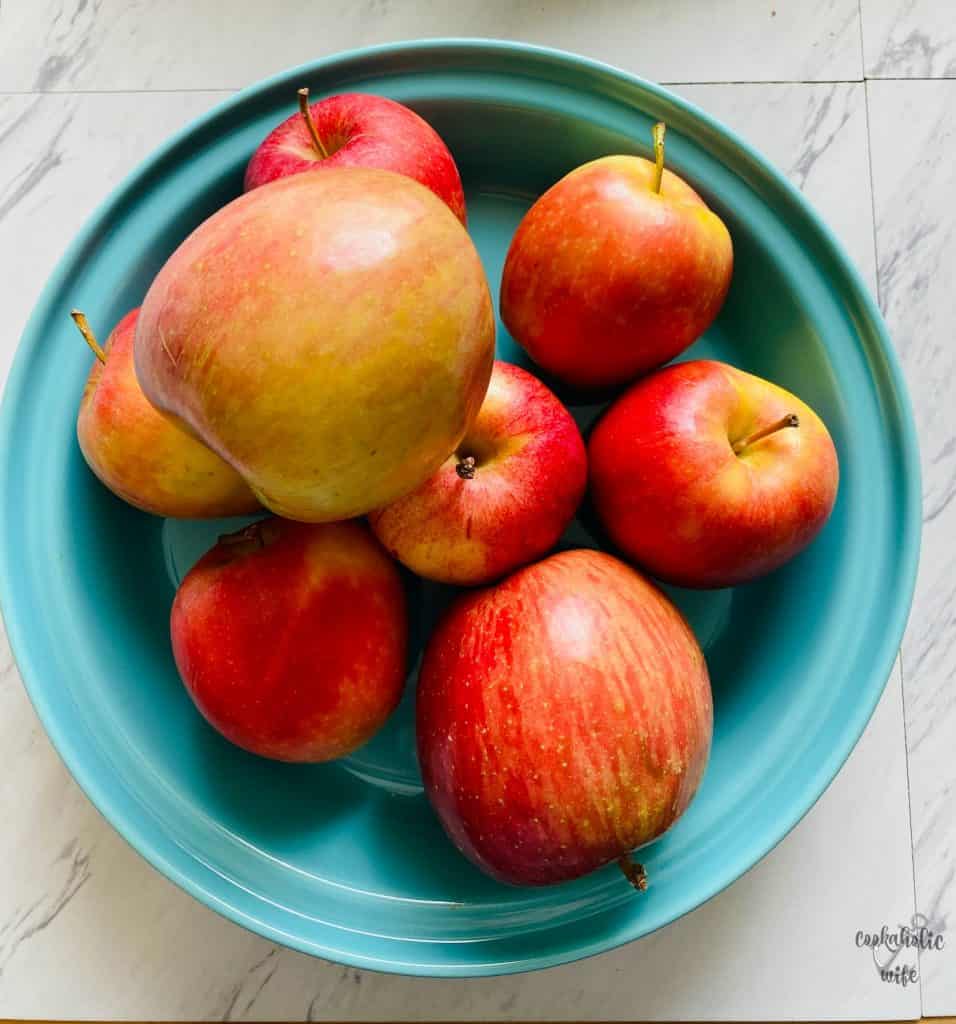 WHAT ARE THE BEST APPLES TO USE IN AN APPLE PIE?
The answer to this varies by baker, but nearly everyone agrees that a combination of sweet and tart apples make for the best apple pie. Granny Smith apples, the sour green ones, are most commonly used in apple pie. But other varieties like Golden Delicious, Pink Lady, Braeburn, Jazz and Honeycrisp are also popular. My personal favorite is the Honeycrisp. A honeycrisp apple is the perfect balance of sweet and tart, meaning you can cut back a little on the amount of sugar you add to the pie.
DOES APPLE PIE NEED TO BE REFRIGERATED?
Not immediately, but yes. After your pie has been cooked and cool completely, you can the leftovers in the refrigerator for a few days.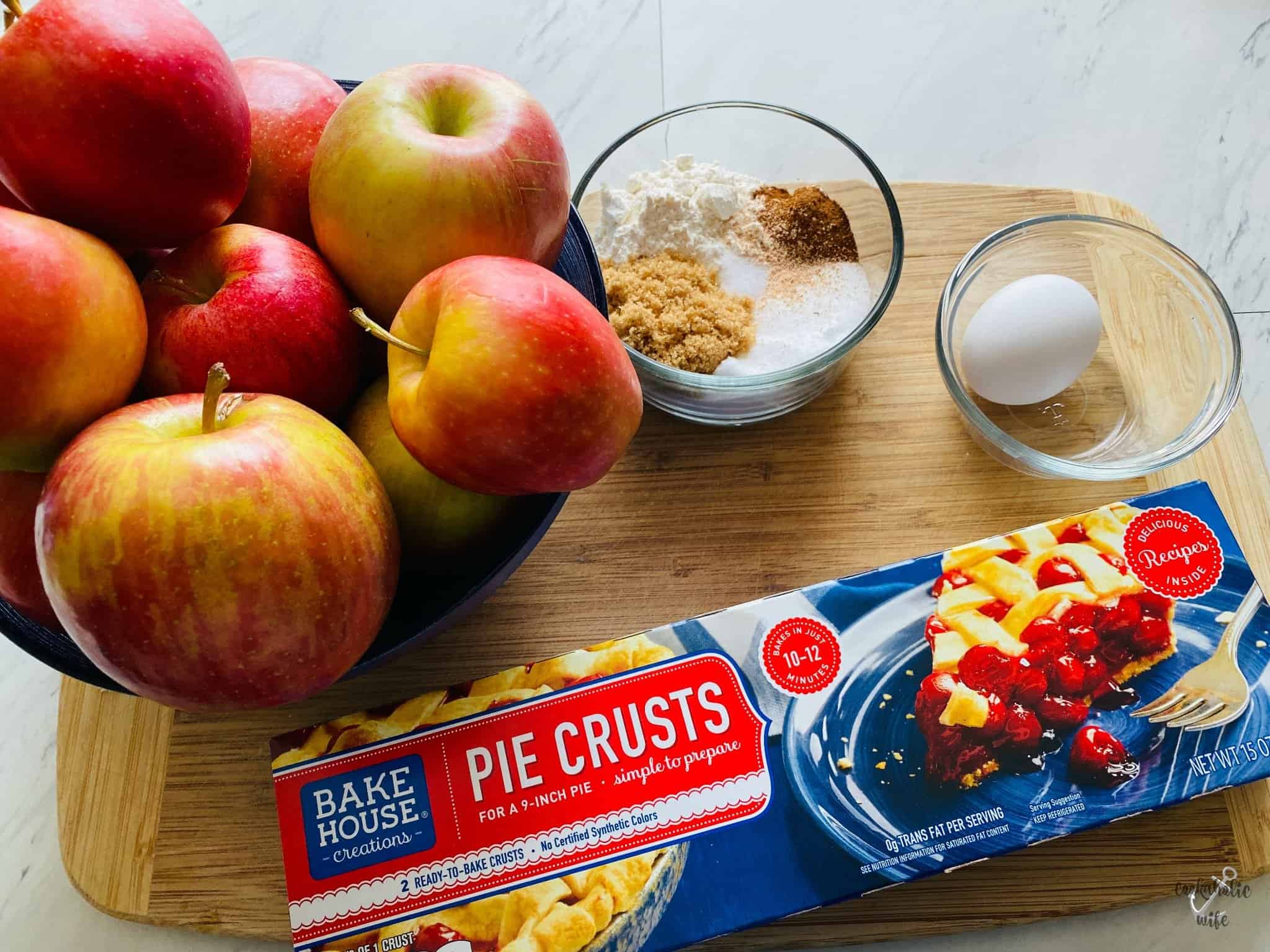 APPLE PIE INGREDIENTS:
1 package refrigerated pie crust
4-6 medium Honeycrisp apples
½ cup granulated sugar
2 tablespoon brown sugar
2 tablespoon all purpose flour
1 teaspoon ground cinnamon
½ teaspoon ground nutmeg
1 egg
optional, turbinado sugar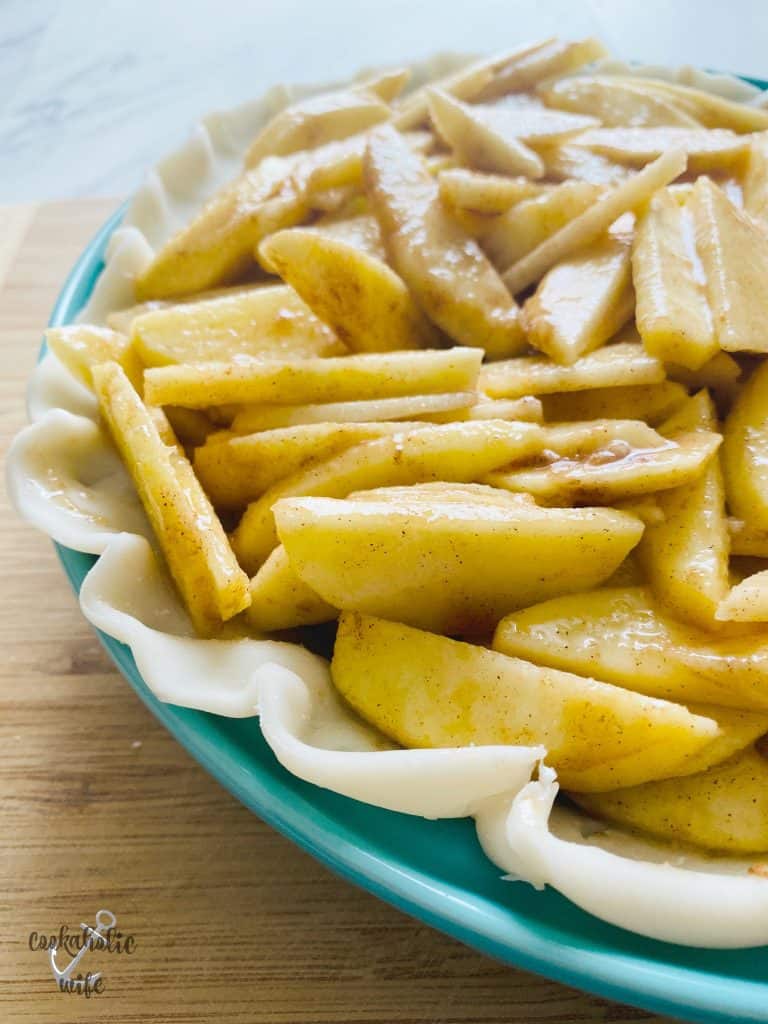 HOW TO MAKE AN APPLE PIE
Preheat the oven to 425 degrees.
Thaw the pie dough at room temperature for 20 minutes. Roll out one of the crusts into a deep dish pie plate.
Peel, Core and Slice the apples into ¼ inch thick slices.
Toss the apples with the sugar, brown sugar, flour, cinnamon and nutmeg. Set aside for 10 minutes.
Fill the pie crust with the apples, using a slotted spoon to drain the juices from the apples.
Roll out the remaining pie dough and cut into 1 inch strips.
Layer the strips of pie dough, alternating to create a lattice top.
Brush the dough with an egg wash and optionally, sprinkle with turbinado sugar.
Bake for 20 minutes then lower the oven temperature to 350 and bake for 30-35 minutes more.
Cool completely, then slice.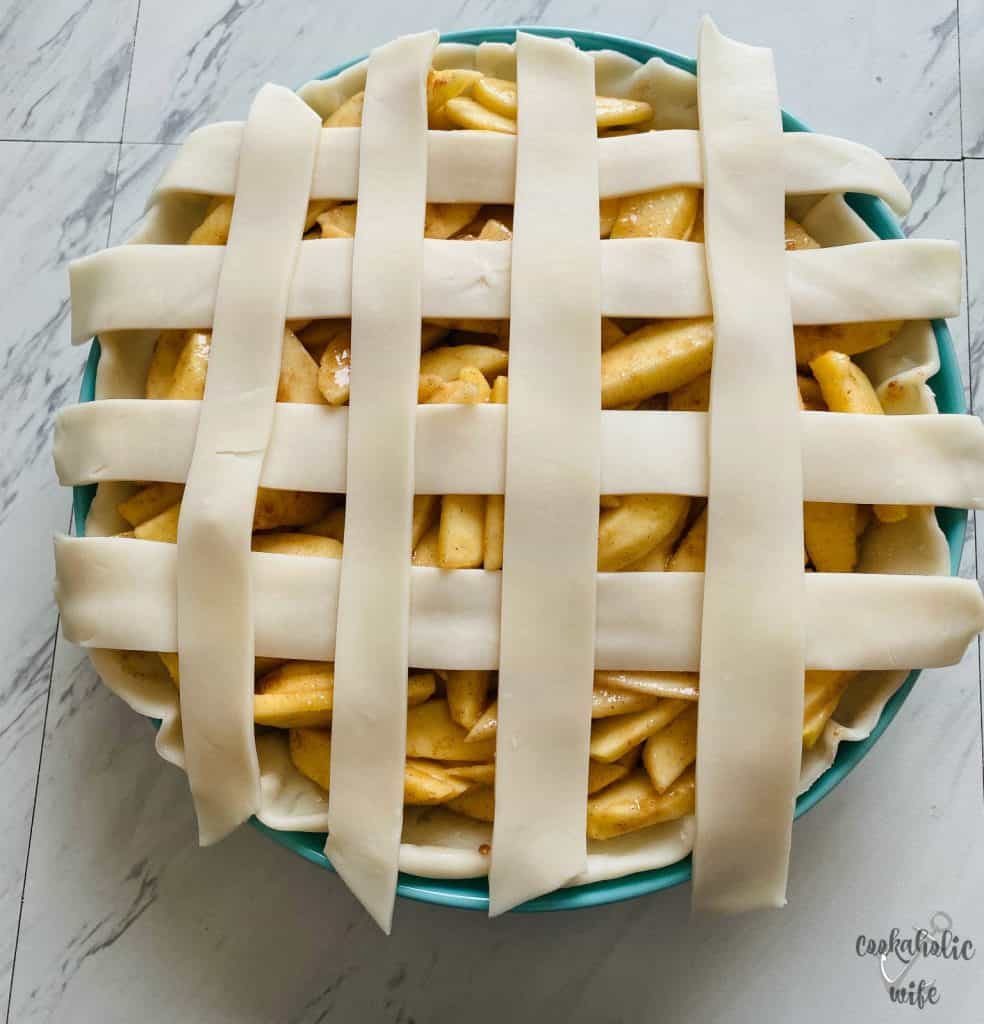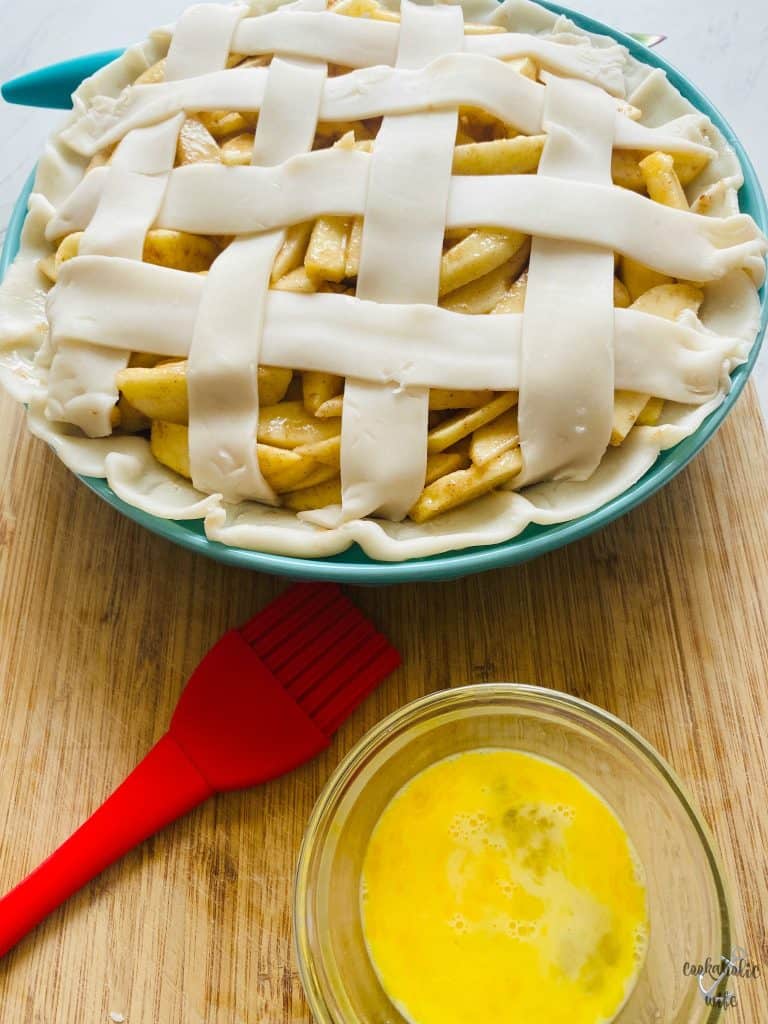 SO ABOUT THAT GIVEAWAY..
Finally, right? So like I said above, the giveaway includes a bunch of items that I use regularly and some cool stuff that's local to Maryland.
Santoku Knife - I use this style of knife for just about everything. Cutting meat and vegetables is a breeze with the little divots in the knife. I still have steak knives, bread knives and a paring knife or two, but all of my chef's knives have been replaced with Santoku knives. I own the one you're getting as well, mainly because teal is my favorite color, but it's also a great knife!
Measuring Cups - these measuring cups from Progressive are amazing. No more trying to figure out how much ⅔ of a cup is. There's a cup for that! And the measuring spoons also cover all of the unusual sizes that you'd never thing you need - until you do!
Kitchen IQ Zester - legit the best zester in the world. I received one for a blogging event a few years ago. And then I bought another. And bought one for my aunt. Seriously, even if you only rarely zest items, you need this zester.
Silicone Spatulas - I only have silicone spatulas. They have the right amount of flexibility to scoop everything from soft icing to denser cookie dough out of a mixing bowl.
Silicone Coated Whisk - Confession: I own 5 whisks. I don't think I've ever used all 5 at once, but I refuse to part with them. The silicone coated ones are my favorite.
Meat Chopper - Browning ground meats is a pain until you own one of these.
Kitchen Towels - I have tons and tons of kitchen towels. These were adorable so I thought you should have them too.
Berger Cookies - Berger Cookies came to Baltimore in 1835 when German immigrant Henry Berger opened a bakery. The cookies are cake-like and covered in a fudgy chocolate frosting. While the cookies are delicious eaten on their own, they are also the filling for the Baltimore Bomb Pie, which I highly, highly recommend making if you win or can get your hands on these cookies.
Utz Crab Chips - While Utz potato chips are manufactured in Hanover, PA, the Baltimore Maryland area is where they focused their sales. Maryland is known for their seafood seasonings and these chips are covered in that seasoning, creating a truly unique steamed crab flavored potato chip.
Old Bay - it's not Maryland without Old Bay Seasoning. We put this stuff on everything, but it is mainly use in seafood applications, especially when we steam up blue crabs. In addition to seafood, Old Bay seasoning is great on poultry, in burgers, on popcorn and vegetables.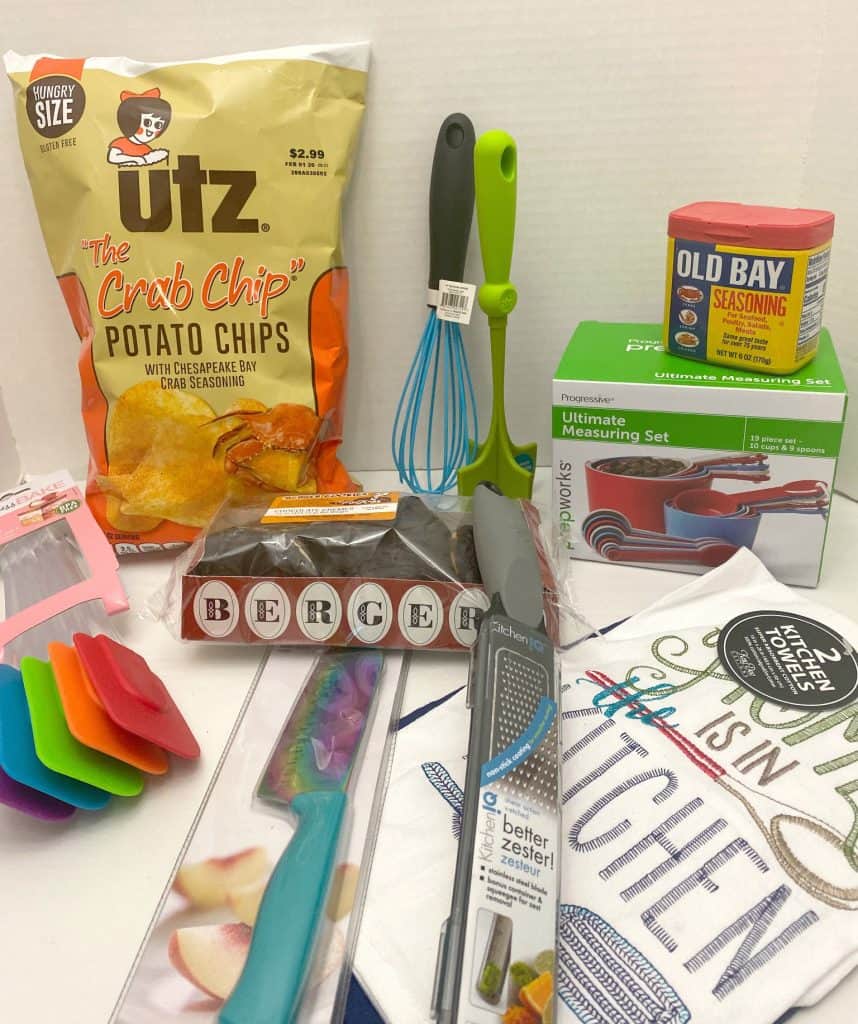 HOW TO ENTER THE GIVEAWAY:
All you need to do is leave a comment on what your favorite pie recipe is. Make sure to click "I commented" on the Rafflecopter so you can be entered to win.
Disclaimer: The rafflecopter is open from Monday November 25th through Sunday, December 1, 2019. A winner will be chosen no later than Tuesday, December 3 2019. You must live in the United States to win. Should the winner not respond within 3 business days, a second winner will be drawn. Giveaway items were chosen by Cookaholic Wife, by personal preference. The companies who produce the products chosen are not included, or aware, of the giveaway.
WANT TO TRY THIS RECIPE? SAVE IT TO YOUR FAVORITE PINTEREST BOARD.
FOLLOW ME ON PINTEREST AT COOKAHOLIC WIFE FOR MORE DELICIOUS RECIPES!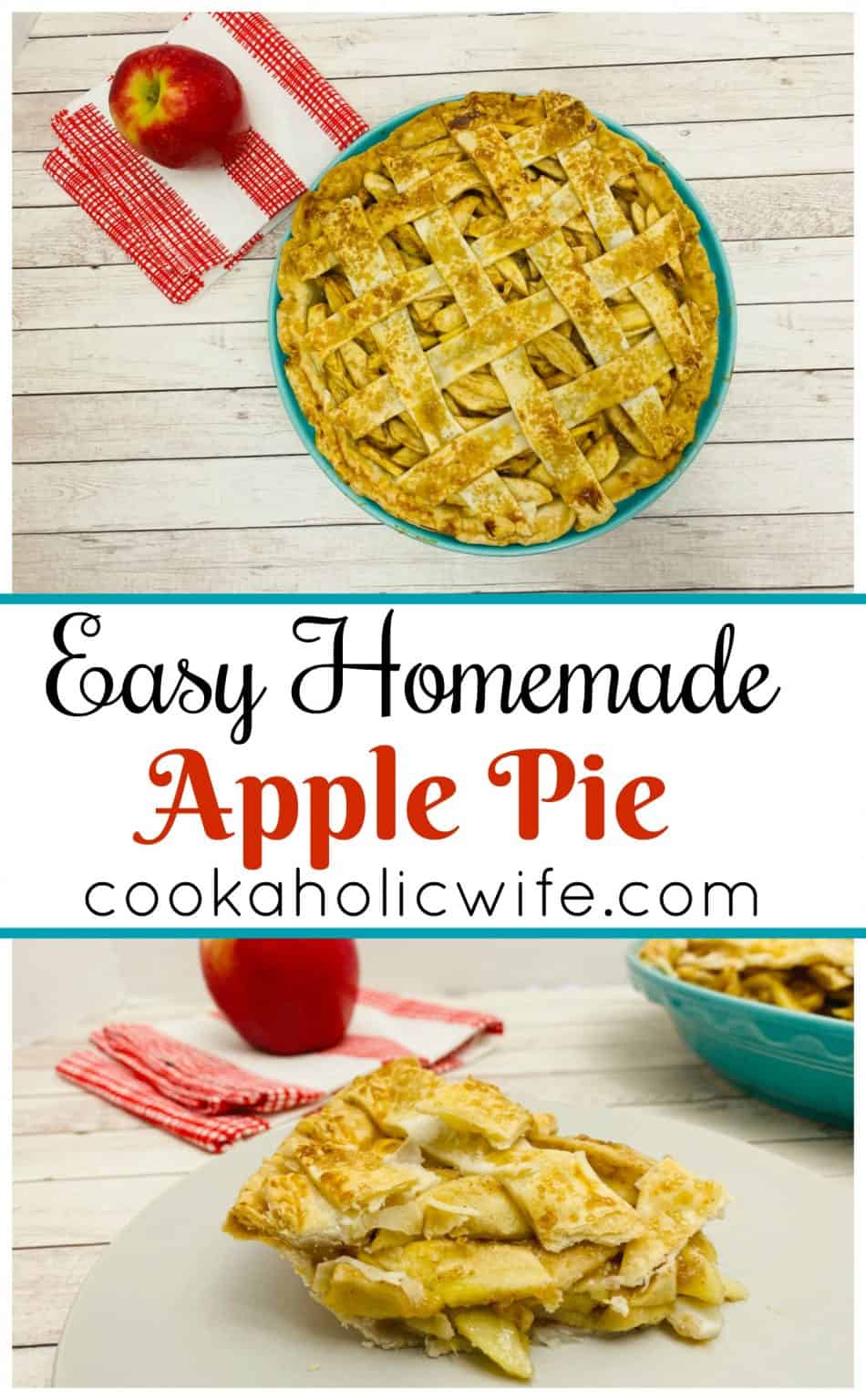 Recipe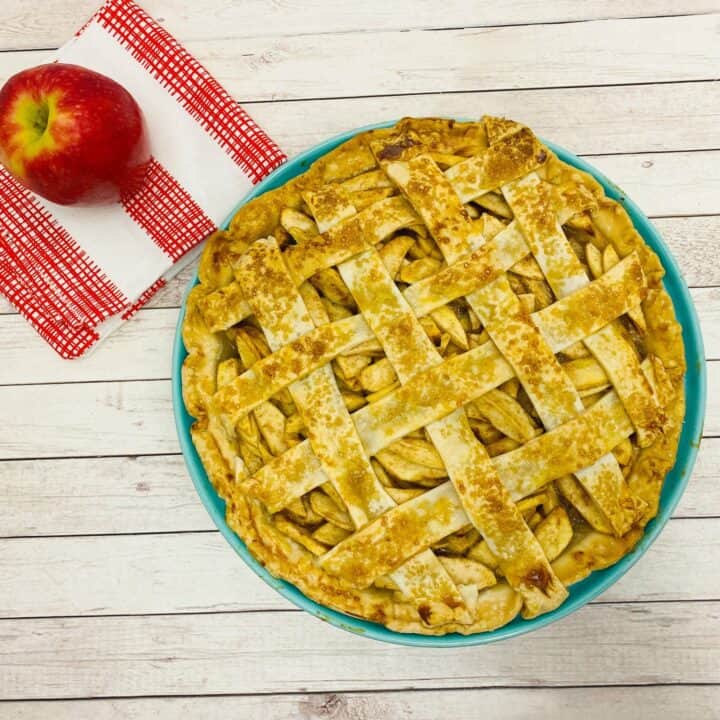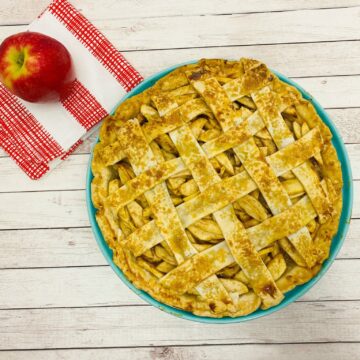 Easy Homemade Apple Pie
Easy Homemade Apple Pie is the classic American dessert. Sweet and tart apples are sliced up and baked into a flaky pie crust for the perfect slice of deliciousness! 
Ingredients
1

package refrigerated pie crust

dough, at room temperature

4-6

medium Honeycrisp apples

peeled, cored and sliced

½

cup

granulated sugar

2

tablespoon

brown sugar

2

tablespoon

all purpose flour

1

teaspoon

ground cinnamon

½

teaspoon

ground nutmeg

1

egg + a splash of water or milk

Optional: sanding sugar or turbinado sugar
Directions
Preheat the oven to 425 degrees.

Unroll one of the pie dough packages and layer it into a deep dish pie plate.

In a large bowl, combine the sliced apples with the sugar, brown sugar, flour, cinnamon and nutmeg and toss to coat. Let sit for 10 minutes.

Use a slotted spoon to layer the apples into the prepared pie crust, draining any excess liquid and trying to keep the apples in an even layer.

Unroll the remaining pie dough and slice into 1-inch strips (I like to use a pizza cutter).

Layer 4 strips vertically across the pie and then 4 strips horizontally across the pie. Starting with the strip on your far left, alternate it through the remaining ones, going over, then under, then over, then under.

On the second strip, start the strip under, then over, under, then over. Alternate again for strip 3 and then again for strip 4. (Strips 1 and 3 will be over/under and strips 2 and 4 will be under/over)

Cut off any strips that hang over the pie, or crimp into the edges.

Lightly beat an egg with a splash of water or milk and brush over the lattice top of the pie.

Sprinkle with turbinado sugar.

Bake for 20 minutes, then reduce the oven temperature to 350 and bake for another 30-35 minutes or until the pie is lightly golden and bubbling.

Remove from the oven and allow to cool completely before slicing.
Notes
Apples
I like to slice my apples about ¼ inch thick so they hold up to baking and still provide a little crunch.
You need about 4 cups of sliced apples, less if you do not have a deep dish pie plate.
Egg Wash
The egg can be lightly beaten with either a splash of water or milk before it is brushed onto the top dough.
Turbinado Sugar
Sprinkling the top of the pie with turbinado sugar or sanding sugar is optional. I think it's pretty so I use it.
Nutritional Data may vary depending on type of pie dough and amount of apples used.
Nutrition
Serving:
1
slice
Calories:
180
kcal
Carbohydrates:
39.3
g
Protein:
0.6
g
Fat:
3.5
g
Saturated Fat:
1.2
g
Cholesterol:
0
mg
Sodium:
66
mg
Fiber:
3.4
g
Sugar:
29.1
g
Recipes on Cookaholic Wife are for information purposes only. Nutritional Data provided has not been evaluated by a nutritionist.