I quickly found that Phase 2 is the hardest phase on the Fast Metabolism Diet. I don't really mind not being able to have grains or fruits other than lemon and lime, but taking away carrots, zucchini and tomatoes really makes this phase a challenge for me.
This soup kind of reminds me of a 'kitchen sink' variety because you're throwing in a lot of ingredients ' except the kitchen sink '. If you have a lot of vegetables in your fridge that are nearing the end of their life, this would be a great choice.
Not knowing how many vegetables I would consume on this eating plan, I quickly bought too much the first week or two and having a soup like this to use for the leftovers really helps with the increase in spending you'll experience on this plan. One of the other things I love about it is how easily adaptable it is. You can add other phase appropriate grains and veggies depending on when you make this. And if you aren't following the plan, it's still a tasty soup that comes together pretty quickly and provides you with a lot of flavor!
Recipe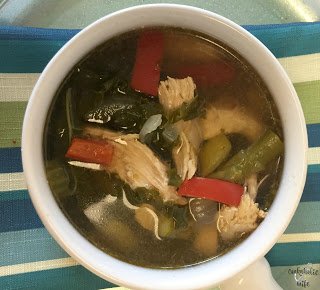 FMD Chicken and Vegetable Soup
Chicken and Vegetable soup is hearty and filling with tons of veggies and compliant for the Fast Metabolism Diet.
Ingredients
3

large boneless

skinless chicken breasts

2

tablespoon

lemon pepper seasoning

divided

3

bell peppers

large diced

2

yellow onions

large diced

4

stalks celery

diced

1

pound

asparagus

chopped

3

cups

kale

4

cups

low sodium chicken stock

2

cups

vegetable stock

2

cups

water

1

tablespoon

kosher salt

1

teaspoon

garlic powder

1

teaspoon

onion powder

1

teaspoon

dried rosemary

1

teaspoon

dried oregano

Optional for P1 and P3: diced carrots

cooked

Optional for P1 and P3: cooked barley
Directions
1. Preheat the oven to 350 degrees.

2. Season both sides of the chicken breasts with 1 tablespoon of the lemon pepper seasoning.

3. Place chicken in an oven-safe non-stick skillet and heat over medium-high heat. Cook for 5 minutes or until the chicken is browned on one side. Flip chicken over and cook 3-4 minutes more, then transfer the skillet to the oven and bake for 15-20 minutes or until chicken is cooked through.

4. Meanwhile, combine bell peppers, onion, celery and asparagus in a large skillet and sauce for 5-7 minutes or until just softened.

5. Transfer the vegetables to a large stock pot and add kale.

6. Pour in chicken broth, vegetable broth and water. Add remaining lemon pepper seasoning, salt, garlic powder, onion powder, rosemary and oregano. Stir until combined.

7. Bring to a boil over medium-high heat then reduce to a simmer.

8. Once the chicken is cooked, remove from the oven and shred it. Add it to the stock pot and simmer for 20-30 minutes more or until all vegetables are fork tender.
Notes
For Phase 1:
Add cooked carrots and barley for dinner or cooked carrots, barley + side of fruit for lunch.
For Phase 3:
Add cooked carrots for lunch, add cooked carrots and barley for dinner. Protein will need to be increased or a fat added.
*If making for only Phase 3, chicken breasts and vegetables should be sauteed in olive oil.
For all phases: mushrooms, cabbage and green beans can be included in this soup and enjoyed for all 3 phases.
* An additional lemon-pepper seasoned and baked chicken breast can be served with this soup to meet higher servings of protein.
Recipes on Cookaholic Wife are for information purposes only. Nutritional Data provided has not been evaluated by a nutritionist.
One of the hardest things about this eating plan is that I can't follow my usual routine, which was to make one meal for my breakfast and lunch for the entire week. With a few additions, this soup allows me to do just that.