The first time I ever heard of Nashville Hot Chicken, I was watching an episode of Trisha's Southern Kitchen. The story supposedly goes that a married woman was tired of her husband being a womanizer and after a particularly late night of him running around on her, she decided to serve him chicken with twice the amount of pepper as revenge. Unfortunately it backfired for her and he ended up loving the recipe.
Fortunately, the recipe became very popular. That episode I watched was at least a few years ago but I still never managed to make the recipe. And then, a few months ago my in-laws were visiting and despite me cooking all of the time, either Tom or his dad wanted to go to KFC. Not to go off topic too much, but we have a made-to-order convenience store here called Royal Farms. If you want fried chicken, you go there. Not to KFC or Popeyes. Anyway...I looked at the menu to see if there was anything that interested me at all and I found that they were serving Nashville Hot Chicken.
I figured it would either be great or terrible but I was willing to take the chance. It was surprisingly good! That recipe came with the chicken cut into strips and I decided I wanted to find a similar recipe to share with you for this blogging event because I'm not very good at frying whole pieces of chicken.
Foodie Extravaganza is a blogging event where bloggers take turns hosting the events with different themes based off a food holiday from The Nibble. The theme for July is fried chicken. Posting day is always the first Wednesday of each month. Our host for this month is Sneha of Sneha's Recipe.
If you are a blogger and would like to join our group and blog along with us, come join our Facebook page Foodie Extravaganza. We would love to have you! If you're a spectator looking for delicious tid-bits check out our Foodie Extravaganza Pinterest Board! Looking for our previous parties? Check them out HERE.
Recipe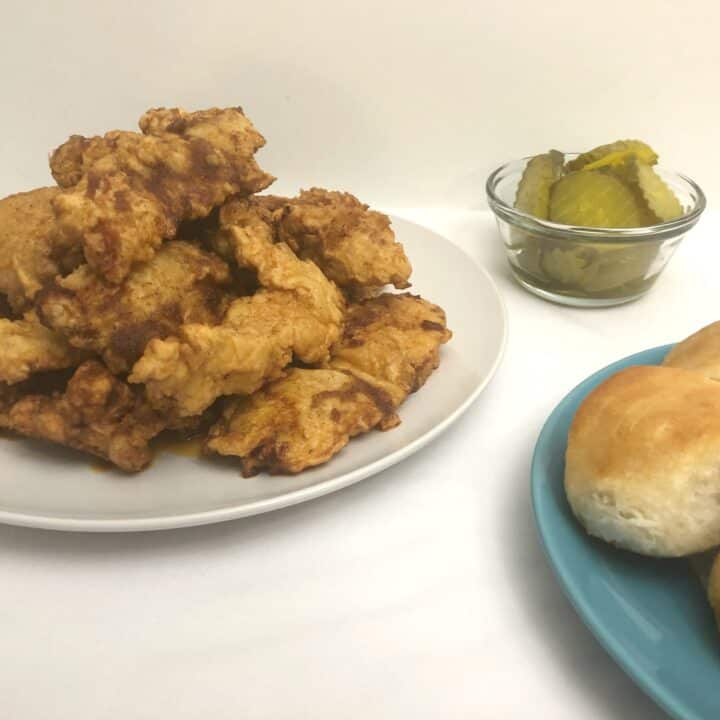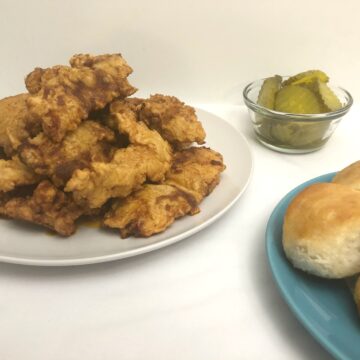 #FoodieExtravaganza: Nashville Hot Chicken
Originating in Nashville, TN this spicy fried chicken recipe will delight your taste buds.
Ingredients
For the Chicken:
1 ½

lbs

chicken breasts

cut into strips

1

teaspoon

salt

1

teaspoon

pepper

3

tablespoon

hot sauce

I used Texas Pete's, divided

2

tablespoon

buttermilk

3

cups

all purpose flour

2

eggs

1 ¼

cup

buttermilk

vegetable oil

for frying
For the Sauce:
3-6

tablespoon

cayenne pepper

2

tablespoon

brown sugar

1

teaspoon

chili powder

1

teaspoon

garlic powder

1

teaspoon

paprika
For Serving:
10

biscuits

refrigerated or homemade, baked

pickle chips
Directions
1. Toss the chicken in a large bowl with salt, pepper, 2 tablespoons of hot sauce and buttermilk. Cover and refrigerate for 3 hours, but up to overnight.

2. Add the flour to a shallow dish. Add the eggs to another shallow dish and lightly beat. Stir in the buttermilk and remaining hot sauce.

3. Line a large baking sheet with foil or parchment paper. Dip each chicken strip into the flour mixture, then the buttermilk, then back into the flour mixture and shake to remove excess flour. Place on the prepared baking sheet.

4. Repeat with remaining chicken strips and allow to rest for 10 minutes.

5. Meanwhile, add enough oil to a skillet or dutch oven to cover the chicken (about 3-4 inches) and bring up to 360 degrees over medium high heat.

6. Fry the chicken strips in batches, 4-6 at a time, until golden and crispy, about 3 minutes on each side.

7. Transfer to a paper towel lined plate to absorb excess grease.

8. After all of the chicken is fried, in a large bowl whisk together the cayenne, brown sugar, chili powder, garlic powder and paprika. For lesser heat use 3 tablespoons of cayenne. For more heat, use all 6 tablespoons.

9. Carefully ladle 1 cup of the hot cooking oil into the spice mixture and whisk until it is combined. Place the fried chicken strips into the bowl and toss to coat, making sure they're all covered with the sauce.

10. Serve immediately, with biscuits and pickles.
Recipes on Cookaholic Wife are for information purposes only. Nutritional Data provided has not been evaluated by a nutritionist.
I ended up going a little light on the cayenne pepper in the sauce of this recipe because I was worried it was going to be too spicy. It wasn't at all. I definitely could have used the full amount, but it was still absolutely delicious.
The double flour dredge creates a nice crispy coating on the chicken and buttermilk makes it perfectly tender. It is by far one of the best fried chicken recipes I've ever had.
 See all the other #FoodieExtravaganza recipes hosted by Sneha's Recip
e
Korean-Style Fried Chicken  Karen's Kitchen Stories 
Pretzel Crusted Chicken Strips  A Day in the Life on the Farm