It's time for #FoodieExtravaganza again! Our theme for this month is Oktoberfest and it's being hosted by Sue of Palatable Pastime.
I'm actually attending my first Oktoberfest in a few weeks so I can't wait to report back on how the food is. I looked at different recipes for quite some time before choosing this one. I wanted to make something that I ate least had a decent chance of Tom trying. Noodles are usually a given with him and even though it meant I needed to order a spaetzle maker, I decided it was worth the nominal expense on Amazon to purchase one. (It cost me less than $20 for the spaetzle maker and a large straining ladle)
If you've had Stroganoff or Swedish Meatballs, this dish reminds me of that. It uses ingredients that almost everyone has in their pantry or fridge or are very easy to acquire. That's something I love about traditional recipes. Today, there's are recipes out there that require trips to two different grocery stores and a specialty market or online order just to get all of the ingredients. Which can be fun sometimes, but other times you just want to pop into the local store and pick up what you need without any hassle.
Recipe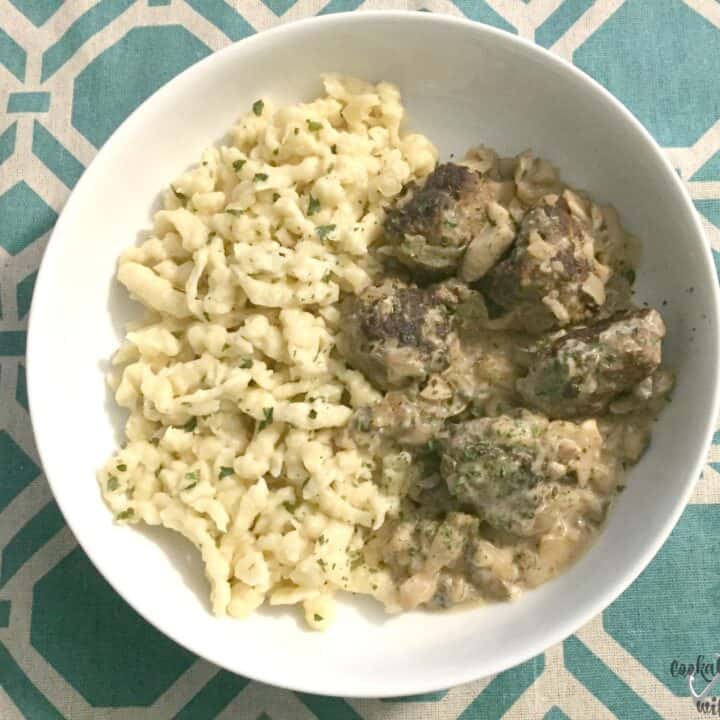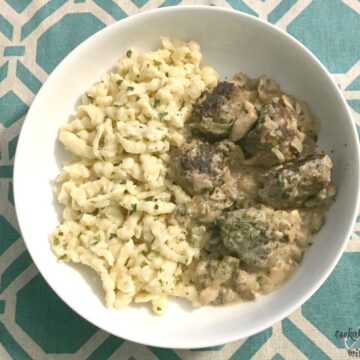 FoodieExtravaganza: #oktoberfest - German Meatballs and Spaetzle
Similar to Swedish Meatballs, these German meatballs pair perfectly with spaetzle, a homemade noodle.
Ingredients
for the meatballs:
1

lb

ground beef

1

egg

well beaten

¼

cup

milk

¼

cup

breadcrumbs

1

tablespoon

fresh parsley

chopped

¼

teaspoon

poultry seasoning

salt and pepper
for the sauce*:
1 ¼

cup

beef broth

8

oz.

mushrooms

chopped

1

medium onion

diced

1

cup

sour cream

1

tablespoon

all purpose flour

1

tablespoon

caraway seed
for the spaetzle:
2

cups

all purpose flour

2

whole eggs

well beaten

½

cup

milk

1

teaspoon

salt

2

tablespoon

butter

softened

1

tablespoon

garlic powder
Directions
1. First prepare the meatballs by combining the ground beef, egg, milk, bread crumbs, parsley, poultry seasoning, salt and pepper together in a medium bowl. Form into 1 ½ inch balls, about 24 in total.

2. Place meatballs in a large skillet and cook over medium high heat until browned on all sides. Drain any fat. Add the beef broth, mushrooms and onions to the skillet and reduce the heat to medium low. Cover, and allow to simmer for 10 minutes.

3. Meanwhile, in a small bowl combine the sour cream, flour and caraway seeds, stirring until fully combined. (*For a saucier meatball, double this portion.)

4. Add the sour cream mixture to the meatballs and stir to combine. Reduce heat to low and cover.

5. Bring a large pot of lightly salted water to a boil.

6. To prepare the spaetzle, sift the flour and salt into a large bowl. Alternating, slowly add in the beaten eggs and milk, stirring until a firm, elastic dough is formed.

7. Transfer the dough into a spaetzle maker and drop into the boiling water. Spaetzle are done when they float to the top.

8. Use a strainer or slotted spoon to remove from the water and place in a large bowl. Add the butter and garlic powder and stir until all are coated.

9. Divide the spaetzle mixture onto plates. Divide the meatball mixture and place on top of the spaetzle. Serve immediately.
Recipes on Cookaholic Wife are for information purposes only. Nutritional Data provided has not been evaluated by a nutritionist.
It's uncharacteristic of me, but I didn't get a chance to make this recipe until this past weekend. While everyone else was eating burgers and hot dogs, we took a German detour. The recipe is pretty easy to make, you can get the meatballs and sauce ingredients together ahead of time as well as your spaetzle dough. The hardest part was pushing the spaetzle through the maker, but only because we had painted the day before and my arm was already sore from a heavier than usual paint roller.
Tom deemed the recipe "Kinda boring and bland" so I've decided he's no longer invited to taste-test my recipes. 😉
Check out what everyone else made!