Grandma's Ground Beef Stew is a family recipe of a simple and hearty beef stew, where stew meat is replaced with ground beef.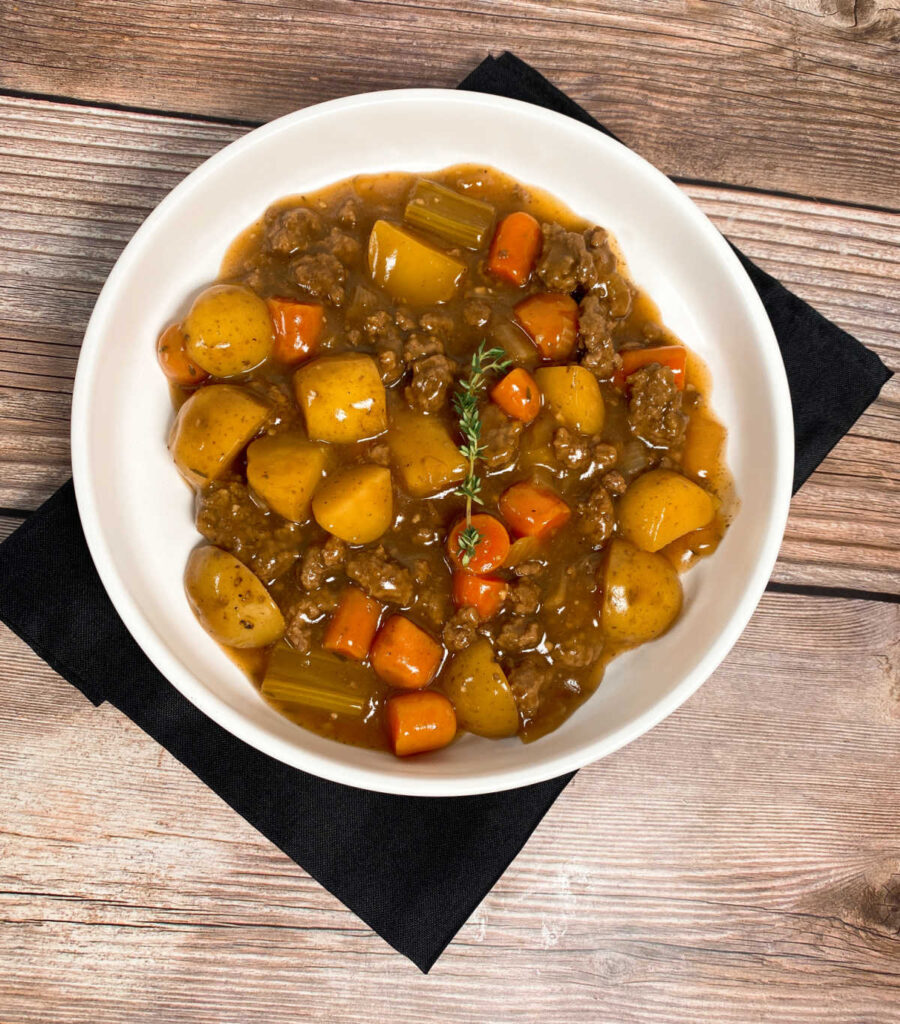 You know those posts that circulate on Facebook and ask "What's one thing you ate as a kid that you'll never eat as an adult?" For me, it was this recipe. At least, my mom's version of it. But just hear me out.
What is Grandma's Ground Beef Stew?
To my family, this recipe is known as Armstrong Special, which is my mom's maiden name. My grandmother had 6 kids and had to cook meals that were not only affordable, but filling. This is an old fashioned beef stew recipe - beef, carrots, potatoes, celery and onions - where the stew meat is replaced with ground beef to make it more affordable.
If you've been around a while, you'll know that cooking isn't my mom's thing. So the version of this recipe I had as a kid was just...not good. It tasted like absolutely nothing to me because my mom isn't big on using a lot of seasonings and spices. I remember it tasting like boiled vegetables with unseasoned ground beef and a flavorless gravy.
But after talking to my aunt I realized that there was no way that version was the one my grandmother used to make. And that there wasn't a whole lot that needed to be changed or added to the recipe to make it something I'd like.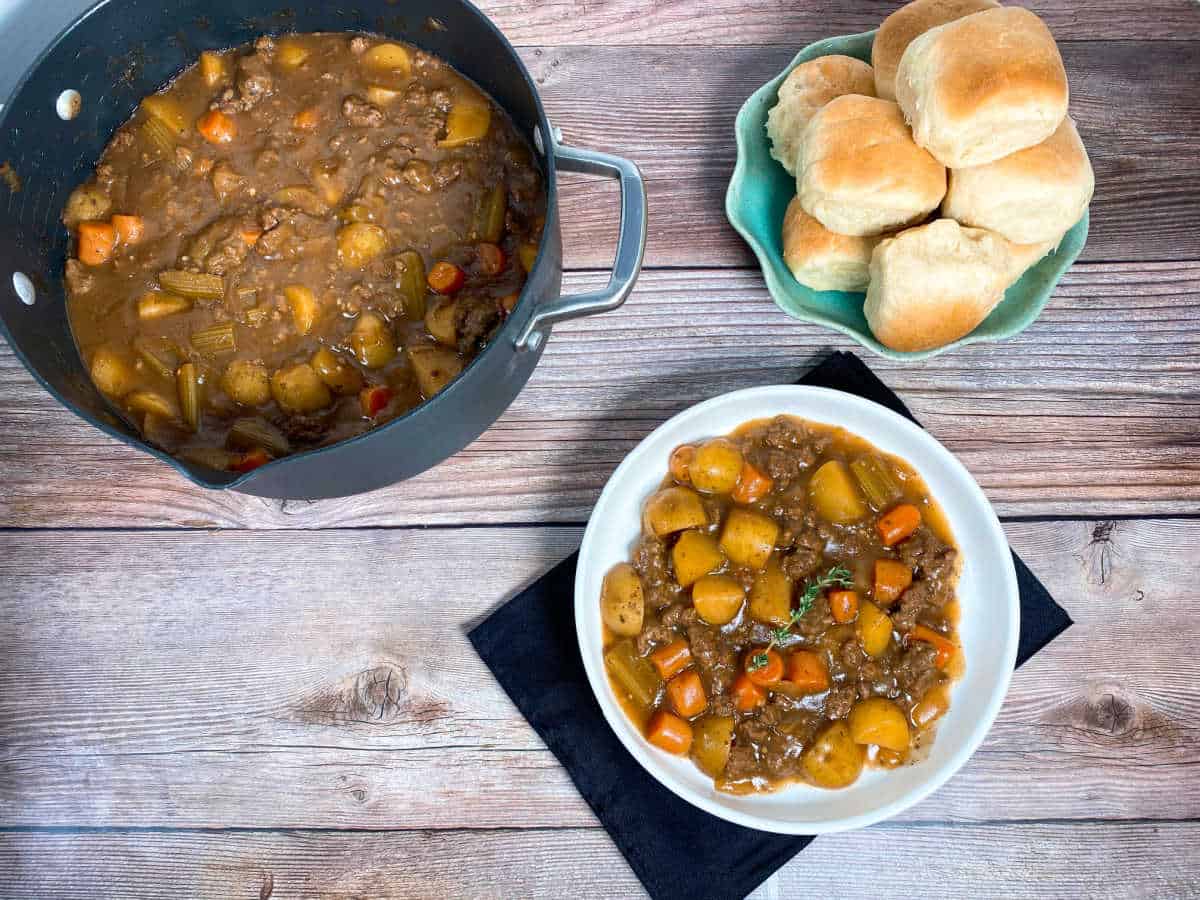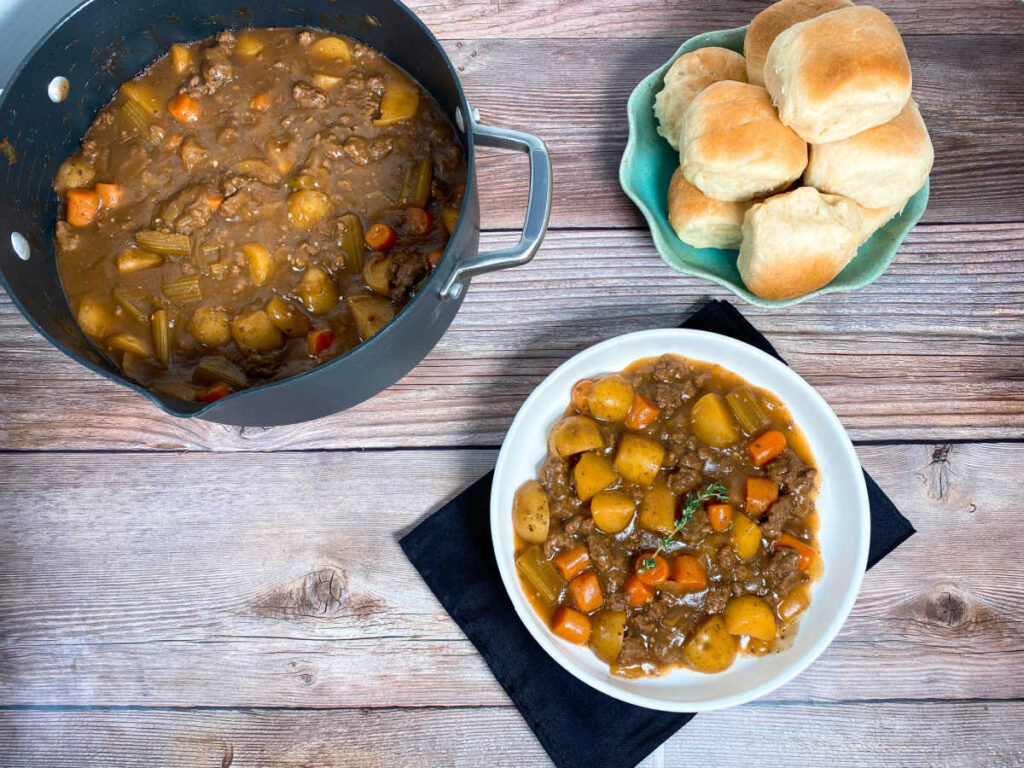 Why you should make ground beef stew
I shouldn't have been as surprised as I was to find that adding in a few more seasonings and ensuring this ground beef stew had more depth of flavor would take it from lackluster to delicious.
Ground beef stew is also known as hamburger stew or poor man's stew, but don't let that (or my previous thoughts on this recipe) deter you from making it. It's really tasty, hearty and filling, and who doesn't love an old family recipe? I'd like to think my grandmother approves of my adjustments!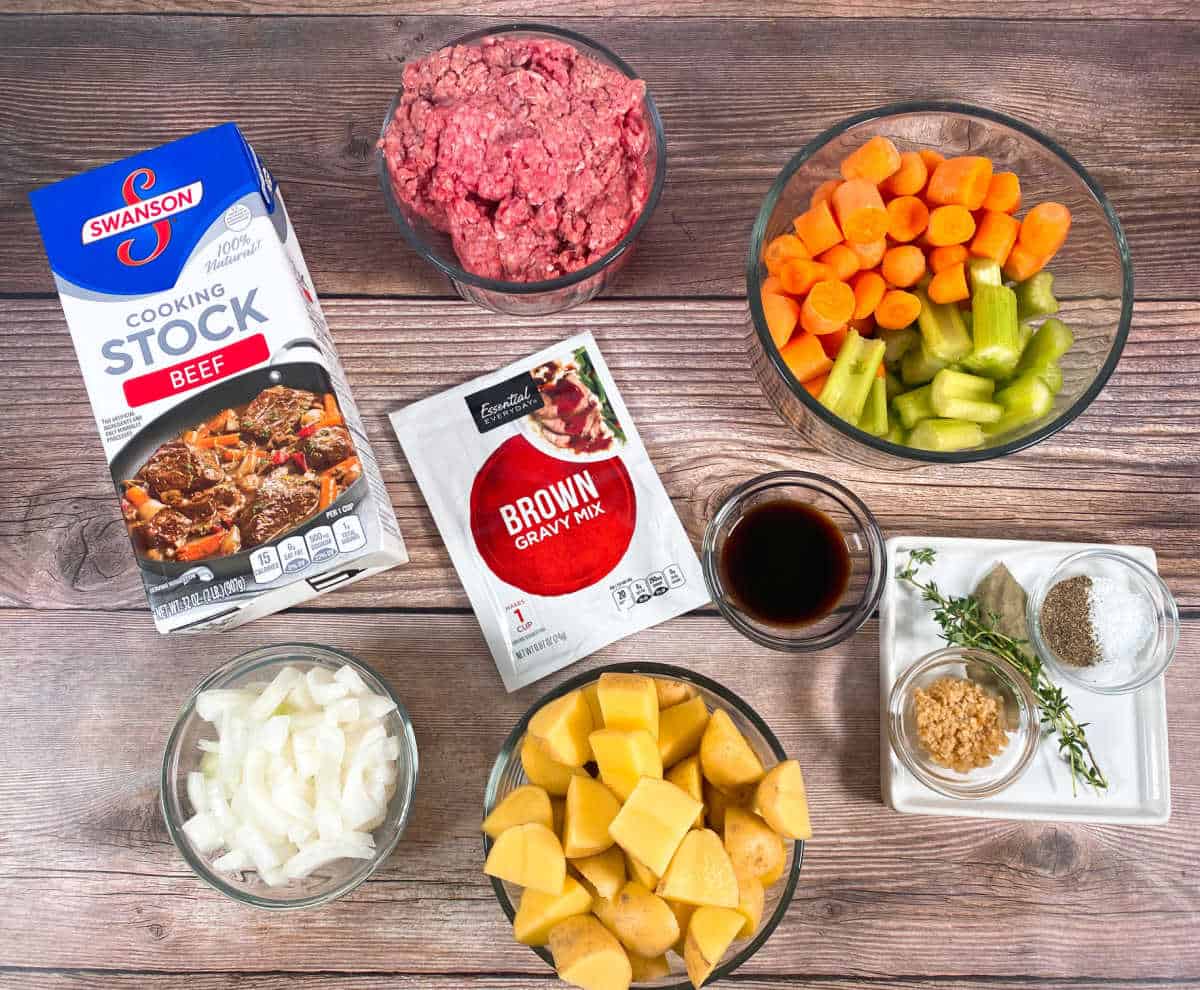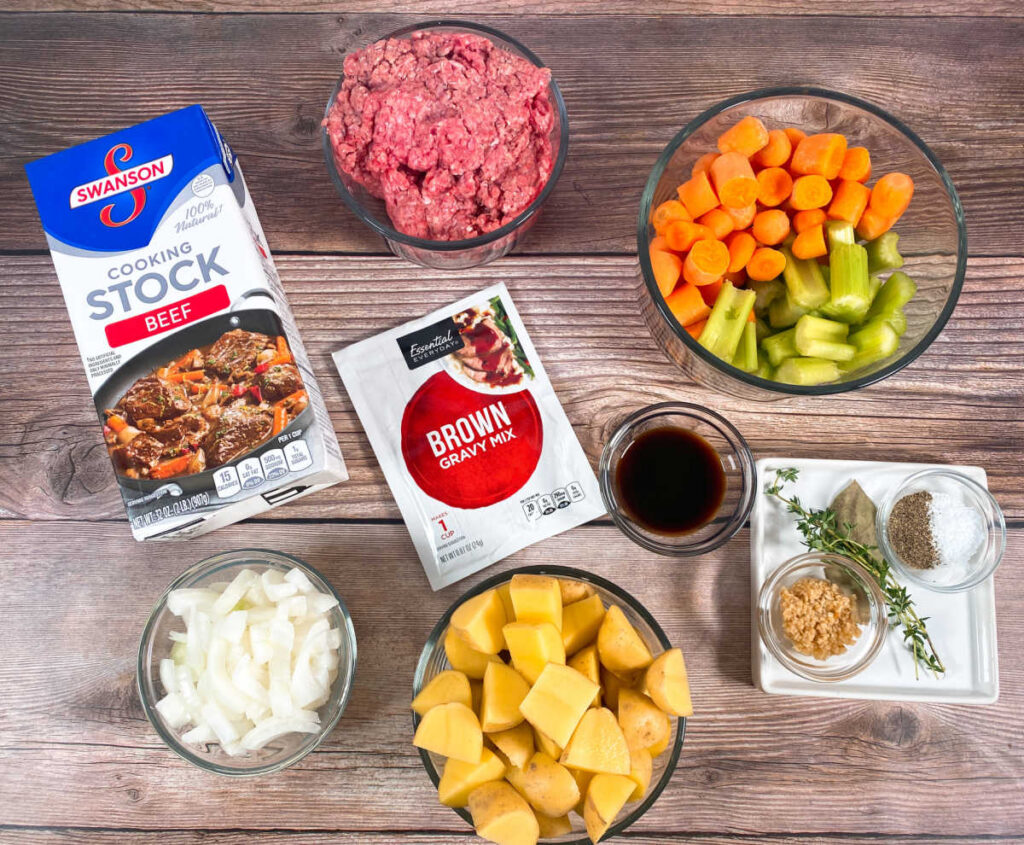 Ingredients for this recipe
ground beef
carrots
potatoes
celery
onion
garlic
thyme
bay leaf
beef stock
Worcestershire sauce
brown gravy packet
cornstarch and water slurry - optional
olive oil
salt and pepper
Instructions for this recipe
First, brown your ground beef. Add ground beef to a stockpot over medium-high heat and cook until fully browned. Drain the grease, transfer the beef to a plate and set aside.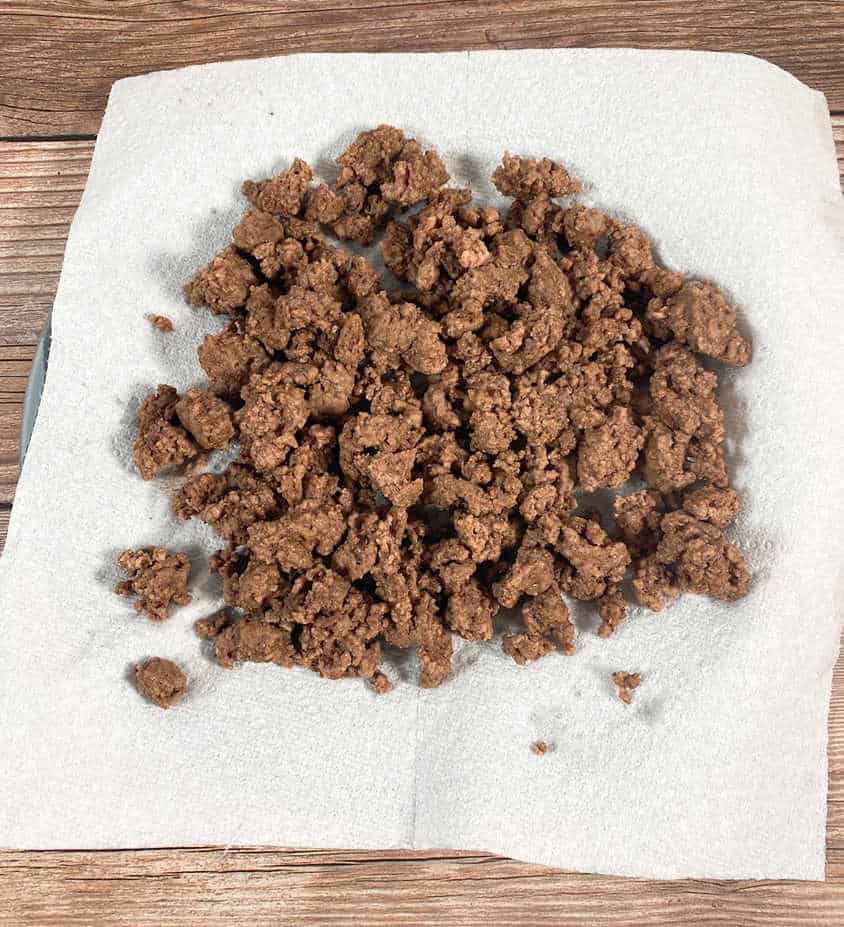 Then, sauté your vegetables. Heat olive oil in the same saucepan over medium heat. Add in the carrots, celery and onions and cook for 10 minutes. Then add in the garlic, thyme, bay leaf, salt and pepper and cook another minute or until the garlic is fragrant.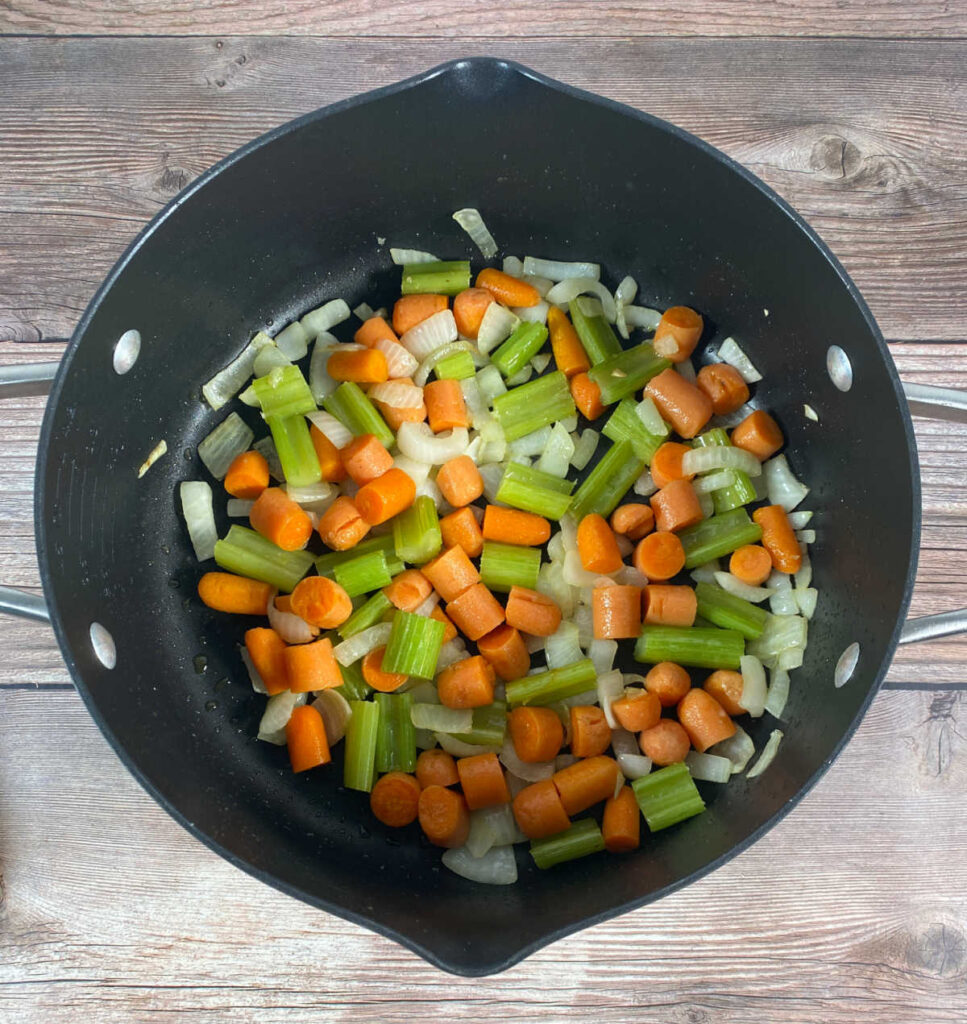 Next, cook the potatoes. Add the potatoes, beef stock and Worcestershire sauce to the pot and bring to a boil. Return the ground beef to the pot, cover and reduce to a simmer.
Then cook until vegetables are fork-tender. Simmer for 30 minutes or until vegetables are fork tender. Stir in brown gravy packet and allow to thicken for 5 minutes. If your stew needs to be thicker, add 1 tablespoon of cornstarch to 2 tablespoons water, mix and stir into the stew. Cook 5-10 minutes more until thickened. Remove the thyme and bay leaf and serve.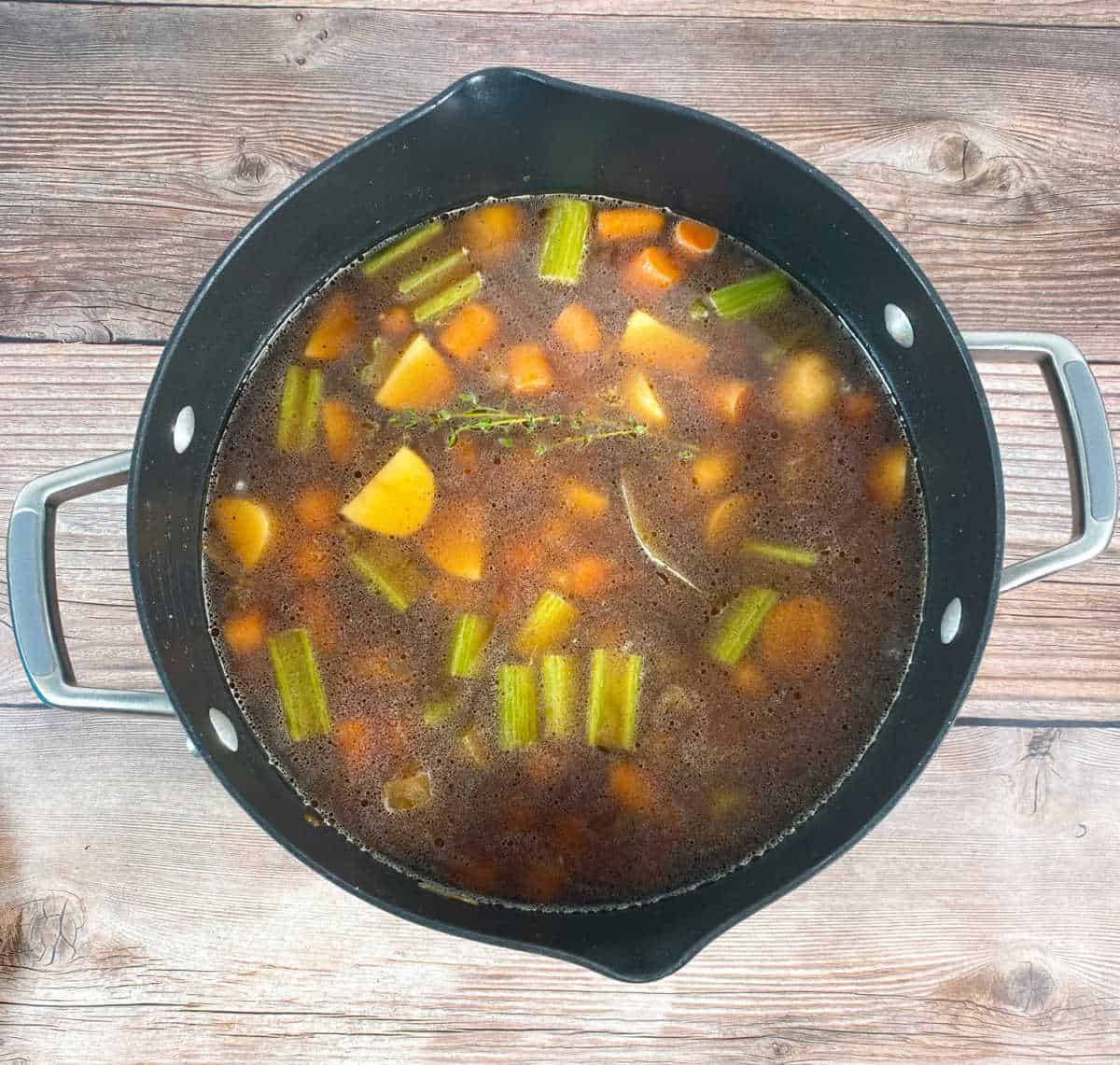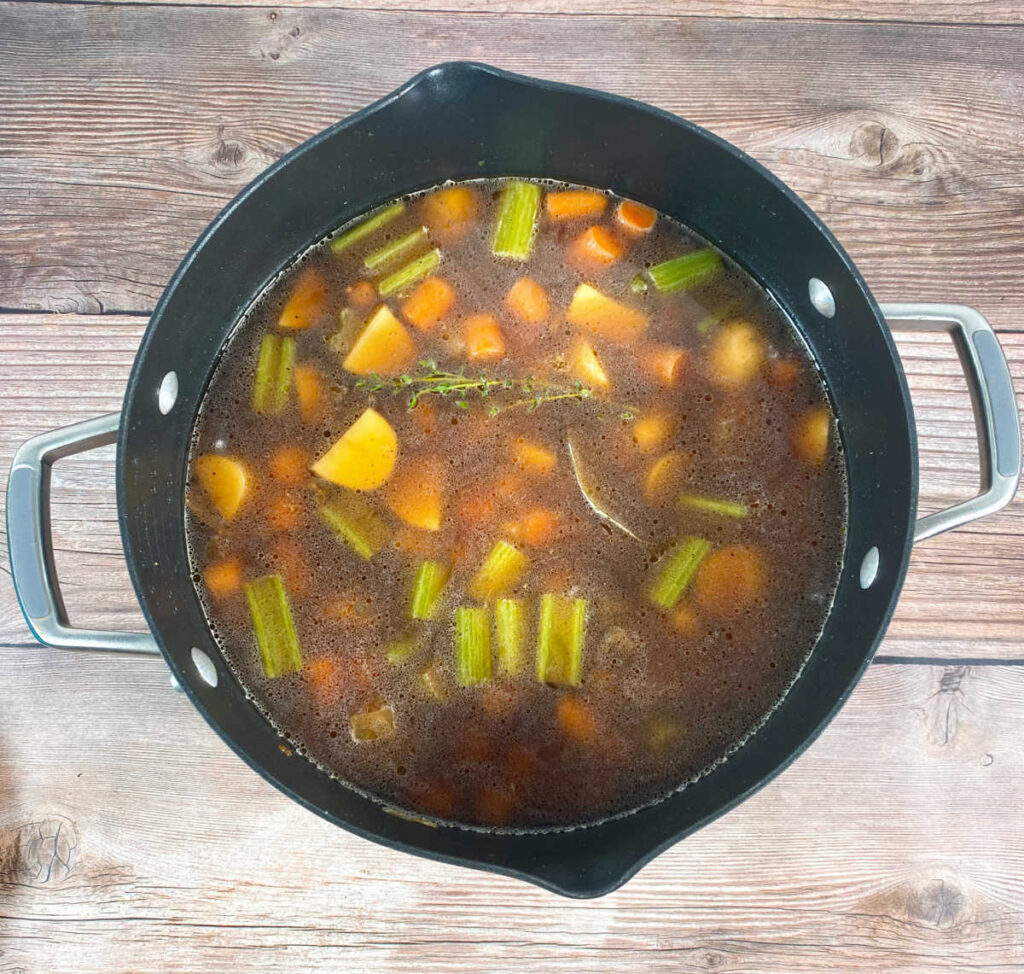 Substitutions for this ground beef stew recipe
Meat: you could easily use stew meat for this recipe if that's what you prefer. Or if you wanted to try it with ground meat, ground turkey would be a good replacement for the ground beef.
Vegetables: green beans, corn and peas would all be great additions to this stew.
Beef Stock: a combination of beef stock, red wine and/or beef consume would all increase the rich flavor of this stew. Or add in a beef bouillon cube!
Gravy Packet: a cornstarch and water slurry could be an alternative to thickening up this stew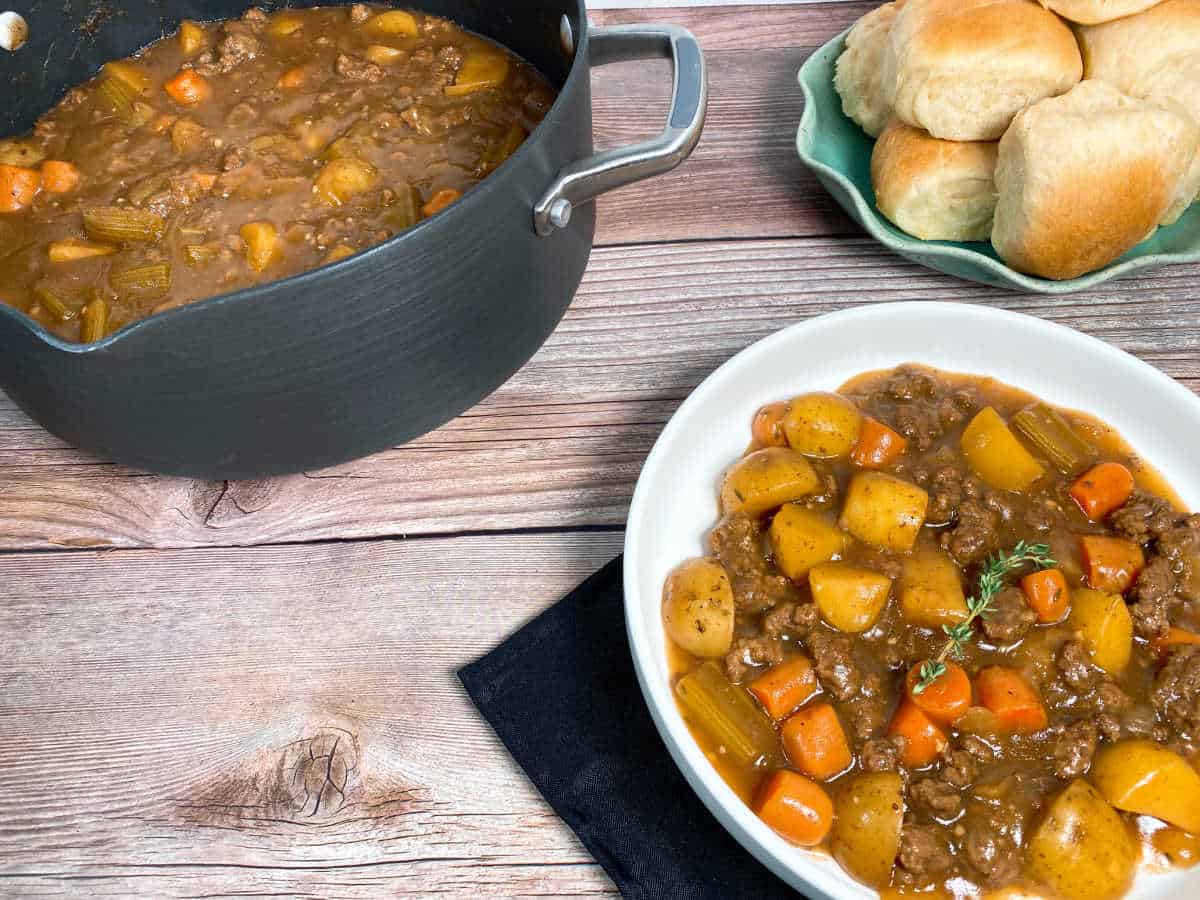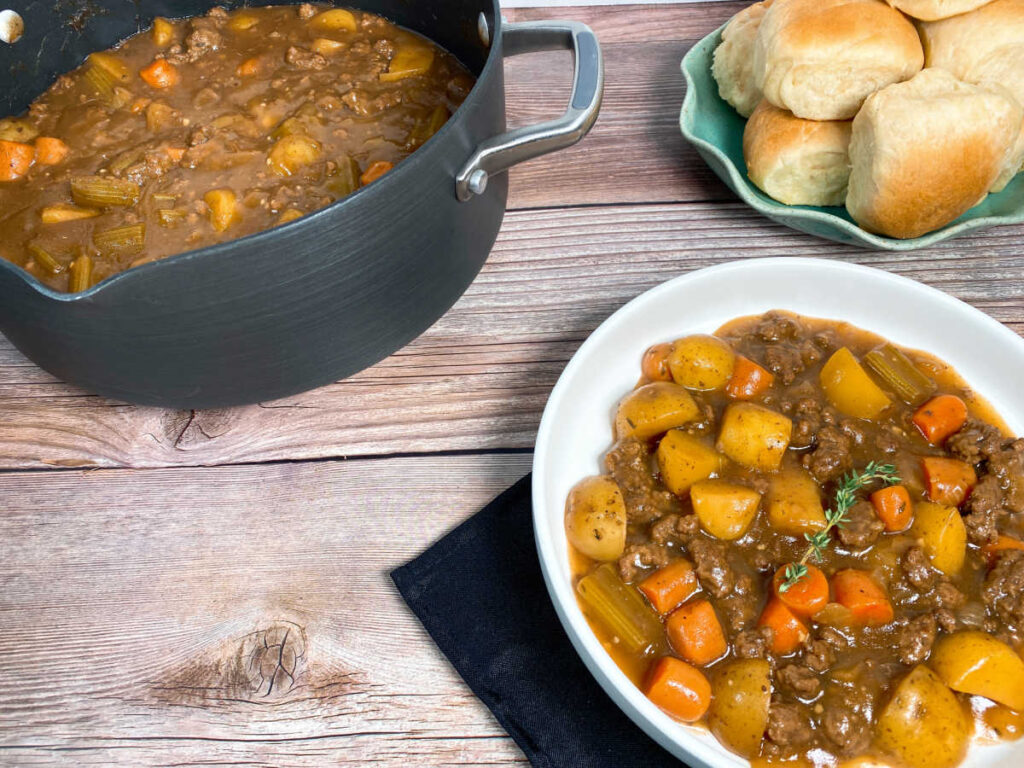 FAQ's for this recipe
Can you freeze beef stew?
Yes! Once fully cooled you can freeze the stew. But note that potatoes can take on a different consistency once frozen and thawed again. I cut my potatoes small so this isn't as noticeable.

How can I make beef stew more flavorful?
I use Worcestershire sauce in this recipe to give it more flavor. Soy sauce would be a great alternative. Tomato paste, 2 tablespoons for this recipe, will also add more depth of flavor.
Which potatoes are best to use in a stew?
Thin-skinned potatoes that are low in starch will hold up better in a stew. An example of these potatoes are Yukon Gold potatoes, which are my favorite potatoes to use in just about every recipe.
Do you need to peel potatoes for stew?
It's personal preference. If you are using Yukon Gold, butter, or other thin-skinned waxy potatoes, I don't think it's necessary. If you're using a russet or other thicker skinned potato, then yes, I would peel the potatoes first.
What to serve with beef stew?
Buttered bread would have been what my grandmother served with this recipe. Dinner rolls, crusty bread and biscuits are all a great choice. Or go lighter and serve with a green salad.
Looking for more family recipes? Try Mom's Italian Braised Chicken or from Tom's side of the family, Grandma's Beef and Vegetable Soup!
Want to save this recipe for later? Follow me on Pinterest! Rather watch a video? See if I've made this recipe by following me on Tiktok!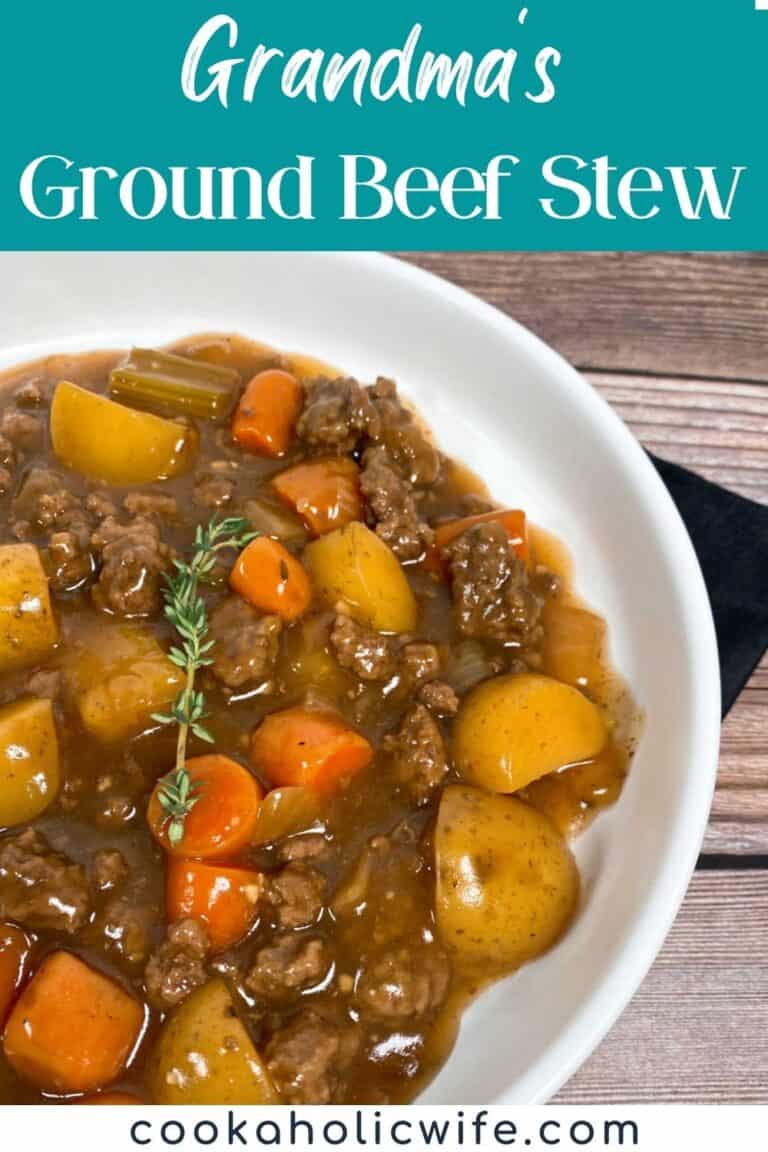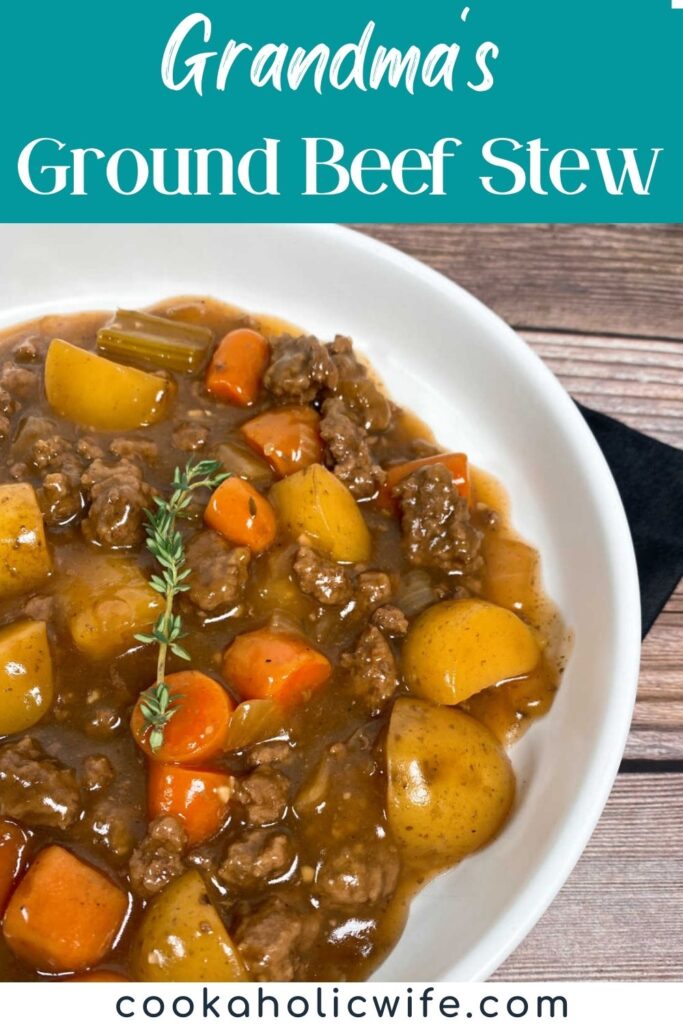 Recipe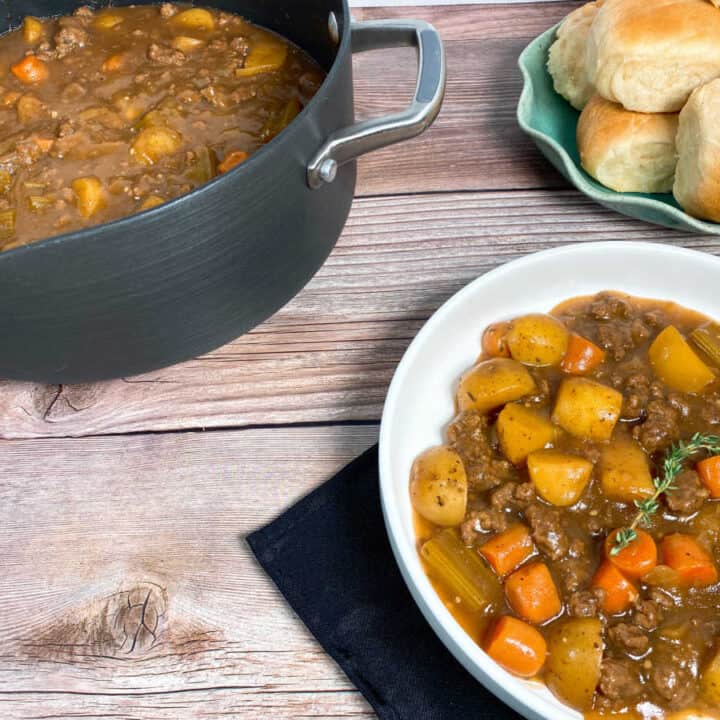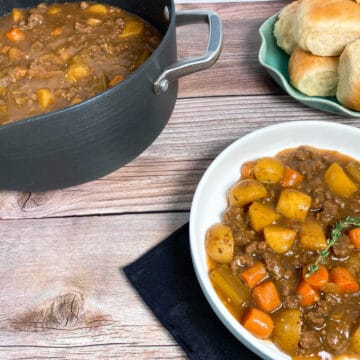 Grandma's Ground Beef Stew
Grandma's Ground Beef Stew is a family recipe of a simple and hearty beef stew, where stew meat is replaced with ground beef.
Ingredients
1

lb

ground beef

1

tbsp

olive oil

2

large

carrots

peeled and cut into 1 inch pieces

2

stalks

celery

cut into 1 inch pieces

1

large

onion

chopped

½

lb

potatoes

cut into bite sized pieces

1

tablespoon

garlic

minced

1

large

bay leaf

2

sprigs

fresh thyme

2 ½

cups

beef stock

1

tablespoon

Worcestershire sauce

1

packet

brown gravy mix

2

tablespoon

all purpose flour

½

cup

water
Directions
Add the ground beef to a large saucepan over medium high heat. Cook, crumbling until browned and cooked through. Drain the grease and transfer the meat to a paper towel lined plate. Set aside.

Add the olive oil to the saucepan along with the carrots, celery and onions. Cook for 10 minutes, stirring occasionally, until vegetables are just starting to soften.

Add the garlic, thyme, bay leaf, salt and pepper and stir to combine. Cook another minute.

Then add in the potatoes, beef stock and Worcestershire sauce. Bring to a boil and let boil 5 minutes.

Then reduce to a simmer. Add the ground beef back to the pot, stir and cover. Simmer for 25-30 minutes or until vegetables are fork tender.

Stir in the gravy packet until dissolved and mixture begins to thicken. If it is not thick enough, whisk together the all purpose flour and water in a small bowl to form a slurry. Stir into the pot and cook for 5-7 minutes more until it reaches you desired thickness.

Remove the bay leave and thyme sprigs. Divide stew into bowls and serve with crackers, biscuits, buttered bread, etc.
Notes
Beef Stock: you may need 2 or 3 cups of stock. You'll want enough to just cover the potatoes when they're added to the pot. Too much stock will take longer to cook down and you'll end up with more of a soup than a stew.
Nutrition
Serving:
1
serving
Calories:
290
kcal
Carbohydrates:
16
g
Protein:
17
g
Fat:
18
g
Saturated Fat:
6
g
Polyunsaturated Fat:
1
g
Monounsaturated Fat:
8
g
Trans Fat:
1
g
Cholesterol:
54
mg
Sodium:
309
mg
Potassium:
729
mg
Fiber:
2
g
Sugar:
4
g
Vitamin A:
4090
IU
Vitamin C:
12
mg
Calcium:
53
mg
Iron:
3
mg
Recipes on Cookaholic Wife are for information purposes only. Nutritional Data provided has not been evaluated by a nutritionist.