The #ImprovCookingChallenge is a monthly blogging event where two ingredients are assigned to a month. Bloggers can make any recipe they like as long as it features the two ingredients. If you are a blogger and would like to join us, please visit our Facebook page.You can also read more about the event on our our home page. If you'd like to see previous creations, check out our Pinterest board.
The ingredients for this month were ginger and spice. I looked up a bunch of different recipes but eventually decided that I wanted to include the ginger into a soup.
Carrot and ginger soup is the first soup I thought of when including ginger into a soup, but I didn't want to go that route. My next thought was that mushroom-green onion-broth soup that you get when you go to a Hibachi restaurant and decided I wanted to make it heartier by adding chicken and noodles. And of course ginger.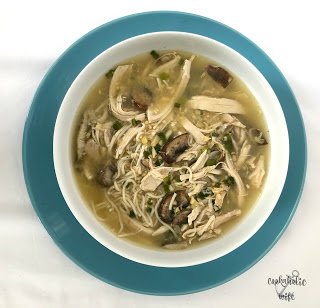 Ginger Chicken Noodle Soup
Ginger Chicken Noodle Soup is warming and healthy and comes together in less than 30 minutes by using a rotisserie chicken and ramen-style noodles.
Ingredients
1

bunch green onions

finely diced

2

garlic cloves

minced

1 2-

inch

piece fresh ginger root

peeled and grated

1

teaspoon

olive oil

6

oz.

crimini mushrooms

or exotic mushroom blend

2

cups

cooked

shredded chicken (I used a rotisserie chicken)

6

cups

low sodium chicken broth

salt and pepper

to taste

2

cups

ramen-style noodles

cooked
Directions
Add the olive oil over medium high heat in a large saucepan.

Add the green onions, garlic, ginger and mushrooms and cook for 4 minutes, stirring frequently.

Add the shredded chicken and broth and bring to a boil.

Reduce the heat to a simmer and season to taste with salt and pepper. Simmer for 10 minutes.

Divide cooked noodles among bowls and ladle soup on top.
Recipes on Cookaholic Wife are for information purposes only. Nutritional Data provided has not been evaluated by a nutritionist.
Seeing as it's been so cold, I've been extra lazy and have had my groceries delivered for the past couple of weeks. I really wanted to take pictures of the soup with pieces of fresh ginger root and scallions next to it, but unfortunately my shopper only provided me with one piece of ginger and one bunch of scallions large enough to make the soup and honestly it was just too cold to venture back out for a few ingredients in sake of a picture. (I don't think food bloggers are supposed to admit that, but oh well)
If you have extra soup, you'll either need to store the cooked noodles in a separate container from the soup so they don't absorb the broth, or add extra broth before re-heating and serving.