Maryland Crab Soup is a tomato-based soup made with blue crab meat, veggies like carrots, corn, green beans and tomatoes and is seasoned with Old Bay to give it that classic Maryland flavor. 
The recipe and photos were updated from the original recipe dated October 12, 2011.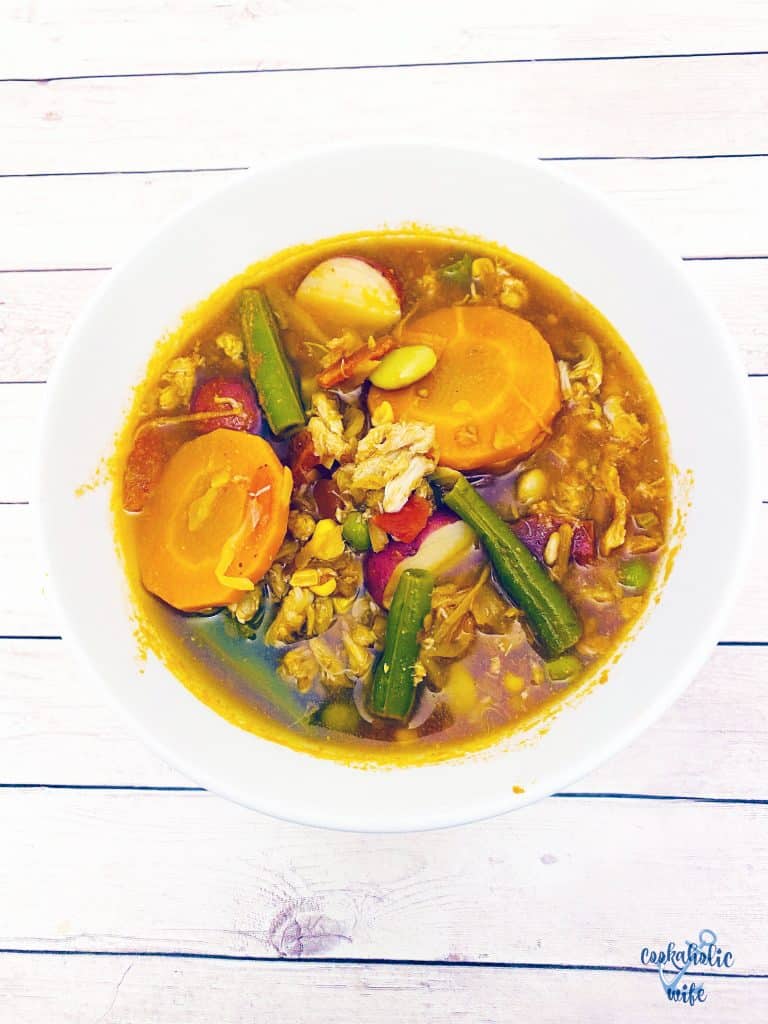 Marylanders take their crabs really seriously. Like, REALLY seriously. For the majority of us, you're taught as a young child how to pick a crab and there better not be any meat left behind in that shell when you're done!
There is a smidgen of leniency on this soup. It can be made with crab meat that didn't come from a blue crab. Do I advise it?
No, they'd probably kick me out of the state if I did! But you can. Which means even if you aren't able to get Maryland crab meat, you can still make this soup.
CAN YOU FREEZE MARYLAND CRAB SOUP?
Yes! It will keep for 4-5 days in the refrigerator, but if you haven't eaten it all by then, feel free to freeze it. I like to pour it into gallon sized bags and lay them flat in the freezer so it doesn't take up as much space as a container. You can freeze the soup for a long time, but for the best quality, you'll want to eat it in 2-3 months. *Note: potatoes that were frozen and reheated can take on a mushy/mealy quality to them. I don't notice it in this soup, but if that is something that bothers you, remove the potatoes before freezing and then boil up some more to add to your reheated crab soup. 
To reheat: thaw the soup overnight in the refrigerator. Add to a large saucepan and heat over medium heat until it is warmed through.
WHAT TYPE OF CRAB MEAT TO USE?
There are four types of crab meat.
Jumbo Lump: Jumbo Lump is the best of the best and most expensive. This is the premium grade crab meat from the body of the crab. Don't waste your money to put this in a soup, save it for a crab cake.
Lump: Lump is basically the same as jumbo lump, but the lumps are smaller. This is also best for crab cakes. You can use it in soup, but again, it's one of the more expensive choices.
Backfin: Backfin is basically lump meat that has been separated. It's more fragile and doesn't come in big pieces like lump and jumbo lump. This is great for crab dip and soup.
Claw: Claw is going to be your cheapest type of meat. It's also the sweetest but also the darkest. It's mostly used in soup, dip, or dishes with a heavy sauce because it can stand up to the weight of the sauce.
When I am making crab soup from leftover steamed crabs, every type of crab meat goes into my soup. If I need to purchase the crab meat, I typically buy backfin. It's a little more expensive than claw, but less expensive than lump and jumbo lump.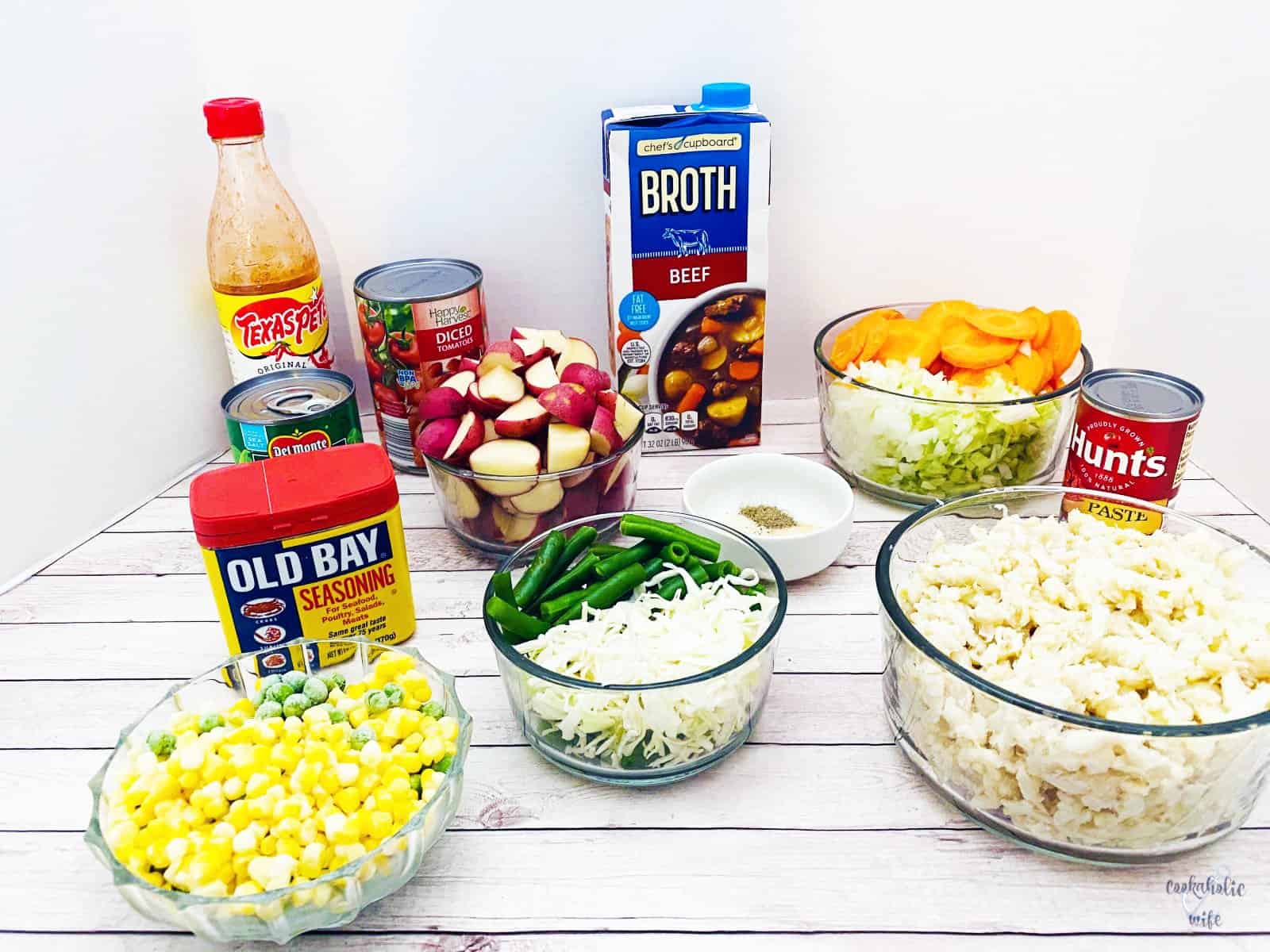 ABOUT THOSE SEASONINGS...
Old Bay has to be included or you can't call it Maryland Crab Soup. How much to use? That depends on how you are making the crab soup. When you are using store-bought crab meat or picked from steamed, but didn't save any of the shells or claws with seasoning, you're going to want anywhere from 1-2 tablespoons of Old Bay to give this soup flavor...
...Unless you're making soup using leftover crabs -  You'll want to save at least one shell and 3-4 crab legs that are covered in the seasoning you steamed them in. Let those boil down in the soup before adding any other flavor, then you can taste and add more Old Bay from there if you need it.
CRAB SOUP IN A THUNDERSTORM
Folklore or Truth? There are warnings told that if you make crab soup in a thunderstorm, your soup is going to spoil. Ask a local and they'll likely tell you not to chance it, and maybe share a story about the time they didn't listen and their soup spoiled.
Multiple reasons exist for why this could be a thing - a drop in pressure means the soup boils at a lower temperature but not for long enough, that the electricity in the air reacts to the crab meat and cabbage together, or that it only happens if you cook it in a stainless steel pot. So, take your chances if you want. While it may just be superstition, I'd prefer not to take any chances on wasting a delicious batch of crab soup so I don't make it when there's a storm going on outside.
INGREDIENTS IN MARYLAND CRAB SOUP
Everyone has their own thoughts about what ingredients should go into crab soup. Some believe that it should be simple - carrots, potatoes, onion, celery, green beans, corn, peas and canned tomatoes. Others add in things like lima beans and bacon. Which version of the soup you make is entirely up to you, and what you have on hand. Of course, the soup is best when made with mainly fresh veggies, but I've included some alternatives you can make if you don't have everything on hand.
Crab Meat: a mixture of backfin and claw is the most cost effective
Carrots, Celery, Onion, Corn, Green Beans, Peas and Lima Beans: there are bags of frozen mixed vegetables that include many or all of these ingredients. Fresh is best, but frozen works as well.
Cabbage, Lima Beans and Bacon: optional to some people, a requirement for others. Your choice!
Tomatoes: diced or stewed are what is most commonly used. I always have diced on hand, so I use those
Seasonings: I add more than just Old Bay. Not everyone agrees with that. Add the Old Bay and taste test to decide on if you want to add other seasonings or not
Broth: Beef or a combination of beef and chicken is most common. Vegetable also works!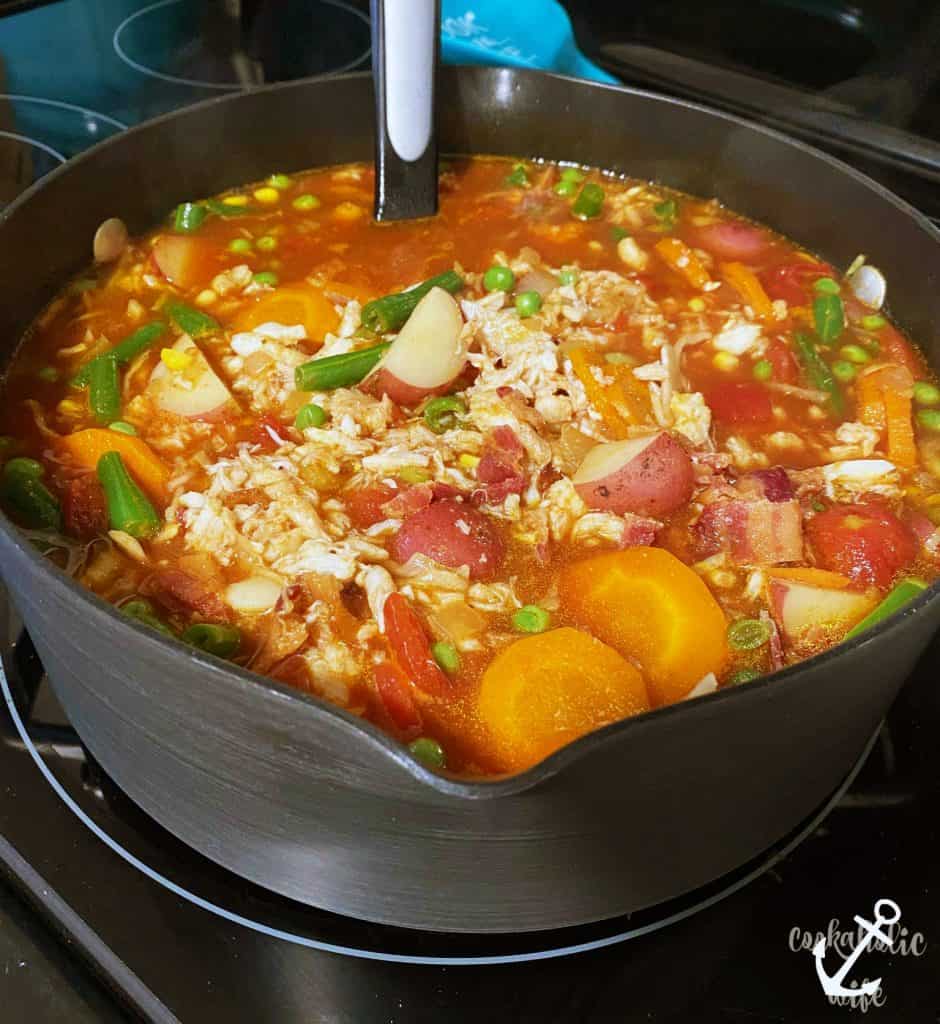 IMPORTANT QUESTIONS ABOUT CRAB SOUP ANSWERED HERE!
Is Maryland Crab Soup Keto Friendly? You'd have to omit or reduce the amount of potatoes, corn and peas, but yes, the recipe can be made keto friendly. 
Is Maryland Crab Soup Gluten Free? It depends on the brand of broth, canned tomatoes and paste, and hot sauce you are using.
Is Maryland Crab Soup Healthy? Yes, it is a pretty healthy dish, coming in at under 200 calories. Crab is low in fat and contains a lot of Omega-3's. However, this soup does have a decent amount of sodium, so you'll want to make sure to purchase low-sodium broth, no salt added tomatoes and watch how much Old Bay you are adding. 
What do I eat with Maryland Crab Soup? Here in Maryland we typically enjoy crab soup as an appetizer or as an entree. If you are having it as an appetizer, it pretty much goes along with anything. Crab soup followed by a crab cake is the ultimate Maryland meal. To eat it as an entree, serve it with crackers or bread. 
WANT TO SAVE THIS RECIPE FOR LATER? PIN IT TO YOUR FAVORITE PINTEREST BOARD AND FOLLOW ME AT COOKAHOLICWIFE FOR MORE DELICIOUS RECIPES!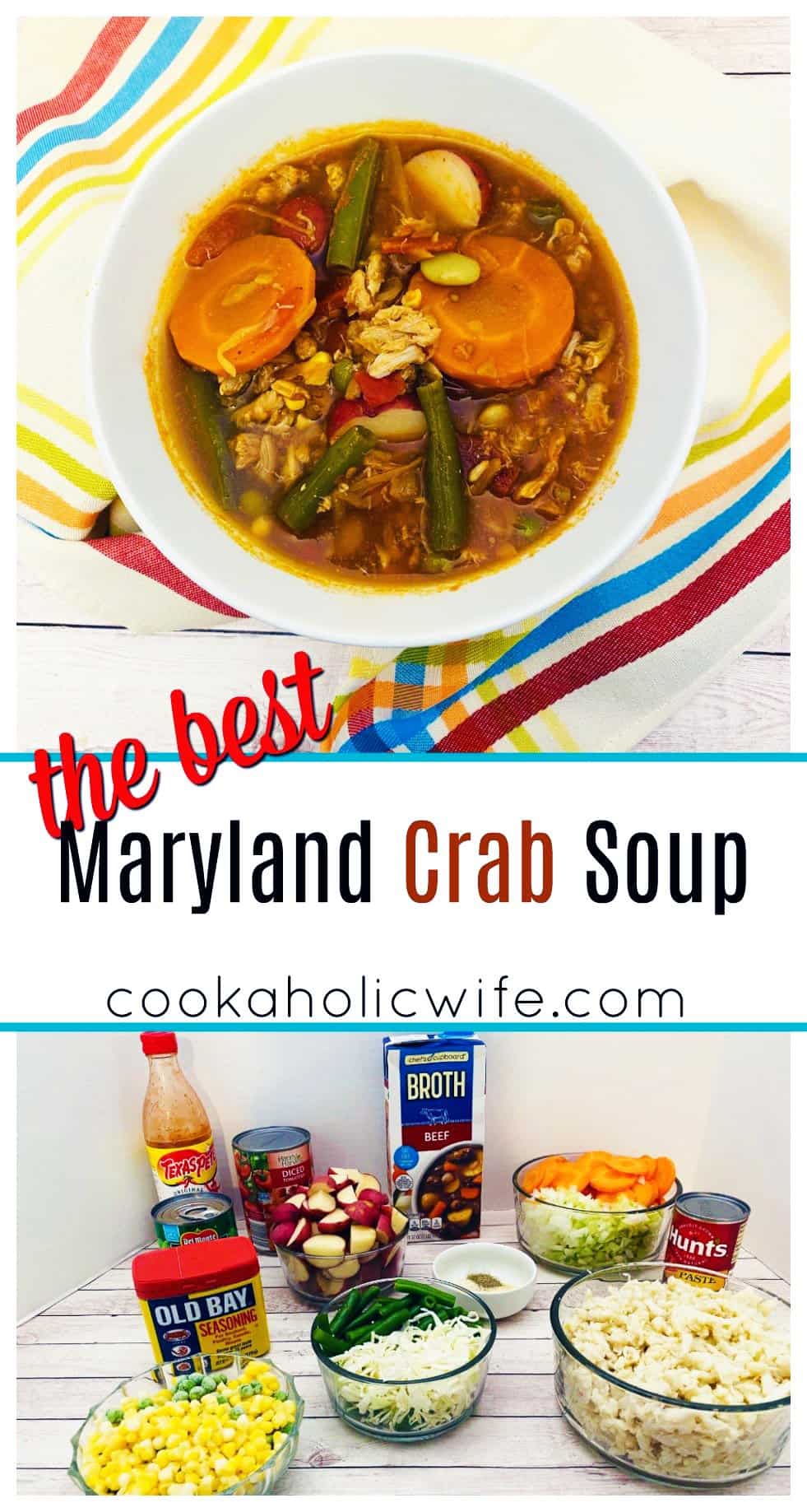 Recipe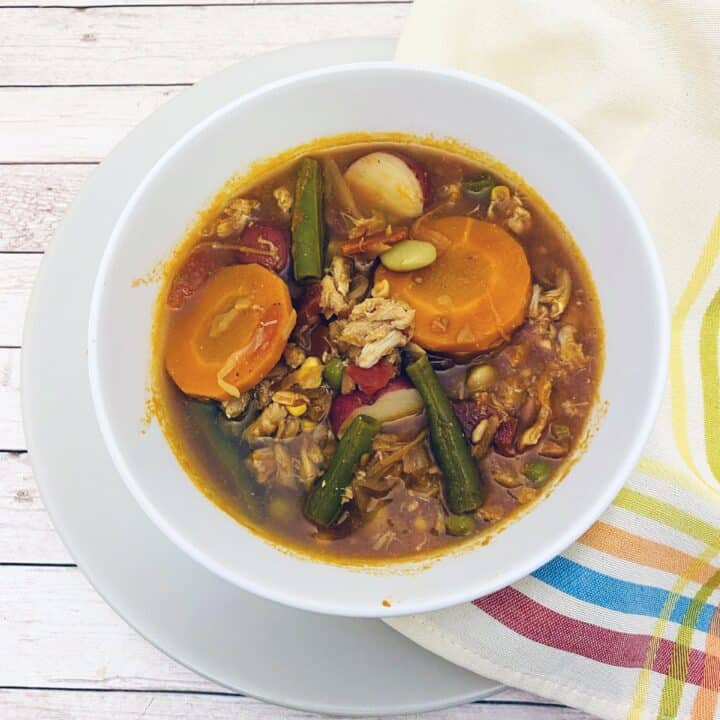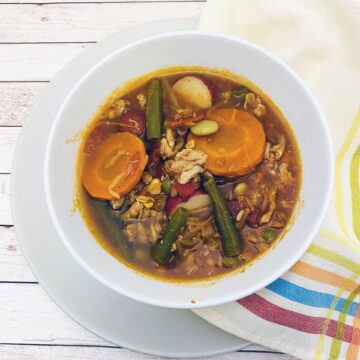 Maryland Crab Soup
Maryland crab soup is a staple in just about every restaurant in the state, even if it's not a seafood restaurant. The soup is tomato based, full of vegetables and fresh picked crab meat seasoned liberally with our state-favorite seasoning, Old Bay.
Ingredients
1

lb.

Maryland crab meat

see above for recommended type

2

tablespoon

olive oil

2

carrots

peeled and cut into round

2

celery stalks

diced

2

medium potatoes

scrubbed and cut into bite sized pieces

1

onion

diced

1

cup

cabbage

shredded

1

cup

corn kernels

1

cup

peas

1

cup

green beans

large chop

8.5

oz

can lima beans

drained

15

oz

can diced tomatoes

no salt added, preferred

8

oz

tomato paste

4-6

cups

low-sodium beef broth

2-3

cups

water

1-2

tablespoon

Old Bay

see note

1

teaspoon

each garlic powder

onion powder, celery seed, black pepper

1

teaspoon

hot sauce
Directions
Gently pick through the crab meat to remove any remaining shells or cartilage. Set meat aside.

Add olive oil to a large stock pot over medium high heat. Add the carrots, celery and onion and cook for 5 minutes. Stir in the tomato paste.

Add 4 cups of the beef broth,  2 cups of water, potatoes and 1 tablespoon Old Bay seasoning. Bring to a boil and boil for 10 minutes or until potatoes are fork tender.

Reduce to a simmer and add in the cabbage, corn, peas, green beans, lima beans and diced tomatoes. Cook for 5 minutes.

Taste test, and add the garlic powder, onion powder, celery seed, pepper, hot sauce and remaining Old Bay.

Stir in the crab meat and additional beef broth or water if the soup is too thick. Simmer for 5-10 more minutes then remove from the heat and serve.
Notes
If you have crab shells or claw legs to simmer in the soup, add at step 3 but omit the Old Bay seasoning. At step 5, remove shells or legs and taste, adding Old Bay or other seasonings as needed.  
Nutrition
Serving:
1
½ cups
Calories:
195
kcal
Carbohydrates:
20.1
g
Protein:
21.7
g
Fat:
3.4
g
Saturated Fat:
0.5
g
Cholesterol:
104
mg
Sodium:
854
mg
Fiber:
4.8
g
Sugar:
7.1
g
Recipes on Cookaholic Wife are for information purposes only. Nutritional Data provided has not been evaluated by a nutritionist.