Pan Seared Scallops are light, sweet and delicious. With this easy 4 ingredients recipe you'll never worry about messing up scallops again.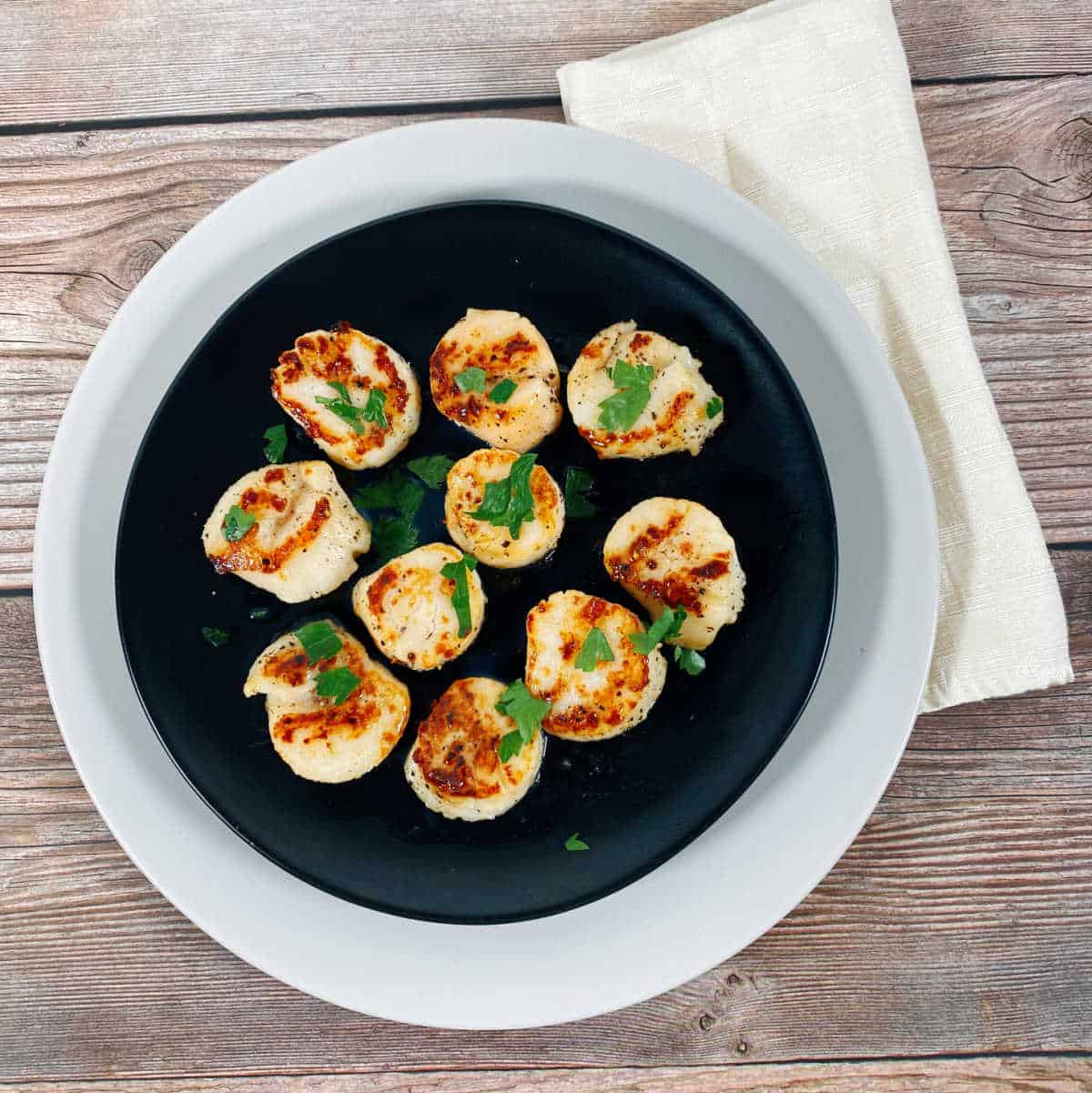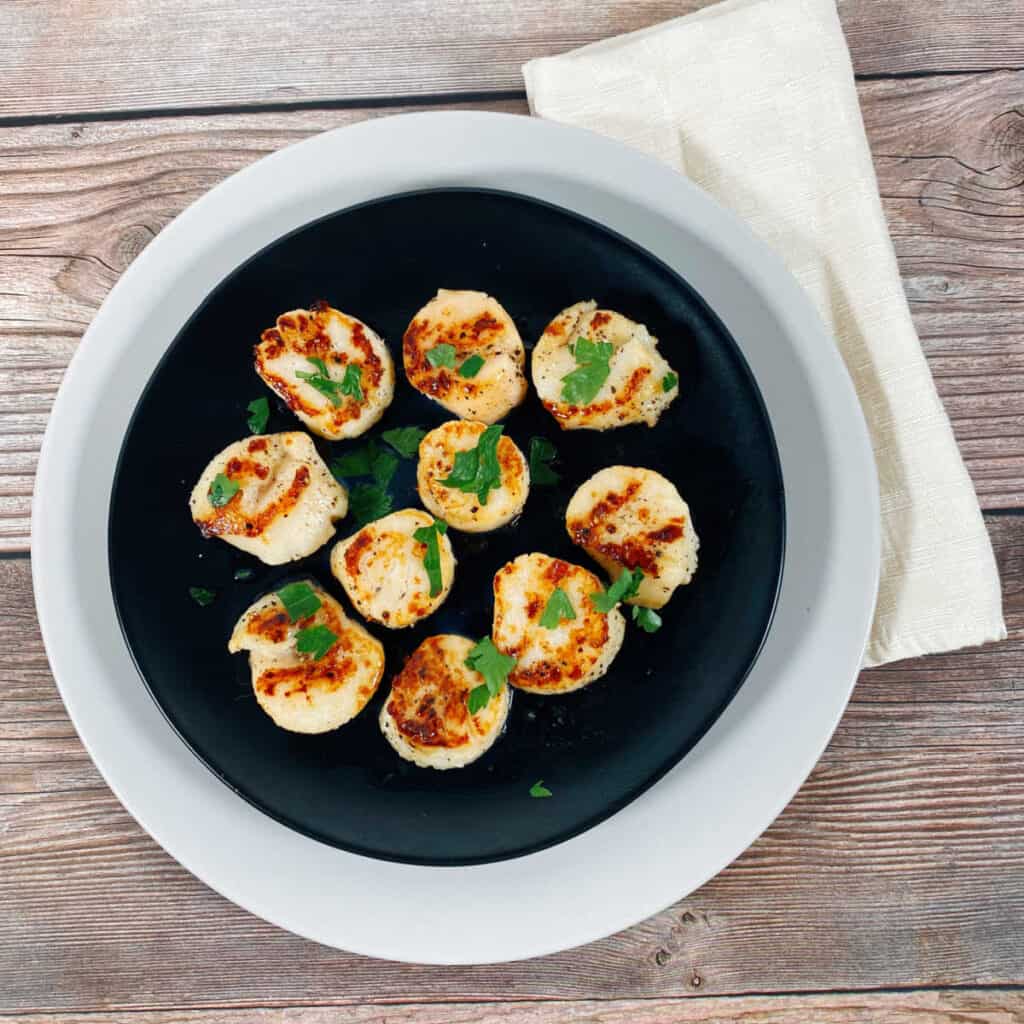 Scallops are my second favorite seafood. (Crab is the first — I live in Maryland, it's a requirement) Scallops are so light in flavor that they take on the taste of how they are prepared, which makes them a perfect dish. When overcooked they become tough and chewy, but my tips will ensure that doesn't happen.
So many people only order scallops at restaurants and are afraid to make them at home. But they're not hard to make! Actually, they cook really quickly and don't require hardly any prep work or a ton of ingredients!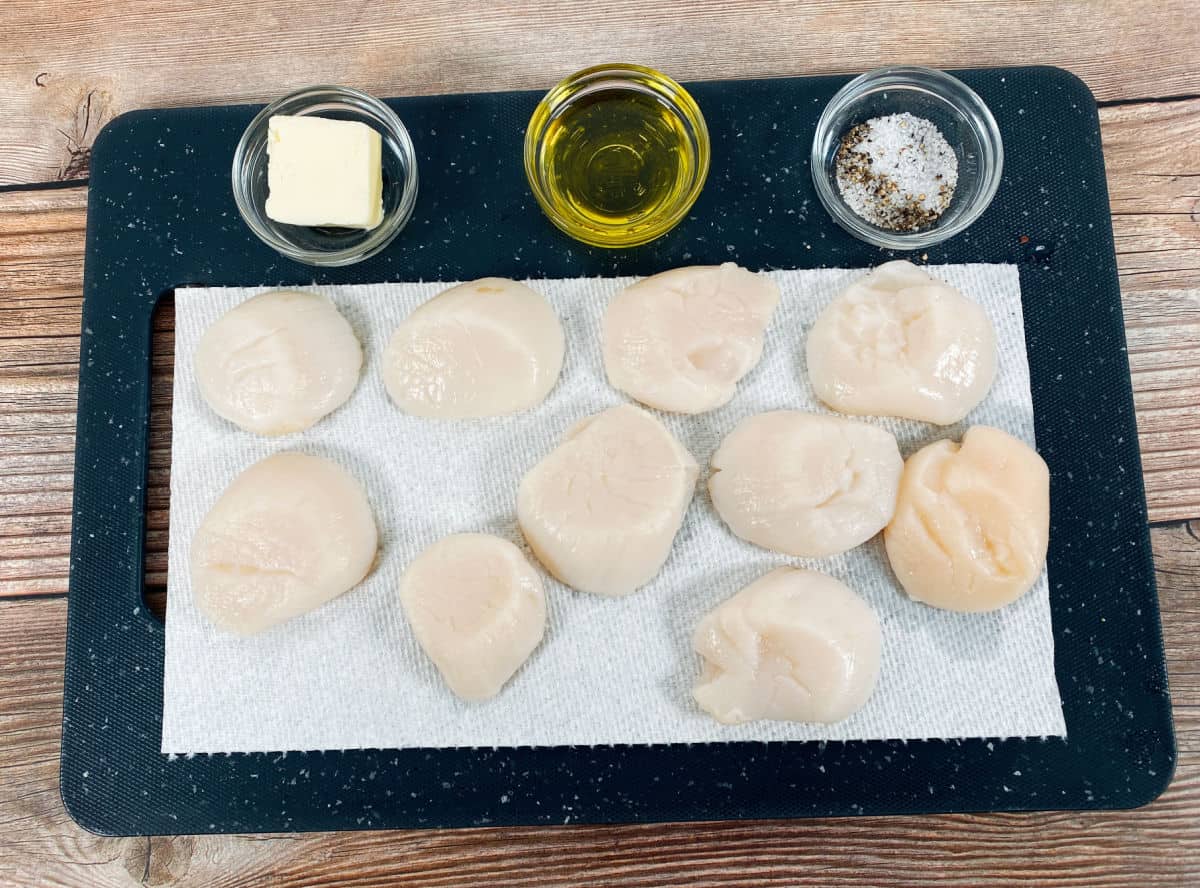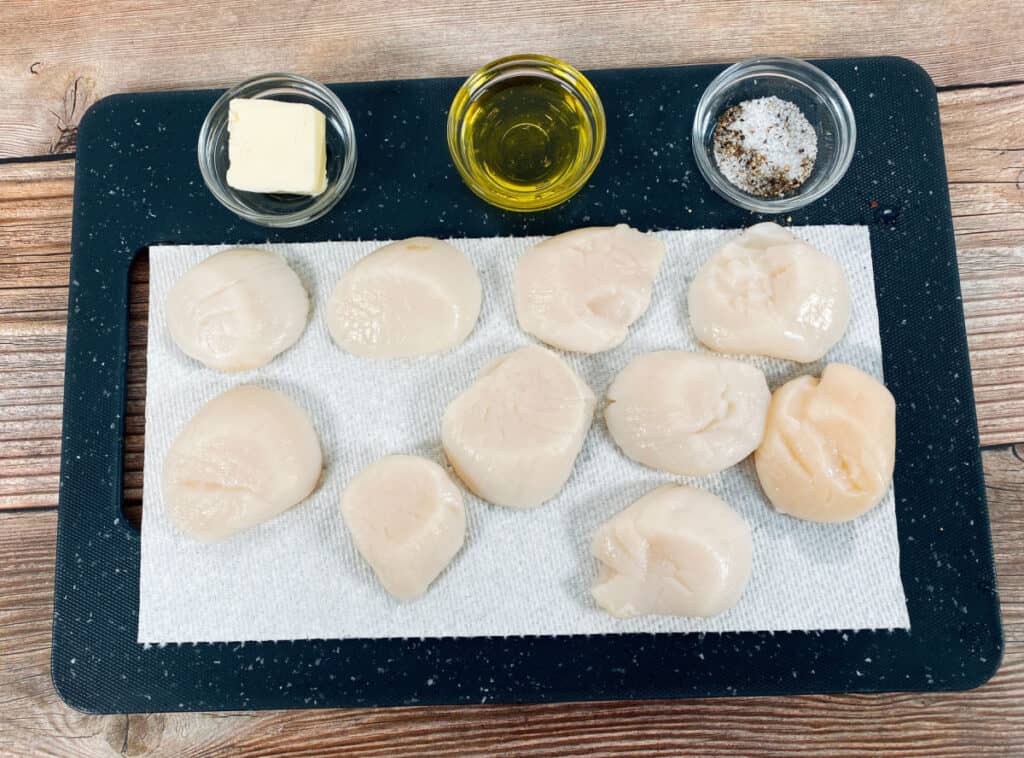 🥘 Ingredients for this recipe
Yes! You only need these 4 simple ingredients to make seared scallops, however there are so many other ingredients you can add to change the flavor of the scallops.
sea scallops
butter
olive oil
salt and pepper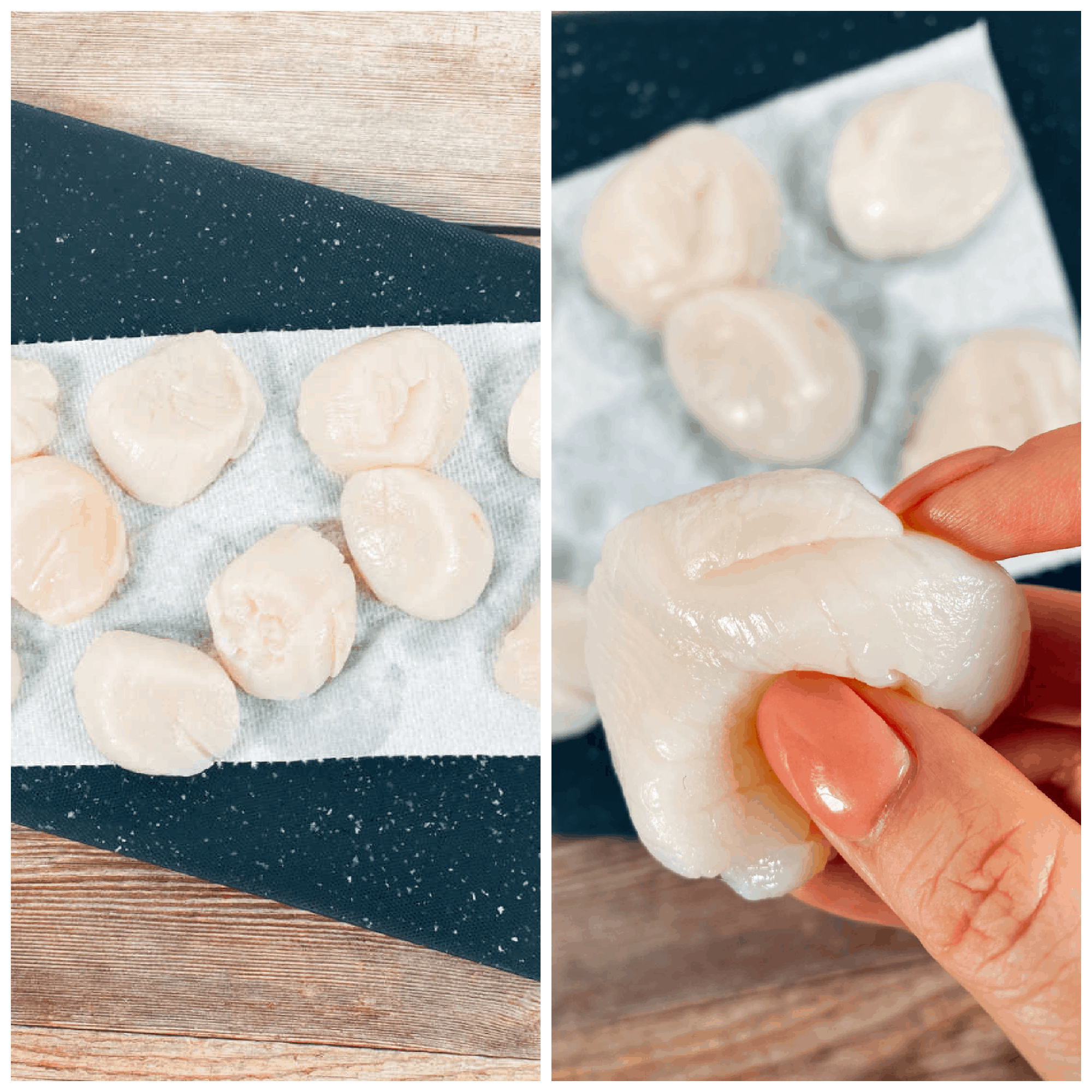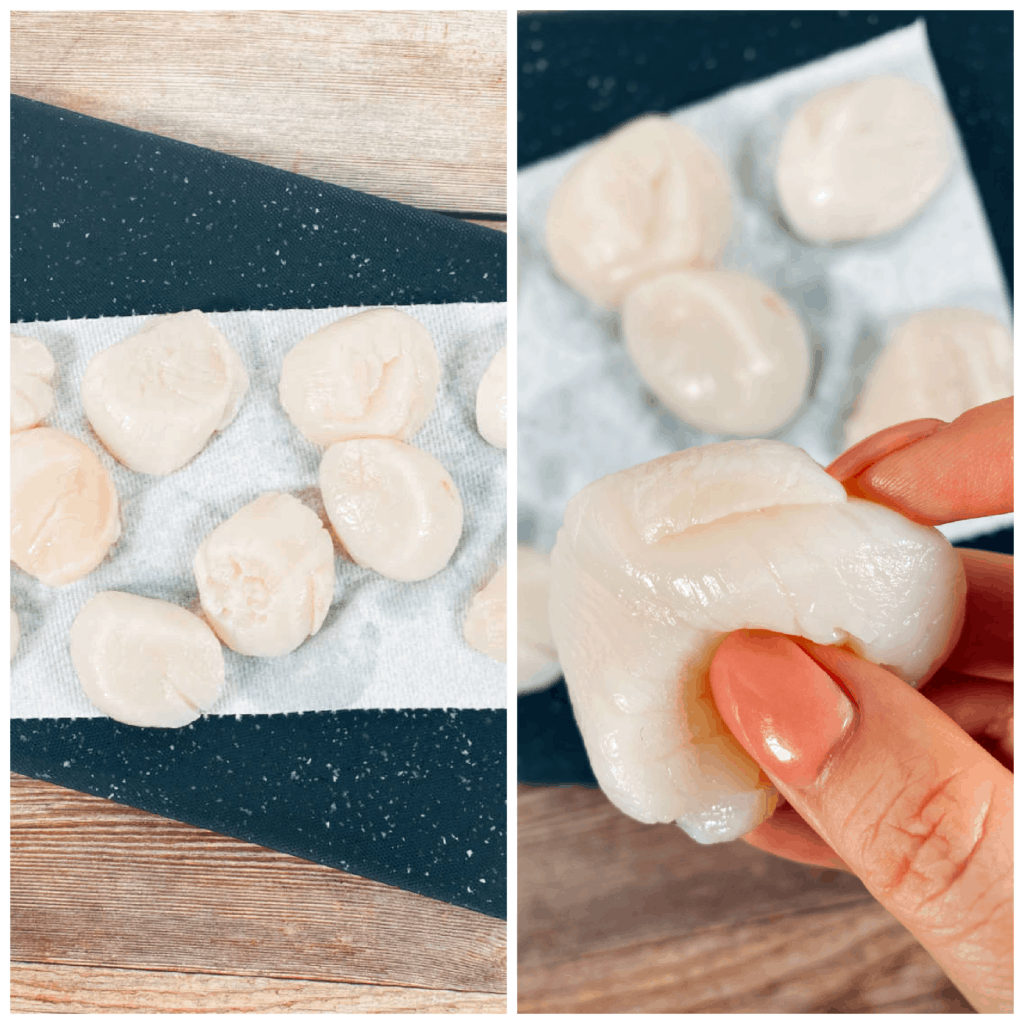 🔪Instructions for this recipe
Pat your scallops dry with a paper towel. You want them to be as dry as possible to get a good sear. If you have frozen scallops, make sure to let them thaw completely in the fridge before cooking.
Then, remove the muscle. On the side of the scallops, (image on right, above) there is sometimes a tiny piece, called a muscle. Pull this off and discard.
Next, season the scallops. Season one side of the scallops with salt and pepper.
Heat the skillet. Melt butter and olive oil in a large skillet over medium-high heat. Once it's hot, add the scallops, seasoned side down. Season the remaining side with salt and pepper.
Flip and keep cooking. Once scallops are opaque on the sides, they're cooked through. Immediately remove from the skillet.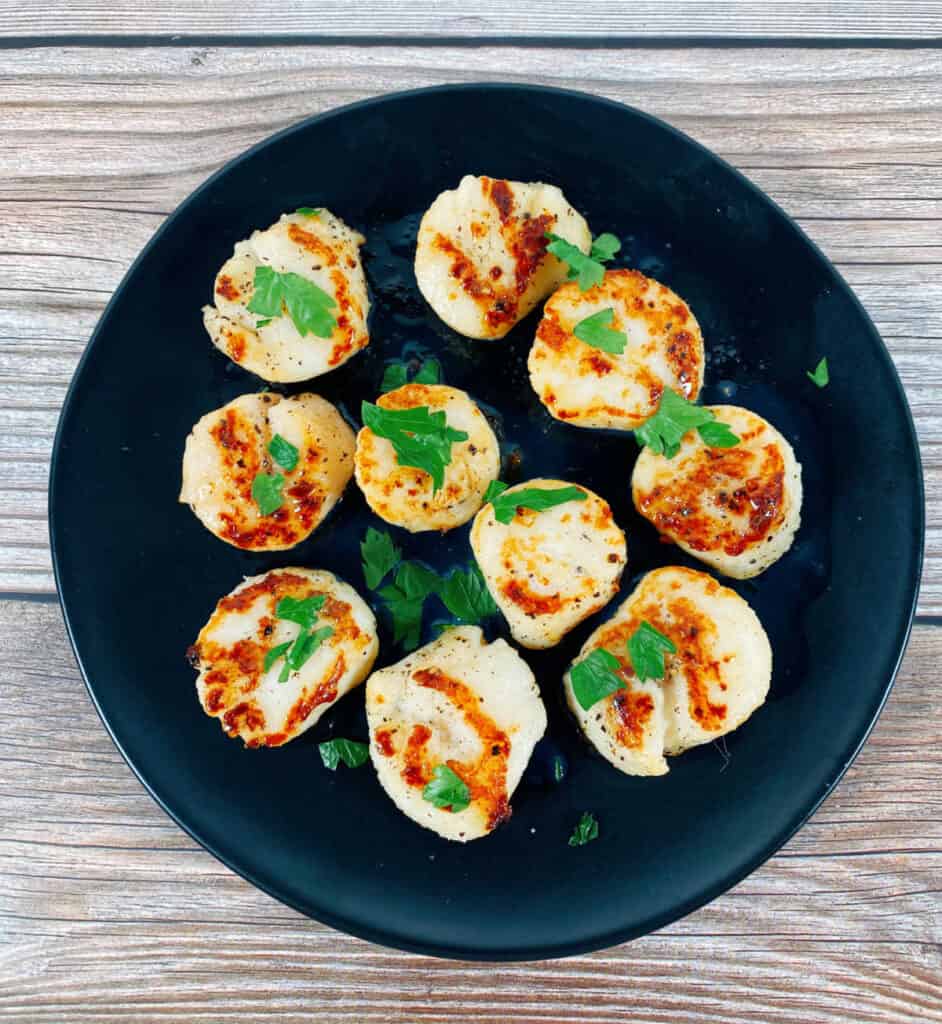 FAQ's for pan seared scallops
How can you tell if scallops are done?
The scallop will change colors when it is cooked through. Raw scallops are more translucent and cooked scallops are not. As you're going to have a sear on the top and bottom, look to the sides of the scallop to make sure they're opaque. It should take no more than 4 total minutes to cook both sides of the scallop.
Can you cook frozen scallops?
Yes, but not for this recipe. In order to get a good sear on the scallop, it needs to be dry. If the scallop is still partially frozen, the heat of the pan will cause the water to come out, meaning you won't get a sear.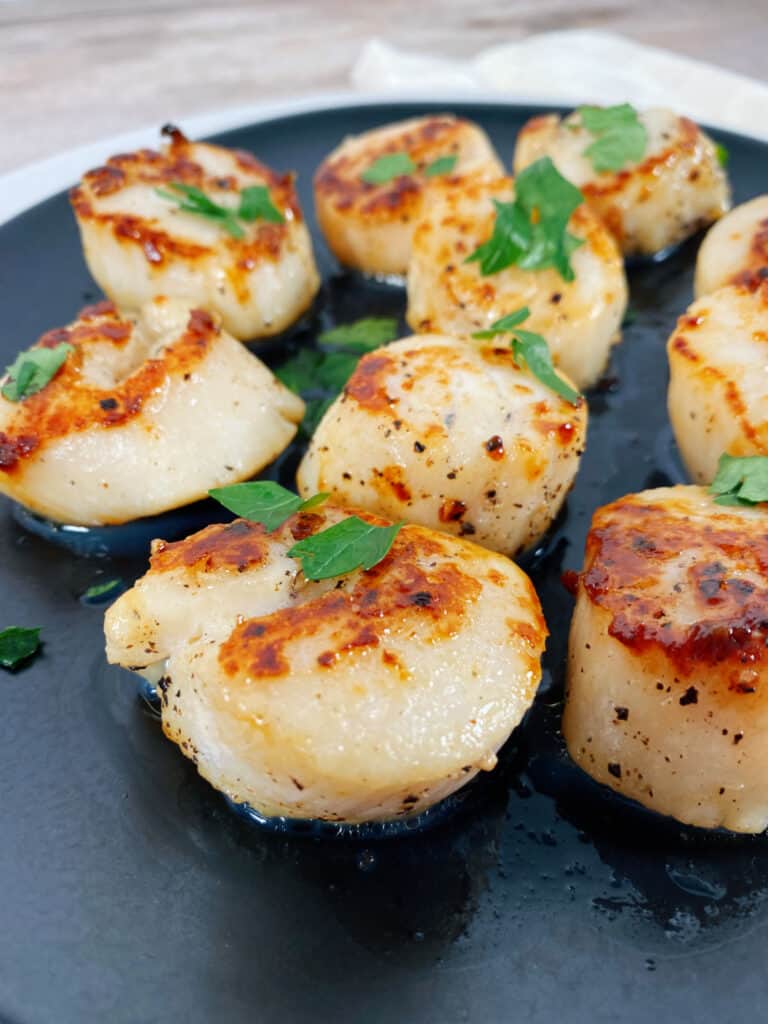 What temperature do you sear scallops?
Medium high to high heat. If this is your first go-round with scallops, start with medium-high. It is more forgiving. Once you've mastered the art of searing scallops without overcooking them, feel free to do it on high heat.
Why cook them in butter and olive oil? Both butter and olive oil do not have a high smoke point; butter 350 degrees and olive oil 410 degrees, but together you can cook at medium-high heat without any issues. Plus the butter adds in more flavor.
Do I need to rinse scallops before cooking them? Yes, even if they're thawed from frozen. Just a quick rinse under cold water is fine!
Flavor Options and Serving Suggestions for Scallops
Lemon, garlic and white wine are the most common items paired with scallops. Once the scallops are seared and remove from the skillet, garlic is cooked and then wine or broth and lemon juice is simmered to make a sauce for them. As I served these over parmesan risotto, I chose to keep them simple.
With their mild flavor, scallops can be served with just about anything. Risotto or rice, pasta or noodles, or even a salad!
More scallop dishes: Scallops with Orange Rum Sauce and Bacon Wrapped Scallops with Chili Butter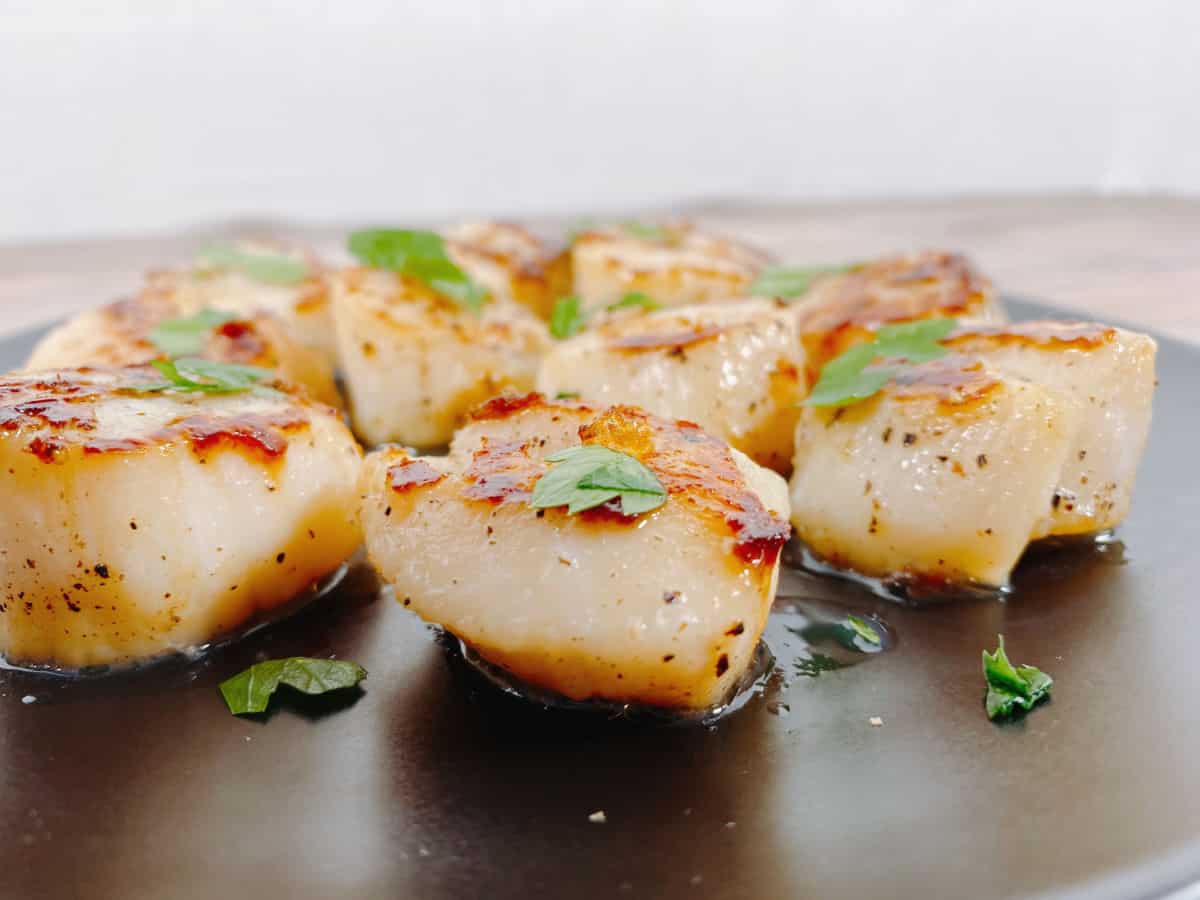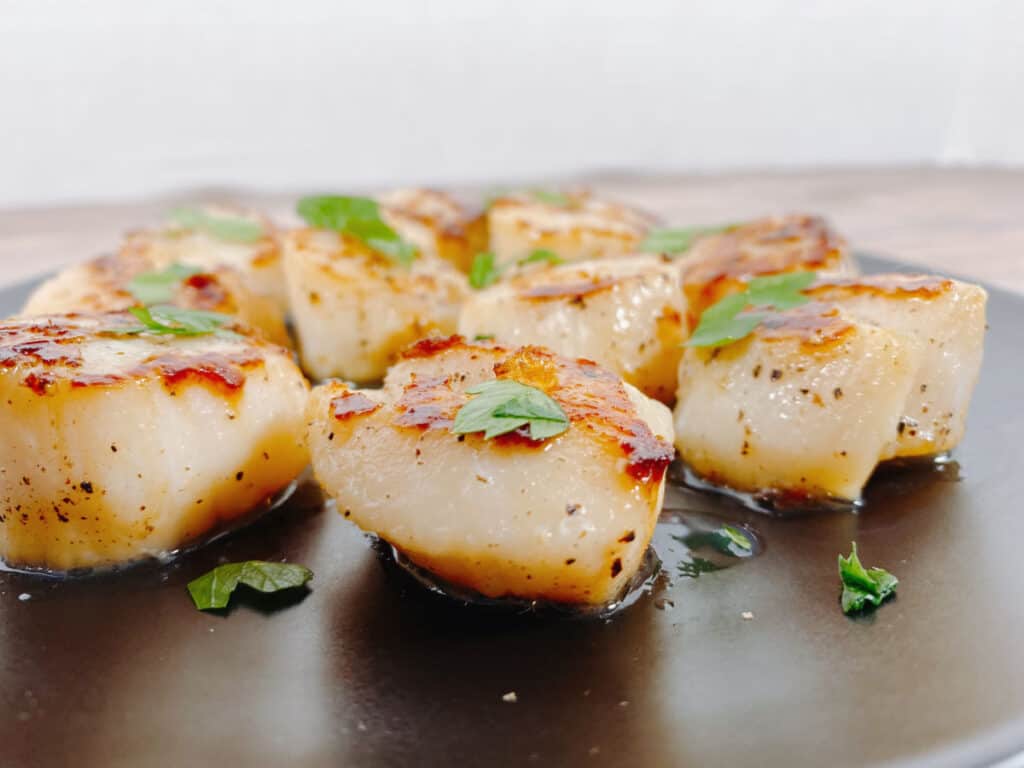 Want to save this recipe for later? Pin it to your favorite Pinterest board and follow me for more delicious recipes!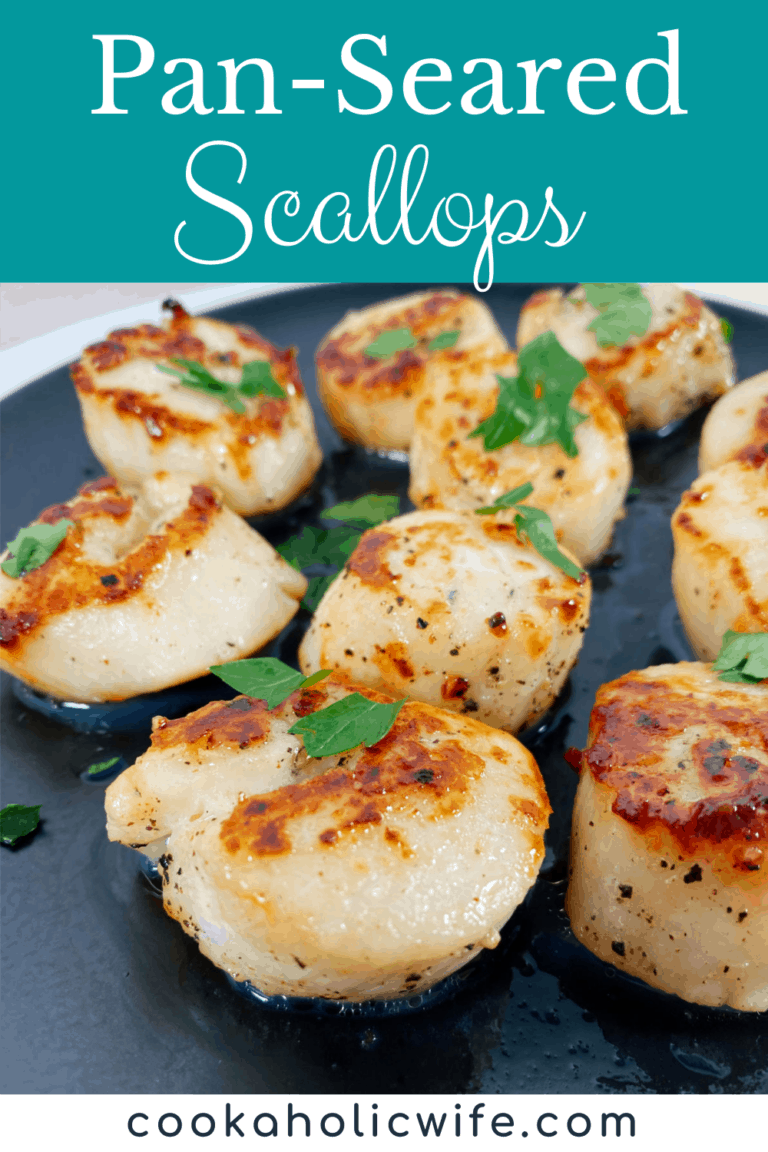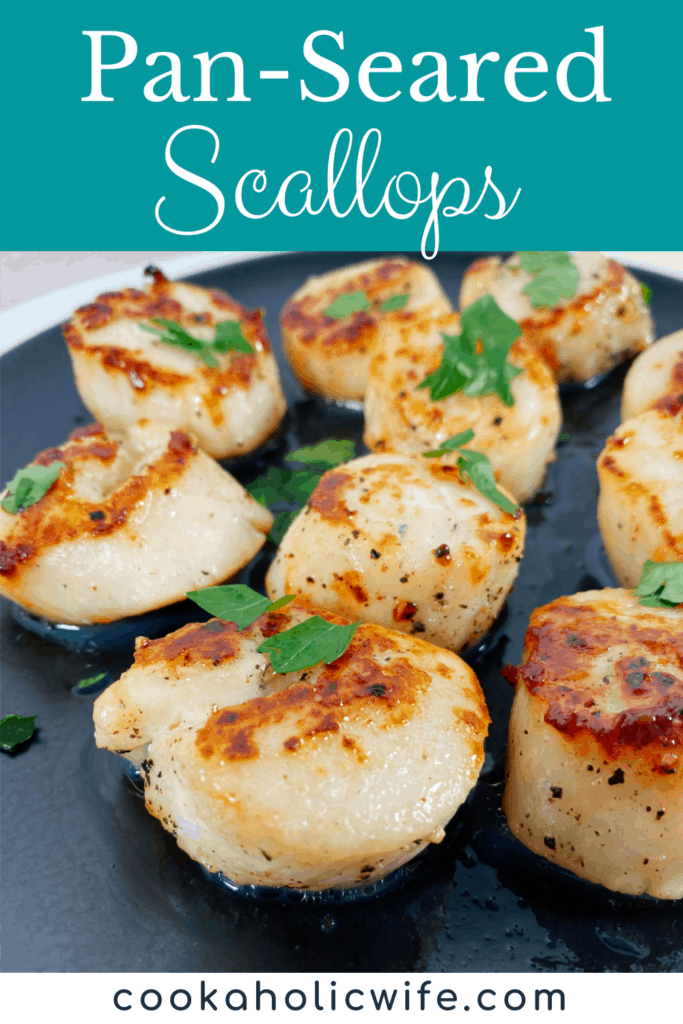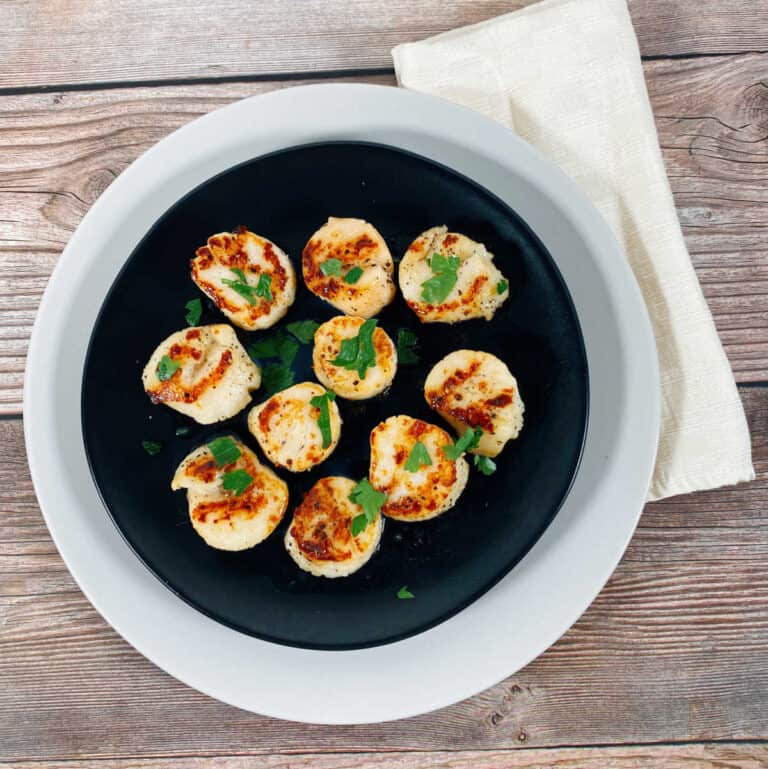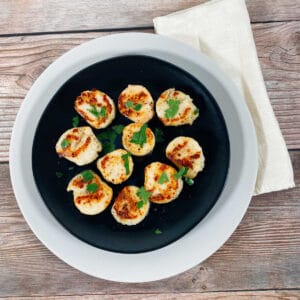 Pan Seared Scallops
Pan Seared Scallops are light, sweet and delicious. With this easy 4 ingredients recipe you'll never worry about messing up scallops again.
Ingredients
1

lb

sea scallops

1

tbsp

unsalted butter

1

tbsp

olive oil

1

tsp

salt

1

tsp

pepper
Directions
If using frozen scallops, allow to thaw in the fridge. Then rinse the scallops and place on a paper towel and pat dry.

Let the scallops sit for a few minutes and pat dry again. Then remove the muscle on the side of the scallops (sometimes this is already done).

Heat a skillet over medium high heat, adding butter and olive oil. Season one side of the scallops with salt and pepper.

Once the skillet is hot, place scallops, seasoned side down into the skillet. Salt and pepper the other side of the scallops. Let cook for 2 minutes and then carefully flip over to cook the other side.

Once the sides of the scallops are opaque, they are cooked through. There should be a golden brown sear on both sides. Remove from the skillet and serve immediately.
Notes
Tips for cooking scallops: a raw scallop will be somewhat translucent. As it's cooking, you can watch the sides become more opaque, this is how you know they are done. It shouldn't take more than 4 minutes to cook the scallops through on both sides. 
Even if cooking from frozen, always rinse your scallops under cold water before preparing. 
Nutrition
Serving:
1
servings
Calories:
136
kcal
Carbohydrates:
4
g
Protein:
14
g
Fat:
7
g
Saturated Fat:
2
g
Cholesterol:
35
mg
Sodium:
1026
mg
Potassium:
232
mg
Fiber:
1
g
Sugar:
1
g
Vitamin A:
87
IU
Calcium:
7
mg
Iron:
1
mg
Recipes on Cookaholic Wife are for information purposes only. Nutritional Data provided has not been evaluated by a nutritionist.