Disclaimer: I received free products from Tresomega to create recipes. All opinions are my own.
They're saying that we're going to have a bitterly cold, brutal winter. I don't like any of the words in that sentence.
I am not a winter person at all, and if I could stand humidity, I'd probably live in Florida to avoid it entirely because I am not a fan of snow, ice and freezing temperatures. I'd even be okay with hibernation.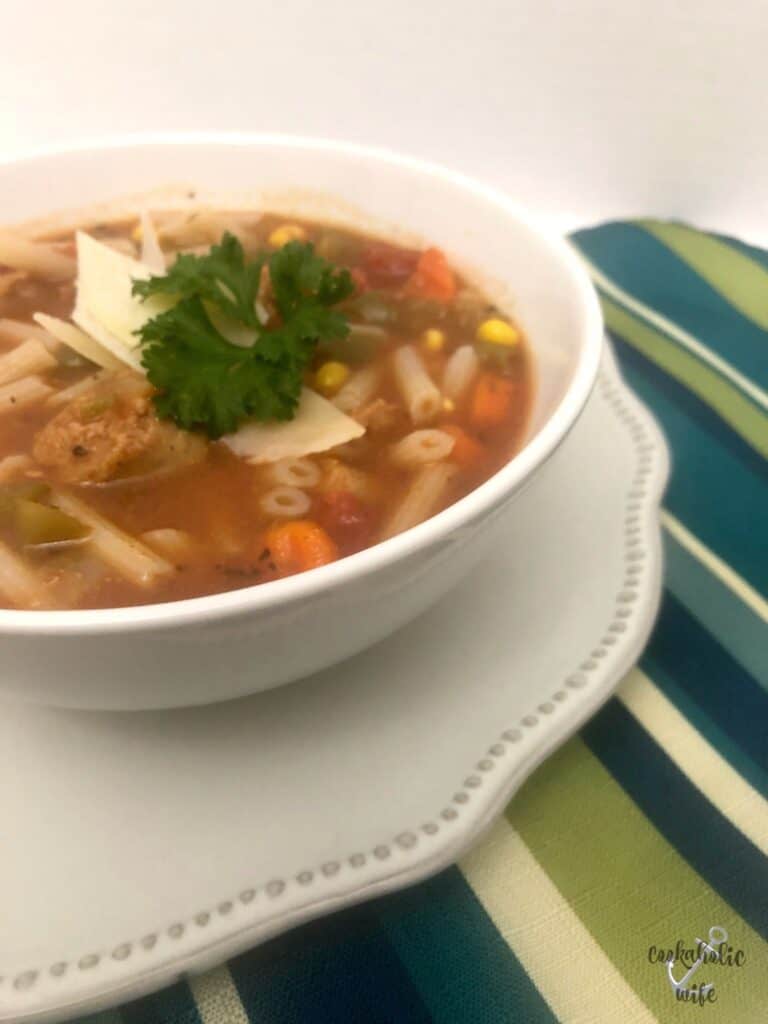 But I do like the holidays, so I can stand winter up until Christmas and then I'm ready to press the fast forward button to April when it's supposed to be spring again. Unfortunately, hibernation and fast forward buttons aren't an option, I grumble a lot and stick it out. And make a lot of soup and other hearty meals.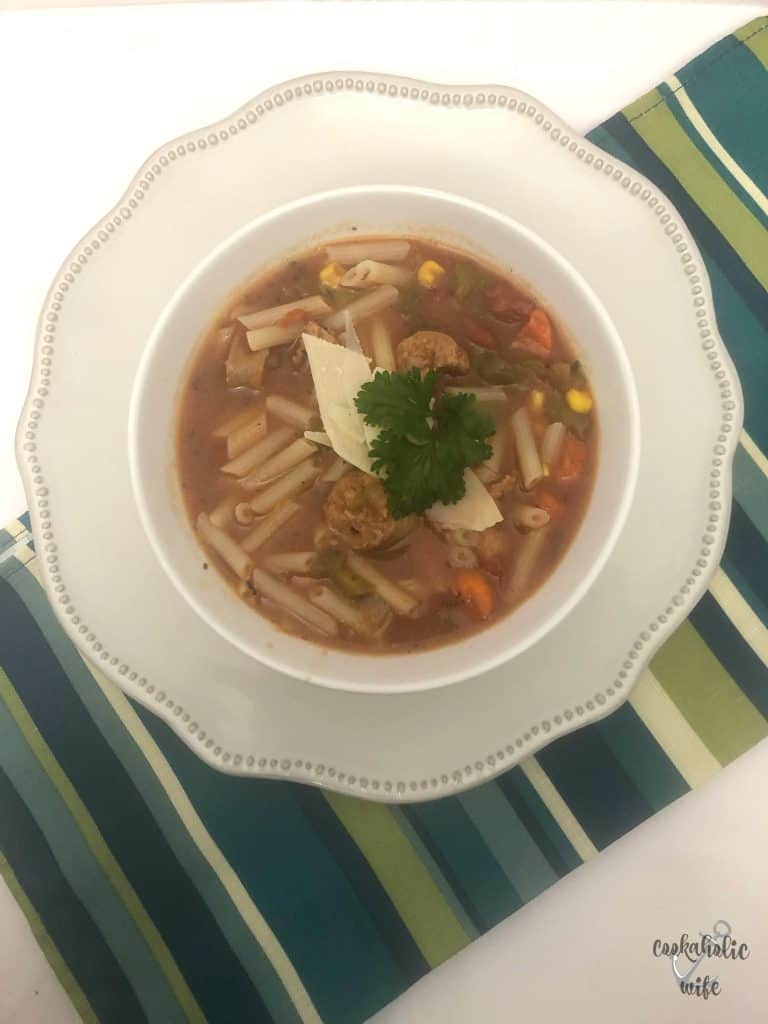 This soup came together by accident on a recent cold day that we had. Those are my favorite kind of recipes, where you're not planning to make something specific and just using up the ingredients you have and you end up with something absolutely delicious that you can't wait to recreate.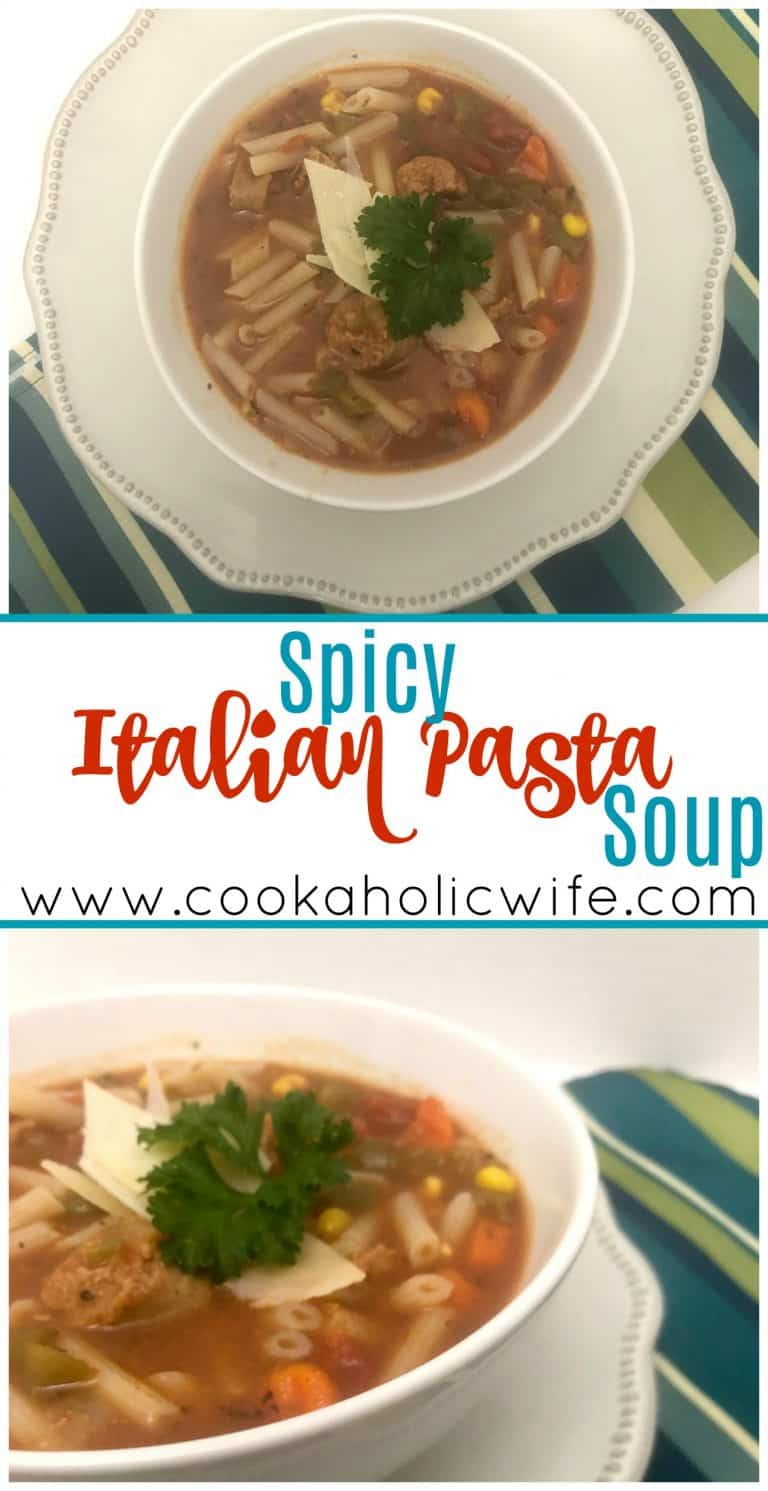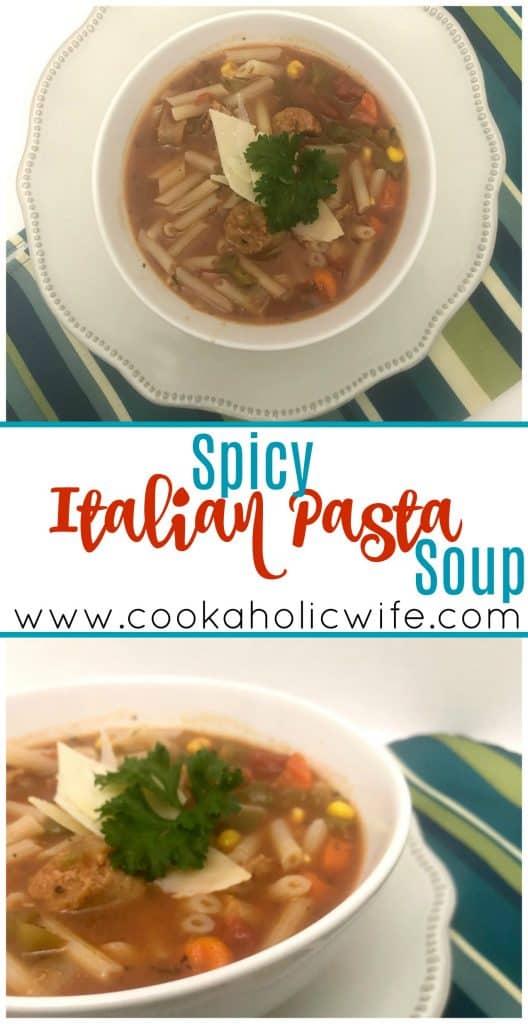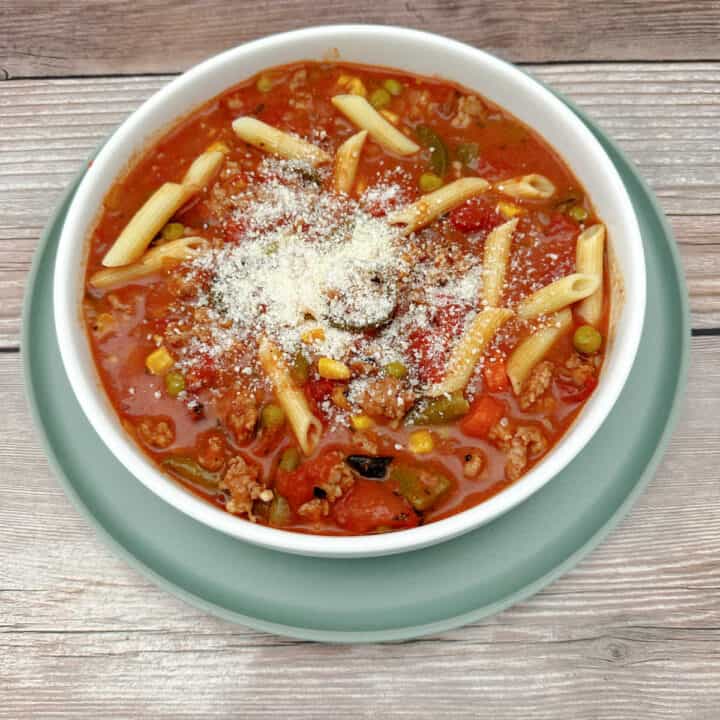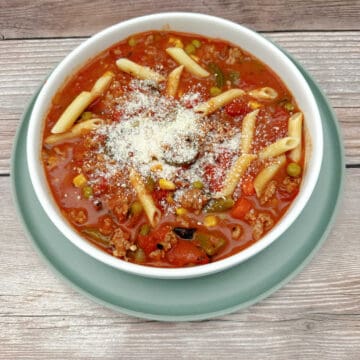 Spicy Italian Pasta Soup
Spicy Italian Pasta Soup is a hearty soup made with Italian sausage, a tomato base, lots of vegetables and penne pasta.
Ingredients
½

lb

Spicy Italian sausage

cooked and crumbled

12

oz

penne pasta

2

tablespoon

olive oil,

extra virgin

1

large

bell pepper,

diced

1

large

japapeno,

diced (seeded to reduce heat)

10.75

oz

tomato soup

canned

14.5

oz

diced tomatoes

fire-roasted

2

cup

beef broth

3

cups

water

1

teaspoon

garlic powder

1

teaspoon

Italian seasoning

1

teaspoon

pepper

1

teaspoon

crushed red pepper,

or less, to taste

1

cup

frozen mixed vegetables

4

tablespoon

Parmesan cheese
Directions
Bring a large pot of salted water to a boil. Add penne and cook until al dente, according to package directions, but usually around 11 minutes. Drain, rinse in cold water and set aside.

In a large saucepan, heat olive oil over medium heat. Add onion, bell pepper and jalapeno. Cook, stirring frequently, for 7-10 minutes, until vegetables have softened.

2 tablespoon olive oil,,

1 large bell pepper,,

1 large japapeno,

Add in canned tomato soup, diced tomatoes, beef broth and water. Stir in spices and bring soup to a boil. Boil for 10 minutes, or until all vegetables are fully cooked.

10.75 oz tomato soup,

14.5 oz diced tomatoes,

2 cup beef broth,

3 cups water,

1 teaspoon garlic powder,

1 teaspoon Italian seasoning,

1 teaspoon pepper,

1 teaspoon crushed red pepper,

Stir in frozen vegetables and cooked Italian sausage. Cook for 2-3 minutes, until heated through.

½ lb Spicy Italian sausage,

1 cup frozen mixed vegetables

Ladle penne pasta into a soup bowl and pour soup on top. Sprinkle with Parmesan cheese. Garnish with fresh parsley if desired.

4 tablespoon Parmesan cheese
Notes
If making soup in advance, do not add pasta until ready to serve.
Nutrition
Serving:
1
serving
Calories:
355
kcal
Carbohydrates:
35
g
Protein:
14
g
Fat:
19
g
Saturated Fat:
6
g
Polyunsaturated Fat:
2
g
Monounsaturated Fat:
9
g
Cholesterol:
31
mg
Sodium:
853
mg
Potassium:
720
mg
Fiber:
4
g
Sugar:
7
g
Vitamin A:
2078
IU
Vitamin C:
42
mg
Calcium:
105
mg
Iron:
3
mg
Recipes on Cookaholic Wife are for information purposes only. Nutritional Data provided has not been evaluated by a nutritionist.
Do you have opened bags of frozen veggies in your freezer? I do. Well, I did. A few weeks ago I went through the freezer and ended up combining them all into one bag and labled it "soup mix". It cleared up a lot of space in the freezer and gave me a purpose for those small quantities of leftover veggies that weren't enough to serve individually at a meal.
The plan that day was just to make soup using up those vegetables, however my aunt was over and had mentioned that her neighbor had just made some delicious soup that had pasta and sausage in it. My eyes lit up and I began gathering ingredients. I keep a pretty stocked pantry, but I think most of these ingredients are kept on hand by a lot of people. The green pepper and jalapeno were unplanned additions. We happened to see if anything was still alive in my garden and found those so we added them in. Using canned tomato soup really thickens up the recipe and the fire roasted tomatoes add so much more flavor than a can of plain diced tomatoes.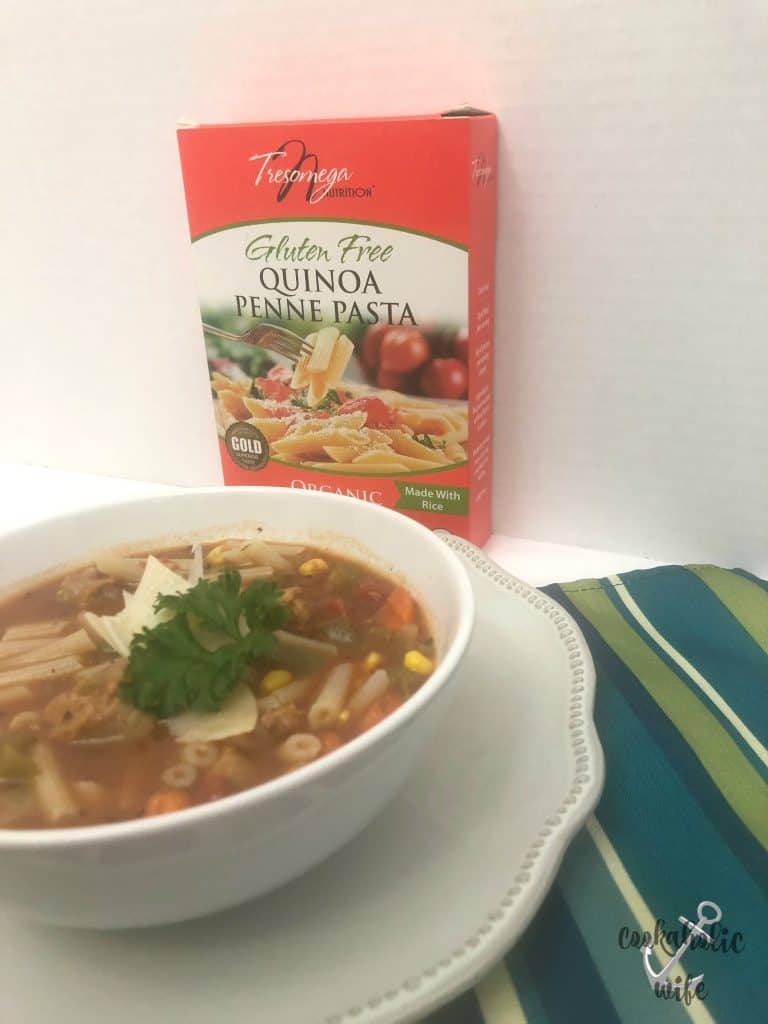 I was given the opportunity to receive products from Tresomega to create recipes for their blogger recipe challenge. I received coconut oil and three different types of quinoa pasta to create recipes.
Tresomega's products can be found at your local Sam's Club or online. Check out their website and social media here:
I wasn't sure how I was going to feel about quinoa pasta. I've tried other pasta alternatives before and they were either very hit or miss, but this pasta is great. The texture is pretty similar, but it is heartier and I think it held up perfectly in a hearty soup like this where regular pasta could easily get mushy and lost.
My favorite thing about this recipe is how versatile it is. You can easily adjust this to your tastes by what you have on hand in your pantry and freezer. I served this to my brother in law who said that it was probably the best bowl of soup he's ever had in his life and that he could easily see it served in high end restaurants as a rustic style soup or even in a cafe-style restaurant as an alternative to the standard tomato soup.