Greek Meatball Salad is a turkey meatball flavored with greek seasonings and served in a salad with tzatziki sauce. Tzatziki sauce is a cucumber and sour cream based sauce, thinned out to become a salad dressing.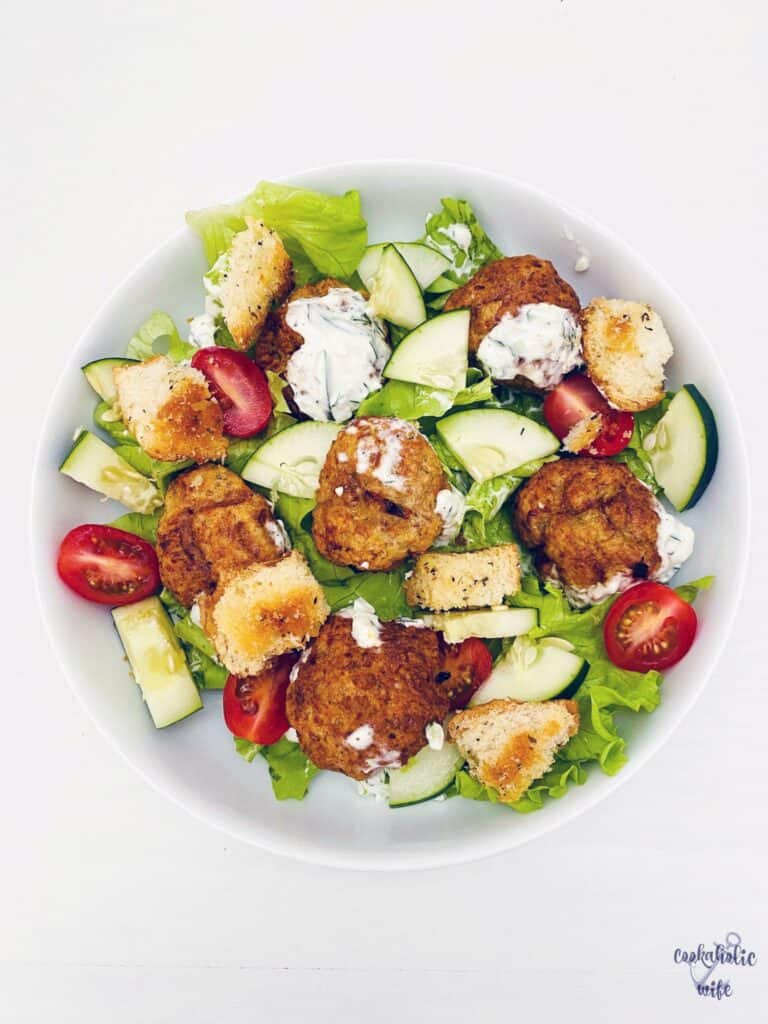 Making Greek flavored turkey meatballs and serving them with tzatziki sauce is one of my favorite recipes. I have enjoyed this for lunch so many times and can't believe I never thought to share the recipe with you. Neither the sauce or the meatballs take long to make and use simple ingredients most of us keep in our pantries or refrigerators.
WHAT IS A GREEK TURKEY MEATBALL?
Greek meatballs can also be referred to as Kofta, Kofte, or Keftedes. Simply, they are a mixture of ground meat, turkey in this case, and spices or flavors of the region where they come from. These meatballs have lemon, oregano and cumin in them. It is also very popular to add mint.
WHAT IS TZATZIKI SAUCE?
Tzatziki sauce is a sauce or dip from the Middle East, made with strained yogurt, cucumbers, lemon, garlic and fresh herbs such as parsley, dill and mint. If you do not have plain Greek yogurt on hand, you can replace it with sour cream.
GREEK MEATBALL AND TZATZIKI SAUCE INGREDIENTS
For the Meatballs:
Ground Meat: Ground turkey is my favorite choice, but you can also use beef, lamb, pork or a combination of all of them.
Breadcrumbs: Panko or seasoned breadcrumbs will both work in this recipe. Use what you have on hand.
Egg: this recipe uses two large eggs to be mixed in with the ground meat. The egg helps to add as a binder.
Lemon Zest: to give these meatballs a light flavor, lemon zest is added.
Spices: minced garlic, cumin, oregano, parsley, and mint along with salt and pepper may be added. (I did not have fresh mint on hand so I left it out of this recipe)
For the Tzatziki Sauce:
Plain Greek Yogurt: plain Greek yogurt is the base of this sauce as it holds everything together. But if you do not have any on hand, sour cream works just fine.
Cucumber: finely diced cucumber is mixed into the yogurt to add additional flavor to the sauce. Some people choose to shred or grate their cucumber instead, but I find dicing it is just fine.
Garlic: garlic makes up the final item in the necessary trio of ingredients for tzatziki sauce. Minced garlic or garlic powder is fine.
Lemon: one great thing about this recipe is that you use almost an entire lemon between the meatballs and the zest. The meatballs get the zest, the sauce gets the juice. Adding more lemon juice will help to thin out the recipe to make it more of a sauce than a dip.
Olive Oil: olive oil is used to thin out the recipe as well. If you have a good quality olive oil, this is the recipe you want to add it to.
Spices and Herbs: fresh dill, mint, parsley and thyme are added to the sauce for even more flavor. Dried versions can be used instead and if you don't have one or two of these on hand, it's ok as you'll still have a delicious sauce.
HOW TO SERVE GREEK MEATBALLS AND TZATZIKI SAUCE
For this recipe, I made it into a salad, adding cucumber, grape tomatoes and croutons. The meatballs could be served on their own with the sauce as a dipping agent. Or the meatballs and sauce could be served inside a pita pocket, with some veggies.
In a pita pocket is my favorite way, but alas there were no pita pockets at the store. A salad was perfectly fine, though as it highlighted one of the ingredients from the Improv Cooking Challenge. The ingredients for April are lemon and lettuce.
The #ImprovCookingChallenge is a monthly blogging event where two ingredients are assigned to a month. Bloggers can make any recipe they like as long as it features the two ingredients. If you are a blogger and would like to join us, please visit our Facebook page. You can also read more about the event on our our home page. If you'd like to see previous creations, check out our Pinterest board.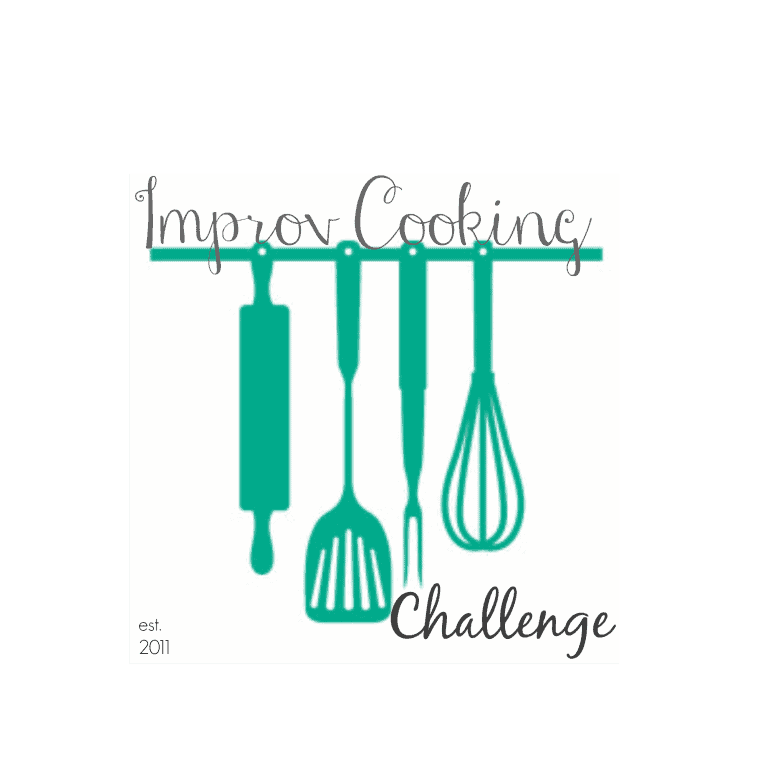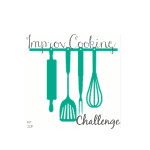 Lemon and Lettuce
Improv Cooking Challenge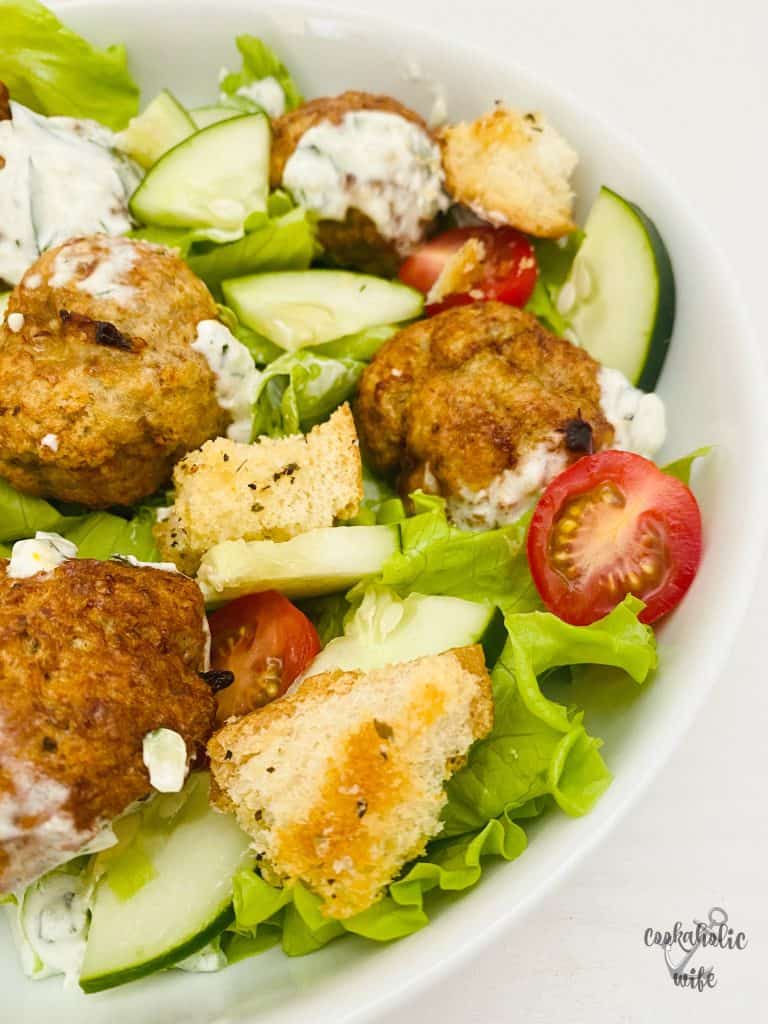 WANT TO SAVE THIS RECIPE FOR LATER? PIN IT TO YOUR FAVORITE PINTEREST BOARD AND FOLLOW ME AT COOKAHOLIC WIFE FOR MORE DELICIOUS RECIPES!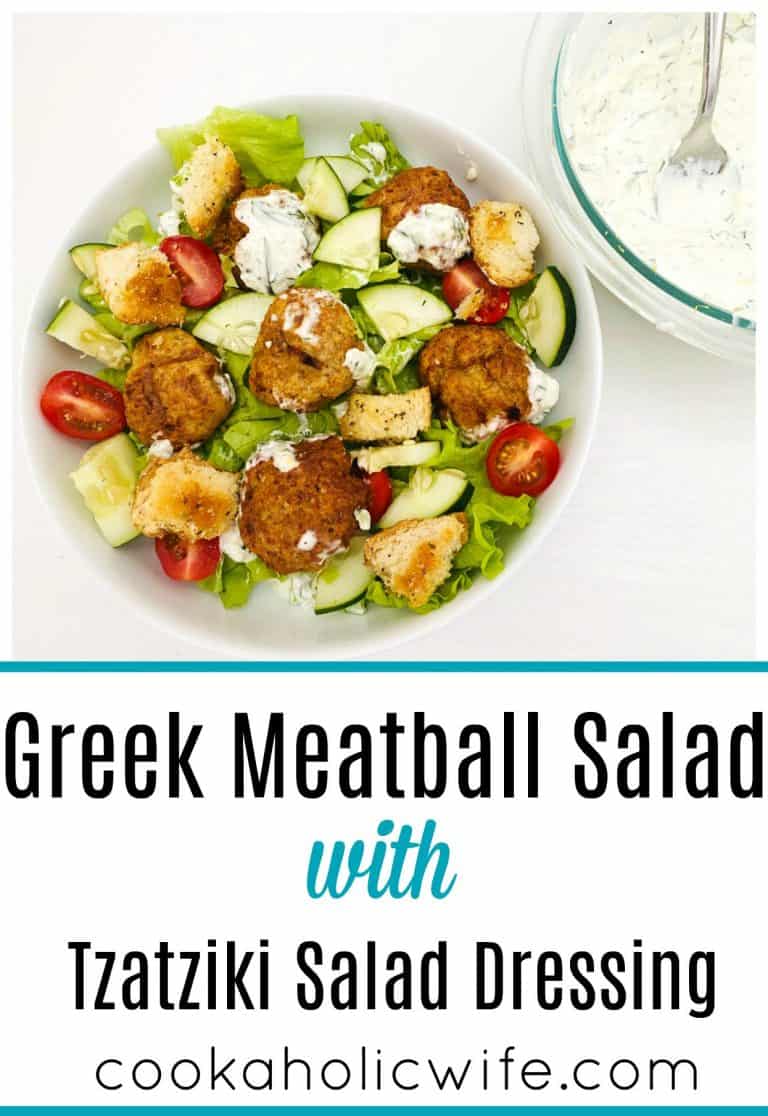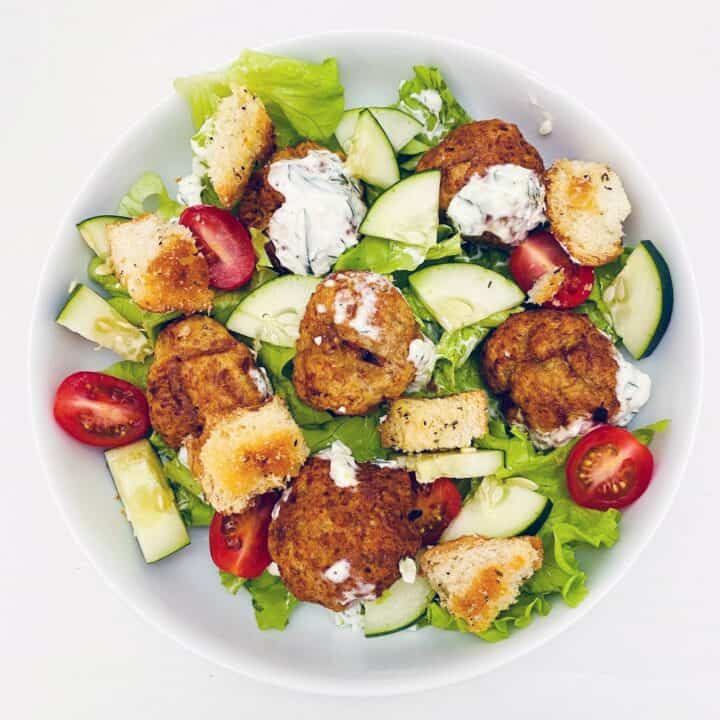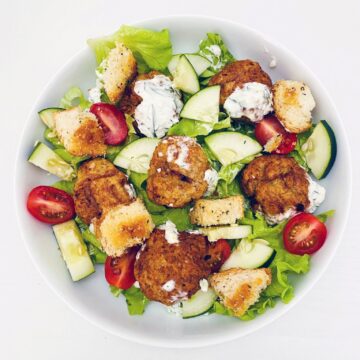 Greek Meatball Salad
Greek Meatball Salad is a turkey meatball flavored with greek seasonings and served in a salad with tzatziki sauce. Tzatziki sauce is a cucumber and sour cream based sauce, thinned out to become a salad dressing.
Ingredients
For the Meatballs:
1

lb

ground turkey

½

cup

bread crumbs

Panko or bread crumbs is fine

2

large eggs

zest of 1 lemon

1

tbsp

minced garlic

1

tsp

cumin

1

tsp

fresh oregano

or dried

1

tsp

fresh parsley

or dried

1

tsp

fresh mint

optional

salt and pepper

to taste
For the Tzatziki Sauce: 
1

cup

plain Greek Yogurt

or sour cream

⅔

cup

cucumber

finely diced

1

tsp

minced garlic

or ½ tsp garlic powder

juice of ½ a lemon

about 1 ½ tbsp

2

tbsp

good quality olive oil

1

tbsp

fresh dill

chopped

1

tbsp

fresh parsley

chopped

1

tbsp

fresh mint

chopped
For the Salad:
4

cups

lettuce of your choice

1

cup

cucumber

diced or chopped

1

pint

grape tomatoes

halved

croutons

optional
Directions
For the Meatballs:
Combine the ground turkey, bread crumbs, eggs, lemon zest, garlic, cumin, oregano, parsley, mint, salt and pepper together into a bowl.

Form into 16-20 meatballs, about a tablespoon size each.

To Bake: preheat the oven to 350 degrees and line a large baking sheet with foil. Place a cooling rack on top and spray with non stick. Place the meatballs on top and bake for 18-20 minutes. To Air Fry: add the meatballs to your air fryer, set at 380 degrees for 12-14 minutes. To Pan Fry: add a little olive oil to a large skillet over medium heat and cook the meatballs, turning to get browned on all sides for 3-4 minutes each side.
For the Sauce:
Combine the Greek yogurt (or sour cream), cucumber, lemon juice, olive oil and fresh herbs together in a small bowl.

Whisk until combined and adjust seasonings to taste.

Cover and refrigerate for at least 10 minutes before serving.
For the Salad:
Divide the lettuce into 4 bowls, then divide the cucumber and grape tomatoes among them.

Add 4-5 meatballs per bowl and drizzle the tzatziki sauce on top.

Garnish with croutons.
Notes
Dried herbs can be used in the tzatziki sauce instead of fresh. Start with 1 tsp of each and add more, according to your tastes.
Nutrition
Serving:
1
- 1 ½ cups
Calories:
553
kcal
Carbohydrates:
25
g
Protein:
39.8
g
Fat:
35.4
g
Saturated Fat:
11.6
g
Cholesterol:
223
mg
Sodium:
343
mg
Fiber:
2.5
g
Sugar:
4
g
Recipes on Cookaholic Wife are for information purposes only. Nutritional Data provided has not been evaluated by a nutritionist.