Do you know the difference between each type of roast sold in your grocery store? Like whether sirloin is better than rump? Or which one is best for a pot roast? I honestly don't have the slightest clue. This is something that has always baffled me and instead of every looking into it, I've taken the easier option of rarely making a roast.
Which is pretty dumb considering I really like roast and its a great meal to have on a Sunday when you have extra time to let it cook in the oven. So I'm promising myself that I need to look into the different cuts of meats and figure out which ones are better for certain meals. Unless, one of you happens to know the difference and cares to enlighten me via email or in the comment section? It'd be greatly appreciated.
Recipe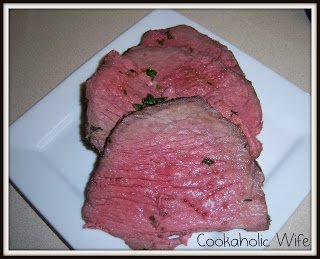 Herbed Roast Beef
Ingredients
4

lb.

top sirloin roast

fat trimmed

1

shallot

minced

⅓

cup

fresh parsley

chopped

2

tbsp.

fresh thyme

minced

2

tbsp.

olive oil

divided

1

tbsp.

Dijon mustard

1

tbsp.

salt

1

tbsp.

pepper
Directions
1. Combine the shallot, parsley and thyme in a small bowl. Remove 2 tablespoons of the herb mixture. Add the butter and mash until combined. Refrigerate until 30 minutes before roast is done cooking.

2. With the remaining 2 tablespoons, add the Dijon mustard and 1 tablespoon of the olive oil. Stir until combined.

3. Spread the mustard-herb mixture all over the meat. Refrigerate for at least 1 hour but up to 24 hours.

4. Adjust the oven rack to the middle and preheat the oven to 275.

5. Season all sides of the meat with salt and pepper. Add the remaining tablespoon of oil to a large skillet over medium-high heat.

6. Sear the roast on all sides for 3-4 minutes per side. Transfer the roast to a roasting pan and place in the oven. Cook for 2-2 ½ hours.

7. Remove the roast from the roasting pan and spread with the herb-butter mixture. Tent the roast with aluminum foil and let rest for 20 minutes. Cut into slices and serve immediately.
Recipes on Cookaholic Wife are for information purposes only. Nutritional Data provided has not been evaluated by a nutritionist.
This was really good! I served it with a parsnip puree and roasted vegetables. The only change I would make is to increase the cooking time. The original recipe says 1-½ to 2 hours. At 2 hours the roast was still medium-rare. Since everything else was ready, I just put each slice of meat in a hot pan and cooked it a minute or two longer to get it to medium.