Happy Thursday! Late last month the participants of the Improv Cooking Challenge and I decided to make a change to our posting date. Many other blogging events occur on the third Thursday of the month, so we voted and decided to move up our posting date by one week.
Now you'll be able to check out the awesome recipes one week earlier! The ingredients for this month were cookies and cream. I decided to go pretty classic with this and make a cake I knew my coworkers would enjoy.
While there are tons of cake recipes out there that are perfectly sculpted, evenly frosted and very pretty to look at, I simply don't have that talent. So, insert the poke cake -  A simple cake made in a 9x13 baking dish, has holes poked into it and then is covered with a sweet concoction, like sweetened condensed milk.
Recipe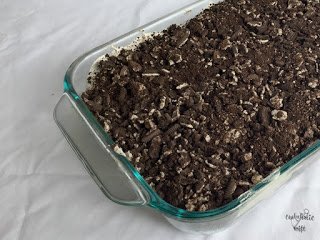 Improv Cooking Challenge: Cookies and Cream Poke Cake
A super moist cake, this chocolate cake is covered in sweetened condensed milk and then topped with crushed Oreo cookies.
Ingredients
1

box chocolate cake mix

prepared, baked and cooled

14

oz.

can sweetened condensed milk

4

oz.

box cookies and cream instant pudding mix

½

cup

milk

or non-dairy milk

8

oz.

whipped topping

slightly thawed

1 ½

sleeves Oreo cookies

crushed
Directions
1. After the chocolate cake has cooled, used the bottom of a wooden spoon to poke holes in the cake. (A plastic straw will work as well!)

2. Pour the entire can of sweetened condensed milk over the cake.

3. Whisk together the cookies and cream pudding mix and whipped topping until combined. Spread in an even layer on top of the cake.

4. Sprinkle crushed cookies in an even layer on top.

5. Cover and refrigerate for at least an hour but up to overnight before slicing and serving. Leftovers can be kept in the fridge.
Recipes on Cookaholic Wife are for information purposes only. Nutritional Data provided has not been evaluated by a nutritionist.
I used unsweetened almond milk in this recipe in place of regular milk because it was what we had in the fridge.
I realized a little too late that the super common wooden spoons with tiny ends that nearly everyone on earth has in the kitchen, I don't possess, so I ended up using a massive wooden spatula end. After nearly all of the holes were poked, I realized a simple plastic straw (which I have hundreds of) would have worked much better, hence the note in the recipe.
The cake is rich and sweet and perfectly chilled to enjoy on a hot summer day. (Or a chilly spring day, as the weather would have it this week.)