One of my biggest regrets from my trip to Vegas last month is that I wasn't starving when we went to Hell's Kitchen. The food was just so incredible that I wanted to eat more of it, but I was so stuffed, it just wasn't going to happen.
Then Tom asked me to make beef wellington for his birthday and I was thrilled since I knew I'd be able to eat all of it!
Beef wellington can be a very time consuming dish as there are multiple parts of the recipe and you need to allow the puff pastry adequate time to cool. I knew I'd never be able to make this recipe on his actual birthday (today) so I made it this past Sunday when I had more than enough time to spend in the kitchen.
Recipe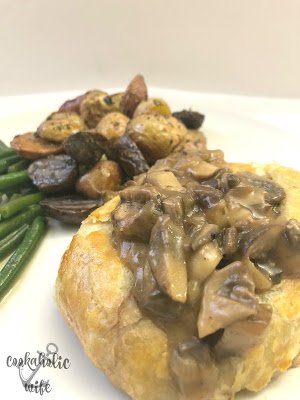 Individual Beef Wellingtons
Known as one of the most impressive and time consuming dishes you can make, Beef Wellington consists of perfectly cooked filet mignon covered in mushrooms and baked in puff pastry. These individual versions are much easier to make but are just as impressive.
Ingredients
For the Mushroom Mixture:
1

tablespoon

olive oil

1

tablespoon

unsalted butter

8

oz.

mushrooms

finely chopped

1

cup

spinach

finely chopped

1

shallot

minced

2

sprigs fresh thyme

salt and pepper
For the Steaks:
4

filet mignons

cut 1 ½ inches thick

2

tablespoon

unsalted butter

2

tablespoon

Dijon mustard

½

cup

blue cheese crumbles

1

box puff pastry

thawed

1

egg

beaten
For the Mushroom Sauce:
8

oz.

mushrooms

chopped

1

shallot

minced

2

tablespoon

unsalted butter

¾

cup

beef broth

2

tablespoon

all-purpose flour

1

tablespoon

red wine

3

sprigs fresh thyme

salt and pepper

to taste
Directions
For the Mushroom Mixture:
Add the olive oil and butter to a saucepan over medium heat. Once the butter has melted, add the mushrooms, spinach, shallot and thyme. Cook for 5-7 minutes or until the mushrooms are tender.

Place a mesh sieve over a bowl and spoon mushroom mixture on top. Season with salt and pepper and allow excess liquid to drain. Discard thyme and refrigerate until ready to use.
For the Steaks:
Pat the steaks dry with a paper towel. Add the butter to the same skillet used for the mushrooms and place over high heat.

Place the steaks in the pan and sear for 2-3 minutes on each side. Transfer to a plate to keep warm.

Roll out the puff pastry sheets into a 14x9 rectangle and then cut each into 2 7-inch squares. Discard the remaining scraps of puff pastry.

Spread a thin layer of the mushroom mixture onto the center of each puff pastry square, about the same size as the steak. Gently press the blue cheese into the mixture.

Brush the top of each steak with Dijon mustard and then place mustard side down onto the mushroom and blue cheese mixture.

Dab each corner of the puff pastry with water and bring opposite corners up and over to meet, pinching to seal.

Flip over the puff pastry and place onto a baking sheet covered with parchment paper.

Use a sharp knife to cut 3-4 slits into the top of the pastry. This will allow the steam to escape.

Brush the beaten egg over the each pastry and place the baking sheet in the refrigerator while you preheat your oven to 400 degrees.

Bake for 25-30 minutes, until the pastry is golden brown and the steak has reached your desired temperature (160 degrees for medium)
For the Mushroom Sauce:
While the steaks are cooking, add butter to the skillet over medium heat. Once melted, add in the mushrooms and shallot and cook for 3-5 minutes.

Whisk the beef broth and flour together in a small bowl until smooth and then pour into the skillet. Increase the heat to medium high and bring to a boil.

Cook for 2 minutes, stirring frequently, until the mixture has thickened.

Stir in the wine and thyme and cook for 2 minutes more. Remove from the heat and discard thyme.
To Serve:
Allow cooked beef wellington to rest for 10 minutes.

Slice each wellington in half on the diagonal and place on a plate. Drizzle the mushroom sauce on top.

Serve immediately.
Notes
Both the mushroom mixture and mushroom sauce can be made in advance and refrigerated until ready to use.
Recipes on Cookaholic Wife are for information purposes only. Nutritional Data provided has not been evaluated by a nutritionist.
I didn't manage to get the puff pastry as crispy as I had it at Hell's Kitchen, but it was still a really good dish. I served it with parsley roasted potatoes and steamed lemon green beans.
The mushroom sauce was divine though! It came together perfectly and paired so nicely with everything else. The blue cheese and dijon mustard on the steak create a little bit of tang that really enhances the flavor since puff pastry just tastes like flaky butter.
While Tom thought the dish was delicious, I thought there was room for improvement. (I always do.) I figure it will never likely be as good as Gordon Ramsay's, but if I can manage to get it even ½ as good as his, I'll consider it a complete success.