For the Labor Day weekend, I used up some of my vacation time and went to visit my aunt who lives at the beach in Delaware. Completely unable to not cook for 5 whole days, I took it upon myself to come up with a sauce for the pulled pork we had for dinner one night.
Peaches were still in season and I thought that peaches and pork would go well together. As my mom was staying with my aunt too, I couldn't get nearly as creative as I would have liked, because she is so picky and doesn't like salsa or anything spicy.
I looked around on the internet for a few minutes and came across this recipe from Epicurious. I knew I could make slight adaptations to this and it would be the perfect sauce!
Recipe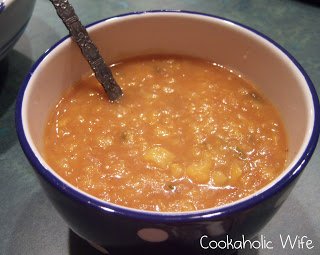 Peach BBQ Sauce
Ingredients
4

ripe peaches

1

small jalapeno

seeded and diced

1

small vidalia onion

diced

1

tsp.

olive oil

¾

tsp.

brown sugar

¼

tsp.

chili powder

¼

tsp.

sea salt

⅛

tsp.dry mustard

¼

cup

apple cider vinegar

¼

cup

bourbon

2

tbsp.

spicy mustard

2 ½

tbsp.

honey
Directions
1. Bring a large pot of water to a boil. Fill a large bowl with iced water.

2. Score an X into the bottom of each peach.

3. Drop the peaches into the boiling water for 10-15 seconds and then transfer to the iced water. Remove from the ice water after a minute or so and transfer to a cutting board.

4. Once cool enough to handle, remove the pits from the peaches and roughly chop.

5. Add the olive oil to a medium sized saucepan over medium heat. Saute the onions and jalapeno until soft, about 10 minutes.

6. Add the peaches and remaining ingredients to the saucepan. Reduce the heat to low and stir until combined. Cook for 30-45 minutes.

7. Use a potato masher to mash the ingredients into a thick sauce. Serve warm.
Recipes on Cookaholic Wife are for information purposes only. Nutritional Data provided has not been evaluated by a nutritionist.
This sauce was delicious over my uncle's slow roasted pulled pork. Even my picky mother thought it was pretty good. Although a bit of an unusual combination, we ate this with gnocchi with a gruyere sauce and Korean cucumber salad.