I have a confession.
For the longest time I preferred my burger to come with the standard ketchup-mustard-pickles-onions get up that McDonald's offers. If I was eating at Wendy's I could stand the mayo, lettuce and tomato but only because they were surrounded by cheese, bacon and a burger. Only recently have I started thinking about different condiments and toppings on my burgers.
The recipe I was given for this swap was Tailgate Sliders from Jaida at Sweet Beginnings. Her recipes always make me hungry so I couldn't wait to try out these burgers.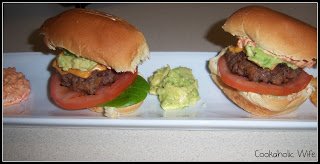 Recipe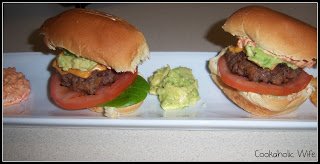 Recipe Swap: Tailgate Sliders
Ingredients
Burger Ingredients:
8-10

sweet Hawaiian rolls

1

lb.

lean ground beef

¼

cup

breadcrumbs

2

tablespoon

Worcestershire sauce

1

teaspoon

garlic powder

½

teaspoon

each salt and pepper
 Red Pepper Sauce:
1

large red pepper

½

teaspoon

olive oil

4

tablespoon

cream cheese

softened

2

tablespoon

mayonnaise

½

teaspoon

garlic powder

salt and pepper

to taste
Guacamole:
1

avocado

ripe

½

teaspoon

garlic powder

1

teaspoon

lime juice

salt and pepper

to taste
Toppings:
cheddar cheese

lettuce

tomato

red pepper sauce

above

guacamole

above
Directions
Creamy Red Pepper Sauce Directions:
1. Preheat the oven or your toaster oven to broil. Line a baking sheet or toaster oven sheet with foil.

2. Cut off the top of the red pepper and remove seeds. Cut into large chunks and place on the sheet. Drizzle with oil.

3. Broil for just a few minutes until the pepper pieces are slightly charred. Set aside until cool enough to touch.

4. Meanwhile, combine the cream cheese, mayo, garlic powder, salt and pepper in a food processor. Once you can, transfer the red pepper into the food processor and pulse until all of the ingredients combine and only small pieces of the red pepper remain.

5. Transfer to a bowl and refrigerate until ready to use.
Guacamole Directions:
1. Peel the avocado and remove the seeds.

2. Place the avocado in a small bowl and mash until smooth. Add the remaining ingredients and stir until combined. Refrigerate until ready to use.
Burger Directions:
1.Place the ground beef, bread crumbs, Worchestershire sauce, garlic powder, salt and pepper in a bowl and mix until combined.

2. Form the burgers into 8-10 slider sized patties.

3. Cook the burgers to your desired done-ness. (2-3 minutes on the Foreman)

4. Transfer the burgers to a plate and top with cheese. Tent with foil to melt the cheese and keep the burgers warm.

5. Lightly toast the burger buns, then spread the red pepper sauce on the bottom bun and the avocado mixture on the top bun.

6. Layer the burger, lettuce and tomato between the buns.
Recipes on Cookaholic Wife are for information purposes only. Nutritional Data provided has not been evaluated by a nutritionist.
OMG yum! These burgers were amazing. I refuse to admit just how many of them I ate.
The original recipe calls for using roasted red peppers from a jar which probably provide more flavor than a fresh red pepper. I couldn't find jarred ones so I opted to roast the red peppers myself. Tom and I both really liked the red pepper sauce but wish that it had a stronger red pepper flavor. I think next time I'll use more than one red pepper or maybe less cream cheese and mayo. As proof of how good the sauce was, I opted to use it in instead of ketchup to dip my fries in. Tom suggested using a milder cheese like provolone next time so he could taste the other ingredients better. I'll have to try that out.