What's this? A restaurant review of Marlin Moon in Ocean City, Marlyand? Yep, read on to see what I've decided to do!
As I've mentioned, oh about a million times, I love going to the beach. It doesn't matter to me if it is the height of the season or the dead of winter. I will never turn down a trip to the beach.
Something I may not have mentioned is that I'm a creature of habit. I find something/somewhere that I like, and I'll go back over and over with no  interest in trying anything new. Especially if it's a restaurant. In 2017, I found one of those restaurants and visited every single time I went to the beach. But this past winter, they closed.
Which I was not at all happy about, but it turned out to be a good thing. Let me explain – the first restaurant closed, but my friend Jenn and I already had plans to come to the beach. We were bummed, but figured we could finally try out new places. Then we found out a new restaurant was going to open in its place…the following week. Having never gotten the chance to review the first restaurant, I hands down knew I wanted to review the new one. So, we made plans to go back the following weekend, but they weren't able to open. What am I getting at here?
Well, we found a new restaurant and in talking about wanting to review the new place, the bartender overheard us and said I should do a review of them. And here's the good thing – I've decided to start doing restaurant reviews.
Nothing fancy as I'm not a food critic or anything. But in a further attempt to stop being such a creature of habit, I'm going to start checking out new places and then sharing my thoughts here with you. I haven't decided yet if these are just going to be just at the beach or not yet. I suppose we'll see.
Let's actually get to the review, yeah?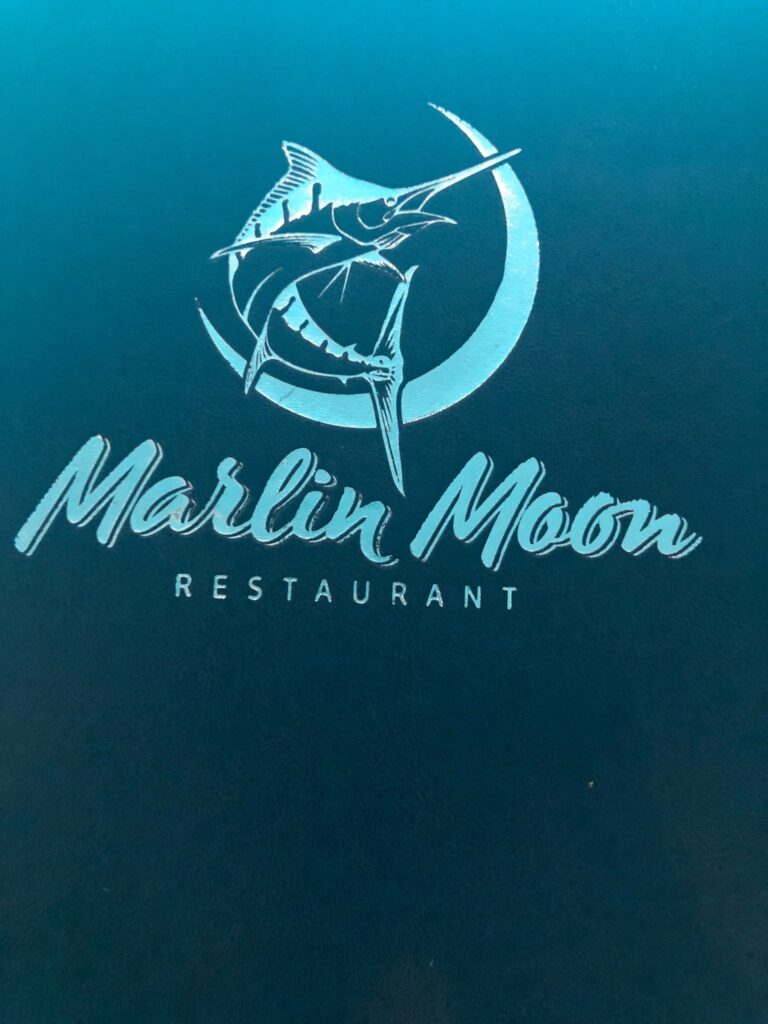 Marlin Moon Restaurant Review
Marlin Moon restaurant is located in the Hilton Doubletree on 33rd street and the boardwalk in Ocean City, Maryland. They're on the second floor of the hotel and you don't need to be a guest to visit. There are separate parking spaces for restaurant guests, so if you're visiting during the peak season, make sure you park in one of those. When you're outside of the hotel, you can see this really cool looking blue glow. It turns out that this is the lighting on the bar, which is more awesome looking in person than it is through the windows.
The setting of Marlin Moon is definitely upscale. You're walking into a classy restaurant, not a dive bar or tourist trap. But that doesn't mean that you need to be dressed up. We were in jeans each time we visited, as were most of the other guests. However, should you feel to pop on a dress or a suit you will not be out of place.
Upon walking in, there is a decent amount of seating, most of which overlooks the side street leading to the beach. I forgot to ask how many the restaurant can hold, but it somehow manages to be spacious and intimate at the same time. The seating ranges from high tops to perch at with your cocktail, lounge seating for dinner and conversations, bar seating and large tables for when you come in with a group.
The kitchen is located directly behind the bar, so there is absolutely no delay in the food getting right to you. We've mainly sat at the bar, but once took one of the tables behind it.
Service:
You're greeted immediately upon walking in by the hostess. You can choose to be seated at a table or grab a chair at the bar. No matter how busy they are, you're immediately greeted again by a bartender or waiter offering you menus. There's a drink menu, a dinner menu and then a bar menu. (Their website also includes a breakfast menu, but I haven't been there for that....yet) Everything we ordered, and from what I observed from other patrons, comes out very quickly. Need salt, pepper, ketchup or a refill? They're on top of it. There is no waiting.
Marlin Moon Offerings:
Drinks -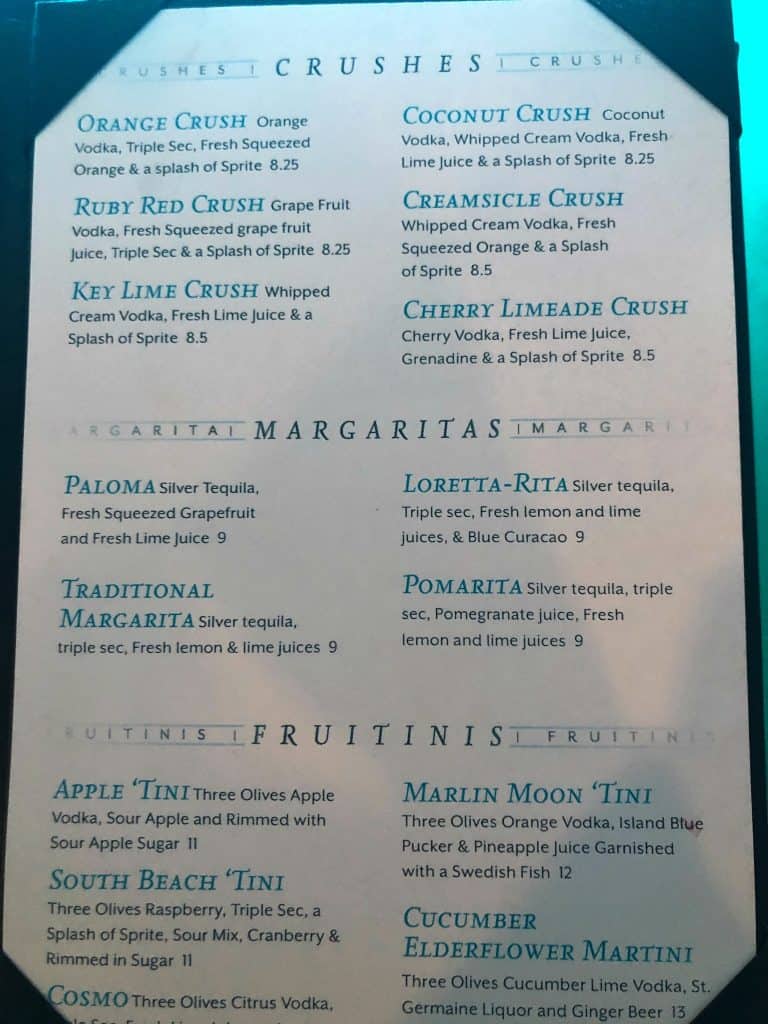 Maryland is known for their crushes. It all started with an orange crush, but now you can get just about every flavor of crush that you can think of. Crushes are vodka-based drinks and Marlin Moon offers a six of them – the classic orange crush, grapefruit, key lime, coconut, creamsicle and cherry limeade. There are also margaritas, martinis, your standard cocktails with a beachy twist, lemon based coffee based drinks, in addition to beers and a full wine list.
Food -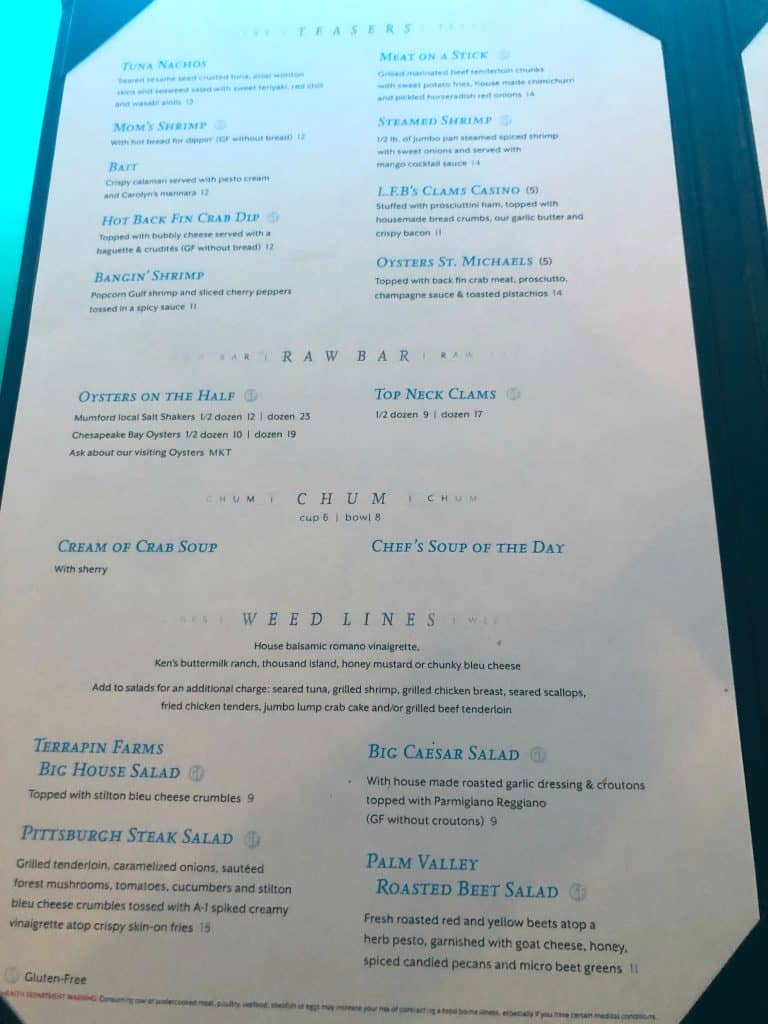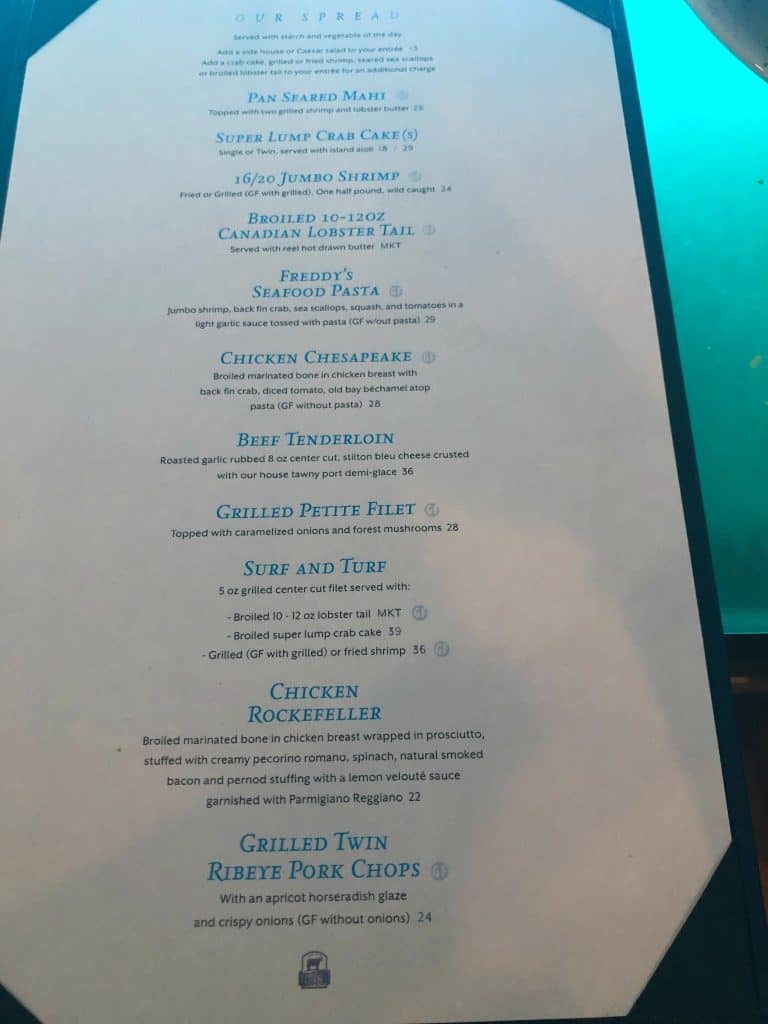 As with most places at the beach, there is a good amount of seafood-based items on the menu. Some of the appetizers include tuna nachos, crab dip, clams casino, meat on a stick and oysters. There's a raw bar with oysters and clams, a few salads that are large enough to be considered meals and soup on the menu as well. For the entrees, the seafood shines through again as they offer mahi, crab cakes, shrimp, and lobster. There's also pasta, chicken, filet and pork.
What I've Tried:
Crushes -
In our visits, I've tried all of them except for the key lime. No reason for this other than I just haven't. They made a damn good crush, where you really don't taste the alcohol at all, which may or may not be a good thing, depending on your drinking style. I found the grapefruit and creamsicle to be the sweetest of those I've tried, but neither are cloyingly sweet by any means. The cherry limeade is both sweet and tart with each flavor coming through. I'd say the orange and coconut are the most refreshing of the two, but that's just personal tastes.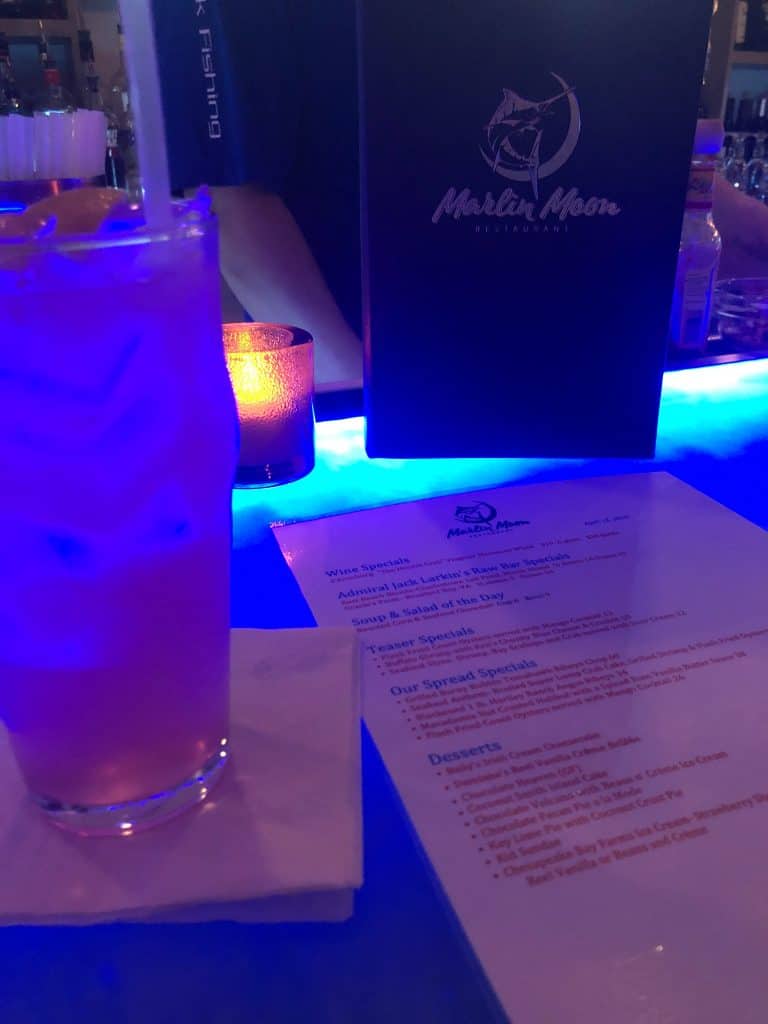 Meat on a Stick –
Have you ever watched a cooking show where they cut up an entire beef tenderloin? You get the filet mignon from it obviously, but there are ends left over that you can't really cut into a steak. Marlin Moon cuts these into pieces (like stew sized meat), marinates them and grills them on a skewer and then serves them to you on top of a sweet potato fries and pickled onions with a finger-licking good chimichurri sauce.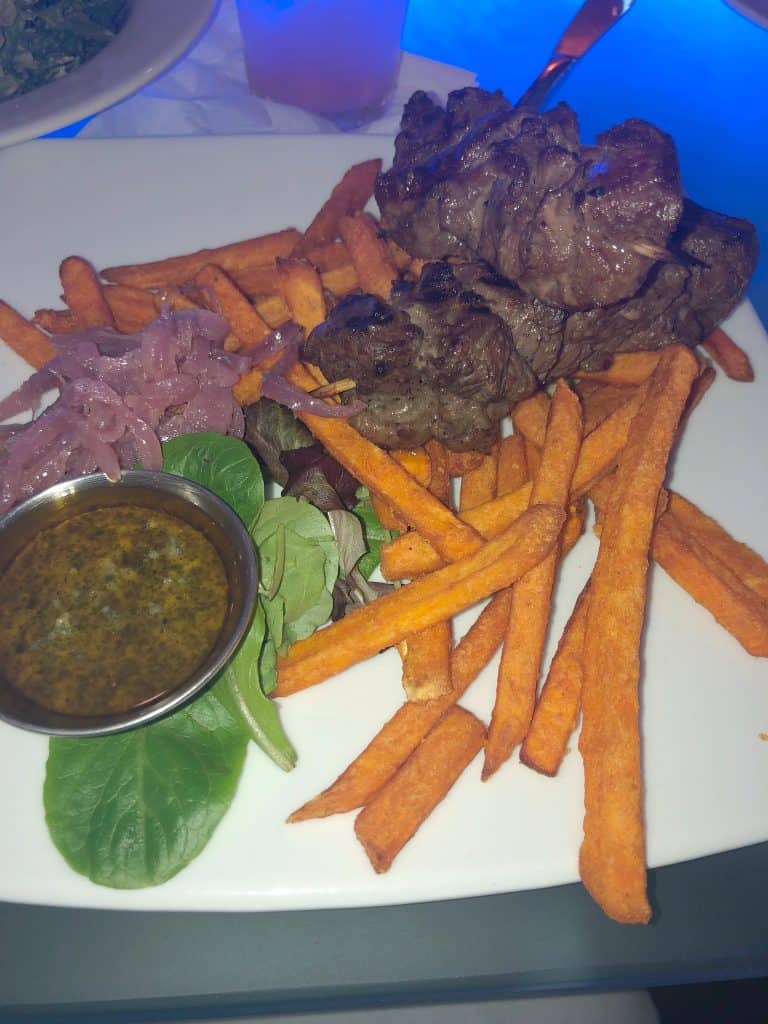 Obviously prices are subject to change, but this is currently $14. Tell me where in the world you are going to get beef tenderloin for $14? You're not. If you like filet mignon but perhaps are on a ground beef budget, this appetizer is for you. When paired with the fries it is really more of a small plate that can be shared or honestly, even a meal for one if you're not starving.
Crab Dip –
I'm incredibly judgmental when it comes to crab dip. You either make it well or you don't. There is no in between. Marlin Moon makes it very well. They use the backfin crab meat, which I appreciate as I personally think the "cheaper" cuts of crab meat taste better in dip. Besides, if they used lump or jumbo lump you'd be paying $30 for an appetizer instead of the $12 this actually costs.
Cheesy, bubbly, perfectly seasoned and full of crab meat – they serve their crab dip with a toasted baguette, carrot and celery sticks. We've split this each time we've gone, but to be completely honest, there were  a few moments where I debated on snagging the whole bowl and hoarding it to myself.
Sea Scallops and Crab Cakes -
You have the option of adding a crab cake, grilled or fried shrimp, sea scallops or lobster tail to any of your entrees for an additional fee. We found out that you can also order them a la carte, which we decided to do as after we split the meat on a stick and crab dip, neither of us could eat an entire entrée.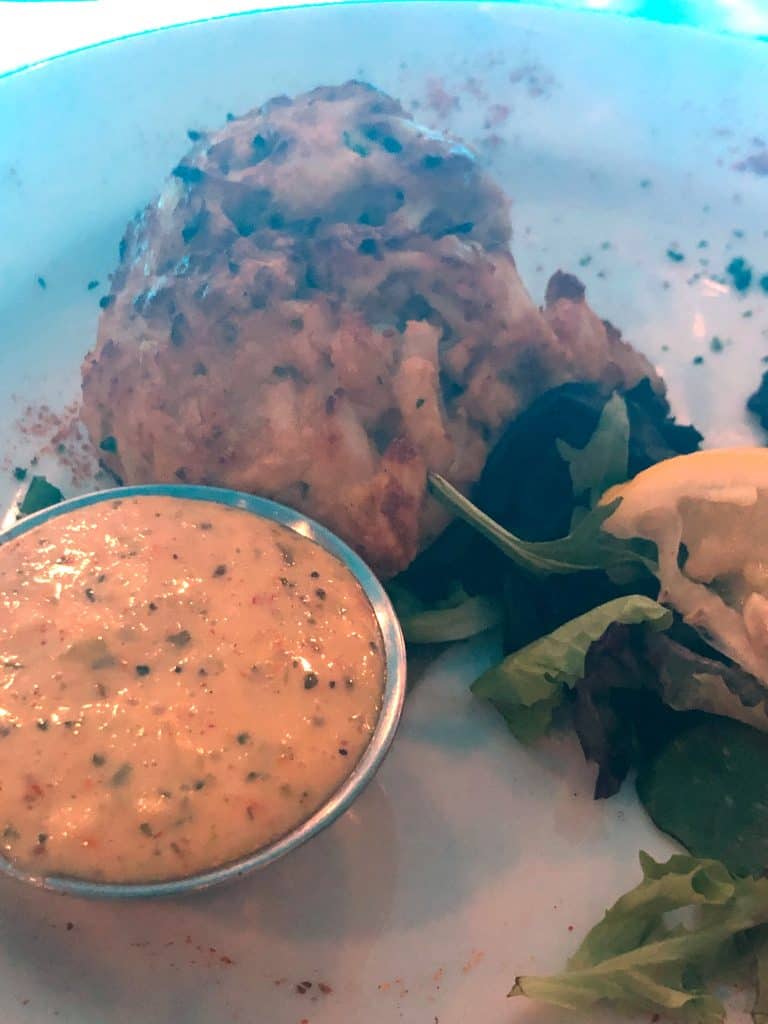 The scallops are large, fresh and perfectly seared. The crab cake was a decent size for an individual one. The Old Bay seasoning is on point and there is hardly any filler at all – which if you're a crab cake fan, you know can make or break the cake.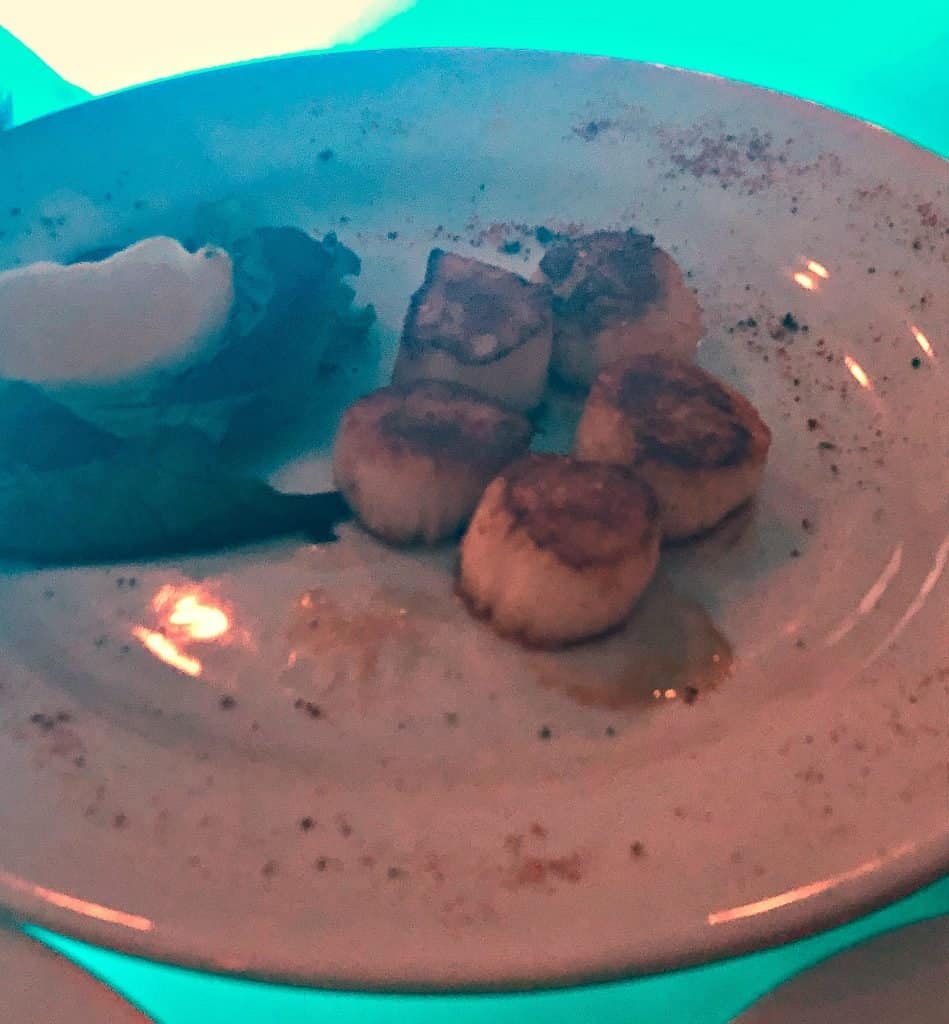 Caesar Salad –
I know what you might be thinking, a Caesar salad? Really? Yes, really. I judge restaurants based on their salads - hear me out here. Unless you're at a health food-based restaurant, salads are typically an afterthought. They're a side dish, maybe a smidgen more popular during lunch and most likely not one of your top sellers. To some restaurants this means that throwing together some vegetables and dressing is a rushed affair to just get something on the plate. To other restaurants, they treat the salad the same way they do their top selling entrée.
The vegetables are fresh and equally balanced within the salad. The dressing ratio is appropriate. It's presented as though it were a plate of market price lobster tail. And the latter is exactly what Marlin Moon does. Fresh romaine lettuce is chopped into bite sized pieces, covered with shredded Parmigiano Reggiano  cheese, lightly dressed and topped with croutons. I wished there were more croutons. And I'm completely sure I would have been given more had I asked for them. But seriously, that is the closest thing to a con that I can come up with: too few croutons.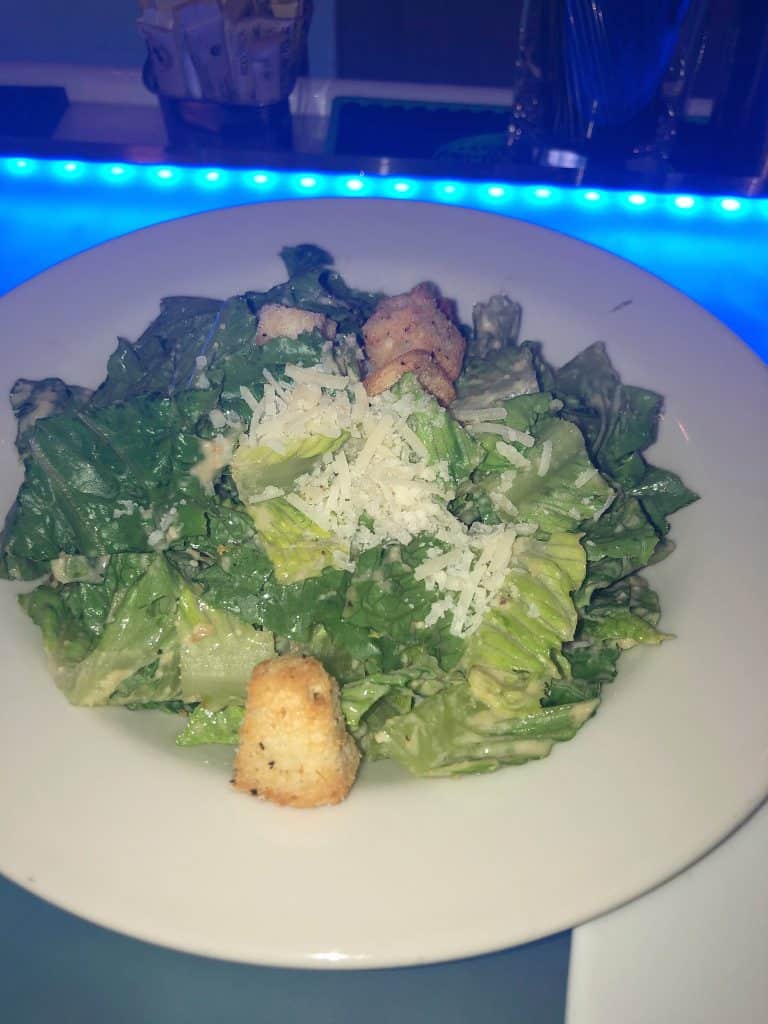 Nichole's Overall Thoughts
If you're in Ocean City and looking for a great dinner, you really shouldn't pass up going to Marlin Moon. The food is delicious and the service is spot on. Sit at the bar and munch on some bar snacks (very similar to the ones served on Norwegian cruise ships, by the way, so I call them cruise snacks), order a drink or two and share some appetizers or entrees with your friends.
If you don't like to go to restaurants that the tourists frequent, that's another reason to come to Marlin Moon. While there are definitely out of town visitors, the who's who in Ocean City are there as well. One night we sat next to the mayor! There was also a delegate there and some of the other big name restaurant and entertainment venue owners were there as well.
But most importantly, get Nick as your bartender. He's friendly, knows what he's doing and is just generally awesome. We've spent most of our visits there in conversation with him. After telling him how often we visit, he bestowed "semi-local" status upon us. Then when we came back nearly a month later, he welcomed me as "the cookaholic wife" so yeah, visit him at the bar!!
[unordered_list style="star"]
Service: 5 out of 5

Food: 5 out of 5

Ambiance: 5 out of 5

Parking: 4.7 out of 5 (only because I know it will be hard when they're busy)

Value for Price: 5 out of 5
[/unordered_list]
Based off their online reviews and Facebook page, everyone else who has visited Marlin Moon seems to agree with me, so go check them out!!