I'm back with another restaurant review! This one is for Sanibel's Oceanside 32 and is kind of what gave me the idea to start doing restaurant reviews.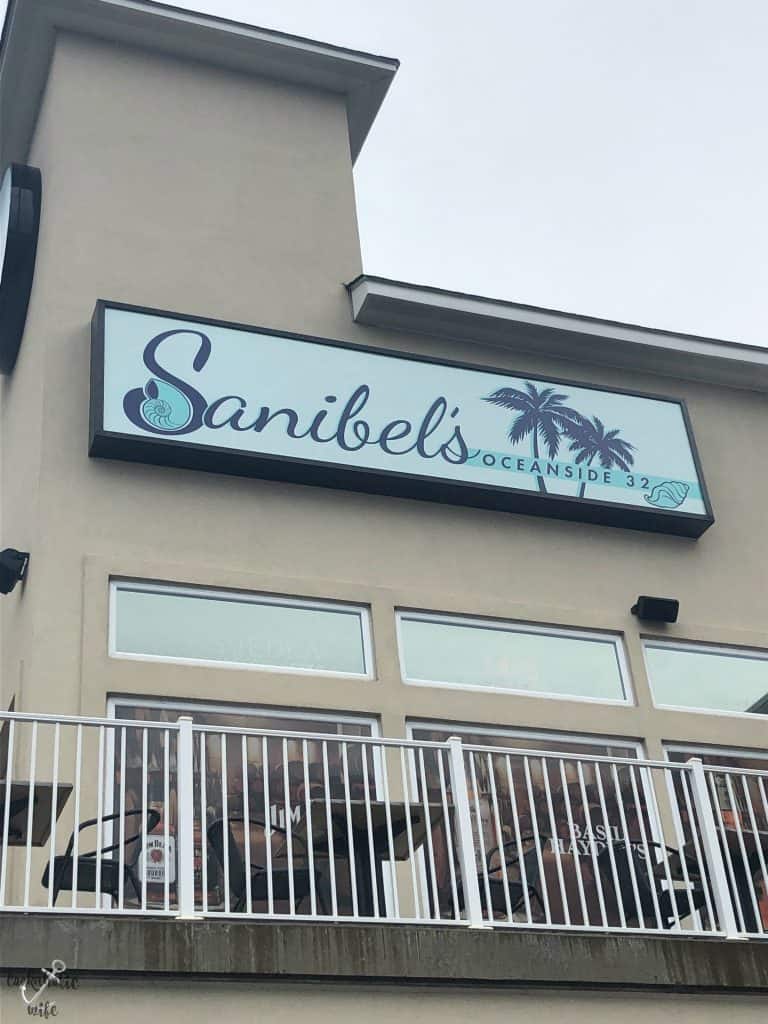 About 2 years ago, I asked an old friend for a restaurant suggestion in Ocean City, Maryland. To some Marylander's, Ocean City is the only beach they'll even think of visiting when they say they're going to the beach.
Oh, who am I kidding. When they say they're "going down the ocean, hon". 😀
Anyway, I love Ocean City as much as the rest of the tourist beach towns along the Maryland and Delaware shores, but with family in Delaware, it had kind of become a thing to just hang out up there where it was quieter but still with more than enough to do.
Rare & Rye was suggested to me. So my cousin and I checked it out and pretty much immediately fell in love. Our first visit there, the owner brought us out free shots and checked on us repeatedly throughout dinner to see what we thought. The food was good, the people were friendly and the drinks were strong. What more do you need?
It quickly became a thing that a beach trip now required a visit there. I found out this past winter that they weren't going to open up again and I was completely bummed. But I knew that they wouldn't just leave the location empty and it was likely that another restaurant would take it's place. After impatiently waiting for what felt like years, but was in reality like 2 weeks, it was confirmed a new restaurant would open.
Sanibel's Oceanside 32 was the name. Then came the menu where I found that they were keeping some of my favorite things from the old R&R menu. Okay, I thought to myself, maybe this won't be so bad. But then we had to wait for them to open. A hiccup or two later, which was totally not their fault, they opened shortly after St. Patrick's Day.
Jenn and I picked the next weekend we were both free, made reservations at a hotel and impatiently waited for the weekend to arrive.
Sanibel's Oceanside 32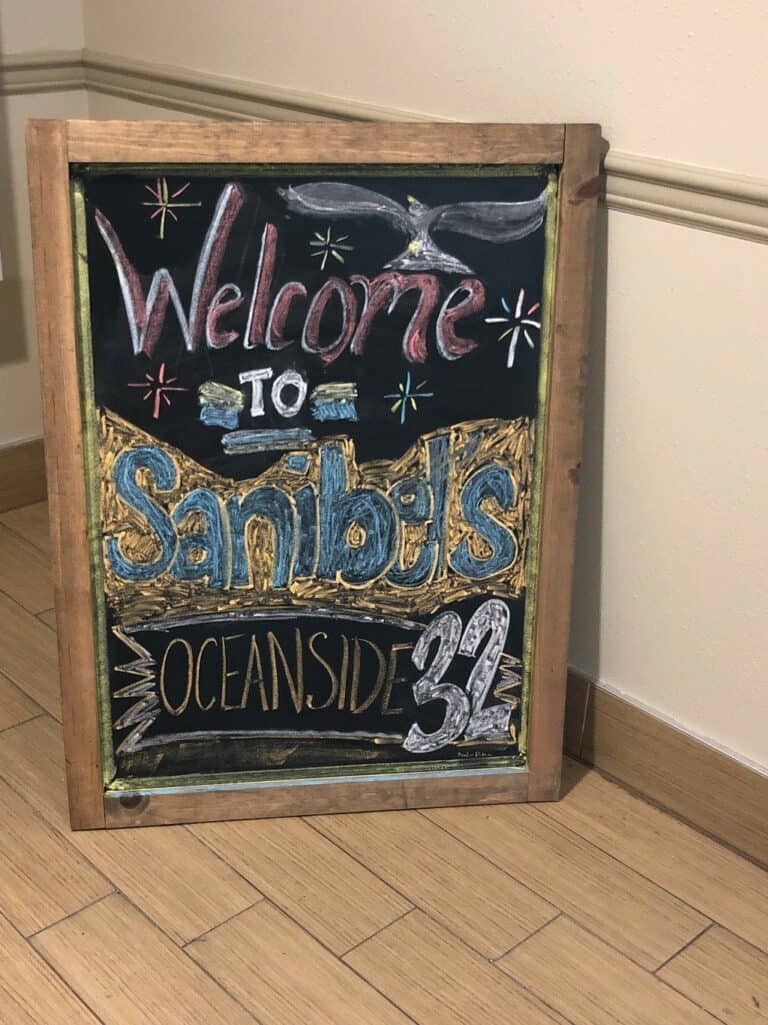 Sanibel's Oceanside 32 is located on 32nd Street and Coastal Highway in Ocean City, Maryland. They're attached to the La Quinta hotel. You can enter the restaurant either from the stairs outside or, go into the hotel lobby, up the elevator to the first floor and then head down the hallway to your right and you'll eventually end up in the restaurant. Parking is free at the hotel, but I would think in the middle of the summer you should probably snag a parking pass from the hotel front desk just to be safe.
Sanibel's is currently open for breakfast, lunch and dinner. They open up at 9 am and serve breakfast through 12 pm. Lunch starts at 11 am and dinner starts at 3 pm. Sanibel's is the perfect blend of contemporary, casual and fun. There is a c-shaped bar with a few tables off to the side and then an upstairs dining area for larger parties or for those who don't want to sit at the bar. In the summer, you can also grab a table outside, which wraps around the restaurant giving you views of Coastal Highway.
While R&R was a contemporary rustic-ish darker decor, Sanibel's is the opposite. The bar is the same but everything else is light, bright and airy. The entire bar area is surrounded with windows to the outside seating area.
Sanibel's Breakfast:
We showed up for breakfast on a Saturday morning and it was pretty empty. However, they've only been open a few weeks and they haven't really made themselves known as a breakfast spot. They have competition from the hotel as well as some other nearby restaurants that are already well-known for their breakfast offerings, but if our experience was anything to go off of, I can promise you, they're going to be another location with lines out the door waiting to get in and enjoy the food.
Sanibel's covers just about anything you can think of for breakfast. Looking for something light? There's quite a few offerings with fruit. Want something heartier? Check out their breakfast bowls. Feeling a classic? Try the eggs benedict or sausage gravy and biscuits. I'm hoping they they decide to start up a breakfast buffet because while I wanted to try everything on the menu, I knew there was no way I'd be able to eat any of it.
Like any good breakfast restaurant, you can enjoy mimosas, bloody Mary's, bellini's or any other cocktail you can dream up.
What I tried:
Fritters & Fruit -
I knew I wanted a light breakfast and this seemed like the perfect balance to me. The fritters are crispy and covered in powdered sugar and reminded me a lot of a mix between funnel cake and beignets, which is basically what they're supposed to be. All of the fruit was extremely fresh and I could tell it had just been sliced right before it was added to my plate.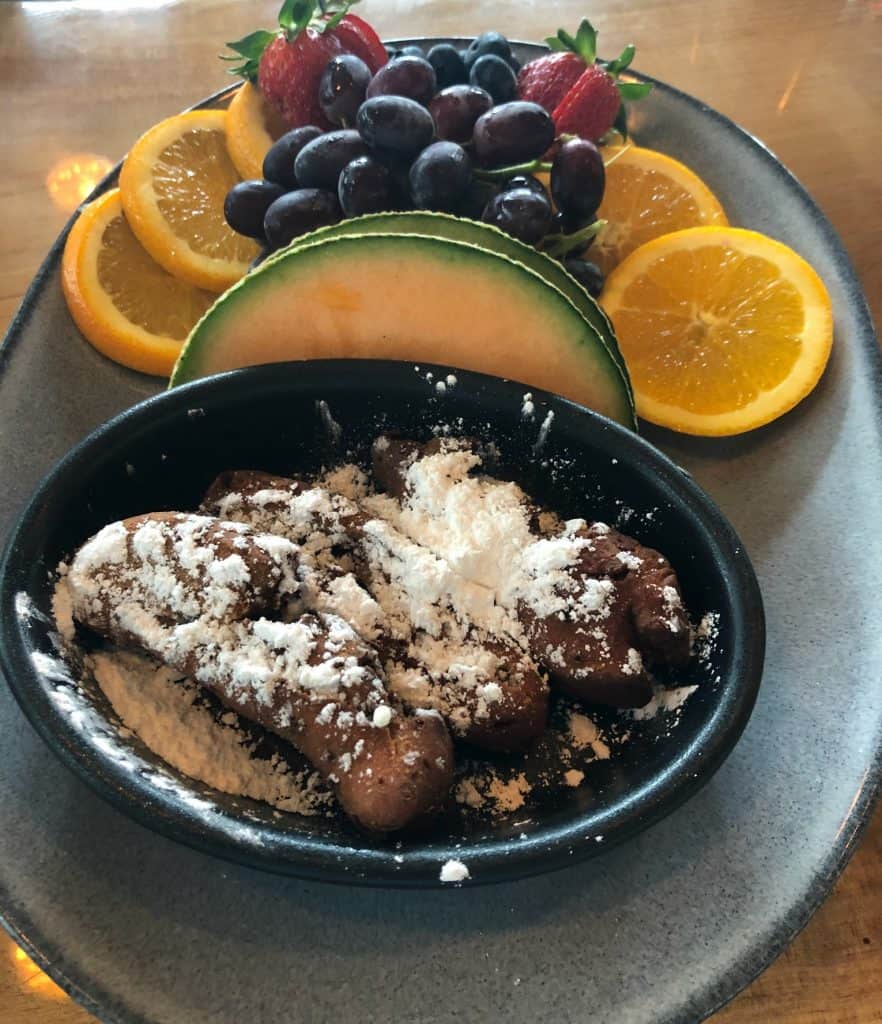 Then there's the Voodoo Chocolate sauce. I don't think I'm allowed to share their recipe for this, but let me tell you, you need it. It's spicy and sweet and I even tried to guess the very simple ingredients and failed. I can usually pick ingredients out of any recipe without too much of an issue but this totally stumped me and then made me laugh that it was so simple. But delicious. Dip your fritters in it. Then your fruit. Then ask for some bread or something and dip that in there too!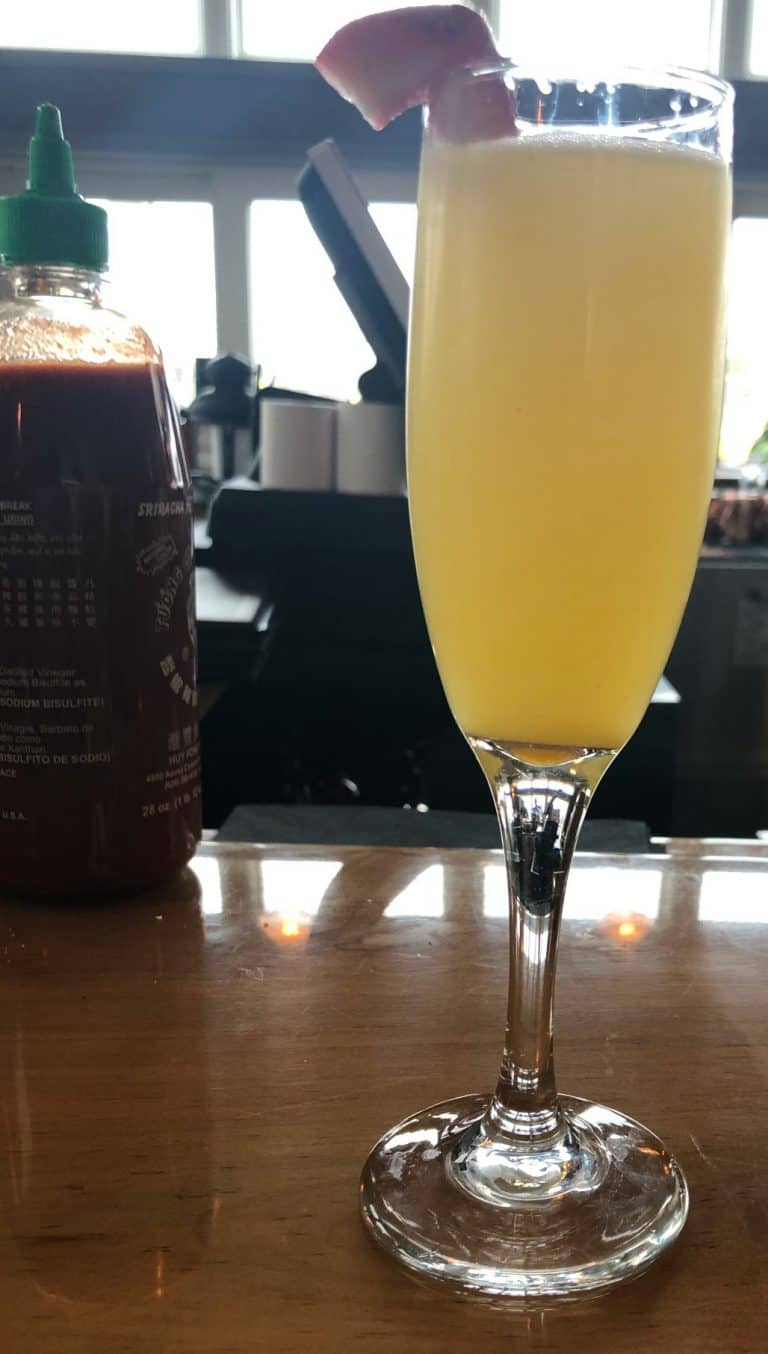 Eastern Shore Bowl -
Jenn got this and I completely forgot to take a picture, but it is a huge bowl of scrambled eggs, bacon, home fries, cheddar cheese and sausage gravy. And when I say huge, I mean HUGE! It's like 3+ cups of food and practically impossible to finish unless you're sharing it with someone or absolutely ravenous.
Sanibel's Dinner:
We came back for dinner the same night, arriving around happy hour time because we're kind of picky and like to secure seats at the bar, especially on the end. We were immediately greeted by the waitress who was there earlier that morning. Their lunch and dinner menu is seafood-based as many others are in the area but there were still more than enough options to choose from if you aren't a seafood fan. We did find out that they are in the process of changing up some of the menu items and adding a bit more of bar food style things.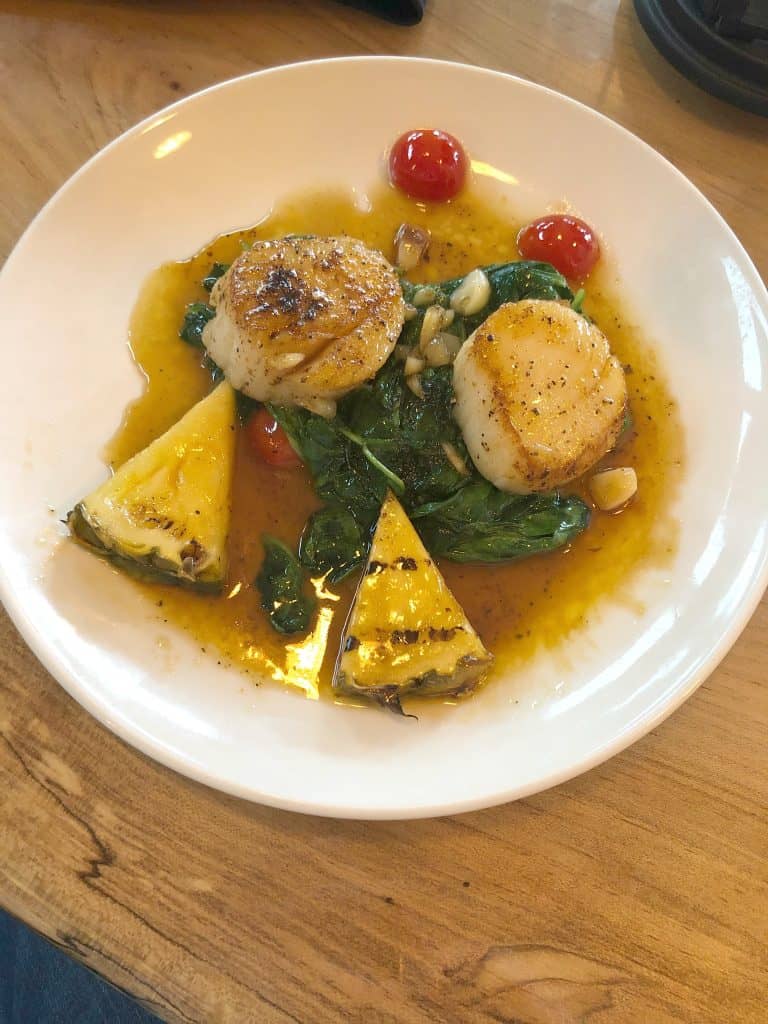 I am notorious for wanting to eat all of the appetizers and never get around to an entree, which is more or less what happened to us and will likely continue to happen when I go back.
Sanibel's light fare and small plates include everything from clams, shrimp, mussels, scallops, and tuna to a parmesan encrusted stuffed lobster bread, to fried green tomatoes, to bourbon lamb lollipops. There's also a plate of truffle fries, which I can't wait to try as this was something we really thought was missing from the R&R menu.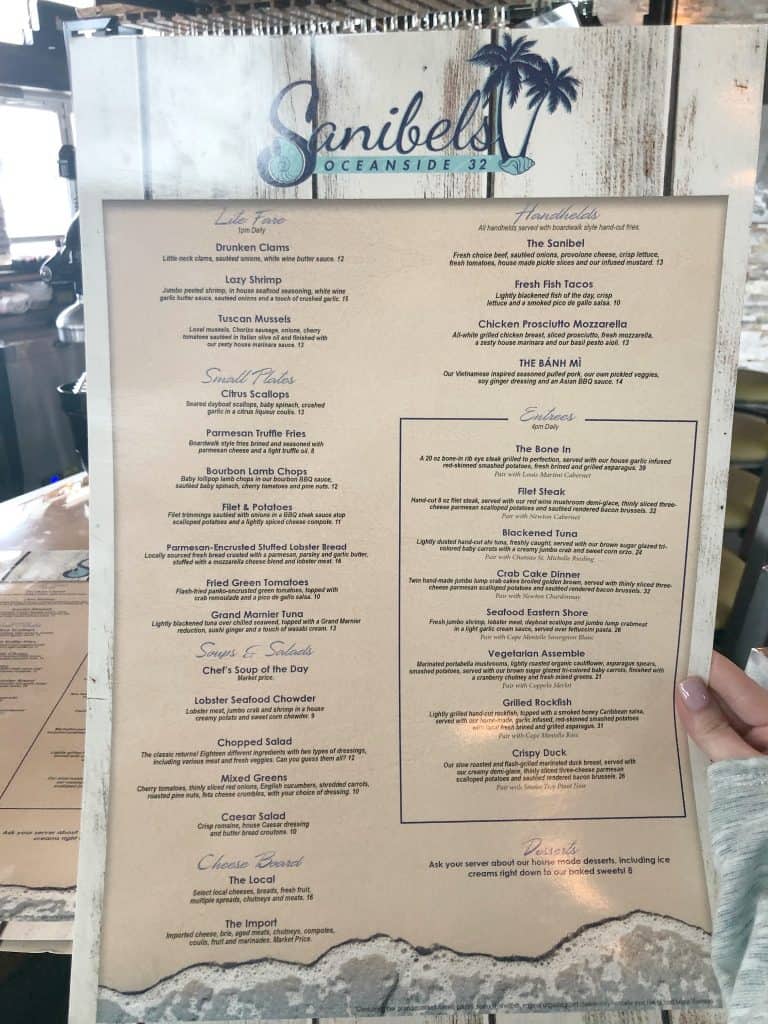 There are a few handheld choices currently, a burger, tacos, pulled pork and a chicken dish. There's your standard soups and salads, and their entrees cover everything from steak to fish, to duck to seafood. There are also cheeseboards listed on the menu, which gives me a serious case of heart eyes as they were my favorite thing from before. Unfortunately these weren't available yet, but I'll give it time.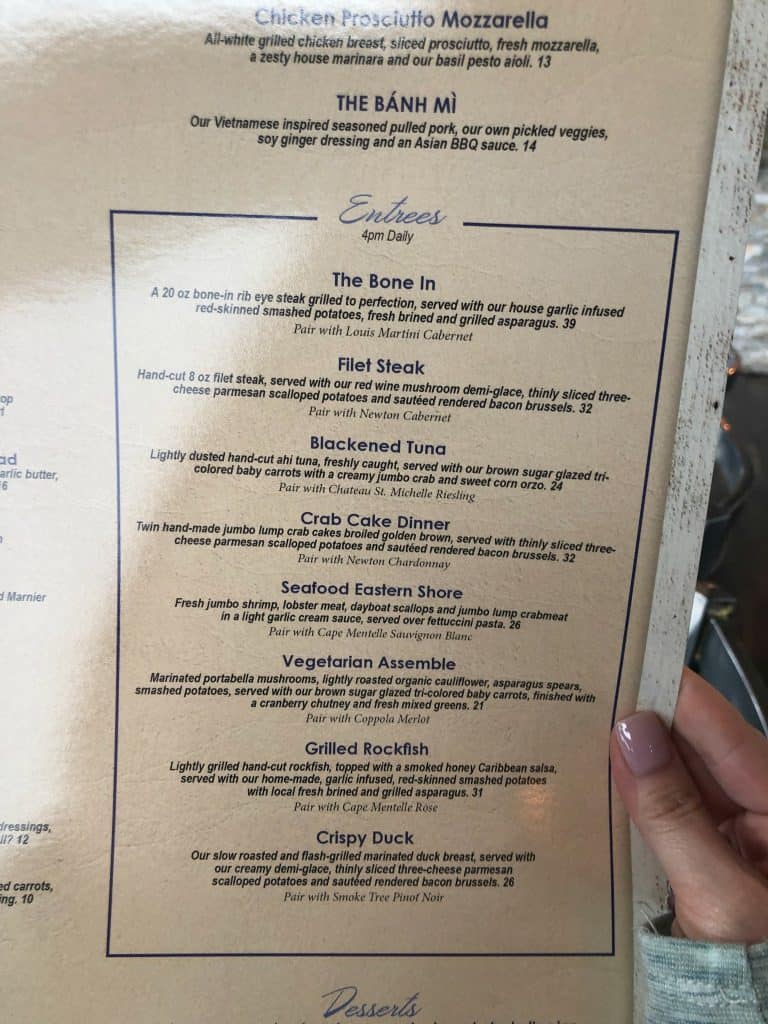 What I've Tried:
Parmesan-Encrusted Stuffed Lobster Bread -
I was intrigued by this but had no idea what to expect as it even kind of sounds unusual. It's a small loaf of soft, fresh bread, covered in melted cheese, butter and garlic that seeps right into the bread. Inside are huge pieces of lobster tail and the bread rests on top of a light tomato sauce. I'd never had seafood (shellfish, actually) with a red sauce before and I was pleasantly surprised. Cheese can be overwhelming with seafood but this is not the case with this dish. It's perfectly balanced and the sauce is simply incredible. Most tomato sauces can be too sweet or too acidic and this is neither. Honestly, I could eat this without the lobster. It's that good on it's own.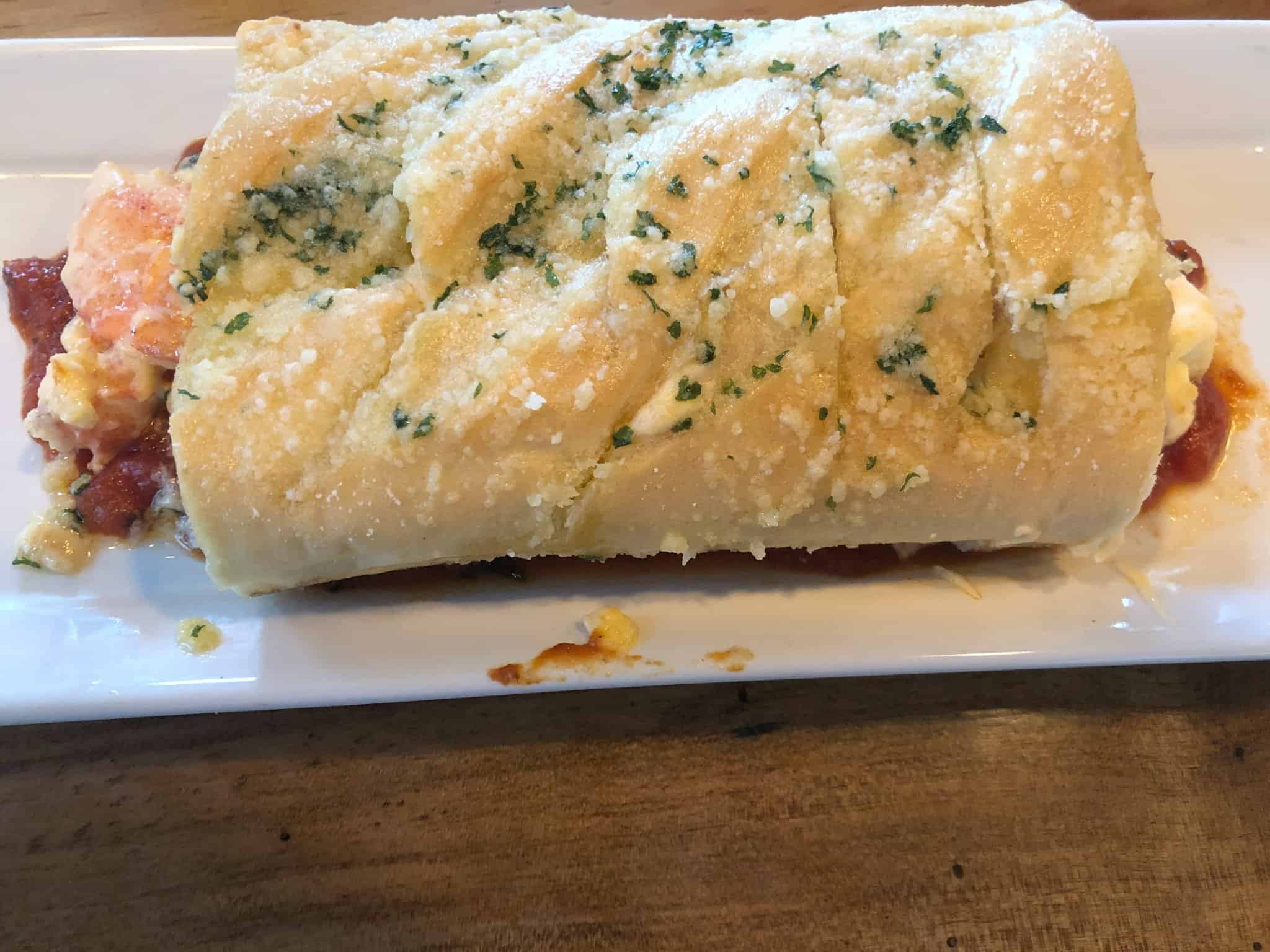 Citrus Scallops -
As these are a small plate, you receive two sea scallops on top a bed of seared spinach, roasted garlic and cherry tomatoes. There's a piece of seared pineapple and a citrus coulis. The sear is perfect and the sauce has great flavor. For a small plate it is an average size portion, but Jenn and I both were hoping there would be more than 2 scallops.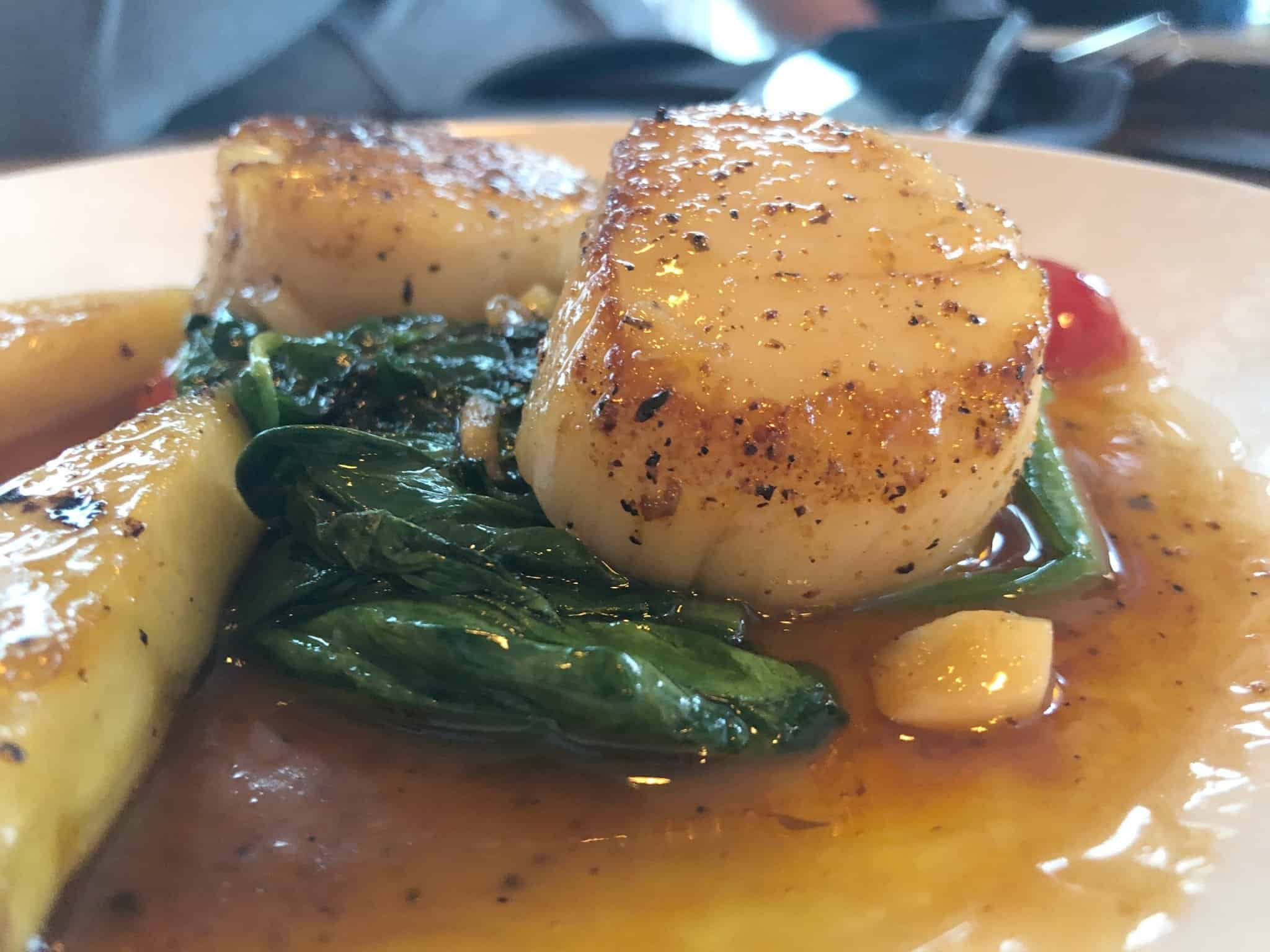 Banh Mi -
A Banh mi is a Vietnamese sandwich typically made with a pork sausage and topped with cilantro, cucumbers, pickled carrots and radishes. Sanibel's take on it is a sweet and smoky pulled pork, beef tips, homemade pickles and an Asian BBQ sauce. This was hands down the best pulled pork I've ever had in my life. It's tender and moist but still includes the charred burnt ends. The homemade pickles were more soft than crunchy, but the vinegar in them is needed to balance out the dish.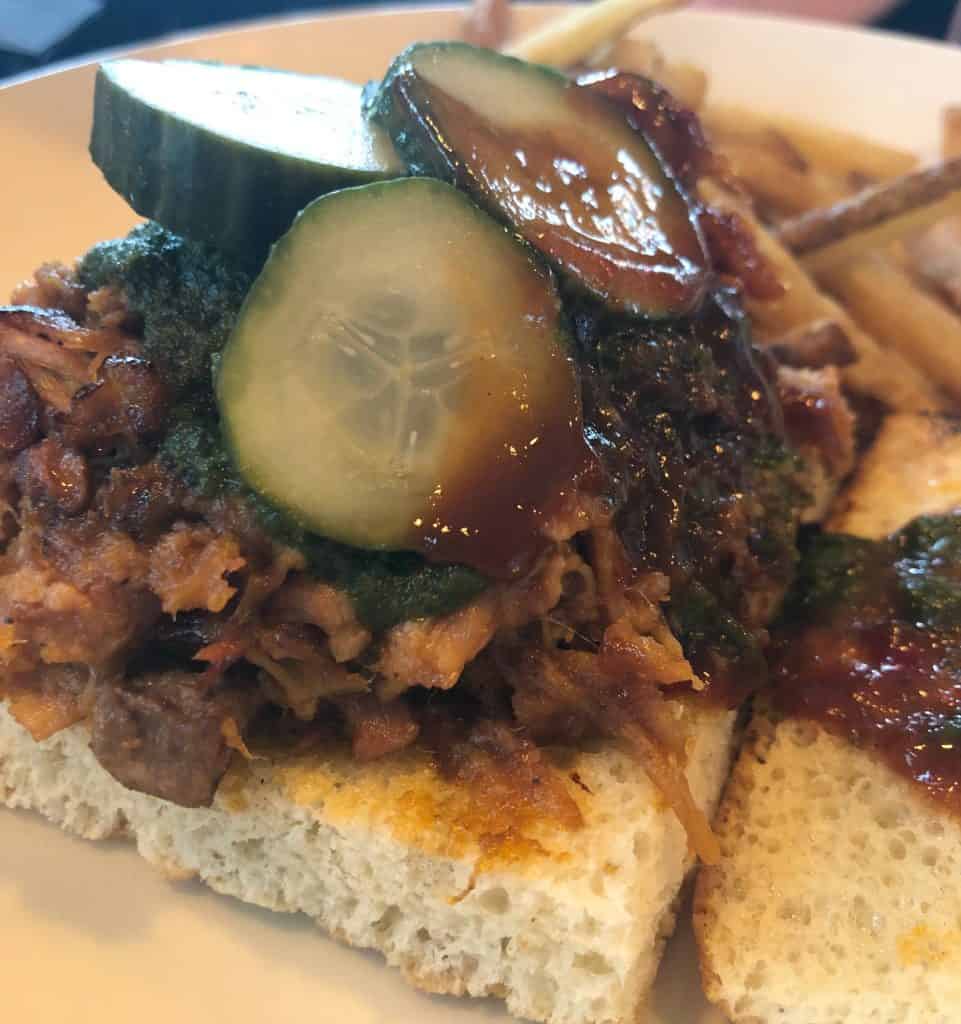 Seafood Eastern Shore -
That huge bowl from breakfast is back, but this time it's filled with fettuccine pasta and overflowing with shrimp, lobster meat, scallops, and crab meat in a garlic cream sauce. So you don't feel like you're indulging too much, there's a healthy handful of spinach but it's also covered in cheese. If you like pasta and seafood this is not going to disappoint you.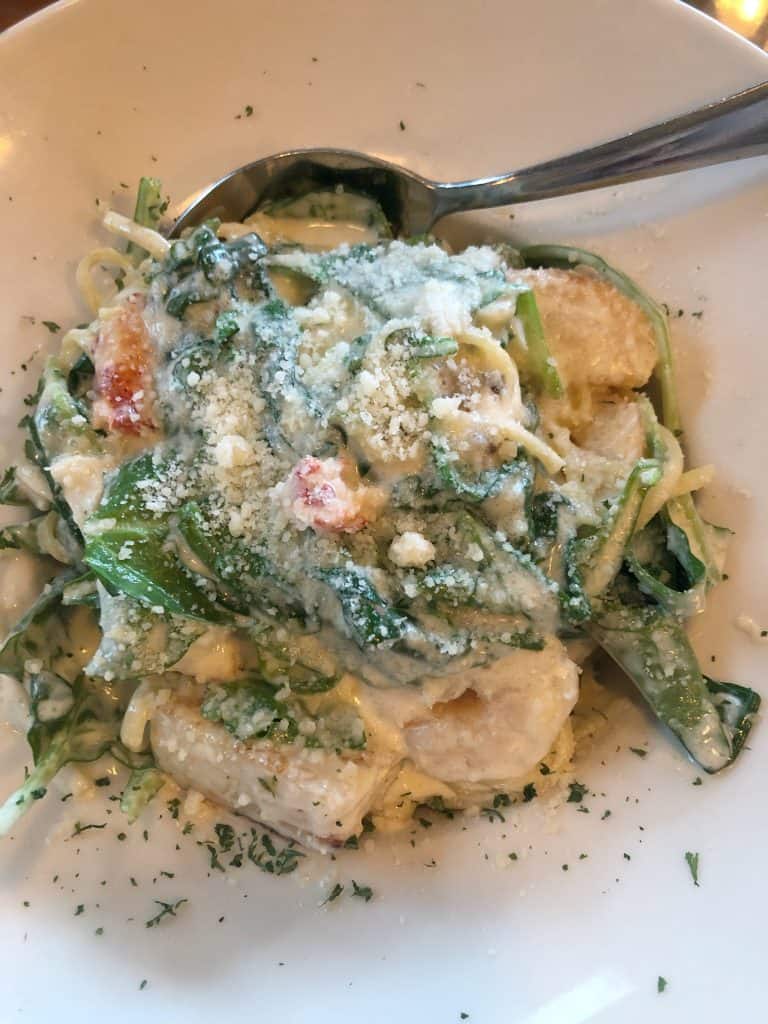 Service and Other Offerings:
I'll be completely honest and say that we did visit for breakfast and dinner when they weren't busy, however I don't believe for a second that our level of service would have changed had it been busy. Simply put, the staff like their jobs and they care, all which is blatantly obvious to see. For only being open for a few weeks, they're running like a pretty well oiled machine and I can't wait to see how they grow.
For breakfast, our bartender/server was Rob, who I've known for years. He's a great bartender, super friendly and made me very curious to know about these coffee drinks he makes. (He suggested it to another customer. I already had a mimosa in front of me and we didn't have day drinking plans, but I am coming back for one!)
For dinner, our bartender was Michael who is a huge knowledge base of the town. We talked about everything from other restaurants and the people who work there, to how Baltimore used to be years ago, to drinks. Speaking of...
Bulleit Bourbon Crush -
If these weren't going to be on the menu, I wasn't sure how interested I was in trying out the restaurant. Seriously, I'm not even joking. But they are still on the menu and Michael made me one using Bulleit's Rye (green label) instead saying it made a smoother drink. I definitely agree and it also seems to make the drink a little less sweet which I liked as well. Also, generous pours of bourbon are important and they certainly delivered!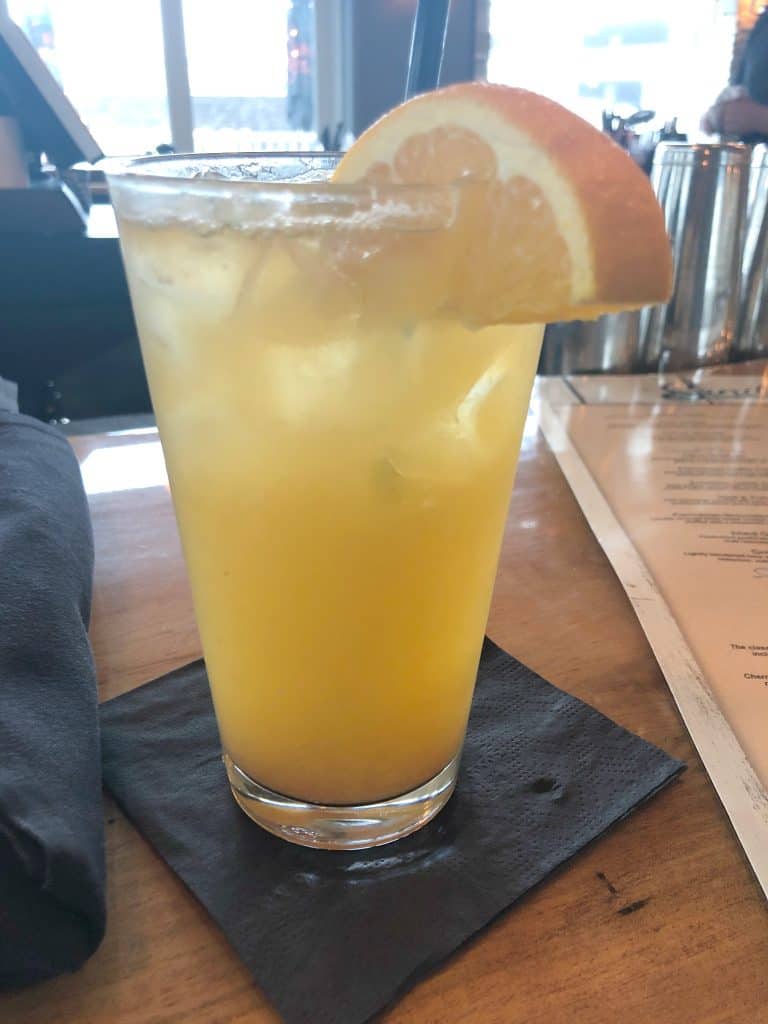 After seeing me take pictures of everything we ordered, Chef Tracy came over to talk with us. I already knew from the Facebook videos they had done that he was super charismatic, but he's even more so in person. I gushed over the tomato sauce in the lobster bread and he revealed that they use roasted roma tomatoes. I can't wait to try this out at home.
He also brought out a fried mac and cheese that isn't even on the menu yet. (Spoiler: it's going on top of a burger!) Macaroni and cheese is a dish where I can take it or leave it, but this was divine. Fried cheesy goodness that still managed to melt in your mouth. I'm gonna have to see if I can get this recipe (or at least most of it out of him.)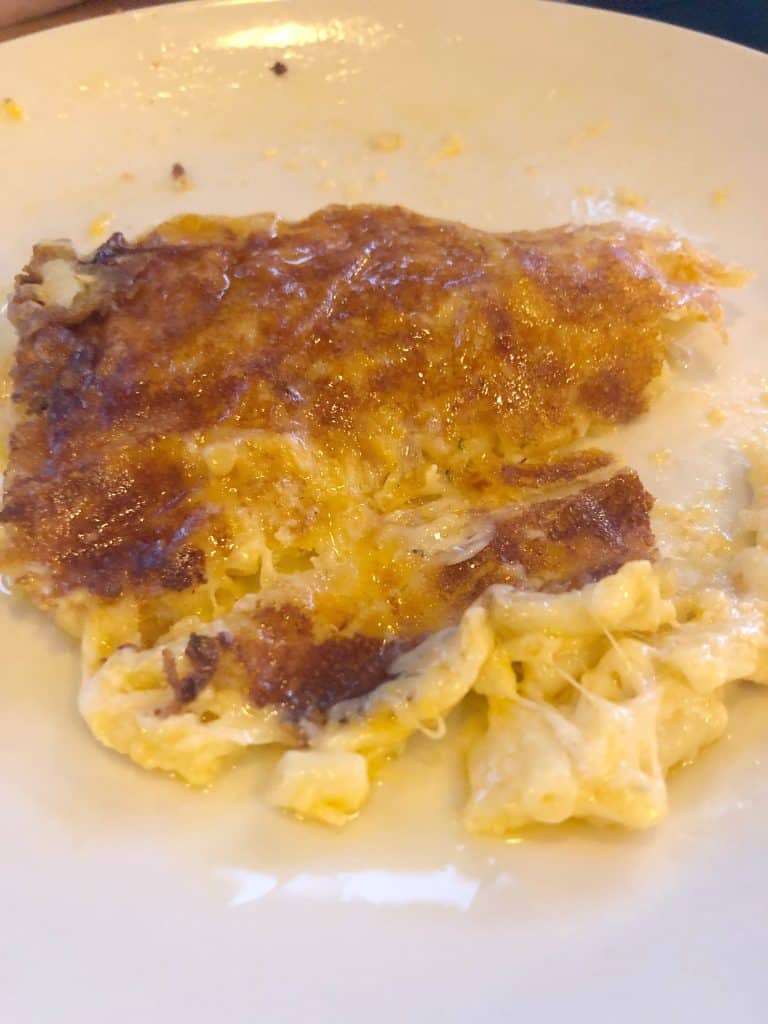 Strawberry Cheesecake Banana Split -
Chef Tracy also brought us out dessert because he makes his own ice cream. So let's start there - strawberry cheesecake ice cream. It's rich, it's smooth, it would make a Chopped Judge proud. It's full of fresh strawberries and graham cracker bits and served in between two banana slices, topped with fresh whipped cream, chocolate sauce and nuts. I mean...come on now. You need this.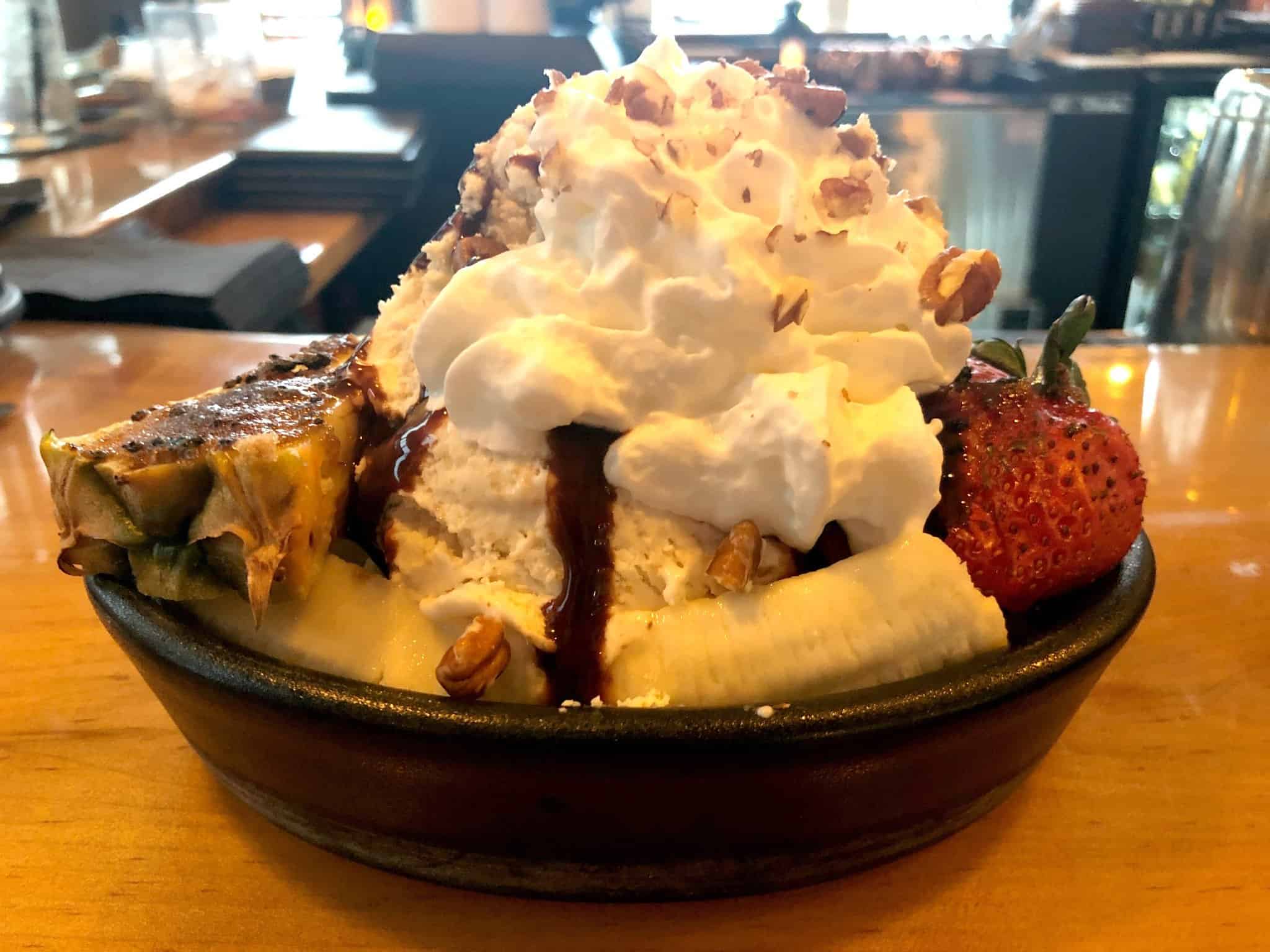 Nichole's Overall Thoughts:
When you're in a town that mainly caters to tourists, it's easy to forget just how much of a small town it really is and how well the locals know the other locals. And how much they treat each other like family. On Sanibel's website it says "Come in and let our family take care of your family." That isn't a tagline. It's the truth. Sanibel's reminds you of that in the personal service, the conversations and the atmosphere. So whether it's a conversation about back home (Baltimore) with the bartender or talking tomatoes with Chef Tracy, Sanibel's makes you feel like a part of their family.
Sanibel's is in the process of opening up another location that will be on 67th Street and Bayside and should open up around Memorial Day. Of course we're also going to go there to check out that location!
[unordered_list style="star"]
Service: 5 out of 5

Food: 4.5 out of 5 (I really miss the cheeseboard 🤷)

Ambiance: 5 out of 5

Parking: 4.7 out of 5

Value for Price: 5 out 5
[/unordered_list]
If you're looking for a new place to check out, I really can't recommend Sanibel's enough. Jenn and I don't have our next "planned" trip to the beach until June but we've already started talking about going back before then.