If I've said it once, I've said it 1,000 times. I am not a fan of winter. It's cold and gross and makes me crave comfort foods that are usually chock full of calories and other unhealthy things. But this Italian Beef Roast only has a few ingredients, is really filling and makes your house smell incredible while it's taking it's time cooking in the slow cooker.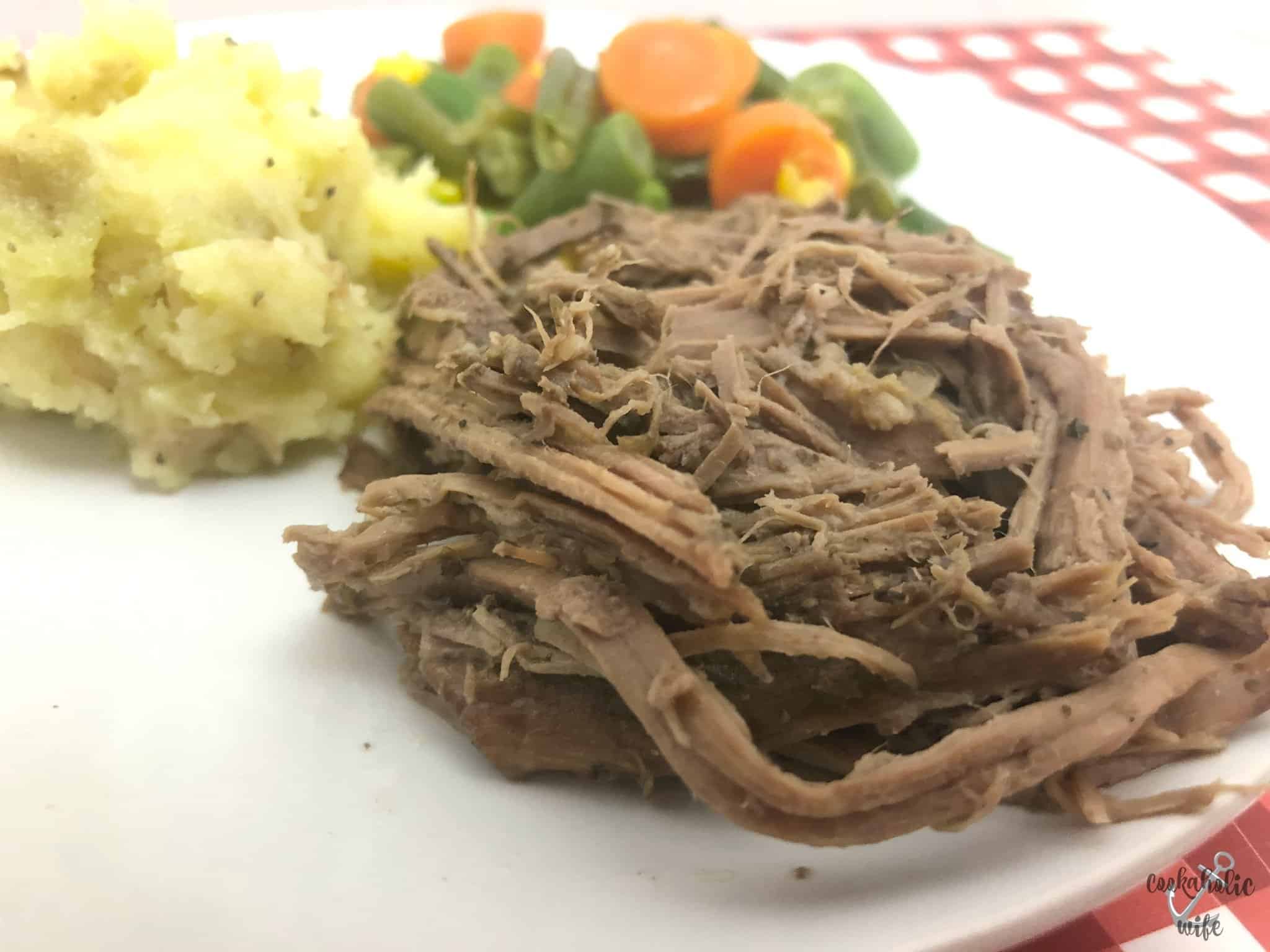 The ingredients for February's #ImprovCookingChallenge were Wine and Italian Seasoning. At first I thought, oh there are a ton of recipes I could make with that, but when it came down to making one, nothing appealed to me. Marinades, meatballs, chicken dishes...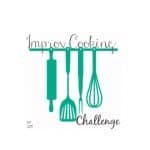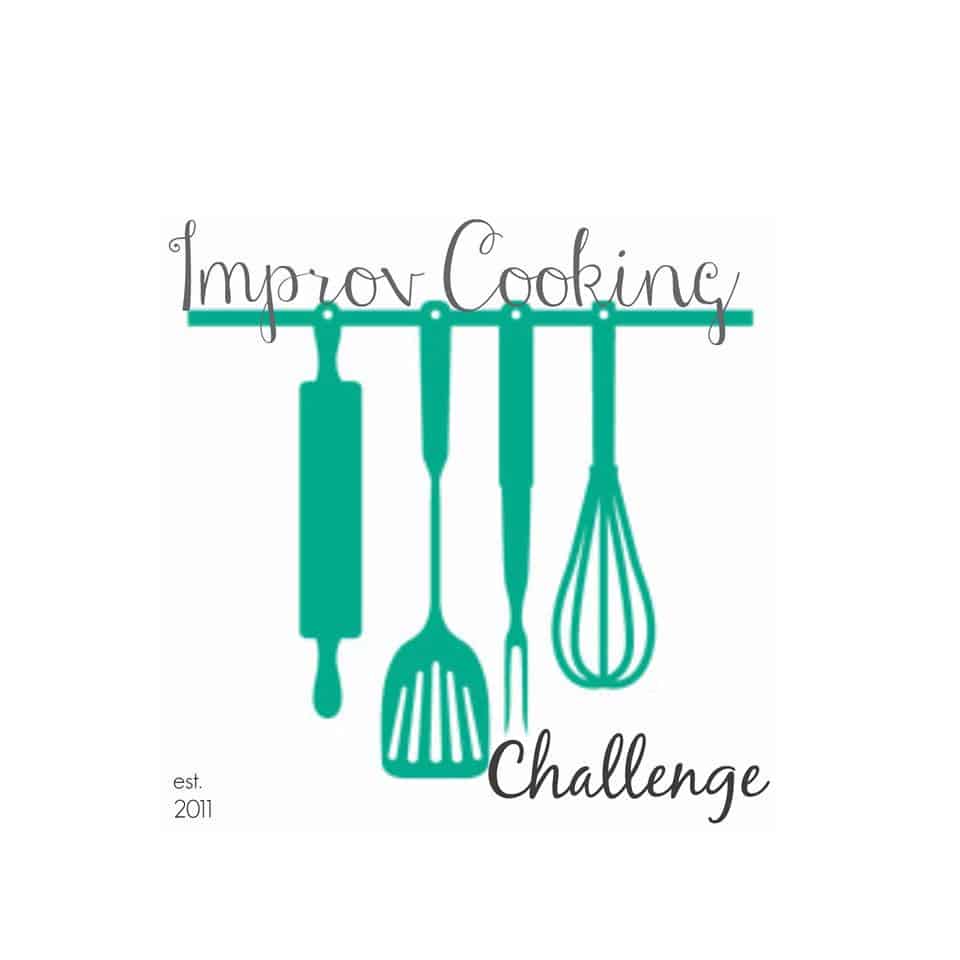 Then, I saw that beef round roast was on sale at the store. A no-fuss roast beef I could cook in the slow cooker while going about the rest of my Saturday sounded like the perfect plan. Only a quick trip to the liquor store to get some red wine was needed to make this dish a reality. I don't know why, but I can't drink red wine. I can have it when it's cooked into dishes, but a glass of it alongside a meal = instant heartburn that no over-the-counter meds can even touch. Quite annoying, actually!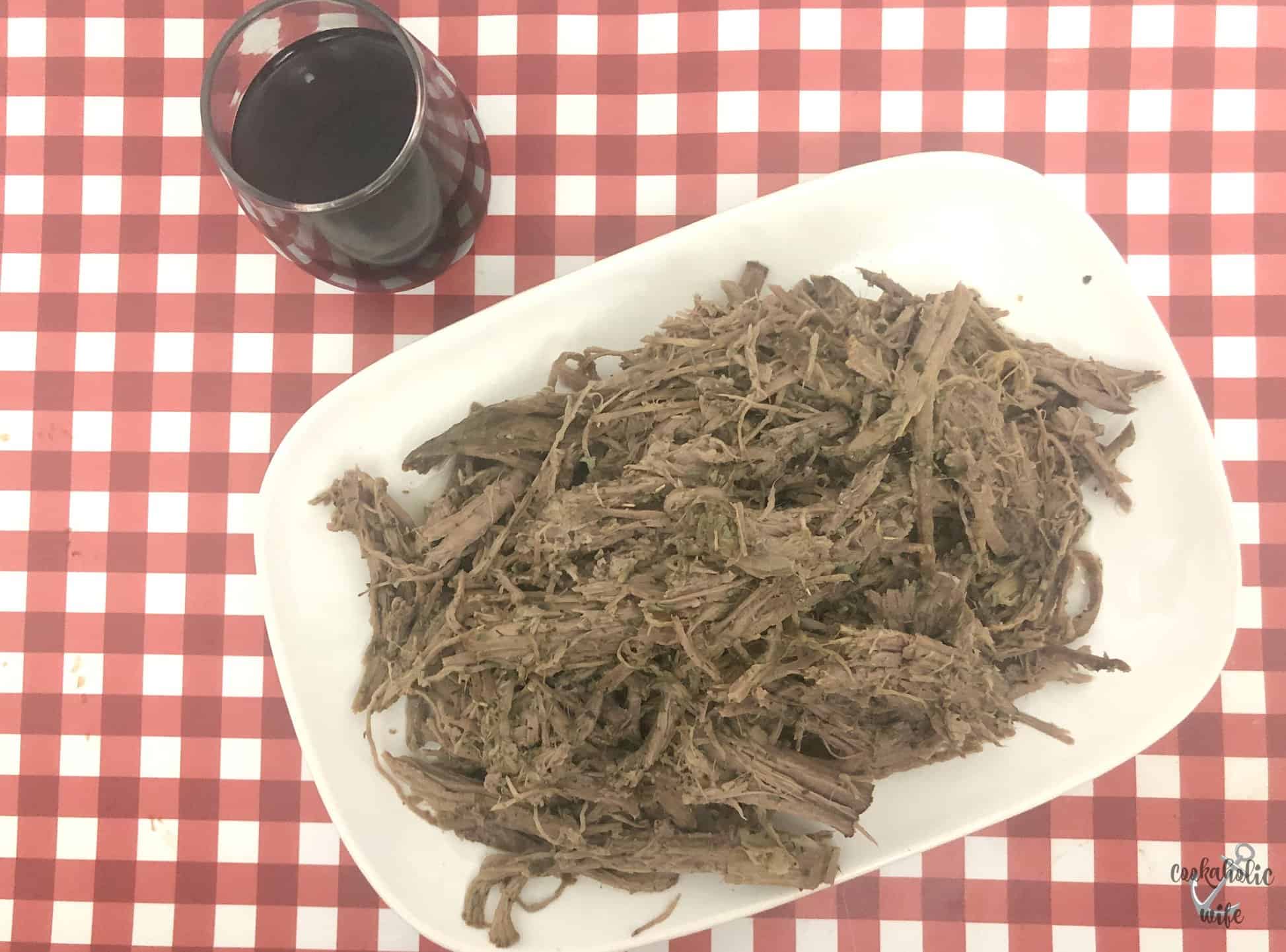 Italian seasoning is one of my go-to spices that I always have in the pantry. I use it ALL of the time, on anything from chicken or pork to vegetables. Not too long ago I ran out and kept forgetting to add it to the grocery list. It led me to looking up what spices make up Italian seasoning and luckily for me, I had all of them on hand that I could easily mix some up. If you find yourself in the same boat, here's how to make your own Italian Seasoning -
Italian Seasoning Mix:
1 tablespoon each of dried basil, dried oregano, dried marjoram, dried rosemary and dried thyme
This will make more than you need for the recipe below, but you can easily keep the mix in a small container for future recipes.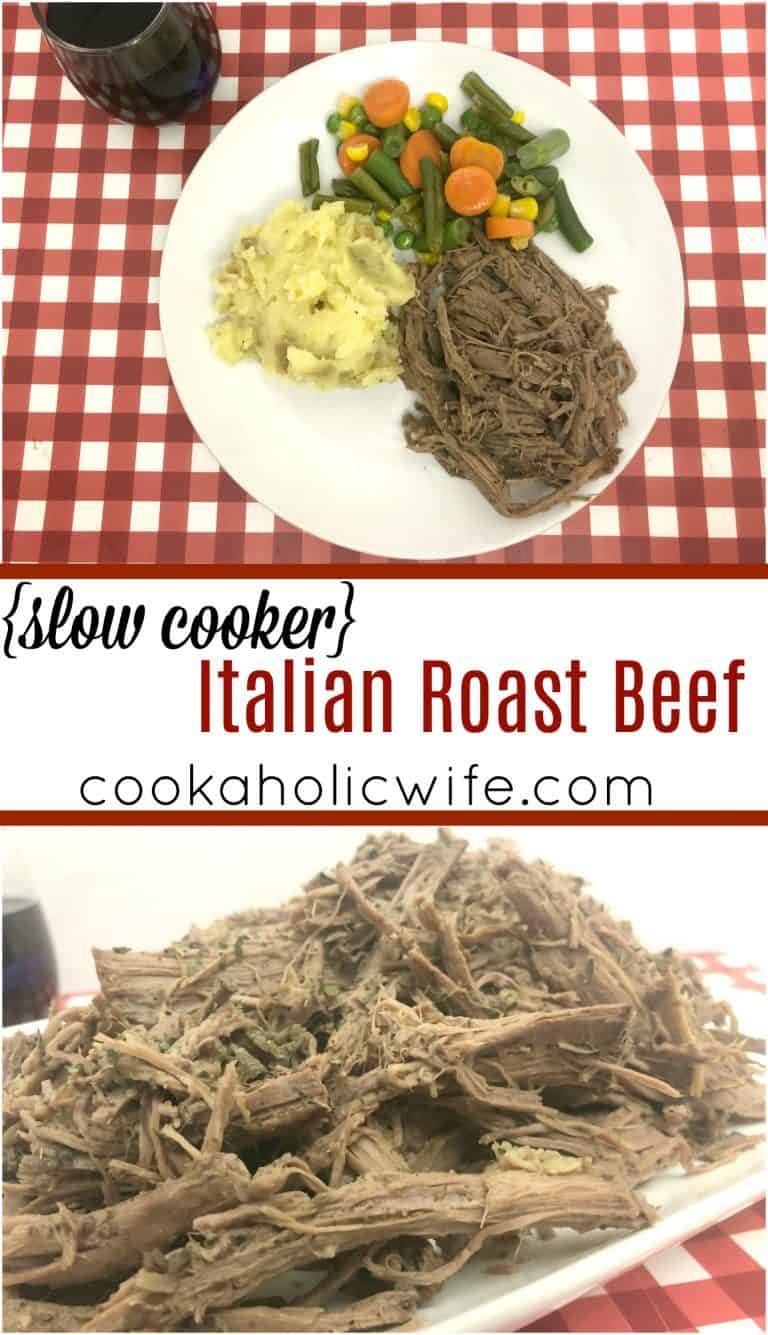 Recipe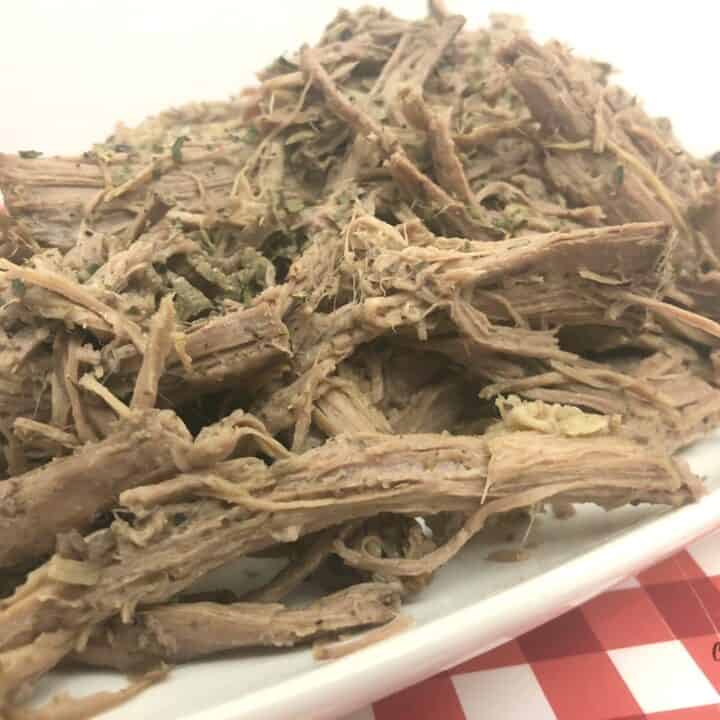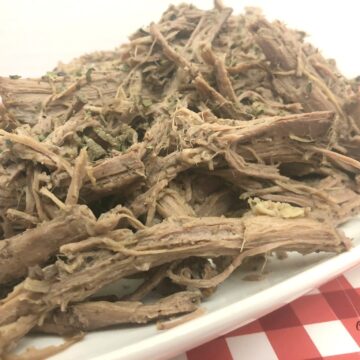 Slow Cooker Italian Roast Beef
This Italian Roast Beef is fork-tender and full of flavor as it cooks in red wine and seasonings all day in the slow cooker.
Ingredients
2-3

lbs.

beef roast

round or chuck

2

tablespoon

olive oil

2

tablespoon

Italian seasoning

1

teaspoon

garlic powder

1

teaspoon

onion powder

1

teaspoon

kosher salt

1

teaspoon

black pepper

1

large onion

thinly sliced

1

cup

red wine

Cabernet, Merlot, Pinot Noir
Directions
Heat olive oil in a large skillet or Dutch oven.

Combine Italian seasoning, garlic powder, onion powder, salt and pepper together in a small bowl.

Rub seasonings all over the roast.

Sear roast for 3-4 minutes on each side.

Transfer roast to a slow cooker. Pour in red wine. Arrange onions around roast.

Cook on low for 8-10 hours or until the meat is fork tender.

Shred and serve.
Recipes on Cookaholic Wife are for information purposes only. Nutritional Data provided has not been evaluated by a nutritionist.
Alternate Cooking Method:
If you don't have a Slow Cooker/Crock Pot or you don't have all day to cook the roast beef, it can be made in the oven.
Season and sear the beef in an oven-safe pot. Add wine + ½ cup water.
Cook at 350 for 3 - 3 ½ hours. Check each hour and add additional liquid if needed.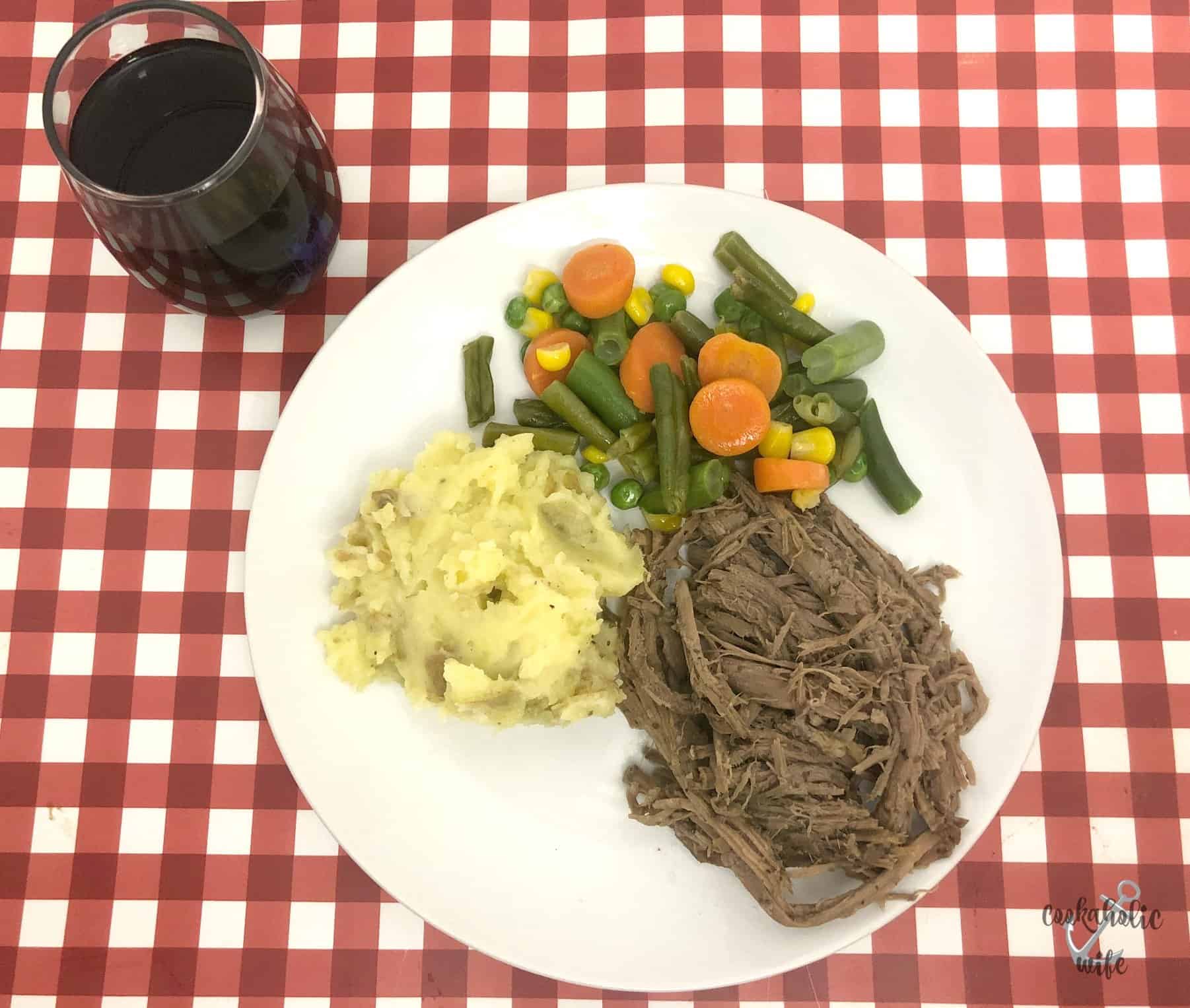 Wow, was this good! I served it along side mashed potatoes and mixed vegetables. There was also a beef gravy to go along with it, that didn't make it into the photographs. Then later in the week, I re-purposed the leftovers into shredded beef served on top of nachos. The leftover beef was reheated in a little beef broth and a few splashes of Worcestershire sauce to impart some more flavor.
Check out what the other bloggers have made!
Improv Cooking Challenge: February 2019
Ingredients: Wine and Italian Seasoning