These burgers are pretty popular in the blog world and after using Sriracha in another recipe, I knew I needed to make them soon. If you don't like spicy foods, I'd stay away from this recipe. 🙂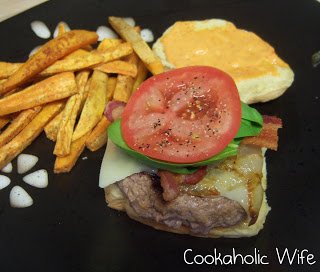 Sriracha Burgers
Burgers made with the great condiment, sriracha.
Ingredients
For the Burgers:
1 1/2

lbs

lean ground beef

2

tbsp

sriracha

2

tbsp

soy sauce

2

tsp

black pepper
For the Sauce:
3

tbsp

sriracha

2

tbsp

mayonnaise

2

tbsp

Asiago cheese

shredded
Toppings:
onion

thinly sliced

2

tbsp

butter

5

slices

bacon

5

slices

swiss cheese

5 to

mato slices

spinach leaves or lettuce

5

hamburger buns
Directions
1. In a medium bowl, combine the burger ingredients and form into patties. Place on a plate and refrigerate until ready to use.

2. In a small saucepan, melt the butter over medium heat. Add the onion slices and lower the heat to low.

3. Stir occasionally until the onions are caramelized.

4. In a small bowl, add the ingredients for the sauce and stir until combined. Refrigerate until ready to use.

5. Cook the bacon and break each slice in half. Set aside.

6. Place the burger patties on the grill or on a George Foreman and cook until desired doneness.

7. Toast the hamburger buns. Spread the sauce on both sides of the buns.

8. Top each burger with a slice of Swiss cheese and cook until melted.

9. Assemble the burger by placing the bacon, caramelized onions, tomato and spinach leaves on top of the burger. Serve with additional sauce for dipping.
Tom and I both thought these burgers were absolutely delicious! We used regular hamburger buns which got a bit hard to manage with the burger and all of the toppings, so I'd recommend a heartier bun for these. Either way, the spicy flavor of the Sriracha came through in the burger and on the sauce. I'm pretty sure Tom will be asking for these on a regular basis!