Traditional Irish Shepherd's Pie is a classic comfort food dish, made with ground lamb and veggies and covered in a cheesy mashed potato topping.
Update: This recipe was originally shared in March 2019. Photos and instructions have been updated as of November 2020.
Other than macaroni and cheese, when I think of comfort food I think of shepherd's pie. How can you go wrong with a meat and veggie mixture topped with cheesy mashed potatoes? This is one filling and delicious dish.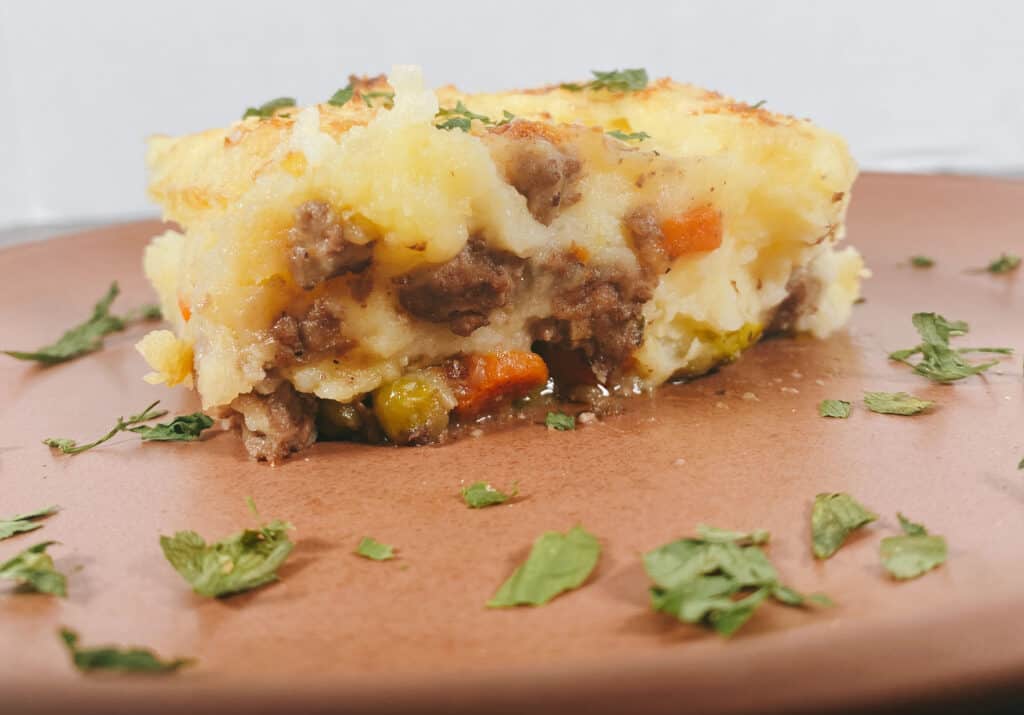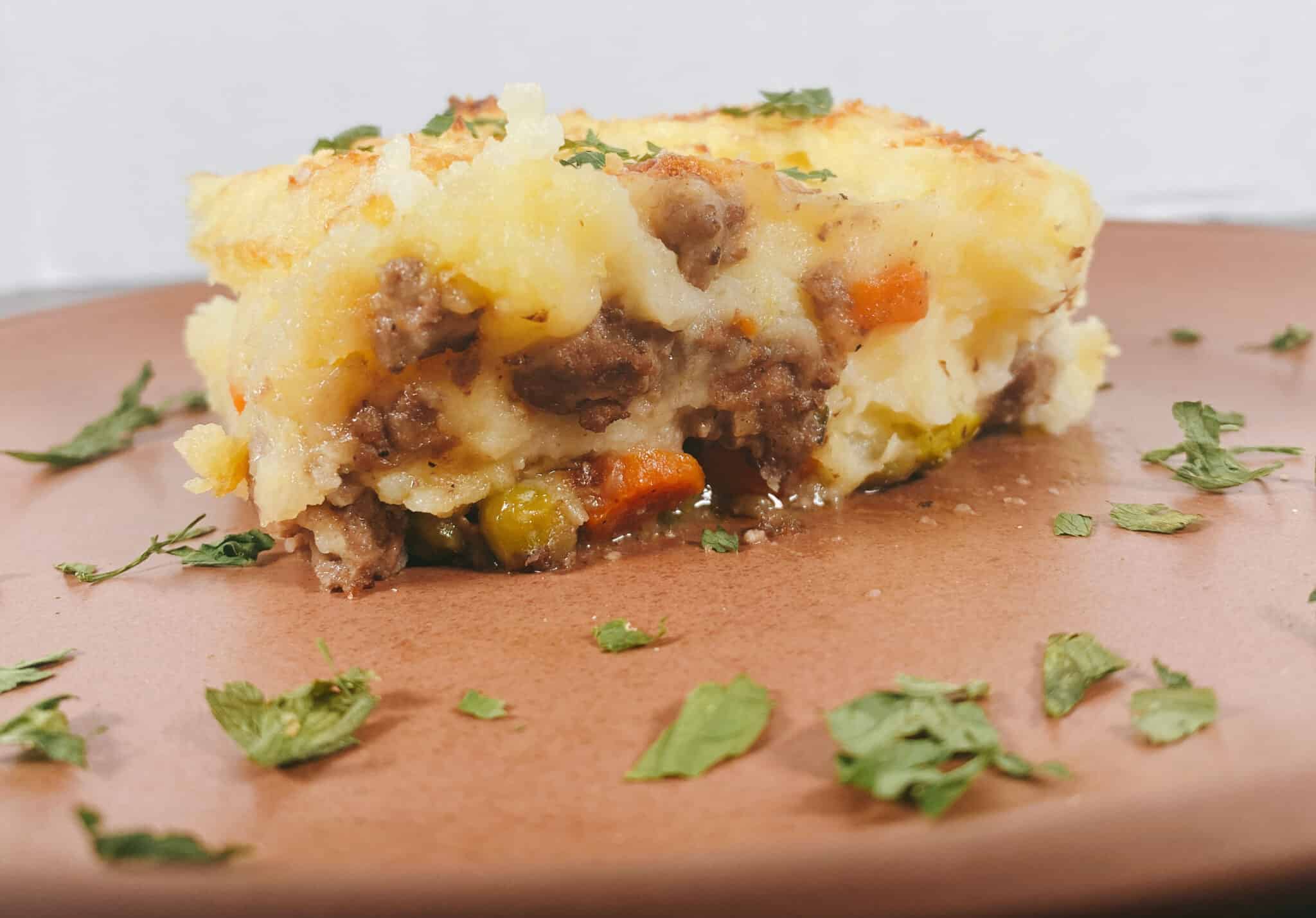 What is traditional irish shepherd's pie?
Shepherd's Pie is a casserole type dish, dating back to the 18th century. It was created as a way to use up leftovers instead of letting them go to waste. It's "traditional" in the sense that this recipe uses ground lamb. If you make the dish using ground beef, it's actually called cottage pie.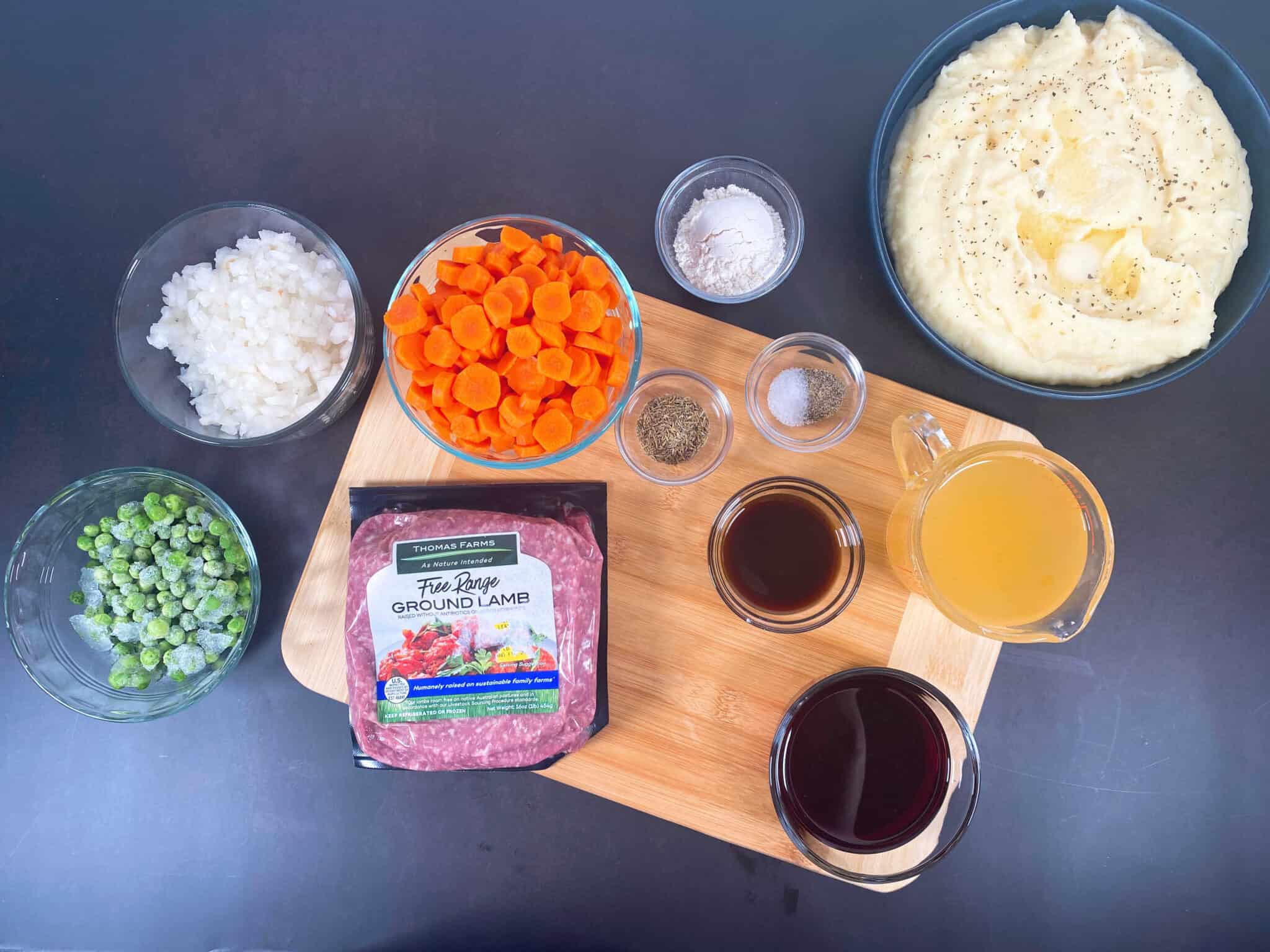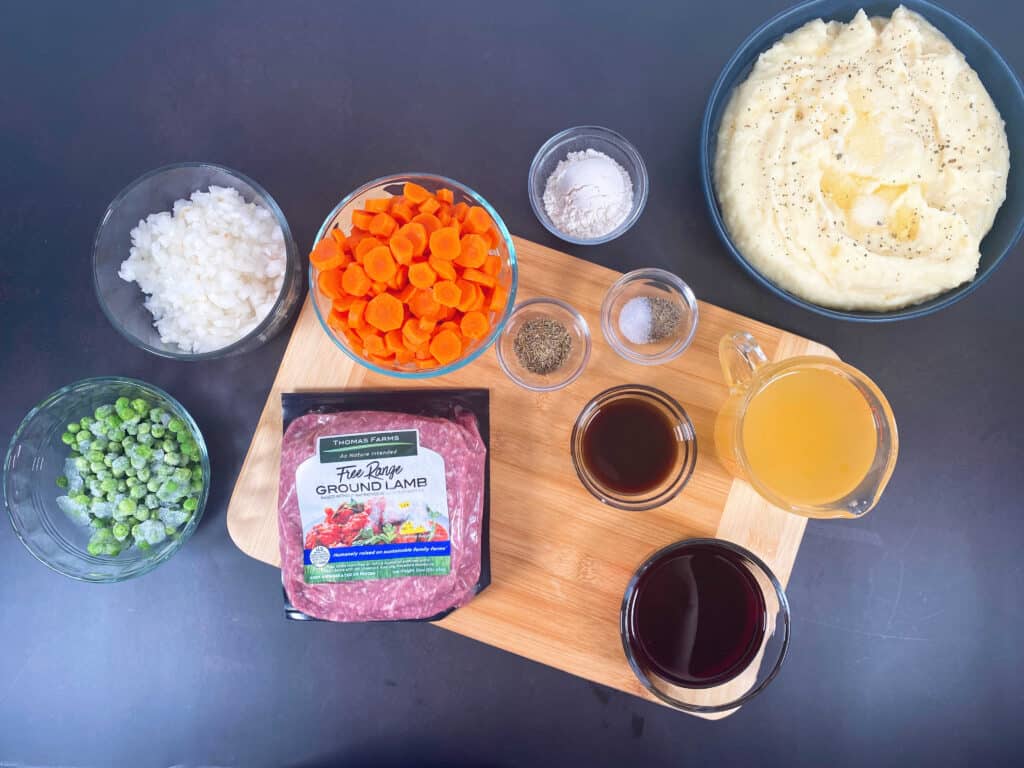 ingredients for this recipe
ground lamb
diced carrots
diced onions
frozen peas
all purpose flour
chicken stock
red wine or beer - a dry red wine like merlot works great as does any dark beer
worcestershire sauce
thyme
diced potatoes - yukon gold are my favorite
milk
butter
Parmesan cheese
salt and pepper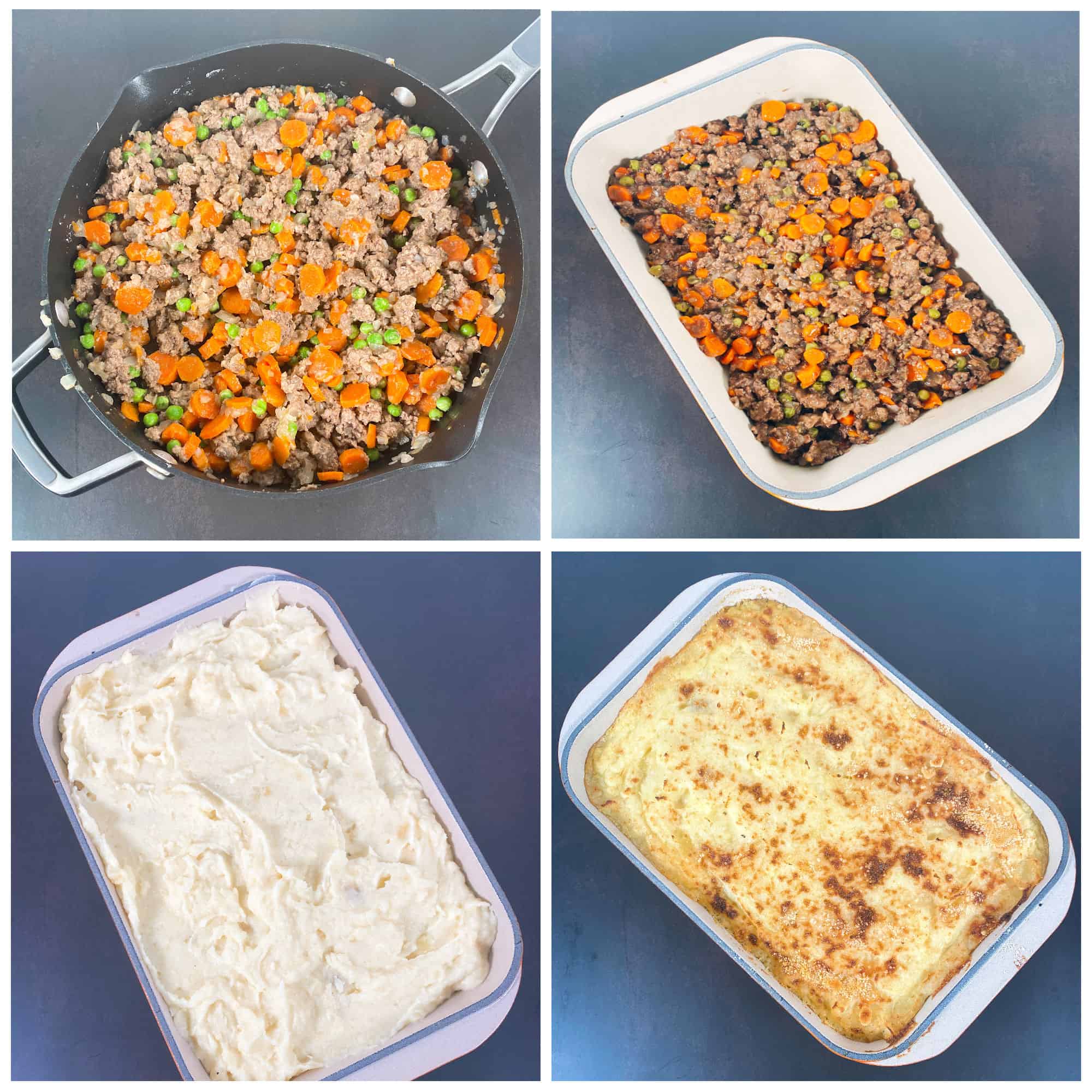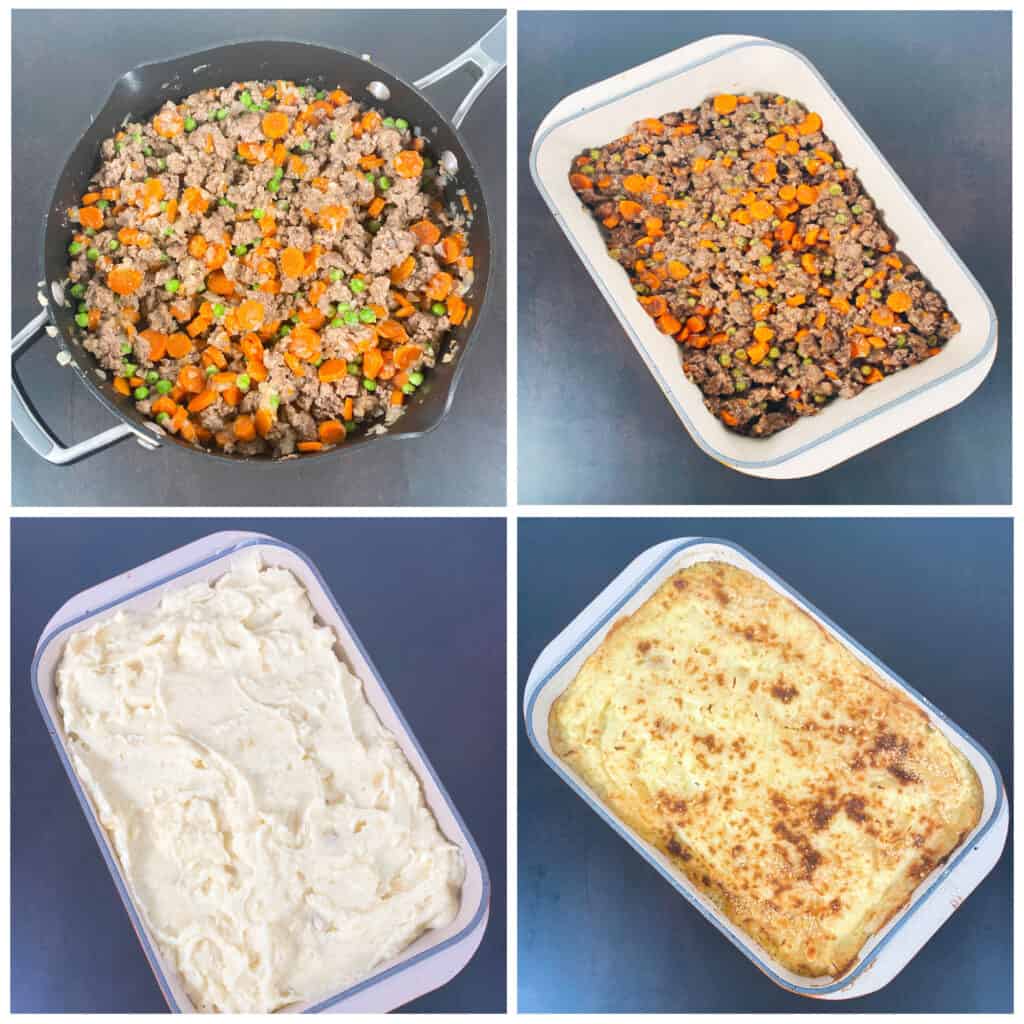 how to make shepherd's pie
For the meat mixture: Brown ground lamb along with carrots and onions. When meat is cooked through, whisk in peas, butter and flour and stir until flour and butter dissolve.
Add the chicken stock and wine, worcestershire sauce, thyme, salt and pepper. Let the mixture simmer until no liquid remains. Let mixture cool 15-20 minutes before assembling.
For the potatoes: bring a large pot of salted water to a boil. Add the potatoes and cook until fork tender. Drain potatoes and add in butter and milk. Mash until smooth. (See my perfect creamy mashed potato recipe for more tips) Let potatoes cool 15-20 minutes before assembling.
Assemble and bake. Grease a 9x13 baking dish. Spread the meat mixture into the dish and top with the mashed potatoes. For a pretty looking dish, you can transfer the mashed potatoes to a piping bag and pipe them on.
Sprinkle Parmesan cheese on top of the potatoes and bake the dish for 20-25 minutes. If your cheesy potatoes aren't golden, turn the oven on broil for a few minutes to get them golden and crispy. Let cool 10-15 minutes before serving.
Substitutions, Make Ahead and Freezing
A bag of frozen carrots, onions and peas can replace the fresh veggies in this recipe
Replace homemade mashed potatoes with refrigerated prepared ones instead
Replace mashed potatoes with mashed cauliflower or a mixture of mashed cauliflower and potatoes
Wine - If you aren't a red wine drinker like me, get the 4 pack of 8 oz bottles of red wine. I keep these on hand solely for cooking. Or, replace it with additional chicken stock.
Make Ahead: the meat mixture and potatoes can be made ahead and refrigerated for up to 3 days. Additionally, you can assemble the dish and refrigerate for 1 day before cooking.
Freezing: once the dish has cooled, transfer it to a container and freeze for up to 3 months.
Heat: frozen shepherd's pie can go right into the oven if you freeze it in an oven-safe container. Cook for 1 hour to 1 hour 15 minutes at 350, or until warmed through.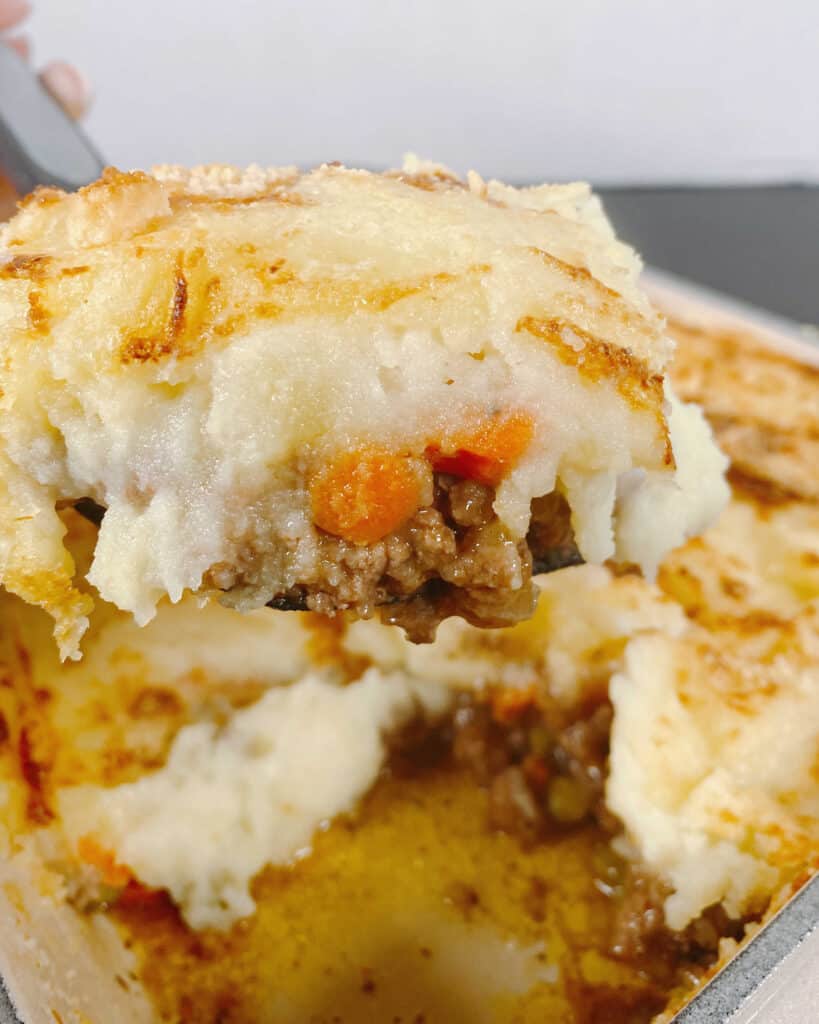 Tips for the best shepherd's pie
Is shepherd's pie supposed to be soupy? No, it means you either didn't use enough flour or didn't let the mixture cook down enough after adding the chicken stock and wine. The mixture should look wet but not be liquidy. Let the mixture reduce longer. If that still doesn't work, whisk in another tablespoon of flour.
How to stop your mashed potatoes from sinking in shepherd's pie: your meat mixture and your potatoes can't be piping hot or everything will run together. Let both cool individually for at least 15 minutes prior to assembling.
Does shepherd's pie have cheese? Most versions do, either Parmesan or cheddar will do. But feel free to leave it out.
what to serve with shepherds pie?
garden salad
green veggies like peas, broccoli or green beans
other veggies like cauliflower, carrots or parsnips
If a traditional shepherd's pie isn't your thing, you could check out the other versions I've made - Shepherd's Pie with Thanksgiving Leftovers, or for a more Mexican take, Taco Shepherd's Pie.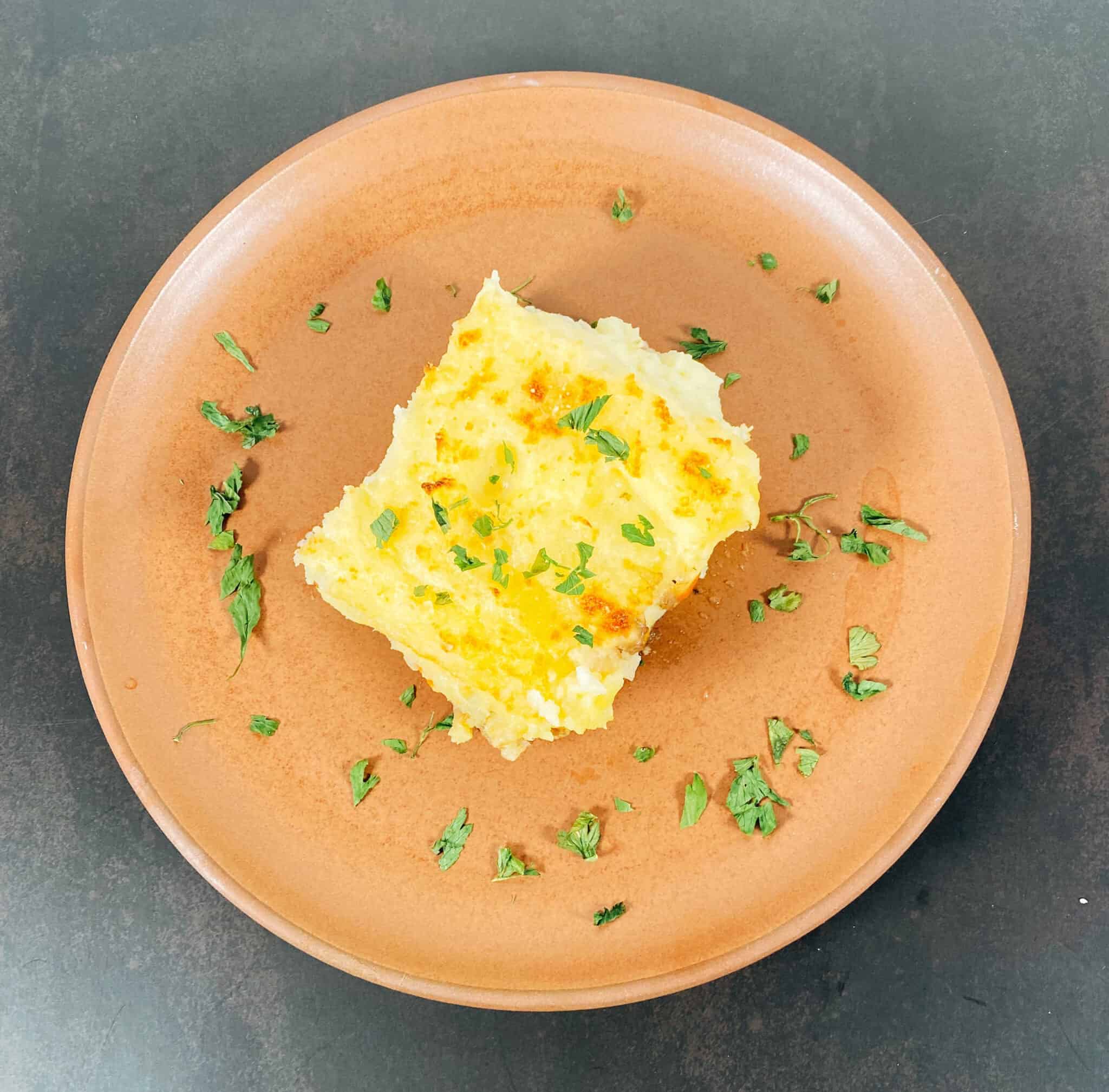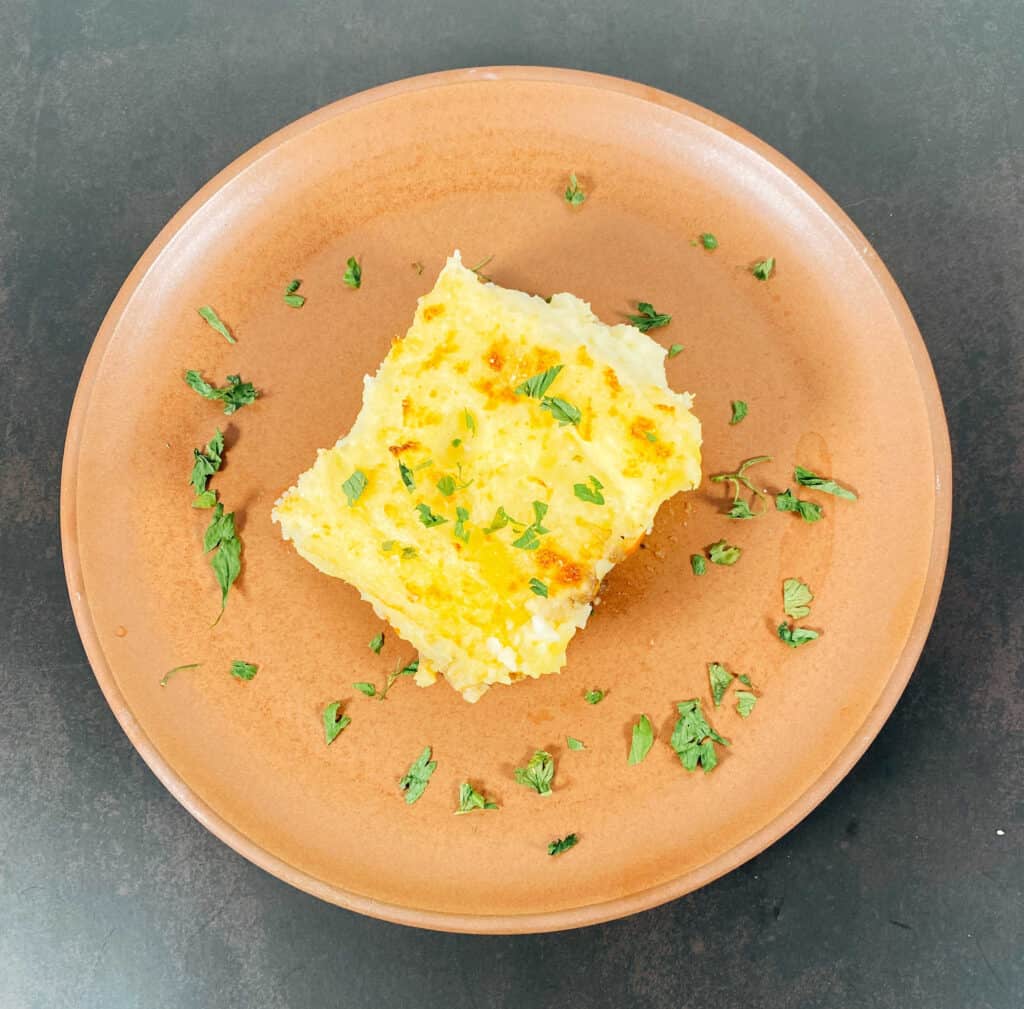 Want to save this recipe for later? Follow me on Pinterest! Rather watch a video? See if I've made this recipe by following me on Tiktok!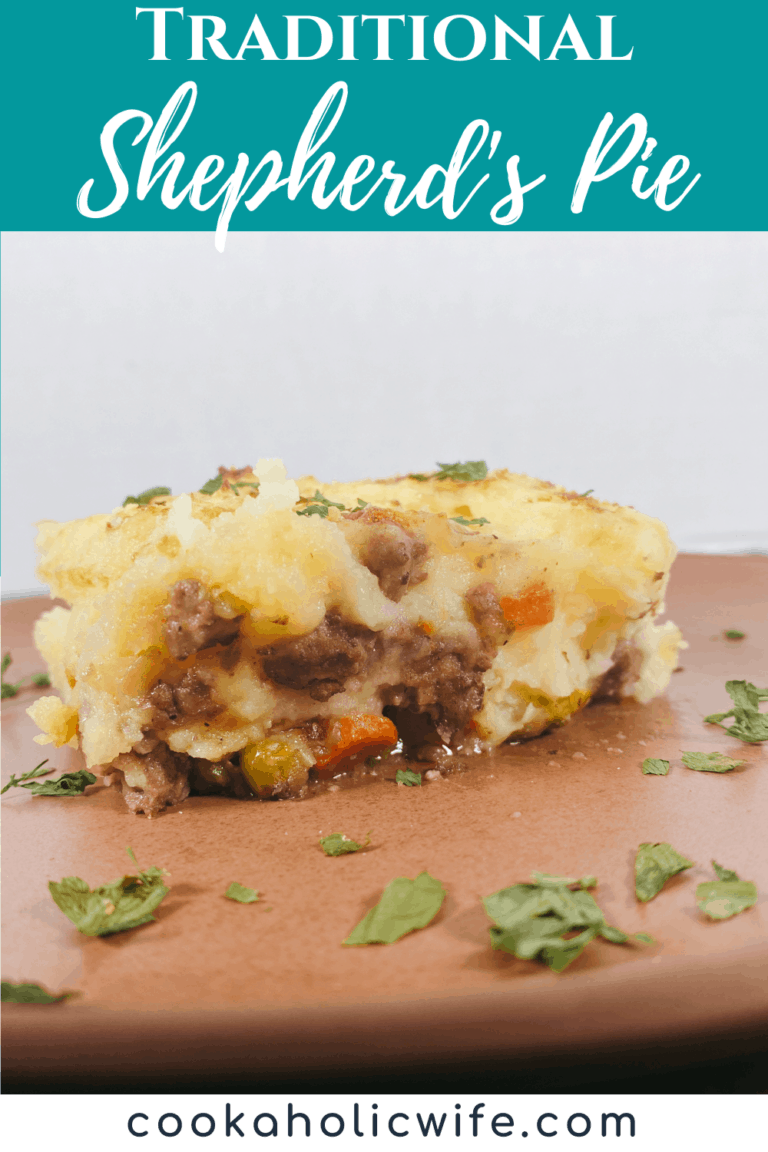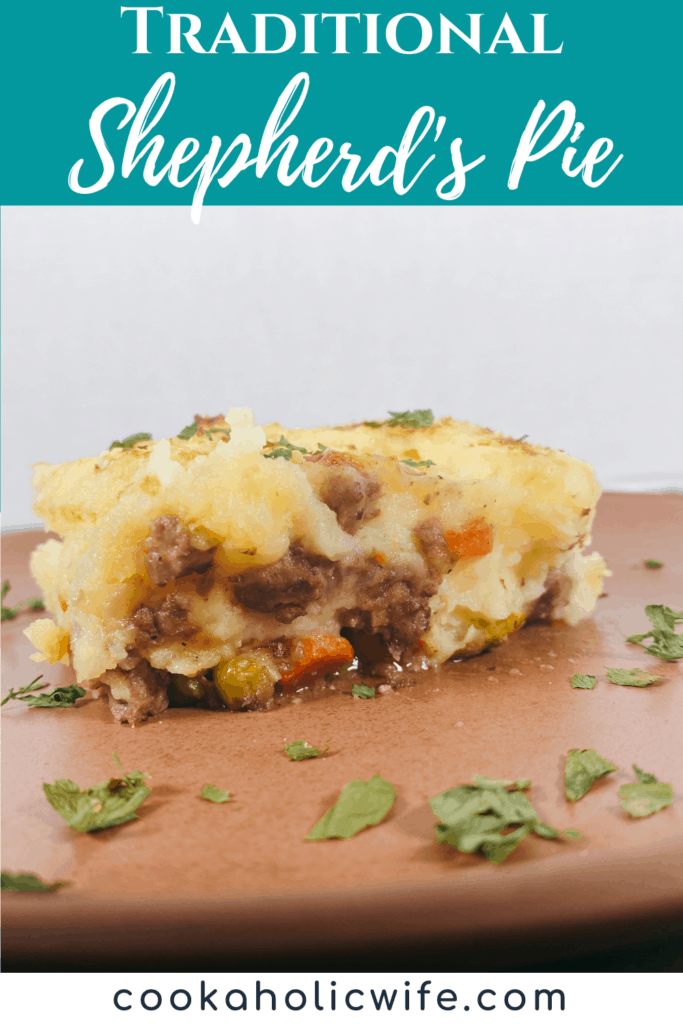 Recipe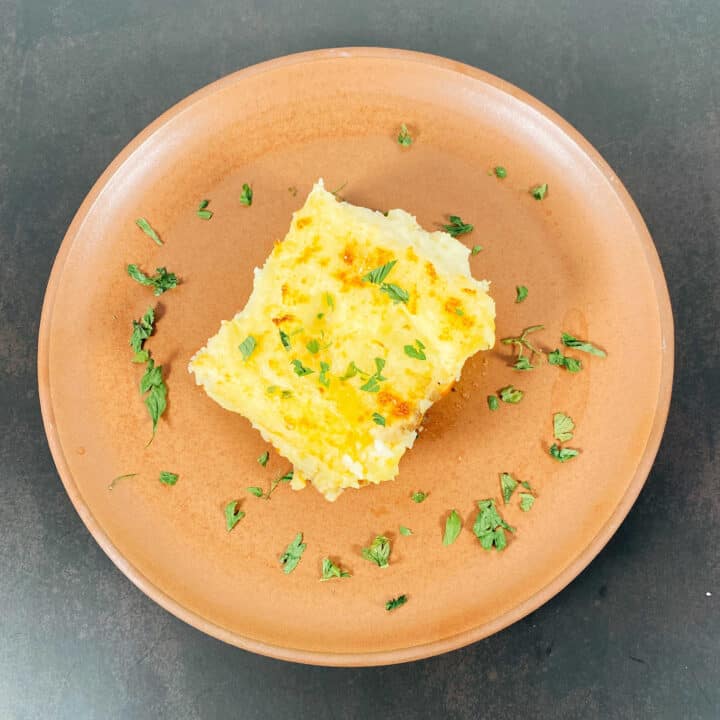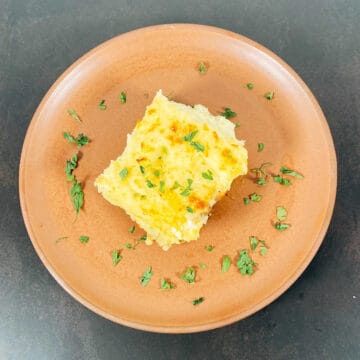 Traditional Shepherd's Pie
Traditional Irish Shepherd's Pie is a classic comfort food dish, made with ground lamb and veggies and covered in a cheesy mashed potato topping.
Ingredients
For the Lamb Mixture:
1

lb.

ground lamb

2

cups

carrots

finely diced

1

cup

onion

chopped

1

cup

frozen peas

1

tablespoon

butter

2

tablespoon

all-purpose flour

2

tablespoon

Worcestershire sauce

4

oz.

red wine

1

cup

chicken stock

1

teaspoon

dried thyme

1

teaspoon

salt

1

teaspoon

pepper
For the Mashed Potatoes:
8

cups

water

1

teaspoon

salt

2

lbs.

Yukon Gold potatoes

quartered

¼

cup

milk

6

oz.

Irish butter

salt and pepper

to taste
Optional:
1

egg

lightly beaten

¼

cup

grated Parmesan cheese
Directions
For the Lamb Mixture:
Preheat the oven to 375 degrees. Spray a 9x13 baking dish with cooking spray.

Heat a large skillet over medium high heat. Add the ground lamb, carrots and onions.

Cook, crumbling up the lamb for 5-7 minutes or until no longer pink and the onions and carrots have softened.

Add in the peas and butter and stir until combined.

Sprinkle the flour on top and mix in until everything has a slightly sticky texture.

Pour in the Worcestershire sauce, red wine and chicken stock and bring to a simmer. Stir frequently until the mixture reduces by half.

Season with thyme, salt and pepper.

Transfer the mixture to the prepared baking dish.
For the Potatoes:
Bring the water, salt and potatoes to a boil in a large pot. Cook for 10-15 minutes or until potatoes are fork tender.

Drain potatoes and return to the pot.

Add milk and butter and mash potatoes until smooth. Taste, adding salt and pepper if necessary.
For Assembly and Baking:
Spread the mashed potatoes on top of the lamb mixture.

Optionally, brush the potatoes with the beaten egg and sprinkle the Parmesan cheese on top.

Bake for 20-25 minutes or until the potatoes are lightly golden.
Notes
Substitutions: a bag of frozen peas, carrots and onions can be used instead. Homemade mashed potatoes can be replaced with refrigerated ones. Wine can be replaced with additional stock.  Make Ahead: meat mixture can be prepared and refrigerated for 3 days. Or the entire dish can be prepared, assembled and refrigerated for 1 day.  Freezing and Heating: let casserole cool completely and freeze. Will keep for 3 months. Cook for 1 hour to 1 hour and 15 minutes.  Tips: if the meat mixture is soupy, continue to reduce until it has thickened. Top stop your mashed potatoes from sinking into the dish, let the potatoes and meat mixture cool for 15 minutes each before assembling. 
Nutrition
Serving:
1
Calories:
662
kcal
Carbohydrates:
43
g
Protein:
22
g
Fat:
44
g
Saturated Fat:
24
g
Cholesterol:
150
mg
Sodium:
1274
mg
Potassium:
1180
mg
Fiber:
6
g
Sugar:
8
g
Vitamin A:
8113
IU
Vitamin C:
45
mg
Calcium:
147
mg
Iron:
4
mg
Recipes on Cookaholic Wife are for information purposes only. Nutritional Data provided has not been evaluated by a nutritionist.
Original Images: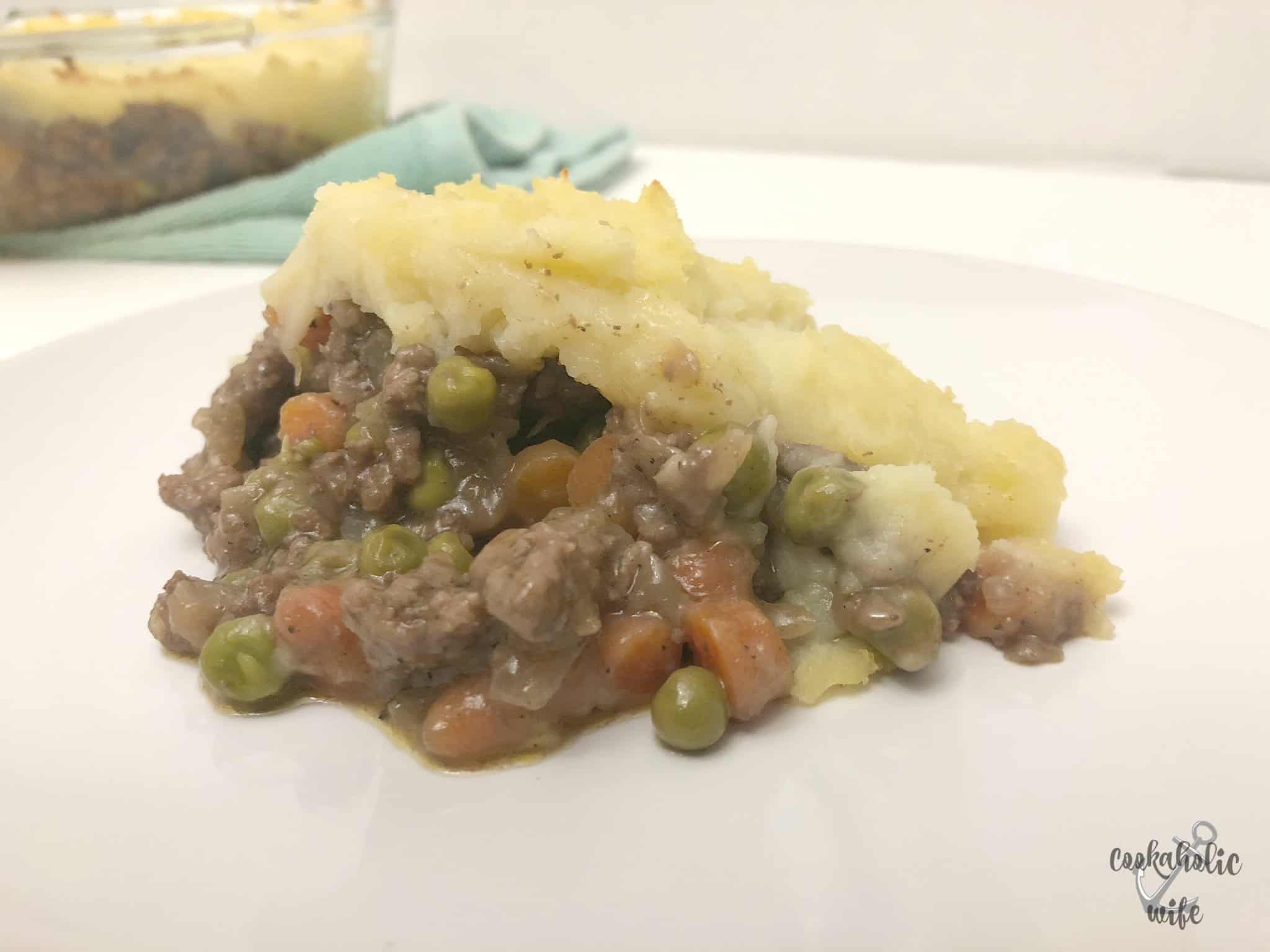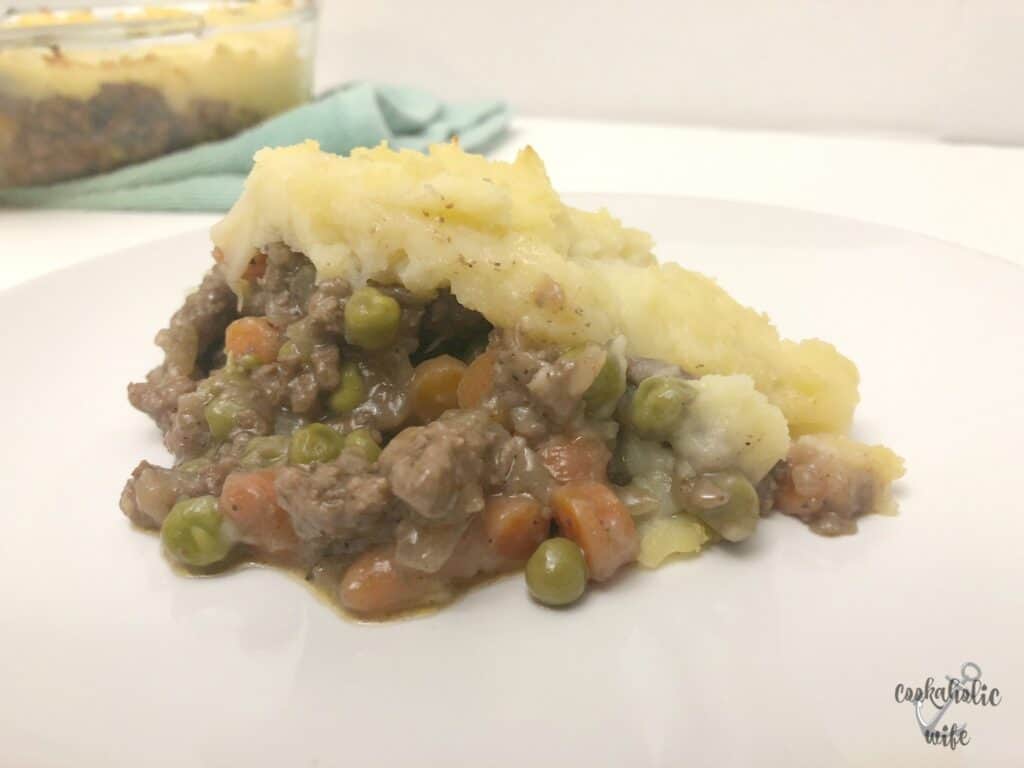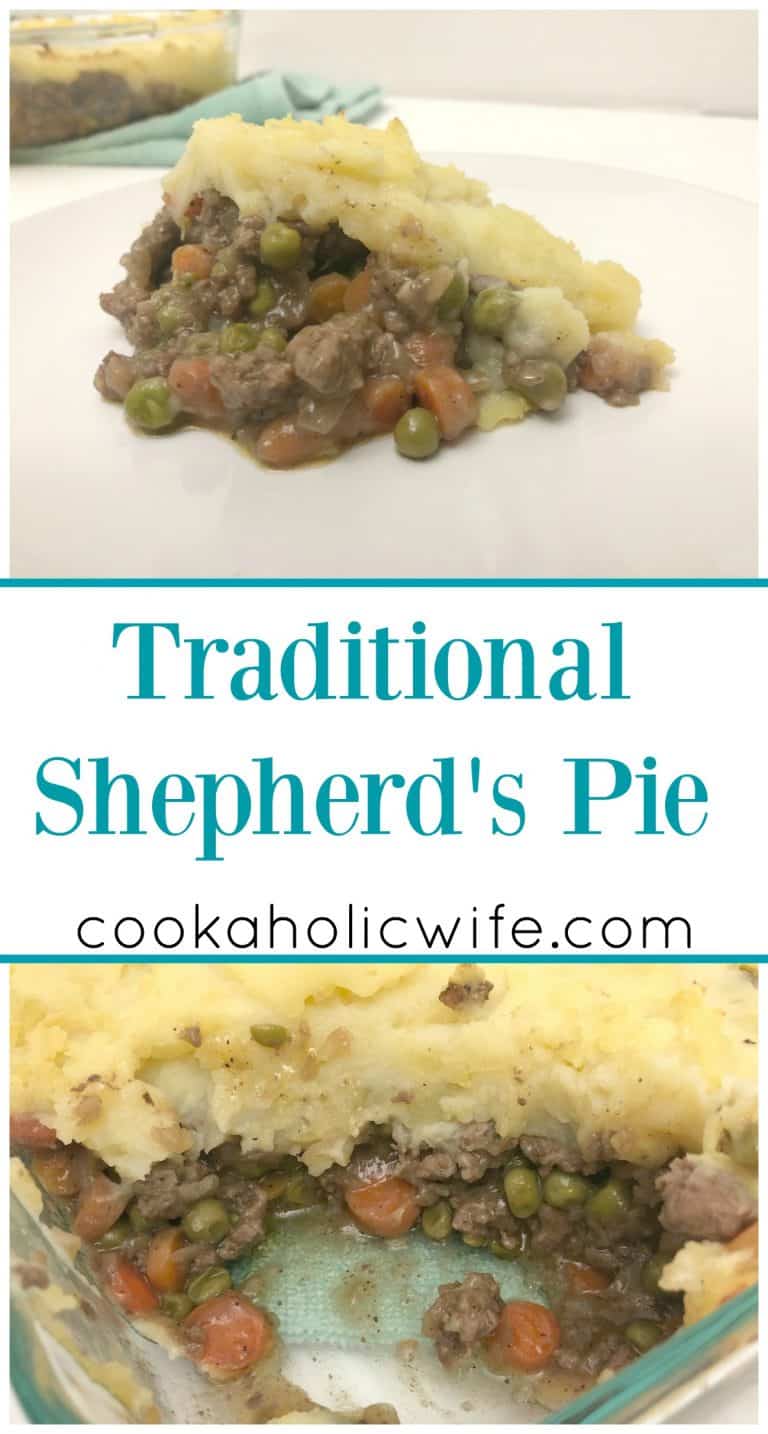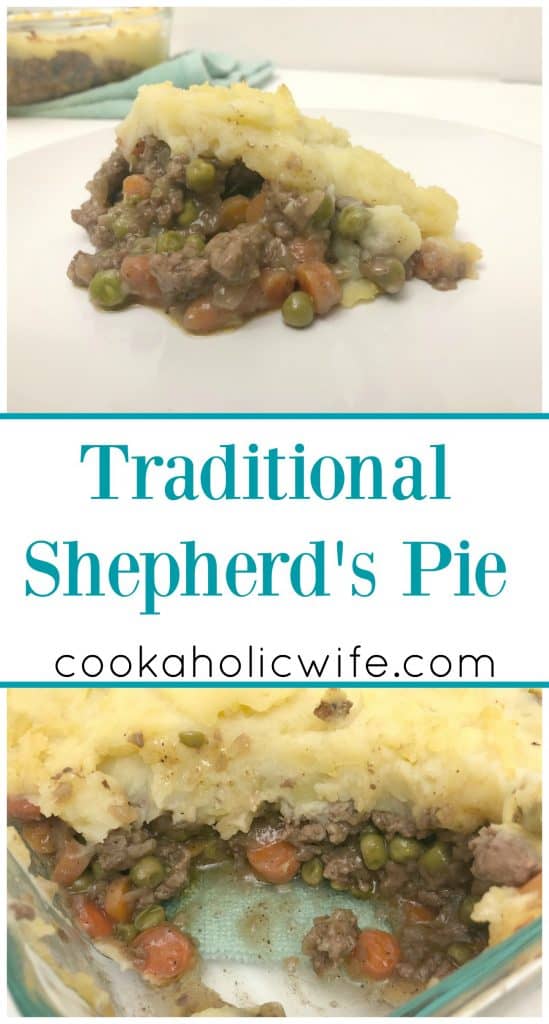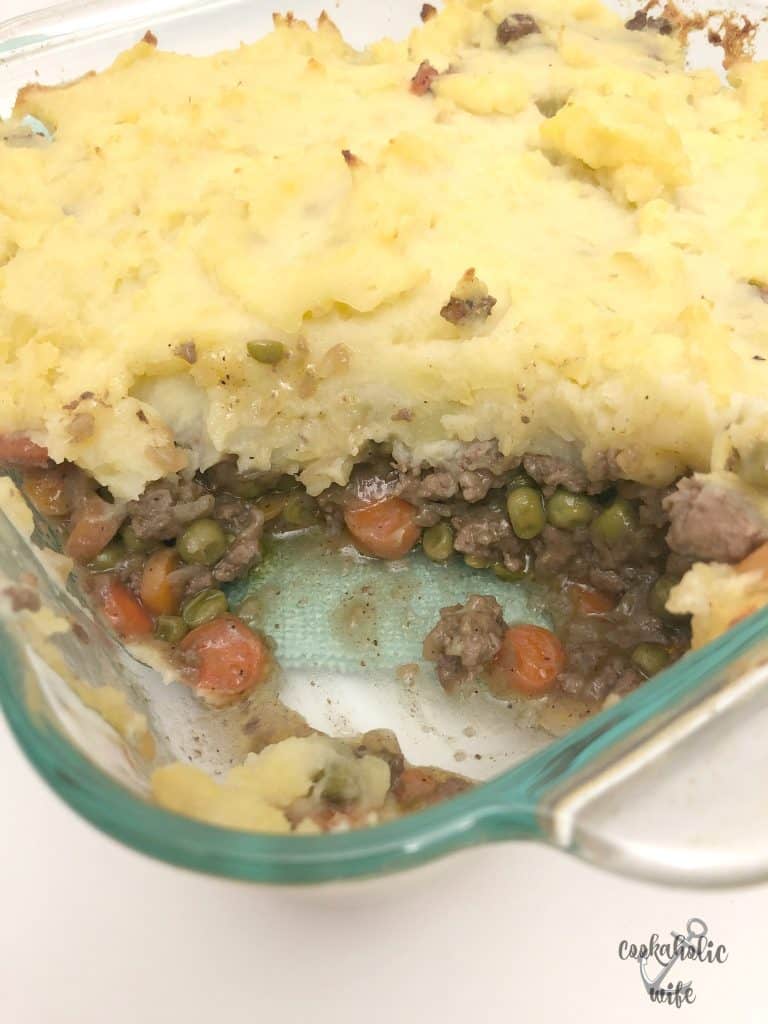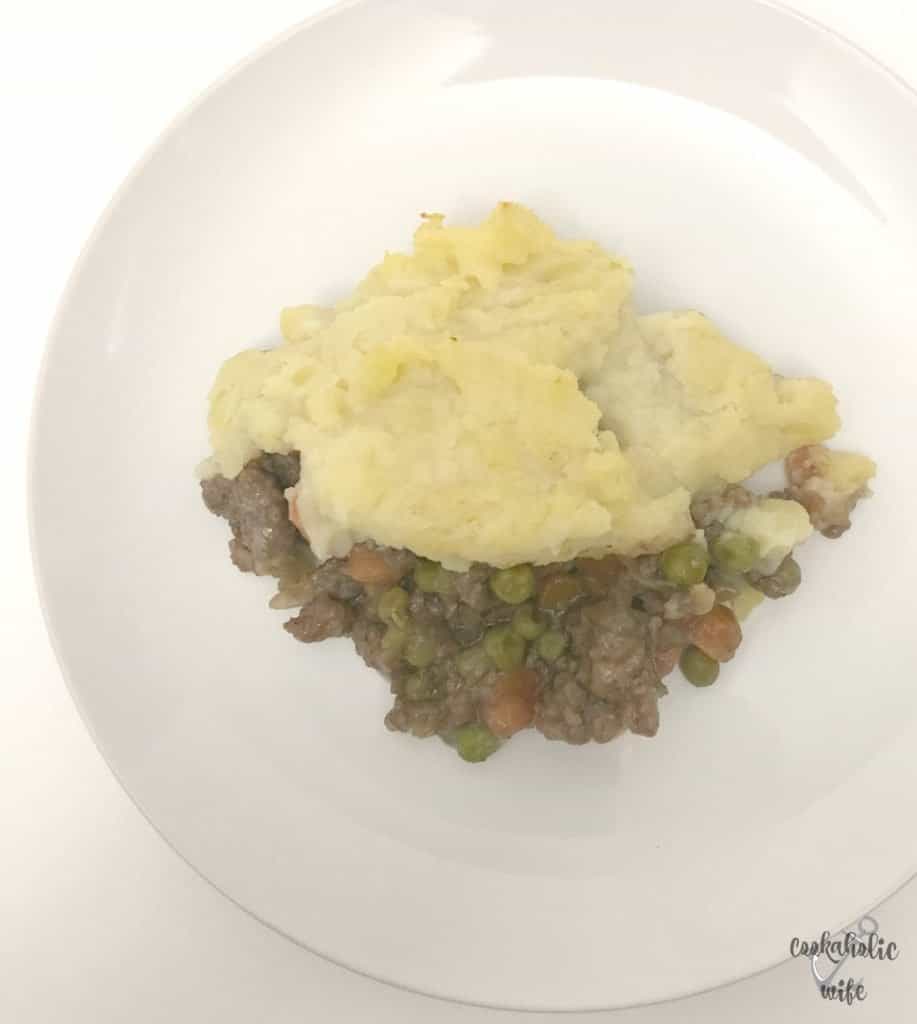 This recipe was created as part of a blogging event, Foodie Extravaganza.
March 17 is National Irish Food Day, or National "Eat Like an Irishman" Day. My #FoodieExtravaganza friends and I are all sharing Irish themed recipes to celebrate! Karen of Karen's Kitchen Stories, is our host. Check out this collection of recipes celebrating Irish food: