Cherry Cheesecake Buttery Blondies are the perfect dessert. Sweet cherry jam and cheesecake sit upon a rich browned butter blondie crust. 
Disclaimer: I am working with Nielsen-Massey as part of their Bake Your Better campaign. I have received free product in exchange for this post. All opinions remain my own.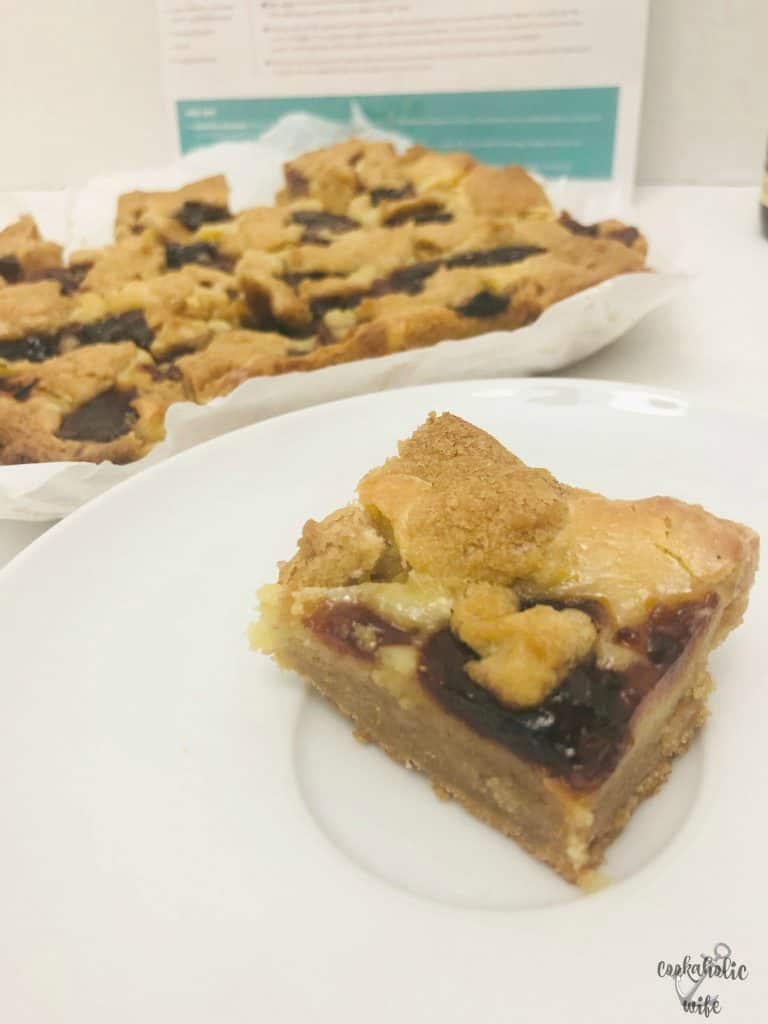 They say that the sense of smell is most closely linked to our memories. That a simple scent can invoke a memory. While I don't have a particular memory, the rich and nutty scent of browned butter is intensely calming to me. It makes me think of a kitchen filled with family and friends, the peacefulness of an empty beach at sunrise, the joy of getting to feed new people.
I believe I've mentioned this on here before, but baking is more than just a hobby for me. I love every aspect of baking; the ingredients, the science, the final result. It's not something I find stressful or difficult at all. If I could, I'd bake something every day, simply because I love doing it and I love feeding people baked goods.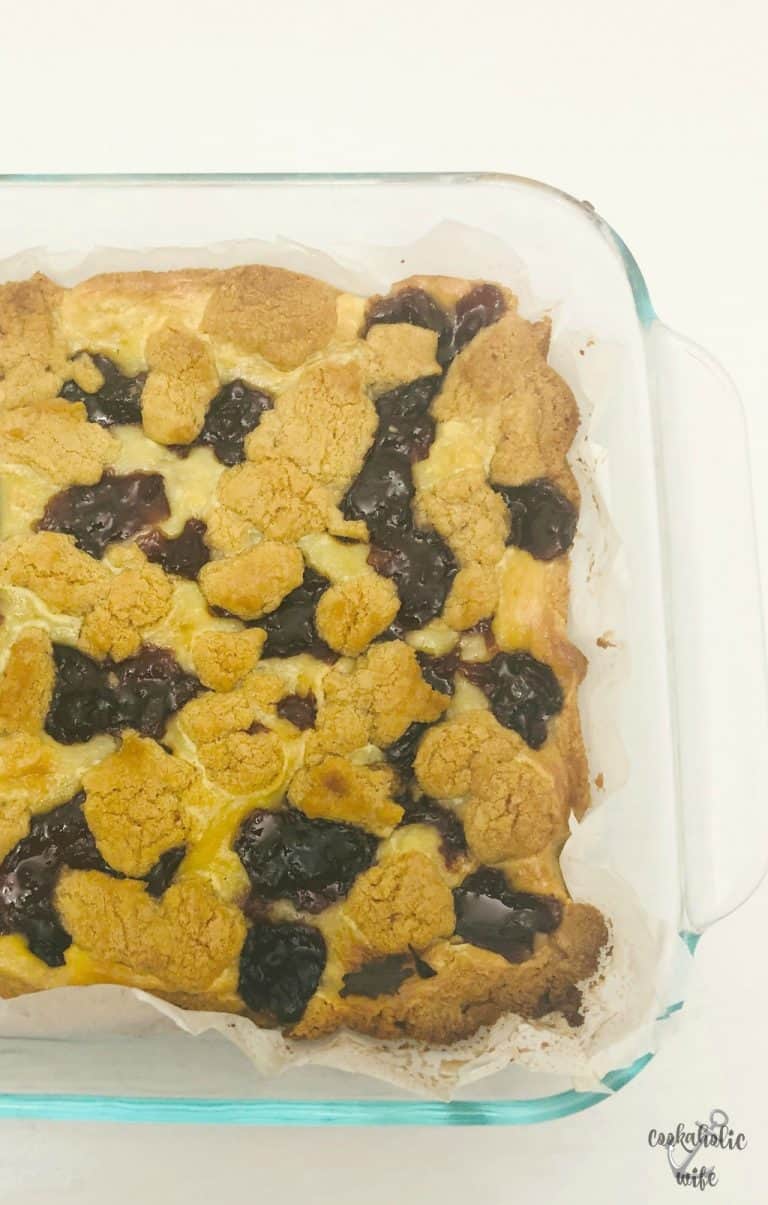 Baking is my happy place. Well, one of them. Browned butter is one of my happy smells. You've smelt it before right? That rich and nutty scent wafting up from a bubbling pan of melting butter?
WHAT IS BROWNED BUTTER?
Browned butter is when you melt butter over medium high heat until it becomes foamy and the milk solids from the butter sink to the bottom of the pan and become brown. The butter takes on a brown color and develops a rich, nutty, caramel like flavor.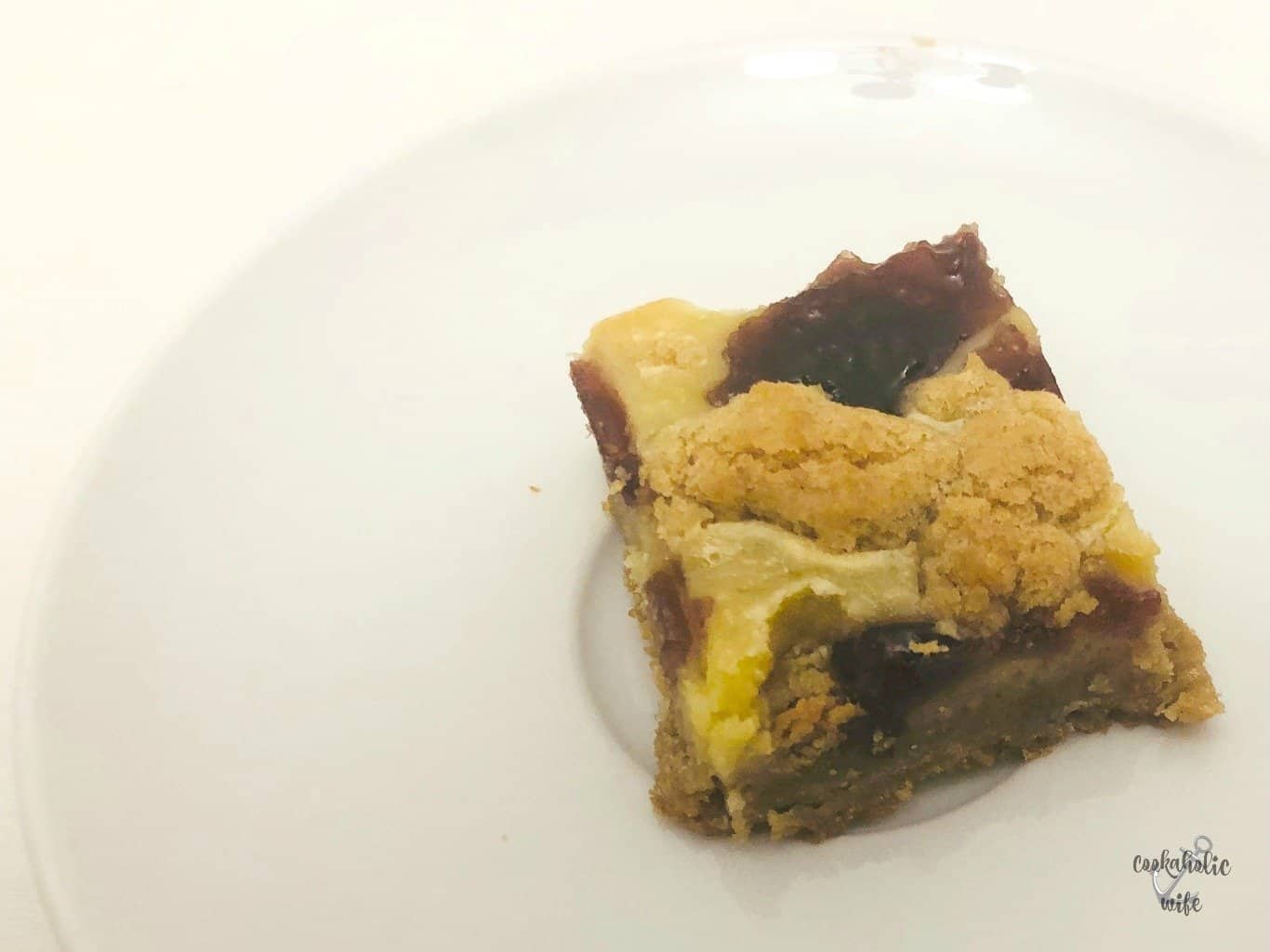 WHAT DO I DO WITH BROWNED BUTTER?
Try not to drink it? No, but seriously, browned butter can be used in a variety of desserts such as cookies, scones, cupcakes, shortbread, pies and more. It can also be used in savory applications like a sauce for pasta or over meats and vegetables.
HOW DO I BROWN BUTTER?
By melting it over medium high heat and watching it closely so it doesn't burn. Check out this video from Nielsen-Massey.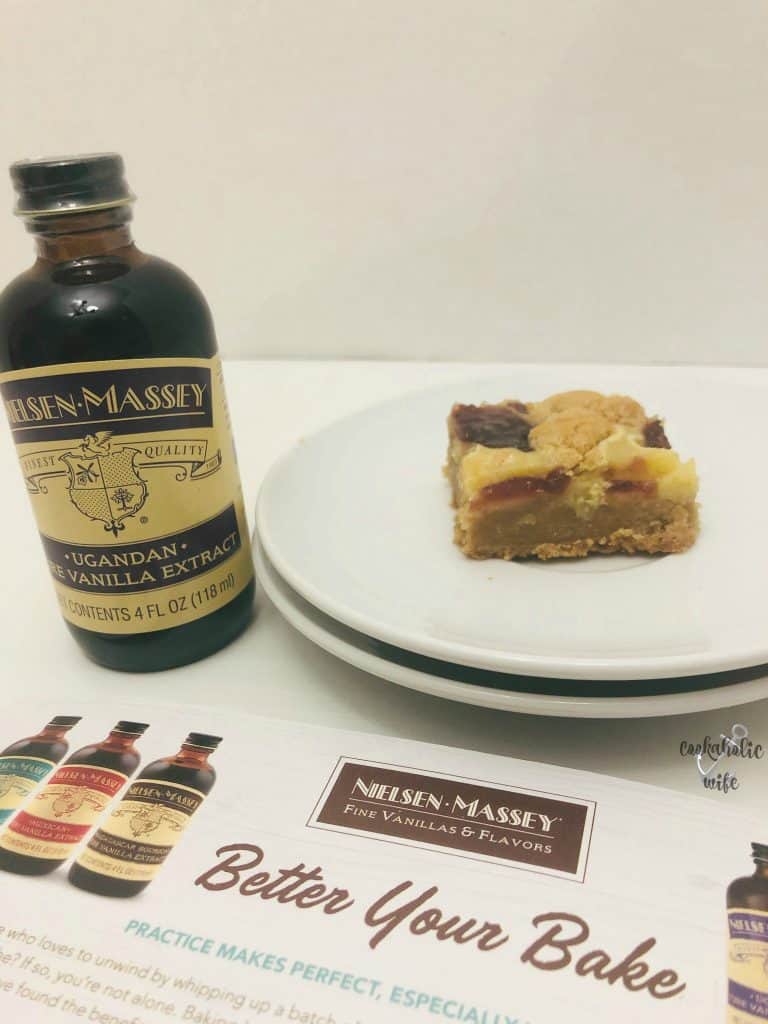 CHERRY CHEESECAKE BUTTERY BLONDIE INGREDIENTS:
I won't turn down any dessert that includes browned butter, but it's especially delicious in this blondie recipe, as it gives the blondie crust a buttery, nutty, crumbly flavor and texture.
As usual, I judge my recipes by how quickly my coworkers gobble them up and these were gone well before lunch time so I'd say they're pretty successful.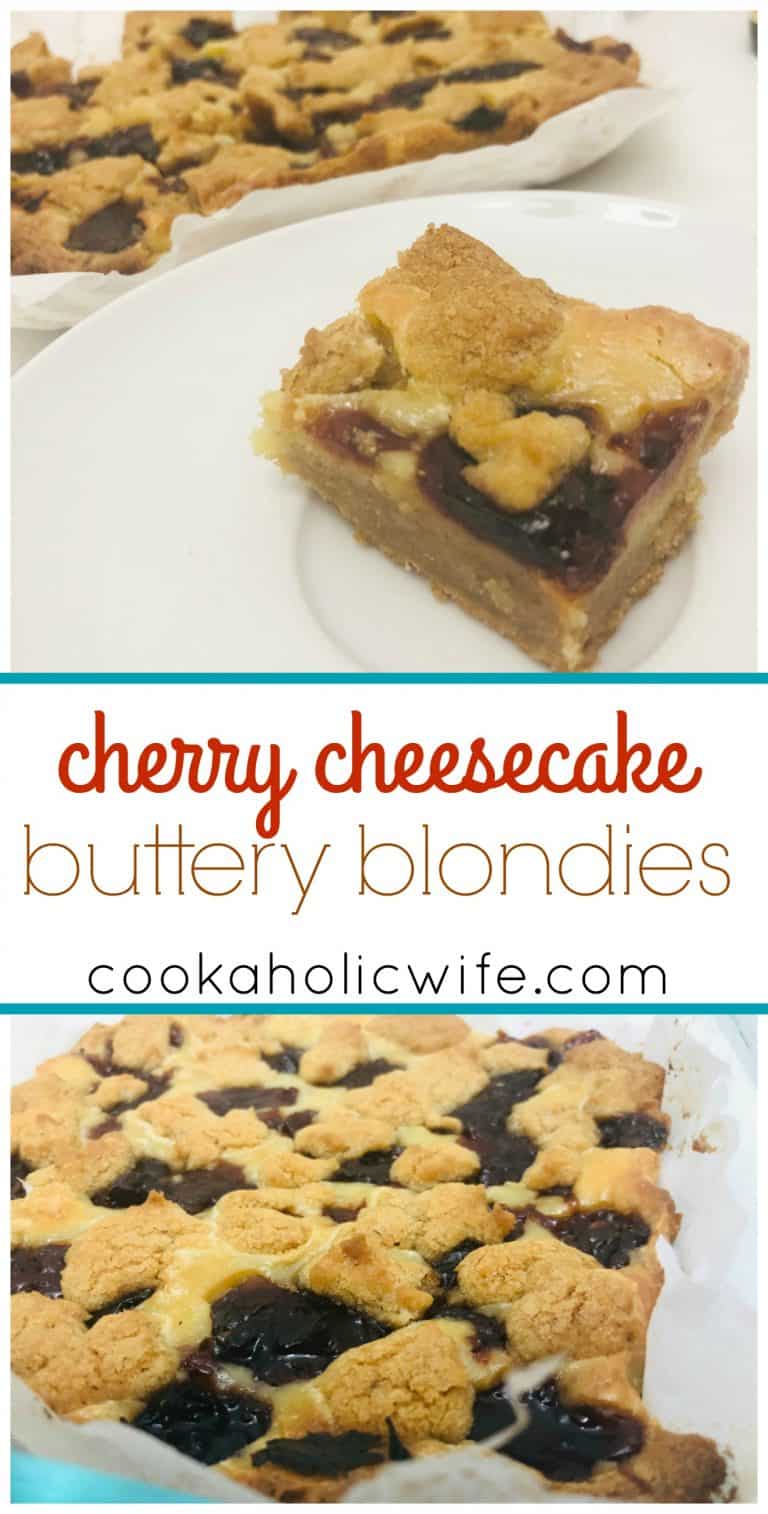 Recipe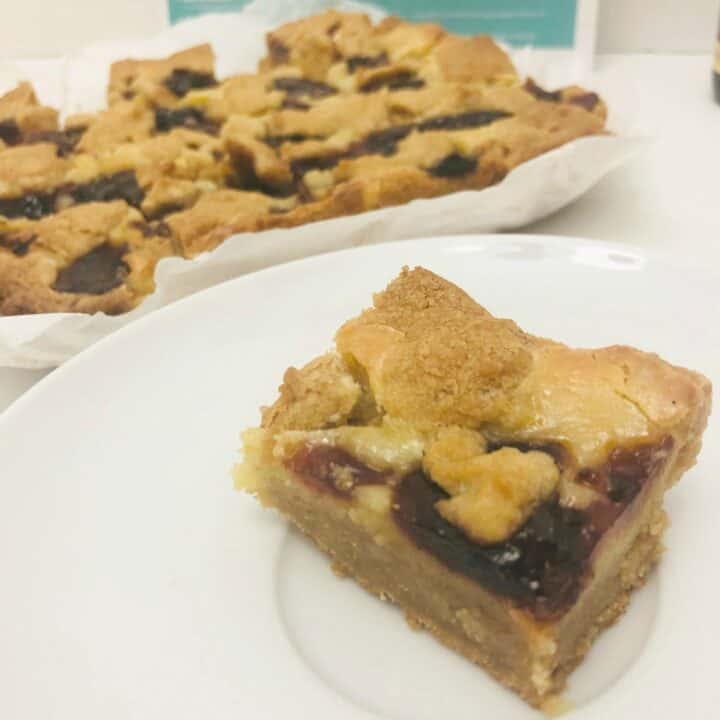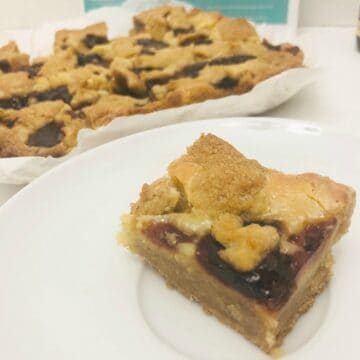 Cherry Cheesecake Buttery Blondies
Cherry Cheesecake Buttery Blondies are the perfect dessert. Cherry jam and cheesecake sit upon a rich browned butter blondie crust. 
Ingredients
For the Cherry:
⅓ - ½

cup

cherry jam or preserves
Directions
Preheat the oven to 350 degrees and line a 9x13 baking sheet with parchment paper.

Cut the butter into evenly sized pieces and place in a saucepan over medium-high heat.

Stir frequently and keep a close eye on the butter as it gets foamy. As soon as you smell the rich and nutty scent, remove the saucepan from the heat and set aside.

Combine the cream cheese and sugar for the cheesecake portion in a bowl and beat on medium speed until smooth. Add in the egg and vanilla, mixing until incorporated. Set aside.

Now that the butter has cooled slightly, transfer it to a large heatproof bowl. Add the brown sugar and whisk until fully incorporated, then whisk in the eggs, vanilla, salt, cardamom and flour.

Set about ¼ of the blondie base mixture aside and press the remaining ¾ of the mixture into an even layer in the prepared baking dish.

Spread the cheesecake layer on top and then drop small dollops of the cherry jam on top of the cheesecake.

Crumble the remaining blondie mixture and drop in dollops on top of the cherry cheesecake mixture.

Bake for 50-60 minutes or until the set. A toothpick inserted in the center will come out clean.

Let cool to room temperature before refrigerating for a few hours. Slice into 16 squares.
Notes
Refrigeration is optional, but the blondies stay together better once the mixture has chilled and it is easier to cut.
Recipes on Cookaholic Wife are for information purposes only. Nutritional Data provided has not been evaluated by a nutritionist.