Dairy-Free Peach Italian Cream Soda is a peach flavored delicious concoction perfect for a hot summer day!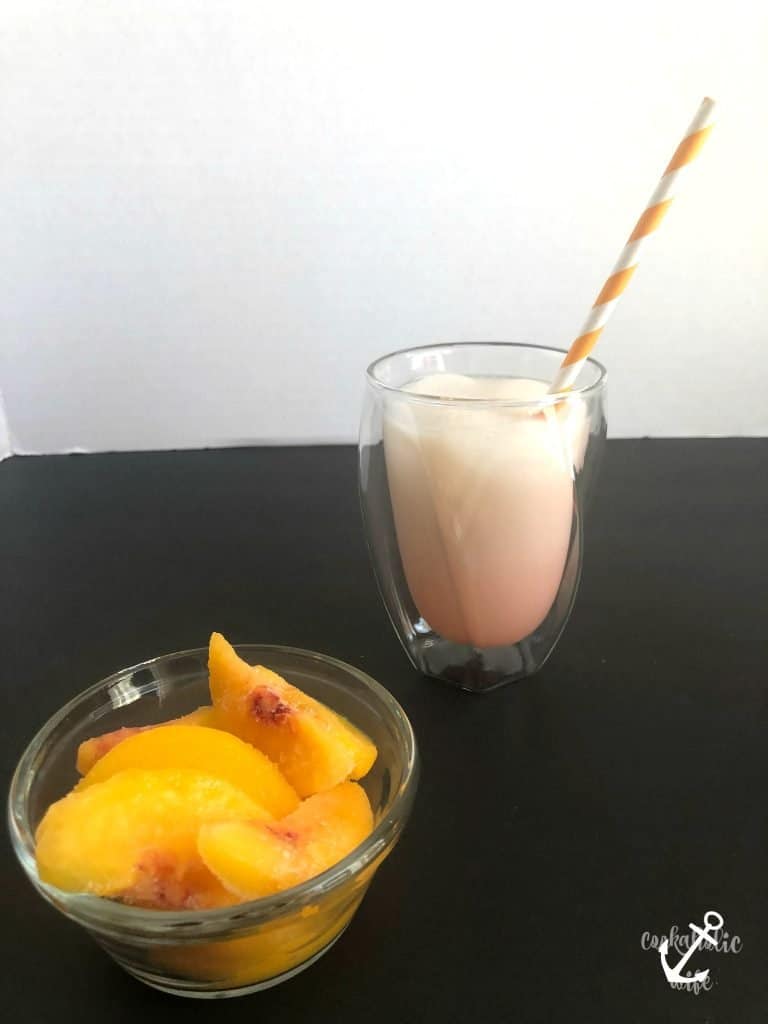 Have you ever had an Italian Cream Soda before? This recipe is the first one I'd ever tried and I am really sad to say that I have been missing out on something completely delicious and wonderful for the last 34 years of my life. Seriously. Italian cream sodas are one of the best drinks I've ever tried. Like, EVER ever.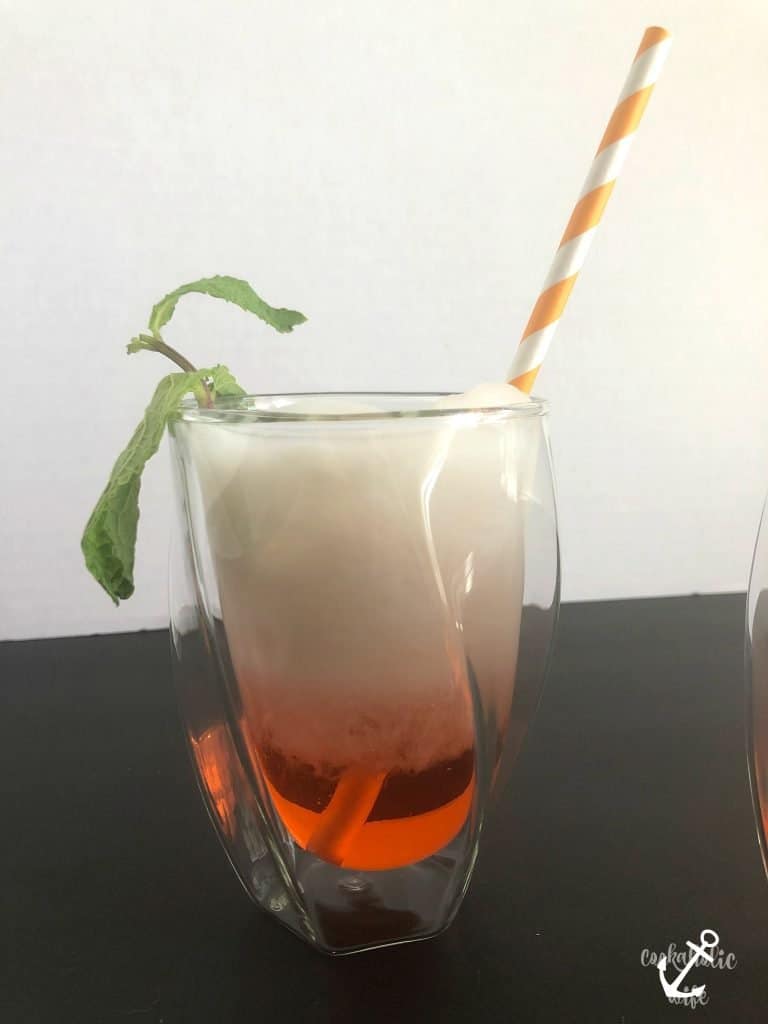 I'll admit that the words "cream" and "soda" together have always made me wrinkle my nose a bit. However, I absolutely love cream soda. But the idea of milk (or cream) in a carbonated beverage just grossed me out. Until today, at least. Because now I want to drink these all of the time and introduce everyone I know to them who hasn't had one yet.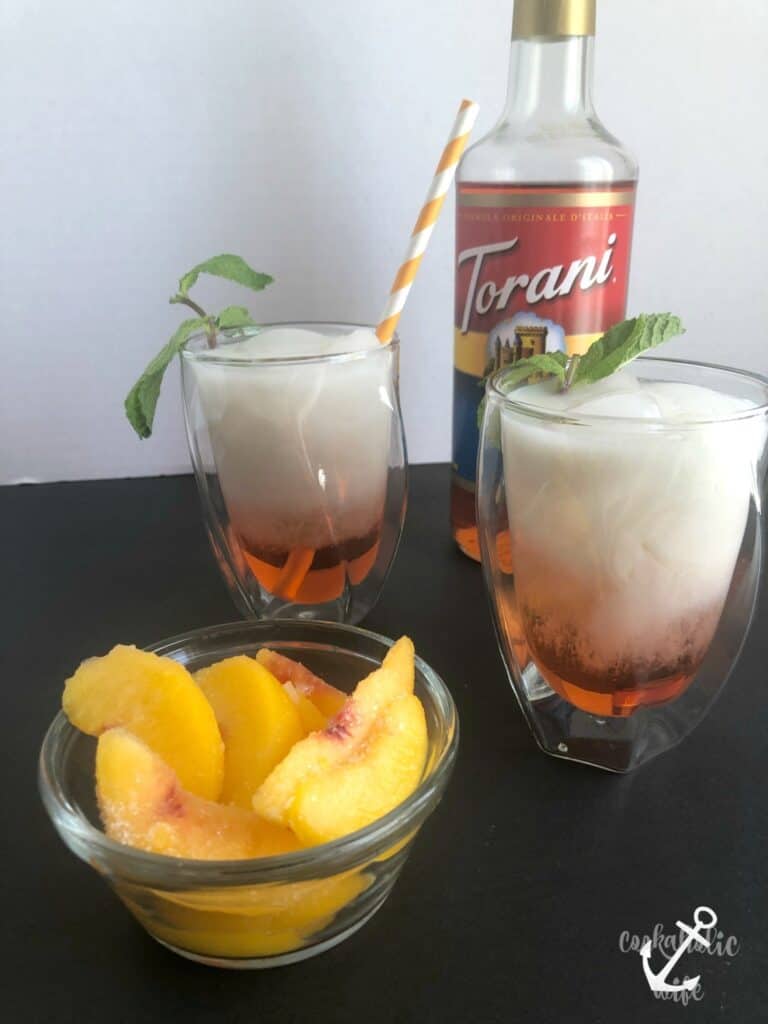 Despite the name, Italian cream sodas actually originated in the United States. They started off as Italian sodas, made with carbonated water and a fruit flavored simple syrup, but then whipping cream, half-and-half or whipped cream was added, creating the layered effect of the drink. Any flavored fruit syrup will work, it's all about your preference.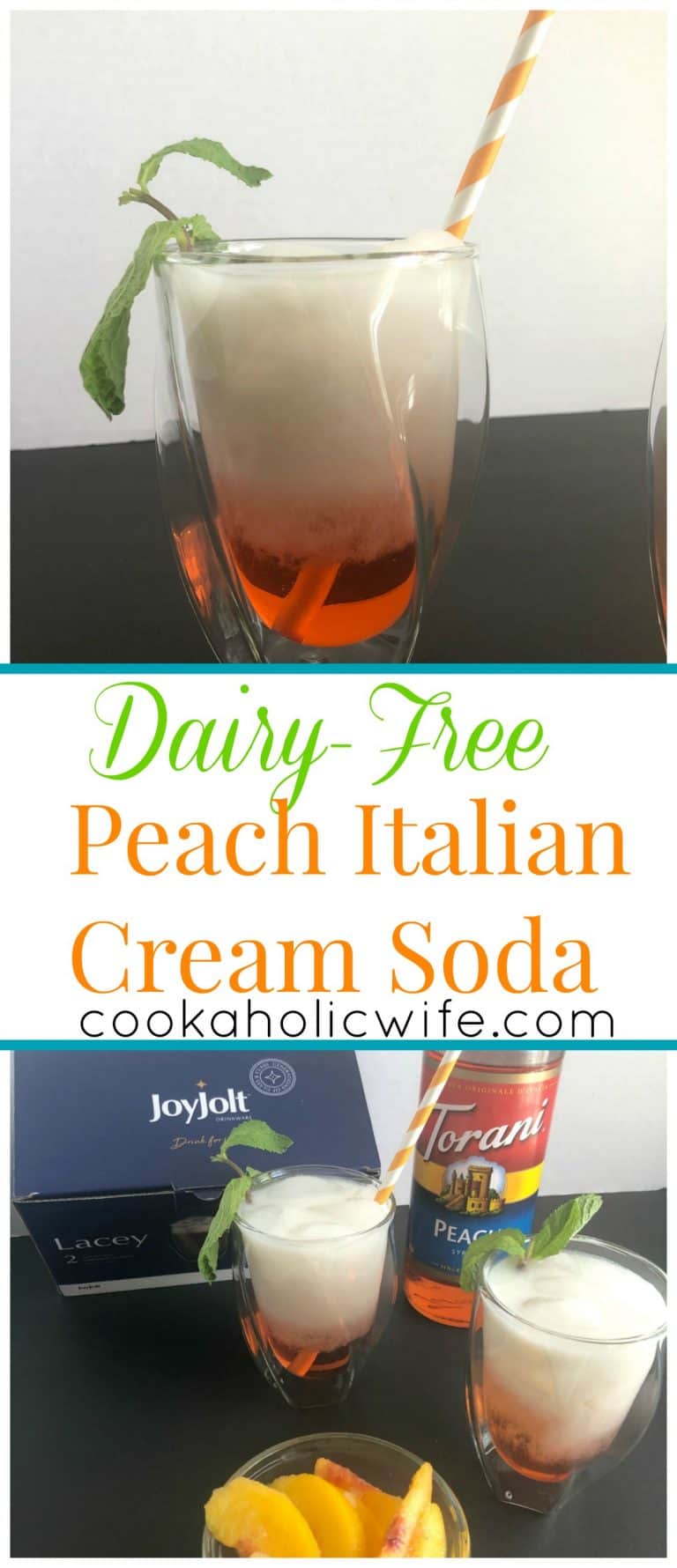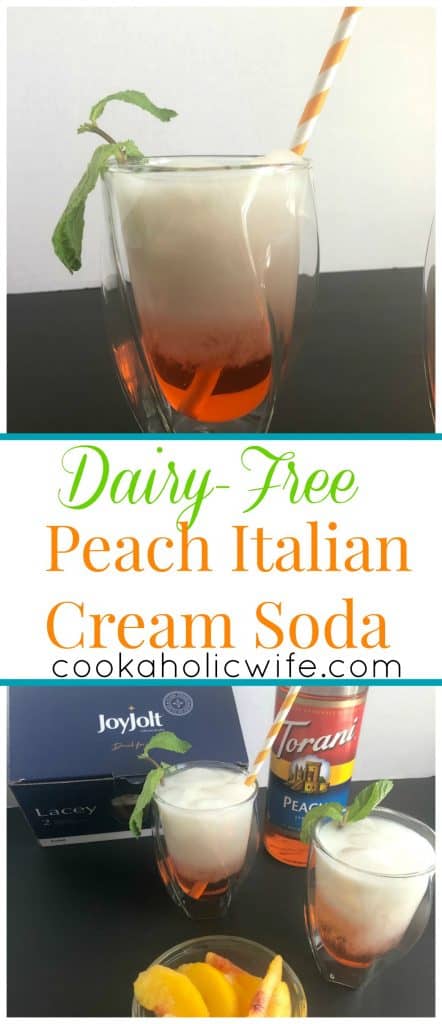 Recipe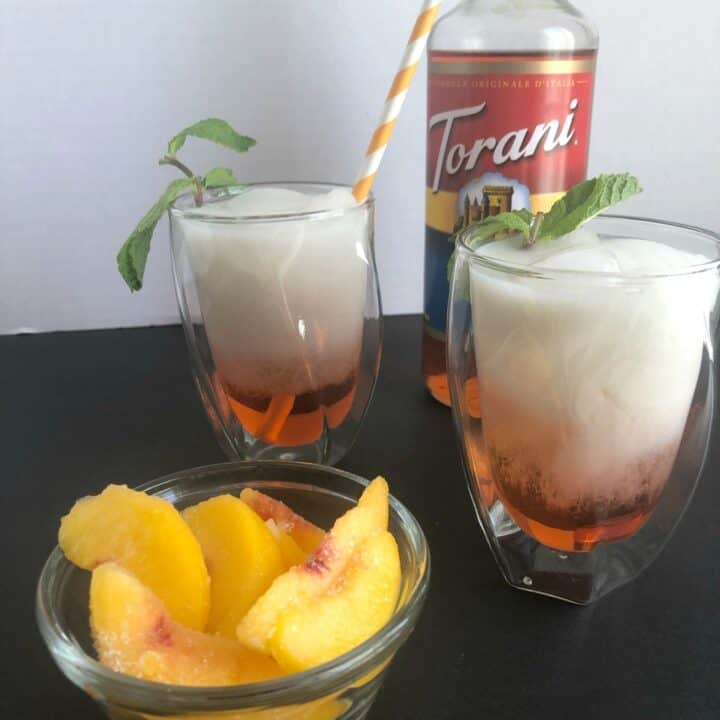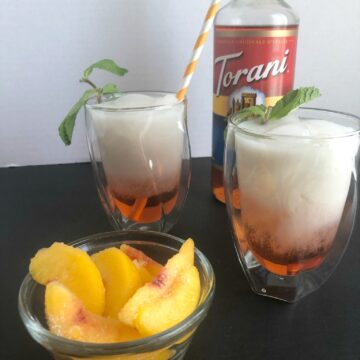 Dairy-Free Peach Italian Cream Soda
Dairy-Free Peach Italian Cream Soda is a peach-flavored soda made dairy-free using almond milk. It's light and refreshing and great for those hot summer days.
Directions
Fill each glass halfway with ice.

Divide soda water between the glasses. Pour peach syrup on top and then almond milk.

Serve immediately, garnished with fresh mint and peaches (if desired)
Recipes on Cookaholic Wife are for information purposes only. Nutritional Data provided has not been evaluated by a nutritionist.
Torani has an impressive line of fruit-flavored syrups, ranging from lavender to guava, to pineapple and pomegranate. Before this event, I had only known Torani to make flavored syrups that worked well in coffee, like french vanilla, caramel and hazelnut. Now that I know just how extensive and flavorful of a line of syrups they make, I'm certain I'll be picking up additional flavors to try!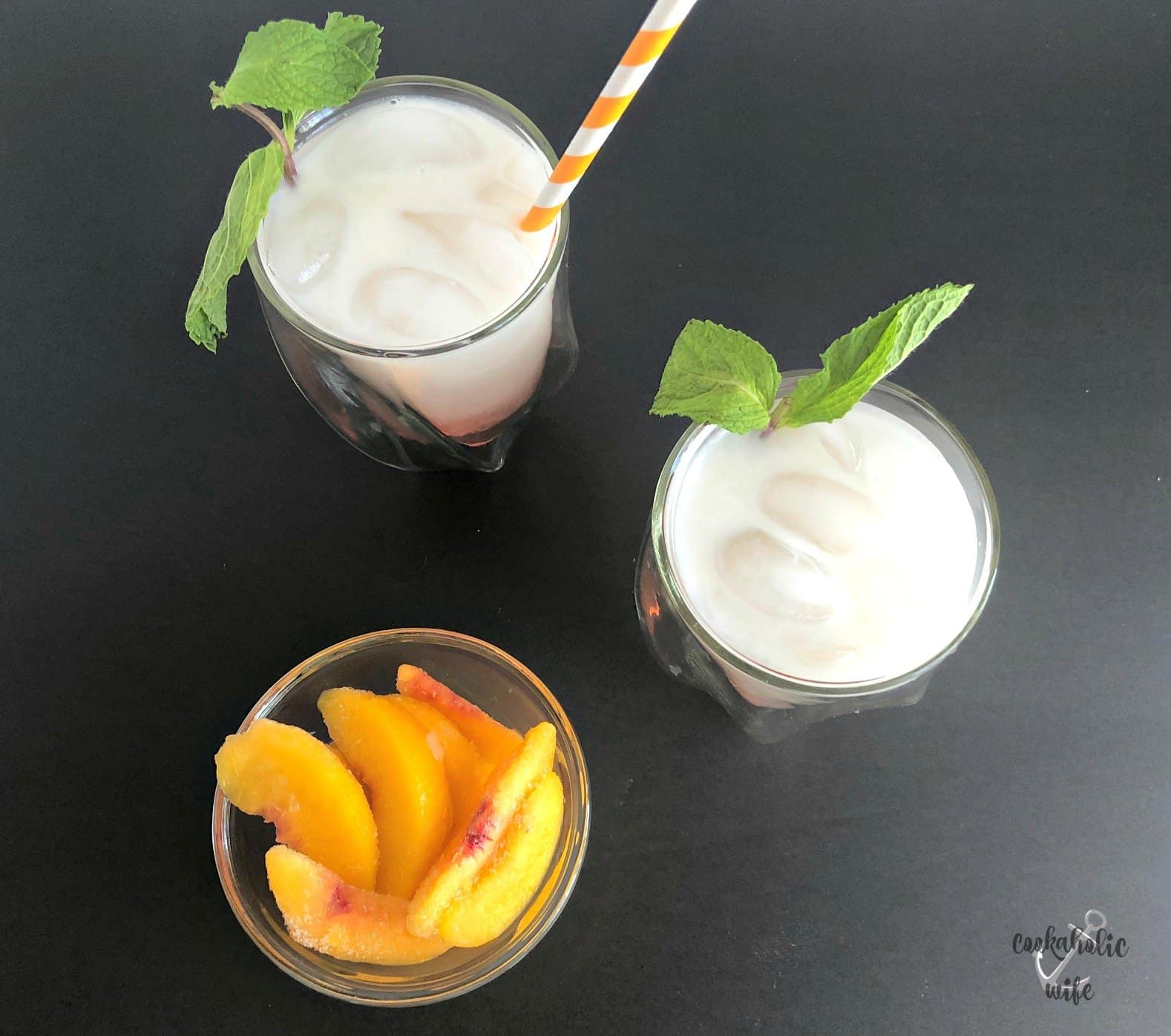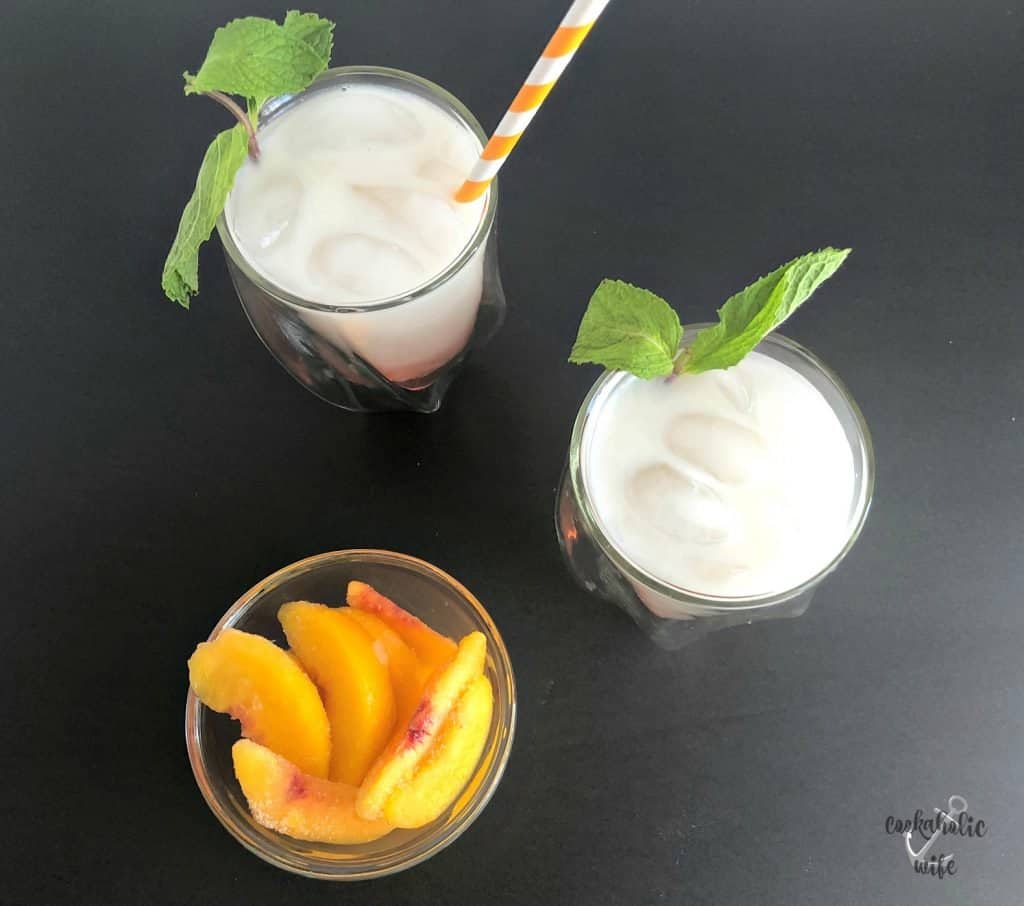 Making an Italian cream soda dairy-free was a no brainer for me. While I can handle small amounts of dairy sometimes, I never know exactly how it is going to go. I could eat regular ice cream one day and be fine, but eat a hard cheese the next day and have a stomachache for days. Almond milk, coconut milk or even cashew milk would work great for an Italian soda. I had some almond milk open in the fridge, which is why I used that for this recipe.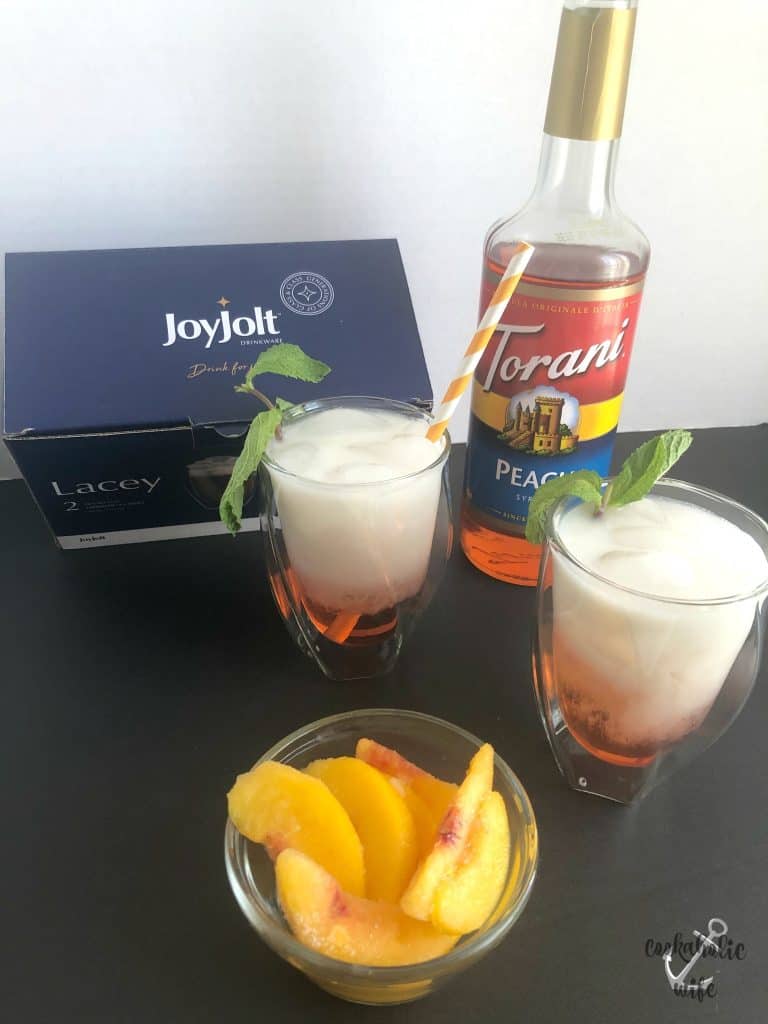 If you are looking for an even healthier version of an Italian Cream Soda, check out the sugar free syrups that Torani offers. You can visit their social media here:
Instagram | Facebook | Twitter | Pinterest
If you're enjoying your Italian cream soda on a hot day, you probably want to put it in a glass that stays cold, right? That's where JoyJolt comes in. Their Lacy Double Wall insulated glasses keep your drink cold (or hot). And they're dishwasher and microwave safe which fits in perfectly with my lifestyle. (I legit cringe at dishes or glasses I have to hand wash)
JoyJolt has a huge variety of other glasses, everything from whiskey and wine glasses to coffee and champagne. The rest of my birthday money is going towards a set of whiskey glasses, except there are so many cool ones I can't even choose! They even have insulted whiskey glasses, ones shaped in a triangle and square ones. To up your glasses game, check out their social media:
Facebook | Twitter | Instagram | Pinterest