Last week I shared Governor's Mansion Cookies with you as part of FoodBloggers4TX. When the group was created we had no way of knowing that Hurricane Irma was going to batter the Caribbean and Florida right before we shared the post.
Not wanting to leave those suffering from Irma out, it was nearly immediately decided that #FoodBloggers4FL needed to happen, as a way to let Florida residents know we are thinking of them and share with our readers reputable charities they could donate to if they so chose.
Irma was a little more personal for me than Harvey was. I don't really know anyone in Texas, but I know quite a few people in Florida. Both of my brother in laws are in the Tampa area and decided to stay and ride out the storm. My aunt and uncle are snowbirds and have a house in Fort Myers. They usually head down to Florida in October, but decided they're staying through the holidays this year.
The Florida Keys were hit particularly hard and while I have never visited there, it is a place I've always wanted to go. In honor of the Keys, I decided to make a recipe using key limes.
Recipe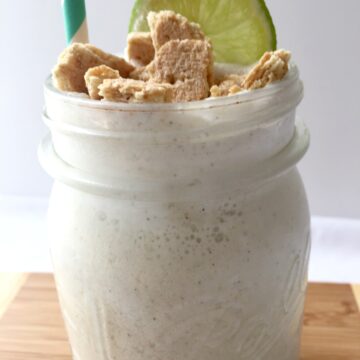 #FoodBloggers4FL: Key Lime Pie Milkshakes
A dairy-free milkshake made using coconut milk ice cream and key limes, creating the flavors of a key lime pie.
Ingredients
1

pint

vanilla or coconut ice cream

dairy-free works as well

2

sheets graham crackers

divided

½

cup

milk

non-dairy milk works as well

½

cup

key lime juice

1

tablespoon

key lime zest

lime slices for garnish
Directions
1. Crush graham crackers into crumbs. Set aside ½ cup.

2. Add ice cream, milk, remaining graham cracker crumbs, key lime juice and zest to a blender.

3. Blend until combined. Pour into two large glasses and top with a lime wedge and graham cracker crumbs.
Recipes on Cookaholic Wife are for information purposes only. Nutritional Data provided has not been evaluated by a nutritionist.
Seeing as I'm lactose-intolerant I made my milkshake using dairy-free coconut ice cream (there wasn't any vanilla at the store) and coconut almond milk. Coconut and lime go perfectly together and this milkshake was no exception. While the temperatures here haven't exactly cooled off, school is back in session and the pools are closed so summer is definitely on its way out and this little taste of summer was perfect for someone like me who hates the thought of the upcoming cold winter months.
The devastation from Hurricane Irma will be felt by Florida residents for weeks, months and even years to come. I can't even imagine what it is like to have your roof torn off, a tree on top of your car and your road flooded out. Your personal belongings soaked with rain water, your carpet soggy, your life entirely in shambles. My family was lucky. Their damage was very minor but it could have been so much worse. If you haven't donated to those in need after Hurricane Irma, or even if you have but you can still spare a little more, here is a list of reputable charities: