Fried Green Tomatoes are a classic Southern side dish, made using unripe tomatoes. Battered and fried, they're served with ranch dressing or remoulade sauce for dipping.
Update: This post was originally shared in January 2016. In January 2021 it was republished with new photos and an improved recipe.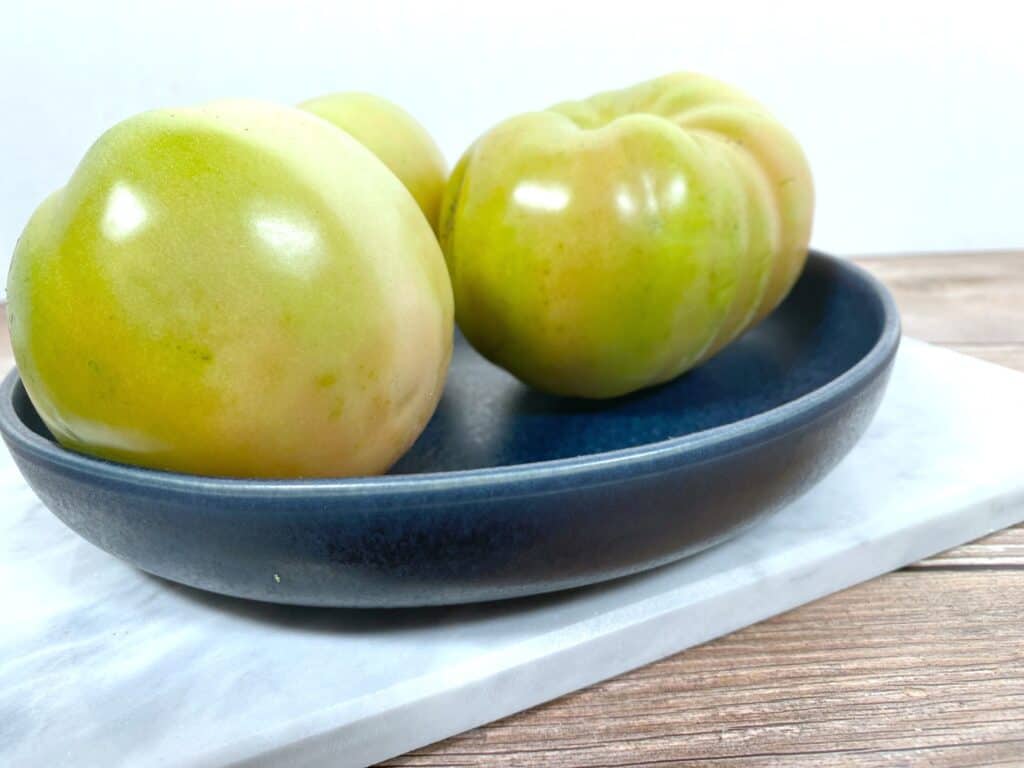 All of the fresh produce in the summer makes me so happy. Corn, peaches, cherries, cucumber, zucchini and tomatoes make a rotation into our meals at least once a week.
Marylander's are a tad bit snobby when it comes to our tomatoes. There is just something about a locally grown Maryland tomato that tastes so much better than anything you can buy from the grocery store. Does every state feel this way about their local produce?
For years "Fried Green Tomatoes" was nothing more than the title of a movie to me, but once I tried them, that changed. If you're impatiently waiting for some tomatoes to ripen, why not skip the wait and fry them up instead?
So what are fried green tomatoes anyway?
A fried green tomato is just an unripe tomato that has been battered and fried. They're a popular dish in the southern states, most notably Georgia where the movie was filmed and the Whistle Stop Cafe exists.
As for taste, they are really mild. A ripe tomato is going to be juicy and bursting with flavor. An unripe tomato would instead be firmer with less developed flavor, which allows them to handle the heat of being fried. If you've ever had pickles or zucchini that has been fried in a cornmeal batter, the texture is pretty similar.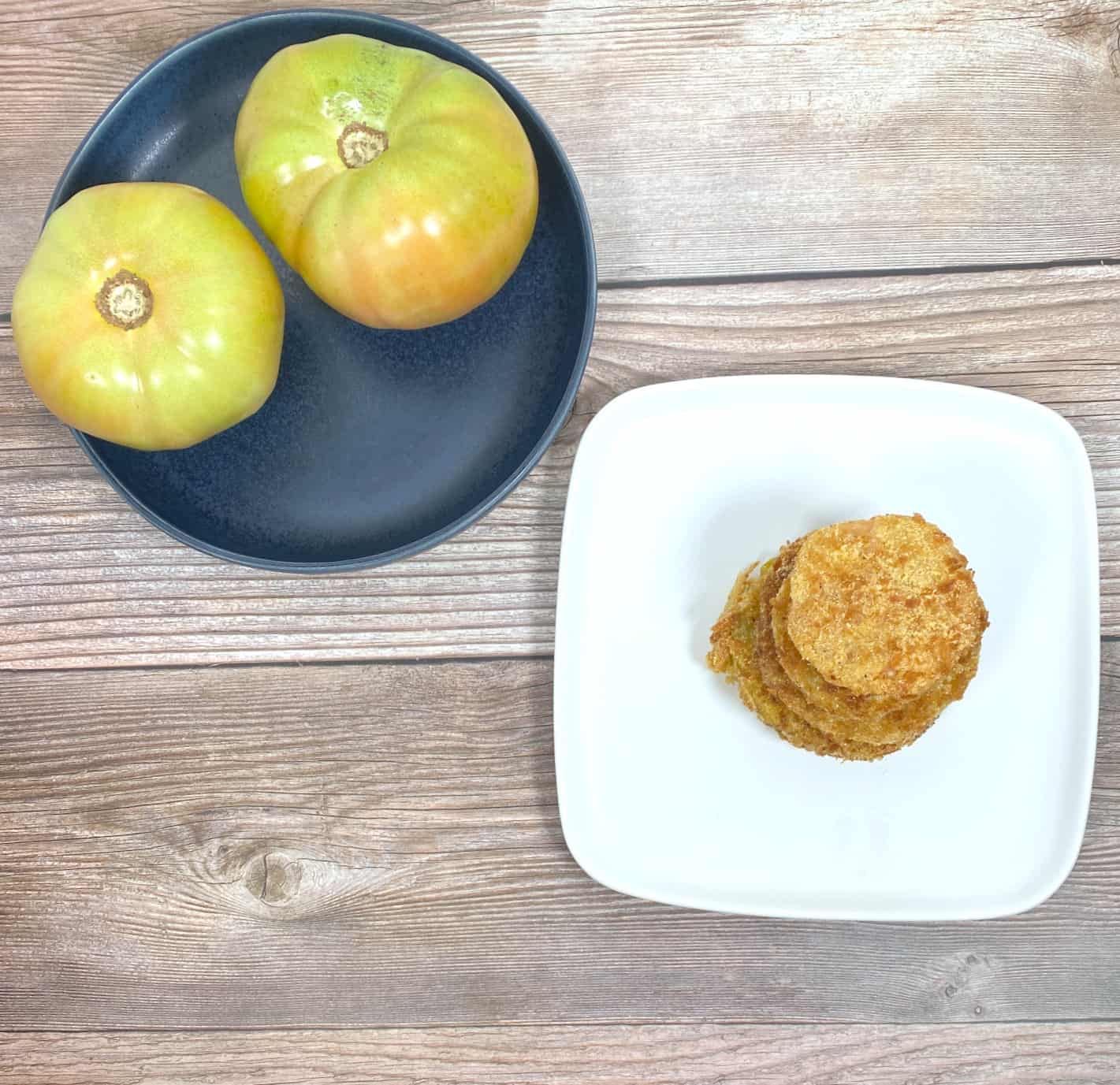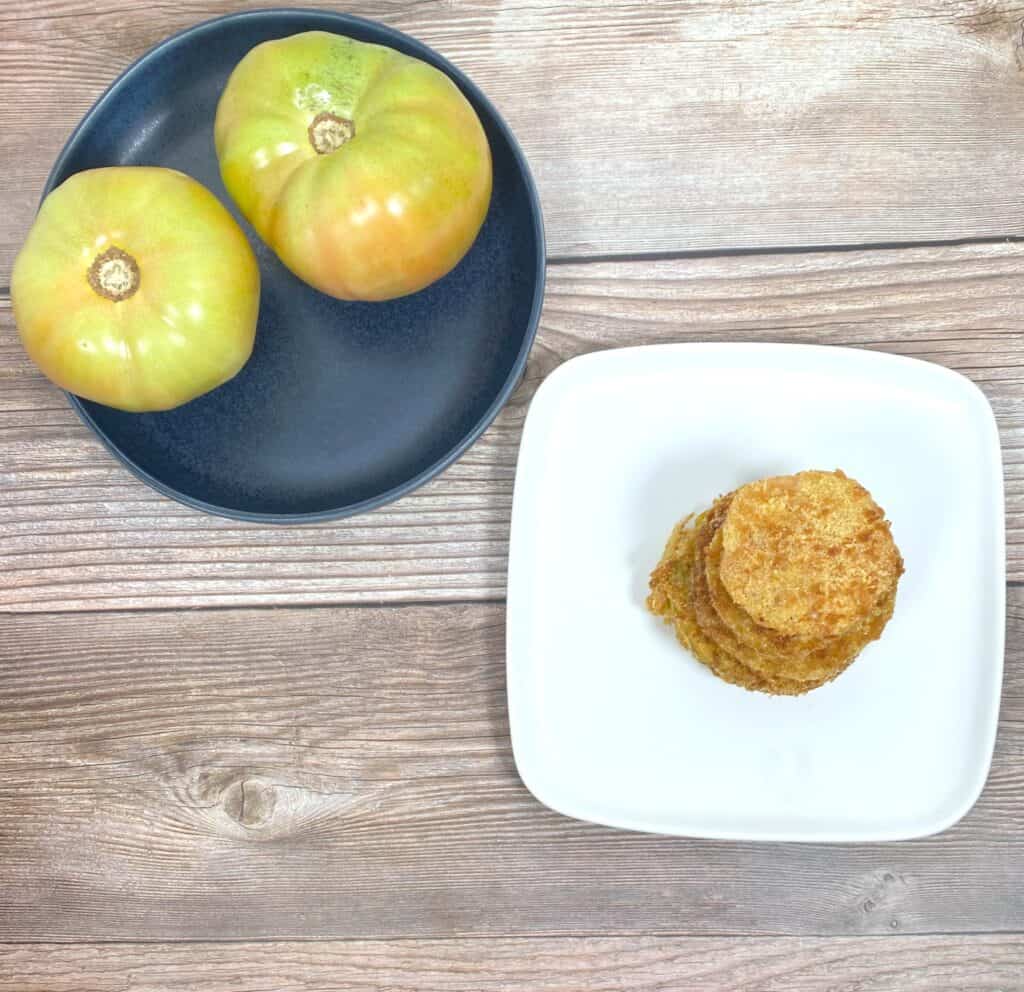 What dipping sauce do you use?
Ranch dressing is commonly served as a dipping sauce for fried green tomatoes, but remoulade is a close second. Remoulade is a French style sauce that can be pretty spicy depending on how you make it. As the tomatoes are pretty bland on their own, you're going to want a dressing or sauce that packs a punch of flavor and pairs well with the tomatoes.
Can you reheat them?
Surprisingly, yes! You can reheat them in a skillet, in the toaster oven or in the air fryer. But first, let's talk about how to store them after they're fried. Drain all excess oil on a paper towel directly after frying. Once completely cooled, transfer to a container with a lid. They'll keep in the fridge for 2-3 days.
Skillet Preparation: heat over medium high heat with no oil. Cook tomatoes 1-2 minutes per side.
Toaster Oven Preparation: place the tomatoes on the rack and use the toast or bake setting for 2-4 minutes. Reheating times vary based off your particular toaster oven, so keep an eye on it and once the tomatoes are warmed and feel crisp again, you're good to go.
Air Fryer Preparation: Preheat the air fryer to 375 degrees. Cook the tomatoes for 2-3 minutes.
Ingredients for this recipe
green, unripe tomatoes - as you can see from the pictures, mine started to ripen a little (they were fully green 12 hours before making this!) They still taste delicious, but a fully green tomato is a classic "fried green tomato"
all purpose flour - you could probably replace this with half whole wheat flour but I have not tried it
yellow cornmeal - you can use white, but I always pick up yellow. I think it's prettier
breadcrumbs - any kind will do, you just want them to be on the finer side
salt and pepper
egg - I only buy large eggs
milk - I used 2% for this recipe, but you can use whole milk or even buttermilk
canola oil, for frying - I had canola oil on hand, but you can use vegetable oil instead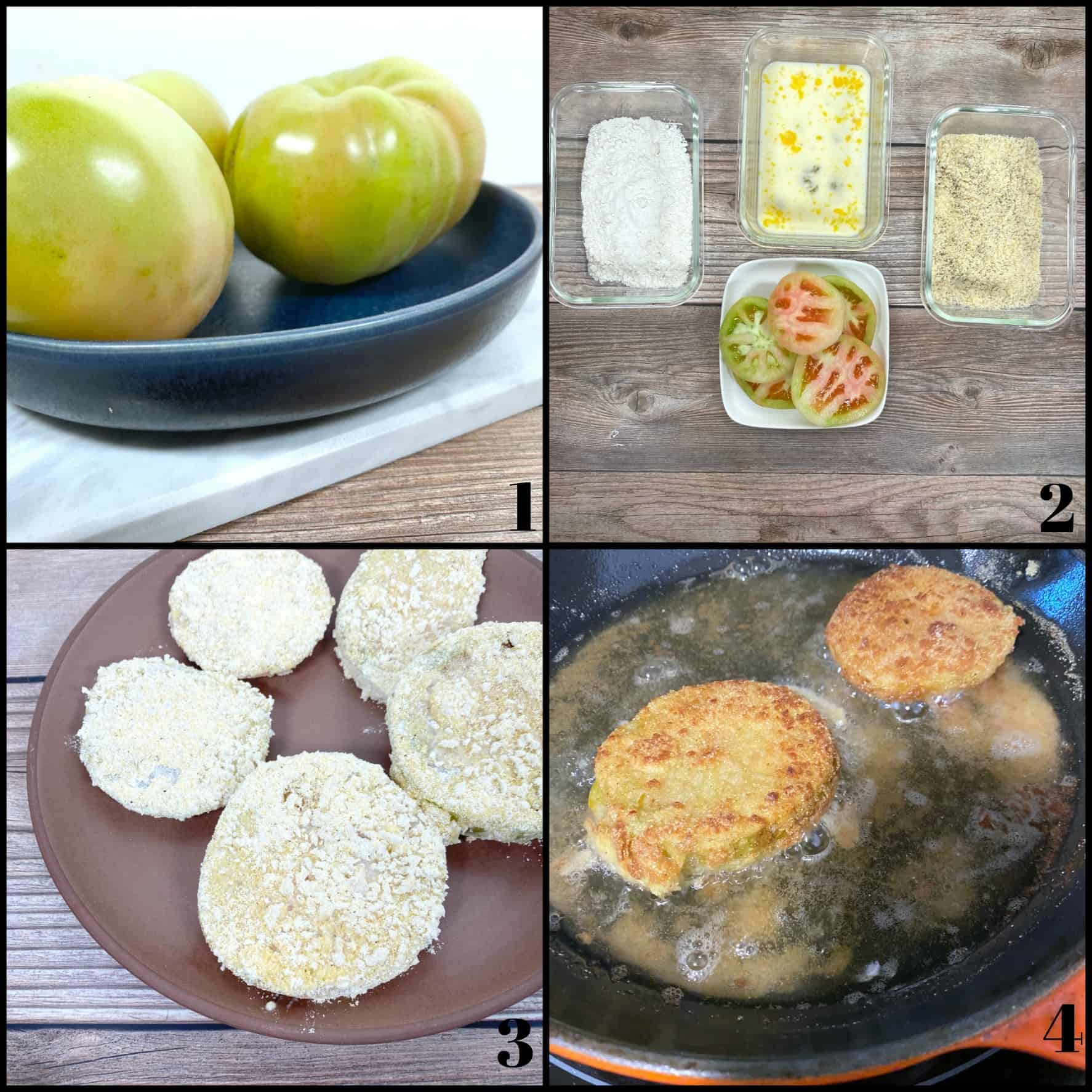 how to make fried green tomatoes
Rinse the tomatoes in water and pat them dry with a paper towel, then cut into ½ inch slices.
Gather 3 shallow dishes. In the first one, combine flour and salt. In the second one, whisk together the egg and milk and in the third one, combine cornmeal, breadcrumbs, salt and pepper.
Dip tomato slices into the flour, followed by the egg mixture and then into the breadcrumb mixture, shaking off any excess at each step.
Heat canola oil in a cast iron or heavy bottomed skillet over medium high heat.
Fry no more than 4 tomatoes at a time, cooking 2-3 minutes on each side or until they are a golden brown color.
Drain on paper towels.
how to serve
with ranch dressing or remoulade sauce (a must!)
alongside fried chicken, fish or crab cakes
put on a BLT, po boy or grilled cheese sandwich
as the star of eggs benedict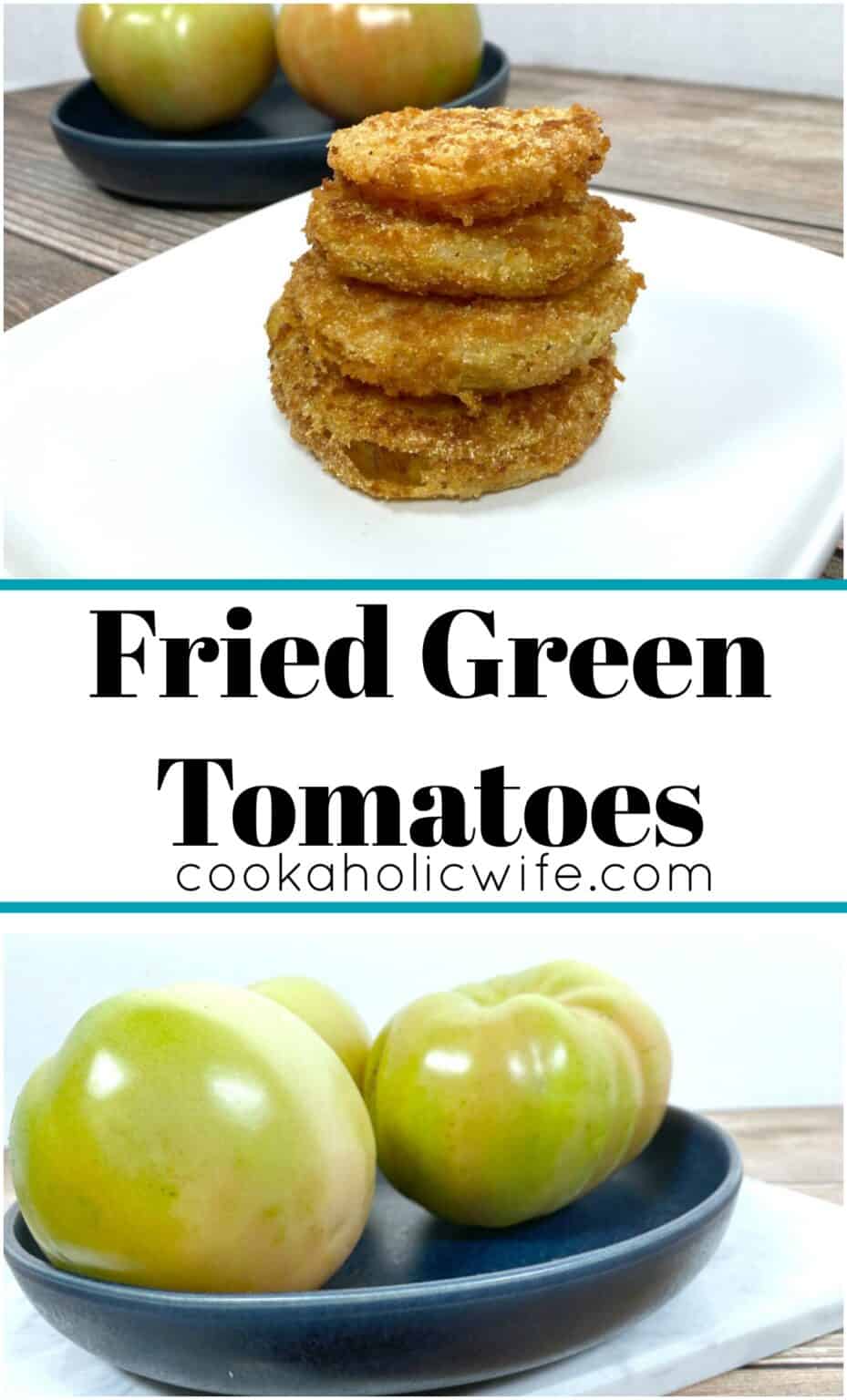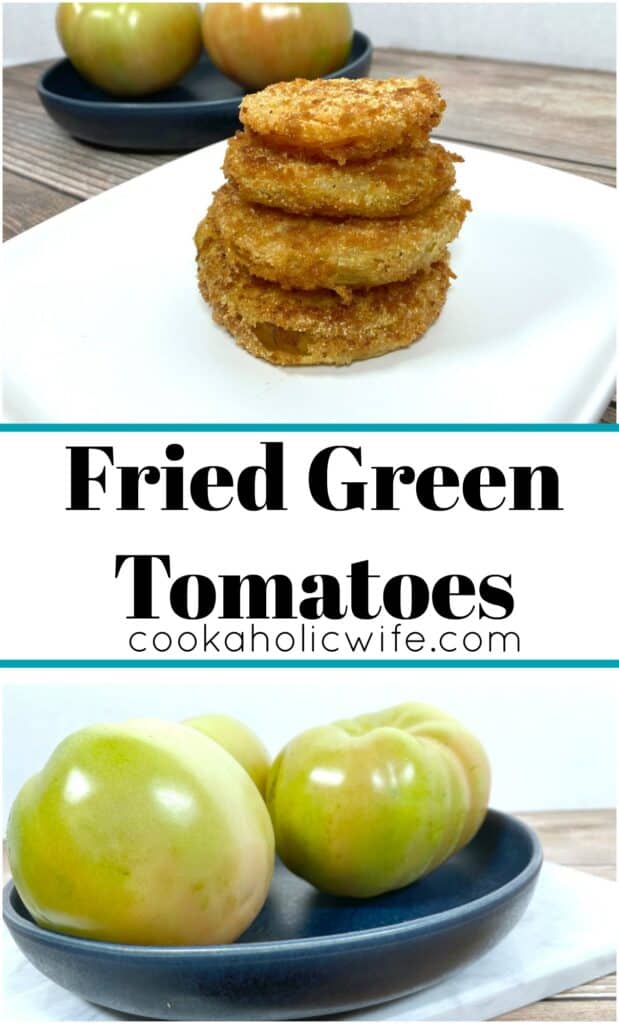 Want to save this recipe for later? Follow me on Pinterest! Rather watch a video? See if I've made this recipe by following me on Tiktok!
Recipe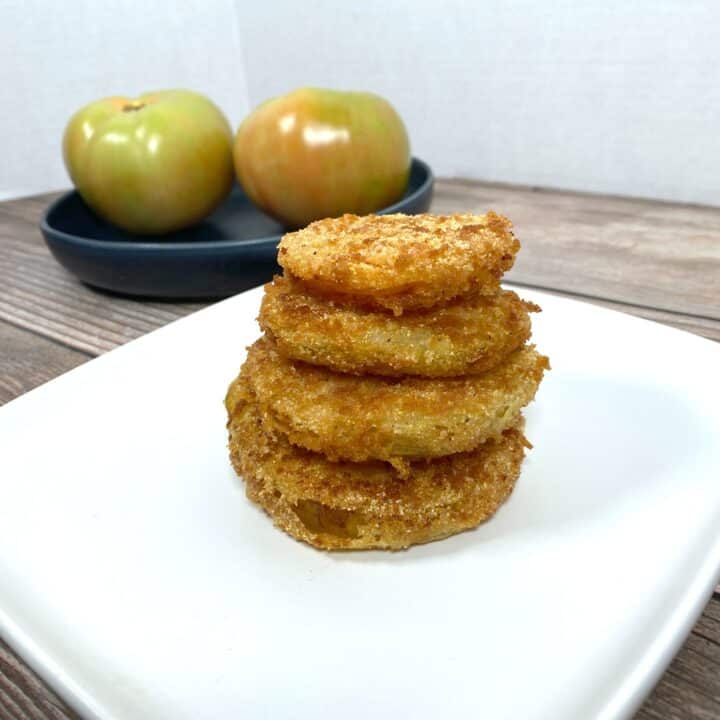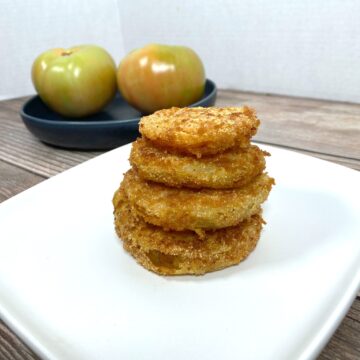 Fried Green Tomatoes
Unripe green tomatoes are coated in flour and breadcrumbs and pan-fried to crispy perfection.
Ingredients
2

large

green tomatoes

½

cup

all purpose flour

1

teaspoon

salt

divided

½

cup

yellow cornmeal

¼

cup

breadcrumbs

1

tsp

pepper

1

large

egg

⅓

cup

milk

⅓

cup

canola oil
Directions
Wash and dry the tomatoes. Cut into ½ inch slices. (Depending on the size of the tomato, you'll end up with 10-12 slices total)

In a shallow dish whisk together flour with ½ teaspoon of salt.

In another dish, whisk together the egg and milk.

In a third dish, whisk together the yellow cornmeal, breadcrumbs, pepper and remaining ½ teaspoon of salt.

Dip a tomato slice in the flour mixture first, then into the egg mixture and finally into the cornmeal mixture, making sure to fully coat both sides. Place the coated tomato slice on a plate and repeat with remaining tomato slices.

Add canola oil to a cast iron or heavy bottomed skillet over medium high heat. When a drop of water added to the skillet sizzles, it is hot enough to fry your tomatoes.

Fry tomatoes, no more than 4 at a time, for 2-3 minutes on each side, or until they are golden brown.

Remove from the skillet and place on a paper towel lined plate to drain excess oil. Repeat with the remaining tomato slices.
Nutrition
Serving:
1
Calories:
126
kcal
Carbohydrates:
12
g
Protein:
3
g
Fat:
7
g
Saturated Fat:
1
g
Cholesterol:
16
mg
Sodium:
223
mg
Potassium:
108
mg
Fiber:
1
g
Sugar:
2
g
Vitamin A:
228
IU
Vitamin C:
7
mg
Calcium:
18
mg
Iron:
1
mg
Recipes on Cookaholic Wife are for information purposes only. Nutritional Data provided has not been evaluated by a nutritionist.