I have been on a huge melon kick lately. Each week I've been buying watermelon, cantaloupe and honeydew. For so early in the season it's been really good and has been a nice change up to the standard strawberries and blackberries I usually eat at this time of the year.
Of course, that is a lot of melons for a few people to eat before they go bad, so I've had to get creative. I had a little bit of honeydew left that I knew was entering the end of its lifespan as well as a small amount of spinach.
I put spinach in all of my smoothies so it didn't take long for it to dawn on me that this could be a great combination. If you're one of those people who cringes at the idea of spinach in a smoothie, I can promise you, as long as you have a good blender, you won't be able to tell that it's in this one.
Recipe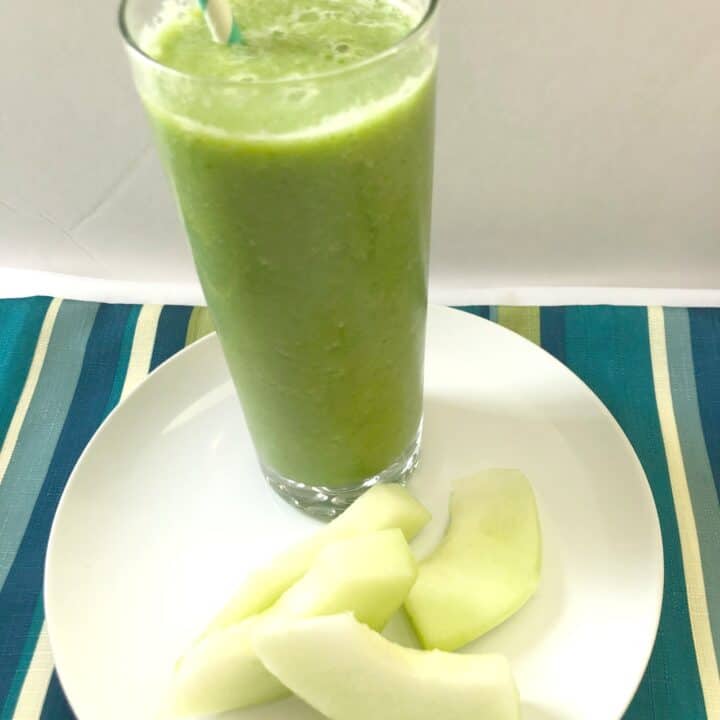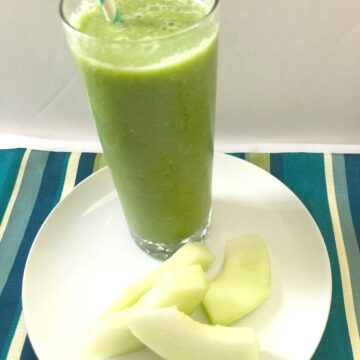 Honeydew Spinach Smoothie
4 ingredients + ice cream make up this sweet, creamy summer smoothie that's dairy-free and compliant with phase 1 of the Fast Metabolism Diet.
Ingredients
1

cup

oat milk

1

cup

fresh honeydew

chopped

2

cups

fresh spinach

½

teaspoon

vanilla cream stevia

½ to 1

cup

ice
Directions
1. Layer ingredients as listed in a high powered blender and blend on high speed until fully combined.

2. Transfer to a glass, add a straw and enjoy!
Notes
Substitutions:
cashew or rice milk to keep the smoothie creamy
dairy or non-dairy milk for a less creamy smoothie
vanilla extract instead of vanilla creme stevia
Recipes on Cookaholic Wife are for information purposes only. Nutritional Data provided has not been evaluated by a nutritionist.
Until I started the Fast Metabolism Diet, I'd never tried any of the non-dairy milks other than almond milk. I'd honestly never even heard of oat milk. If you haven't heard of it or tried it, you really should. It's magical. Sweet, creamy and all the things that you need to make a good smoothie even better.
Same goes for the vanilla creme stevia drops. I'm part of a Facebook group for the Fast Metabolism Diet and someone mentioned putting them into plain sparkling water to create a cream soda-like drink. I know that cream soda is basically just sugary-vanilla carbonation, but it has always been one of my favorite drinks. Knowing that I could create something similar had me rushing off to Amazon to buy some.
I drink a lot of smoothies, but this one is hands down one of my favorites. It almost tastes a little bit like a creamsicle.