I hope you had a great Valentine's day. What did you have to eat?
Tom and I kept it simple around here and decided we'd go out some other weekend that's less crowded and get sushi. I guess this is what 6 years of marriage does to you lol. 😏
The ingredients for the Improv Cooking Challenge this month were chocolate and chiles. I rarely ever think to combine spice and chocolate together, but it's a really great pairing. I had brownies on the brain for over a week and finally decided to make some and incorporate cayenne pepper to give them a nice kick.
Per usual, my goodies get taken into work and every Monday morning I write down on a sticky note what I brought in so my coworkers know what they get to sample. I wrote "spicy chocolate chile brownies" and figured that was warning enough to stop anyone who didn't like spice from trying them.
It turns out I managed to baffle my coworkers because none of them expected the sharp kick of heat that comes along with the cayenne pepper. Most of them liked it and found the combination intriguing but a few were puzzled by the sweet and spicy combo and said it messed with their heads. Tom told me the same thing. So while it wasn't an all-around success, the tray was empty by the end of the day, which I consider victory enough.
Recipe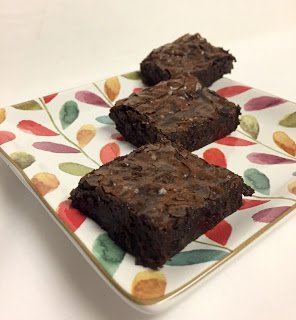 #ImprovCooking: Chocolate Chile Brownies
Chocolate and spice are a great pairing and these brownies have just enough heat to still enjoy the rich chocolate flavor.
Ingredients
5

tablespoon

unsalted butter

4

oz

bittersweet chocolate

chopped

1

cup

semi sweet chocolate chips

divided

1

cup

sugar

1

teaspoon

vanilla extract

2

eggs

⅓

cup

all purpose flour

1

teaspoon

cinnamon

1

teaspoon

instant espresso powder

¾

teaspoon

chipotle chili powder

½

teaspoon

salt

¼

teaspoon

cayenne pepper
Directions
1. Preheat the oven to 325. Spray an 8x8 baking dish with cooking spray or line with parchment paper.

2. Combine the butter, bittersweet chocolate and ½ cup of chocolate chips together in a small saucepan over medium heat. Stir until melted together and smooth.

3. Remove from the heat and whisk in the sugar and vanilla until combined, followed by the eggs.

4. Add the flour, cinnamon, espresso powder, chipotle chili powder, salt and cayenne pepper and stir until combined.

5. Stir in the remaining ½ cup of chocolate chips then pour the mixture into the prepared baking dish, smoothing out the top.

6. Bake for 30-35 minutes or until a toothpick inserted in the center comes out clean.

7. Allow to cool for 20 minutes before slicing into squares.
Recipes on Cookaholic Wife are for information purposes only. Nutritional Data provided has not been evaluated by a nutritionist.
While these brownies do pack a punch of heat, you could easily cut down the amount of chipotle chili powder and cayenne used if you would like. Personally, I think they're perfect, fudgey and with a kick at the end!
If you'd like to join in on the fun next month (or any month thereafter) check out the Improv Cooking Challenge Facebook page!