The middle of December already. Where in the world has this year gone? The last two months have flown by in a complete haze, which explains why I've barely shared any holiday recipes with you this month. I'm going to try to get caught up for next week.
The ingredients for the final month of 2016's Improv Cooking Challenge were cinnamon and honey. I thought about making a cake or cupcakes or even cinnamon rolls because my coworkers go insane for them, but my creative side was hiding and nothing was standing out to me.
Then someone mentioned drinking a hot toddy and I knew that's exactly what I needed to make for this challenge. I don't know about you, but nearly every single person I know is sick. My office is covered in a haze of Lysol. I've went through an incredible amount of hand sanitizer and I've been pre-preemptively taking tons of vitamin C and cold medicine to fight anything off.
For years; 22 of them to be exact, I would get strep throat. Once a year, in March, every single year from age 2 to 24. Like clockwork, I would go from feeling perfectly fine to feeling like I was swallowing razor blades with tonsils so swollen I scared a few doctors. You'd think with that kind of track record, I'd get used to it, but if you have ever had strep throat, you know there is no getting used to it. You simply endure and count down the minutes until the antibiotics kick in.
I think I was 23 when I had strep throat and all of my friends were going out to the bar. I was past the contagious stage but not to the point where I wasn't in pain. Tired of staring at the four walls of my room, I went out. One of the bartenders heard how sick I was and made a hot toddy for me. Until then I'd never heard of it before. She didn't have cinnamon or cloves and somehow managed to scrounge up some honey in a dive bar to make me the drink. I still remember taking the first sip and feeling the instant relief on my throat.
Recipe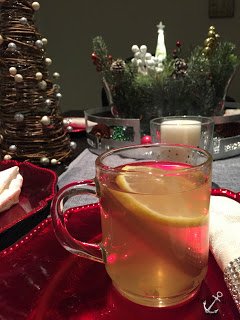 #ImprovCookingChallenge: Hot Toddy
Lemon and honey with a splash of bourbon are sure to cure a sore throat or just warm you up on a chilly winter night.
Ingredients
1

cup

water

1

tablespoon

fresh lemon juice

2

teaspoon

honey

1

cinnamon stick

3-5

whole cloves

2

lemon slices

2

teaspoon

honey bourbon
Directions
1. Add the water to a saucepan and bring to a boil.

2. Remove from the heat and stir in the lemon juice, honey, cinnamon stick and cloves. Cover the pot and let steep for 5 minutes. Discard the cinnamon stick and cloves.

3. Add a teaspoon of honey bourbon and a lemon slice to each mug. Pour the steeped liquid on top.

4. Adjust to taste with honey bourbon and/or honey.

5. Drink warm.
Recipes on Cookaholic Wife are for information purposes only. Nutritional Data provided has not been evaluated by a nutritionist.
While this is meant to soothe a sore throat, it's also a great drink to take the chill off on those icy winter nights. Next time you're feeling under the weather, whip one of these up and see how you feel after. 😊