Prosciutto Arugula Pita Pizza is a quick and easy weeknight meal. Pita bread replaces pizza dough and is topped with mozzarella cheese, prosciutto and arugula, then drizzled with honey. 
Original Recipe: July 10, 2015 | Updated Recipe: July 27, 2020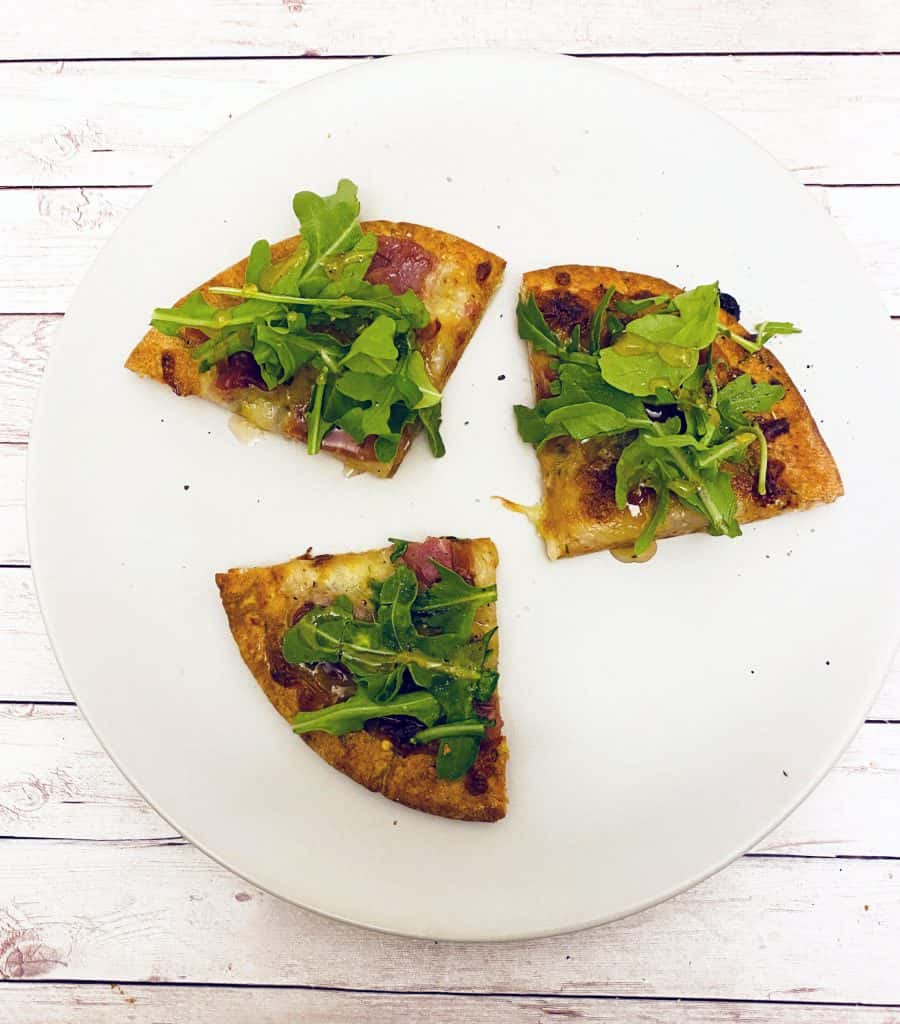 Who has time to make homemade pizza dough? Even with everything going on in the world right now, I rarely do. Pizza is always a last minute decision for us. We'll have pizza for dinner when I need to work late or when I forget to pull anything out for dinner.
Ok, fine, let's be real. We also have pizza when I just don't feel like cooking. #foodbloggerconfessions
Our options for decent pizza around here are pretty slim, which is why I really love this recipe.
Making a pizza on top of a pita is SO easy! You already have a pre-made, cooked crust and all you need to do is add on some toppings, pop it in the oven and dinner is ready in about 15 minutes.
Now this combination of flavors? I'm totally in love with them. Peppery arugula and slightly salty prosciutto are a great combination, but when you drizzle some honey over it and serve it all on top of a crispy pita round? That is my kind of meal!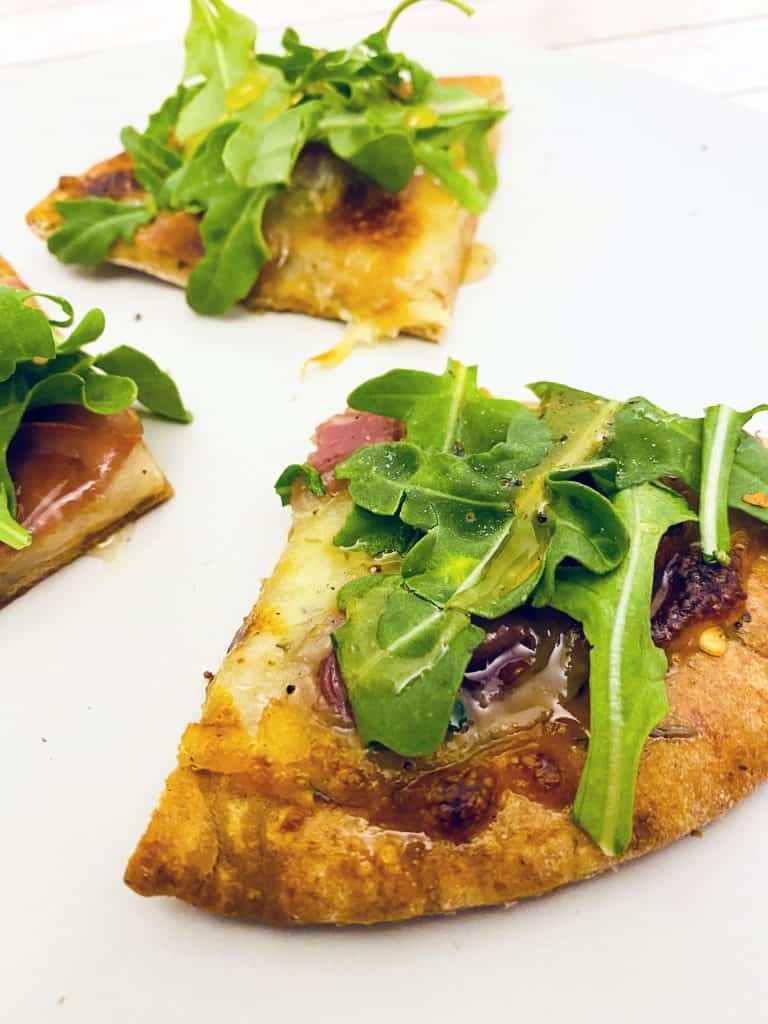 What is pita bread?
Pita bread comes from the Mediterranean and Middle Eastern regions of the world. It's a yeasted, round bread that is typically made with whole wheat flour. Store bought pita bread may also be referred to as pita pockets and this comes from the cooking technique. Pita is cooked at high heat, so the water in the dough creates steam. That makes the pita puff up so you can easily pull apart the layers, creating a pocket.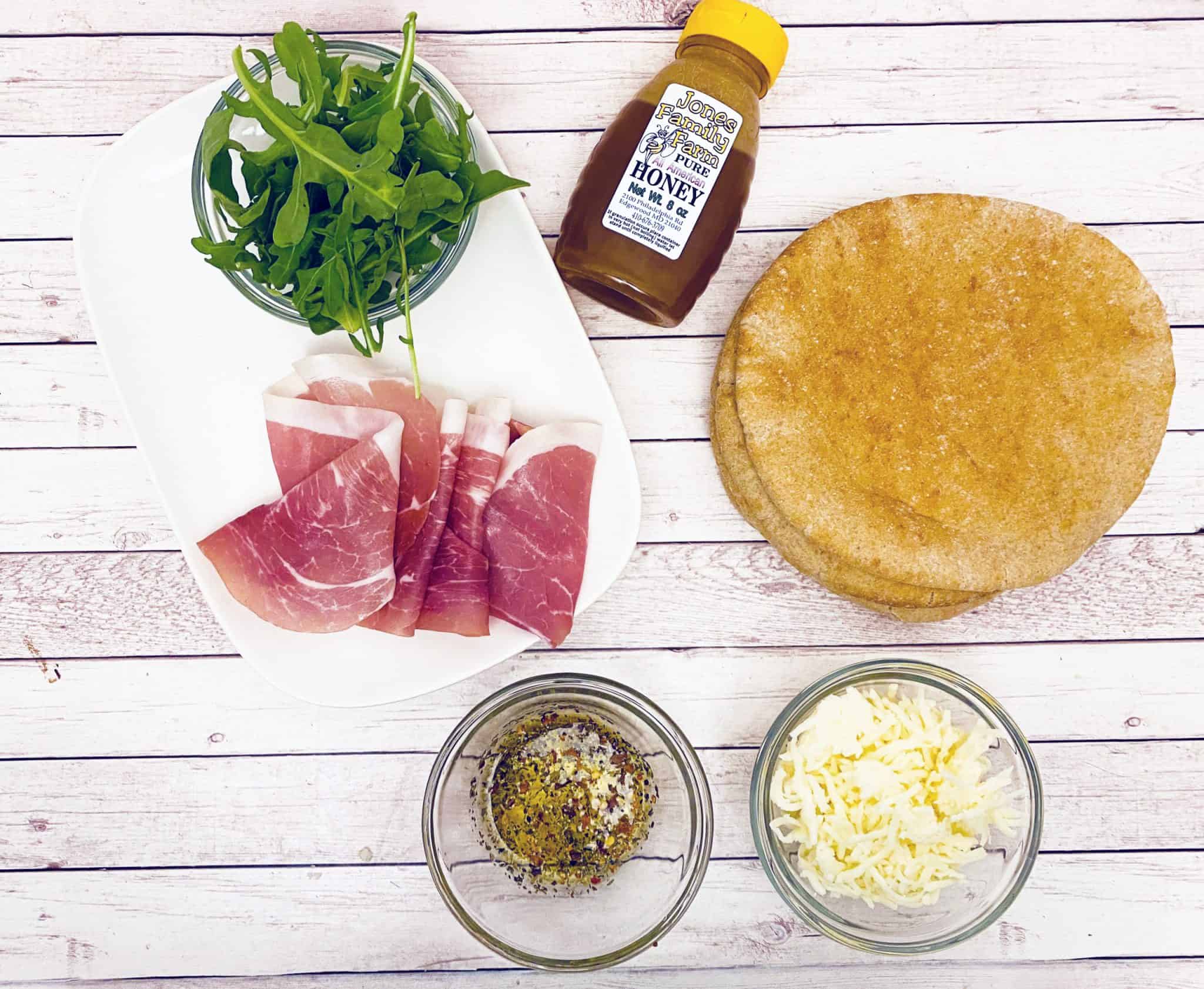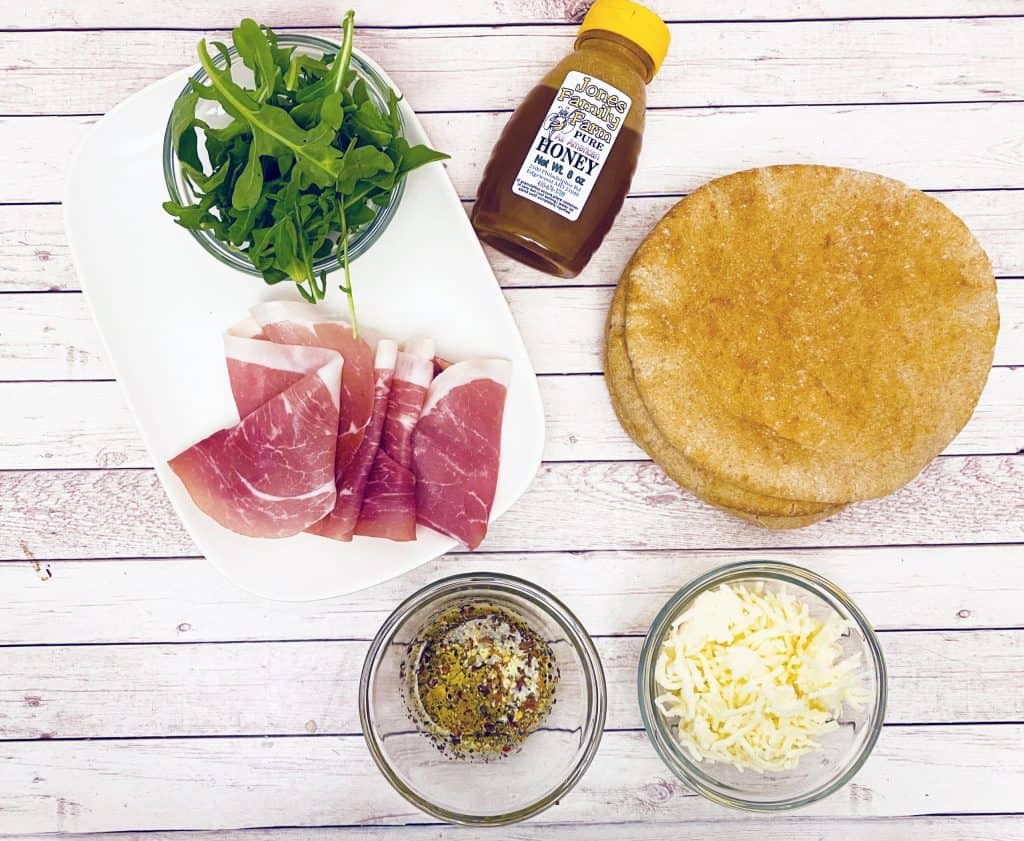 Ingredients for Prosciutto Arugula Pita Pizza
Pita Bread: most stores will carry a whole wheat and white option, but there are other versions made with ancient grains or other flours. My favorite is the whole wheat version.
Arugula: arugula is a plant leaf with a slightly bitter and peppery flavor. I prefer the baby arugula leaves for this pizza so I can fit more onto the pita.
Prosciutto: prosciutto is a dry-cured ham. You can find it in the deli section of most grocery stores already pre-packaged, but if you get it from behind the counter or from a butcher, they'll trim off any fat for you.
Mozzarella Cheese: shredded mozzarella cheese is what I use for this recipe, but if you have the fresh stuff, go for it!
Olive Oil: as this olive oil is cooked into the pita in this recipe, you can go with a standard olive oil. No need for an extra fancy extra virgin olive oil here. Unless that is your thing.
Spices: pizza isn't pizza without some flavor. Garlic powder, Italian seasoning and crushed red pepper flakes add the flavor to this dish.
Honey: I'm a sucker for a local honey, but use what you have on hand.
Is pita bread healthier?
Eh, that depends. Whole wheat pita bread typically has around 165 calories and is low in fat. That's definitely less calories and fat than most pizza dough recipes. For me, it's about the individual portioning. One pita pizza will fill me up in most cases, while sometimes I feel like I can eat slice after slice of pizza and never be full.
How to make this recipe
Preheat the oven to 425 degrees and line two large baking sheets or pizza pans with foil.
Combine the olive oil, garlic powder, Italian seasoning and crushed red pepper flakes into a small bowl. Spread on top of each pita.
Sprinkle mozzarella cheese on top of each pizza.
Chop or tear up each slice of prosciutto and add one slice worth to each pita.
Bake for 8-10 minutes or until the cheese is melty and the prosciutto and pita are crispy.
Top with arugula and drizzle honey on top.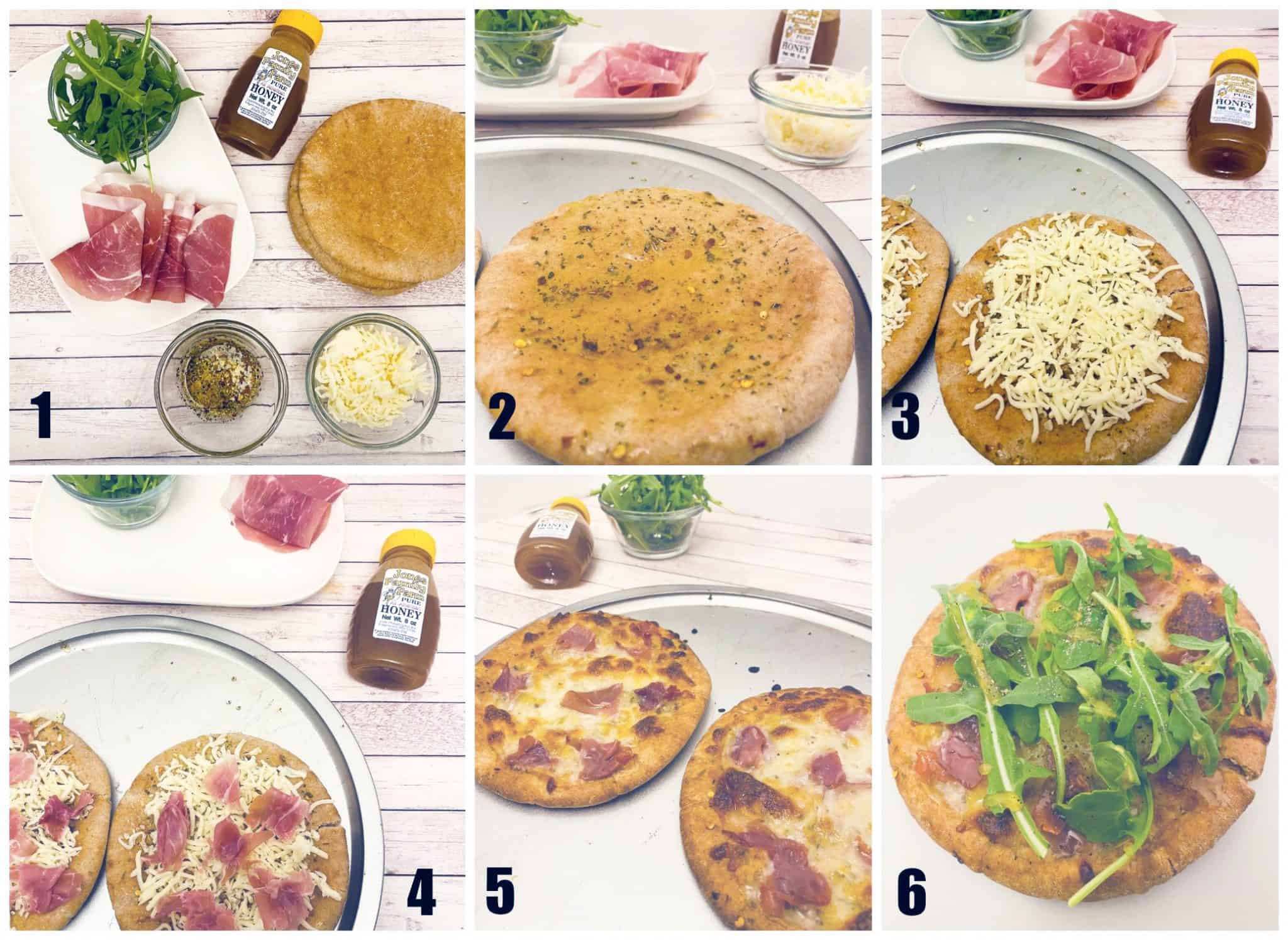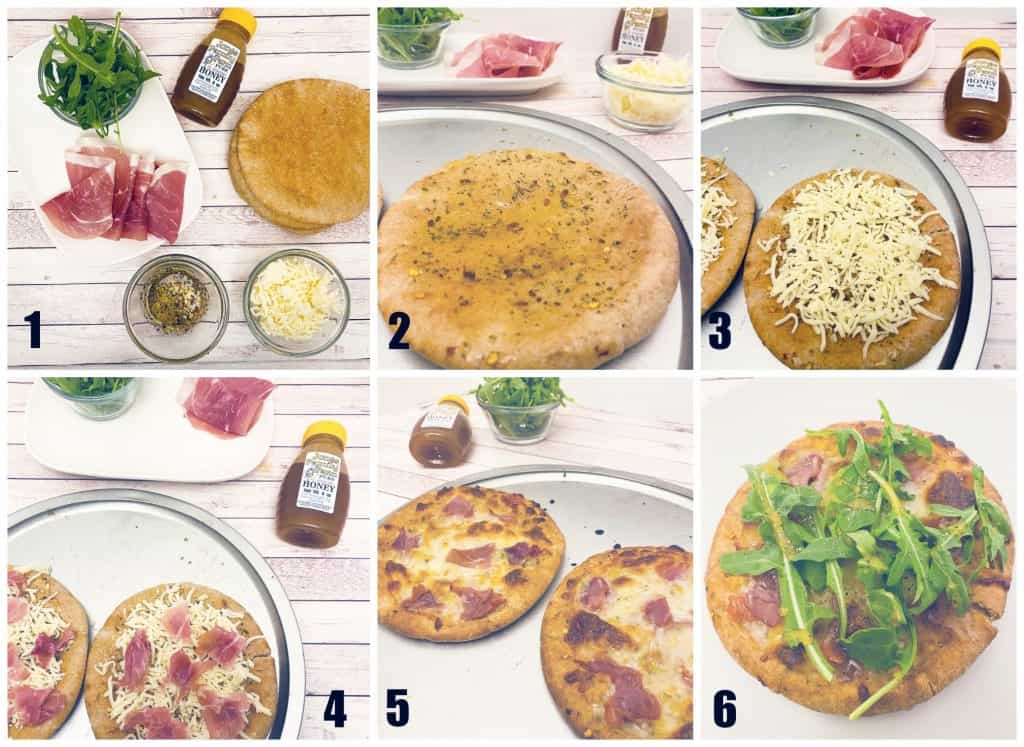 Tips for making pita pizzas
For a crispier crust, use a sheet pan or pizza pan with perforations. This will allow the crust to get more air circulation and makes it crispier. You can also bake it at 450 degrees, but keep an eye out on the cheese. It should take 5-6 minutes at that temperature.
Don't feel like turning on the oven? Use the bake or toast feature on your toaster oven.
To grill instead, heat a grill to medium high heat. Brush one side of each pita with the olive oil and spice mixture and the other side with just olive oil. Grill for 2-3 minutes on each side, then remove from the grill to add the toppings. Return back to the grill and cook for another 3-4 minutes, until the cheese has melted.
Don't like white pizza? Add your favorite pizza sauce to this recipe.
WANT TO SAVE THIS RECIPE FOR LATER? PIN IT TO YOU FAVORITE PINTEREST BOARD AND FOLLOW ME AT COOKAHOLIC WIFE FOR MORE DELICIOUS RECIPES!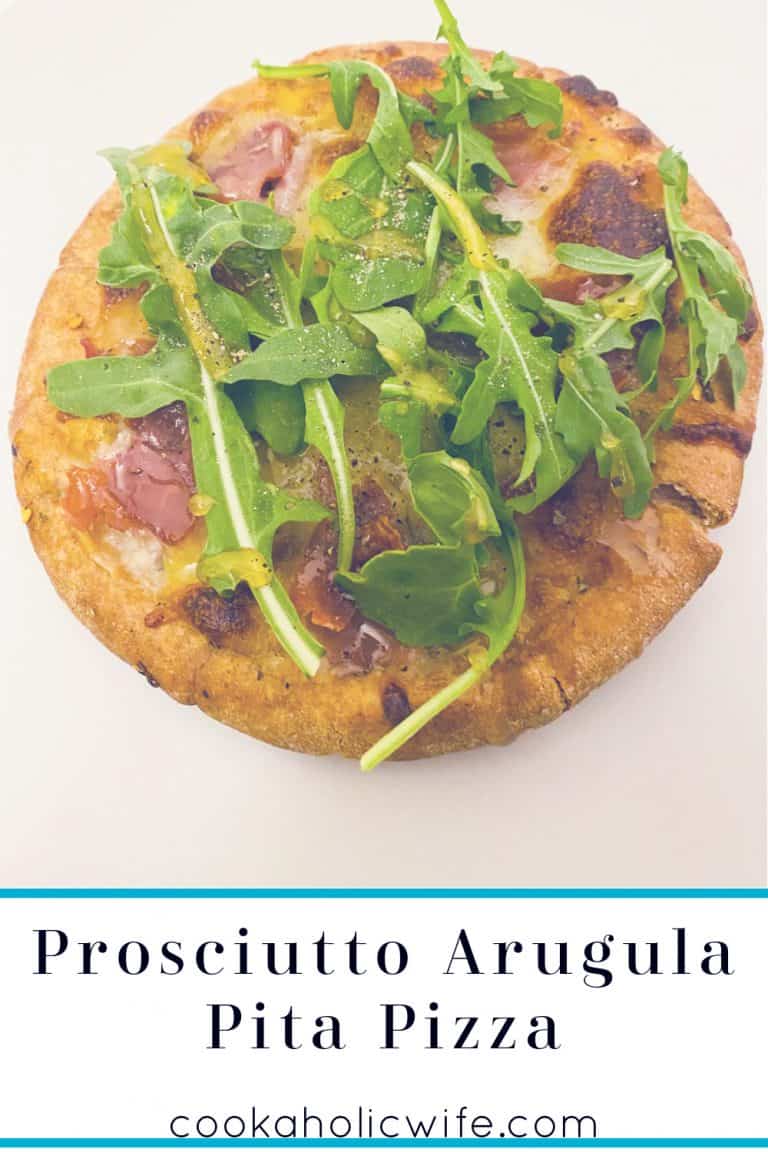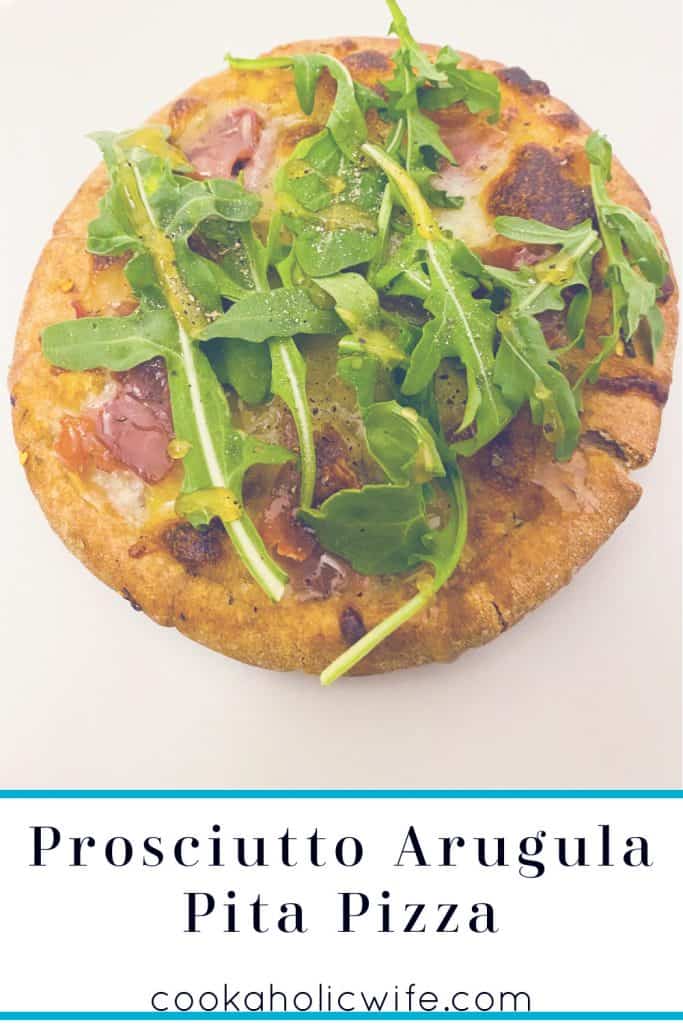 Recipe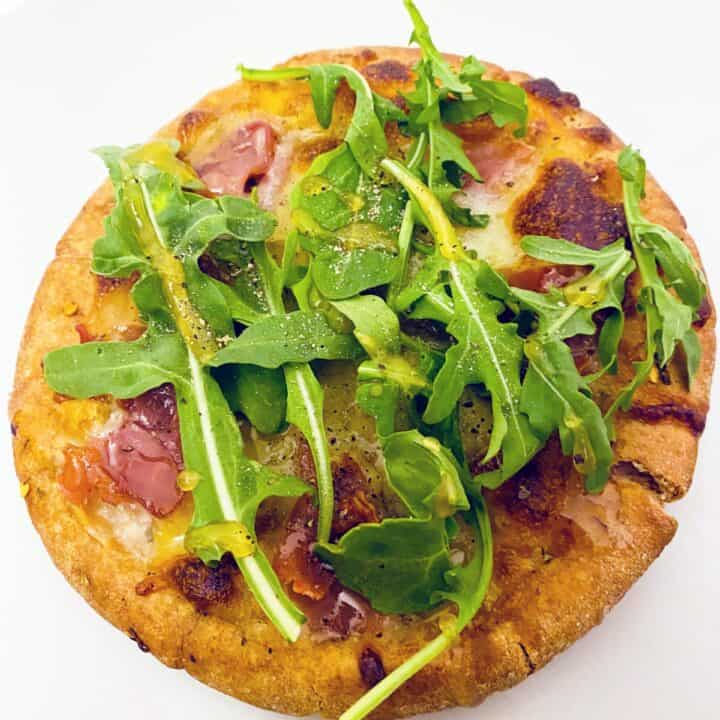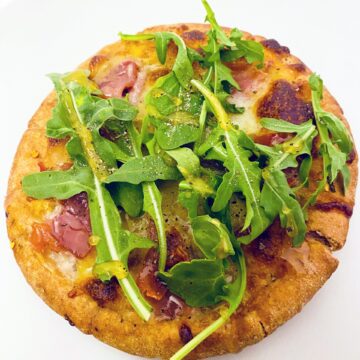 Prosciutto Arugula Pita Pizza
This quick and easy Prosciutto Arugula Pizza uses pita bread to save you prep and cooking time. This pizza is topped with mozzarella cheese, salty prosciutto and peppery arugula. You're going to love this quick weeknight meal or snack. 
Ingredients
4

rounds

whole wheat pita bread

2

tablespoon

olive oil

½

teaspoon

garlic powder

½

teaspoon

Italian seasoning

½

teaspoon

crushed red pepper,

or less if you don't like spice

1 ¼

cup

shredded mozzarella cheese

4

slices

prosciutto,

fat trimmed

1

cup

arugula leaves

2

tablespoon

honey

or less, to taste
Directions
Preheat the oven to 425 degrees. Line two large baking sheets or pizza pans with foil.

Combine olive oil, garlic powder, Italian seasoning and crushed red pepper flakes in a bowl. Brush over the top of each pita.

Divide cheese on top of each pita bread. Chop up prosciutto slices and add one slice to the top of each pita.

Bake for 8-10 minutes or until cheese has melted and the bottom is crispy. Remove from the oven.

Sprinkle arugula leaves on top of the pizza and drizzle with honey, to to taste.
Notes
For a crispier crust, use a pizza pan or baking sheet with perforations and no foil. 

Bake at 425 or 450 instead. Keep an eye on it though! 

"Toast" the pizza in your toaster oven. Keep an eye on the cheese though! 
Grill the pizza instead. Brush olive oil on both sides of the pita bread and grill for 2-3 minutes on each side. Then add the cheese and toppings and continue to grill until the cheese melts. 
Nutrition
Serving:
1
Calories:
385
kcal
Carbohydrates:
41
g
Protein:
15
g
Fat:
20
g
Saturated Fat:
7
g
Cholesterol:
33
mg
Sodium:
527
mg
Potassium:
156
mg
Fiber:
4
g
Sugar:
10
g
Vitamin A:
429
IU
Vitamin C:
1
mg
Calcium:
197
mg
Iron:
2
mg
Recipes on Cookaholic Wife are for information purposes only. Nutritional Data provided has not been evaluated by a nutritionist.