Strawberry Rhubarb Crumb Bars are made with an oatmeal crust, topped with jam, berries and rhubarb and are baked to sweetened perfection, only using 8 ingredients!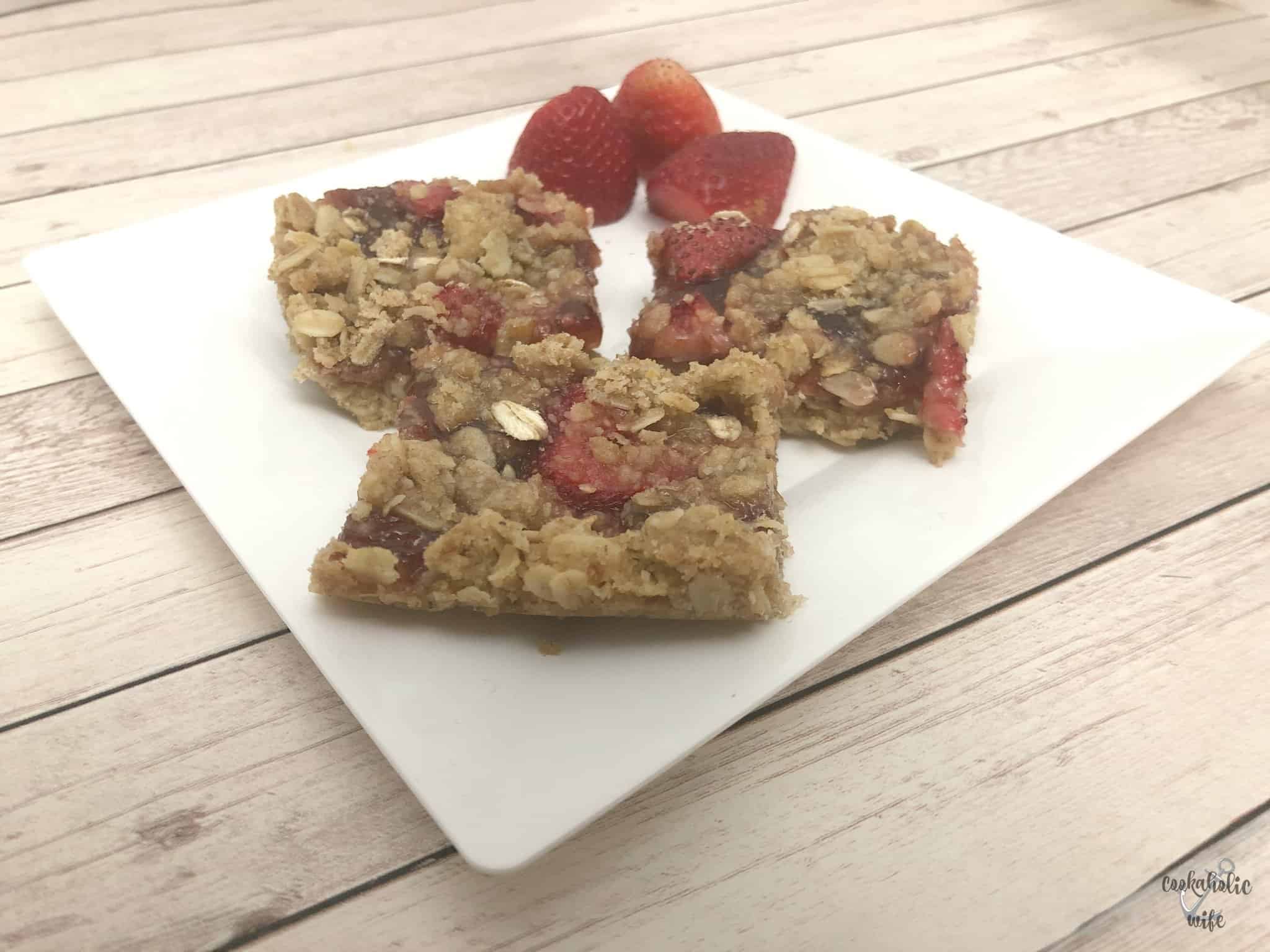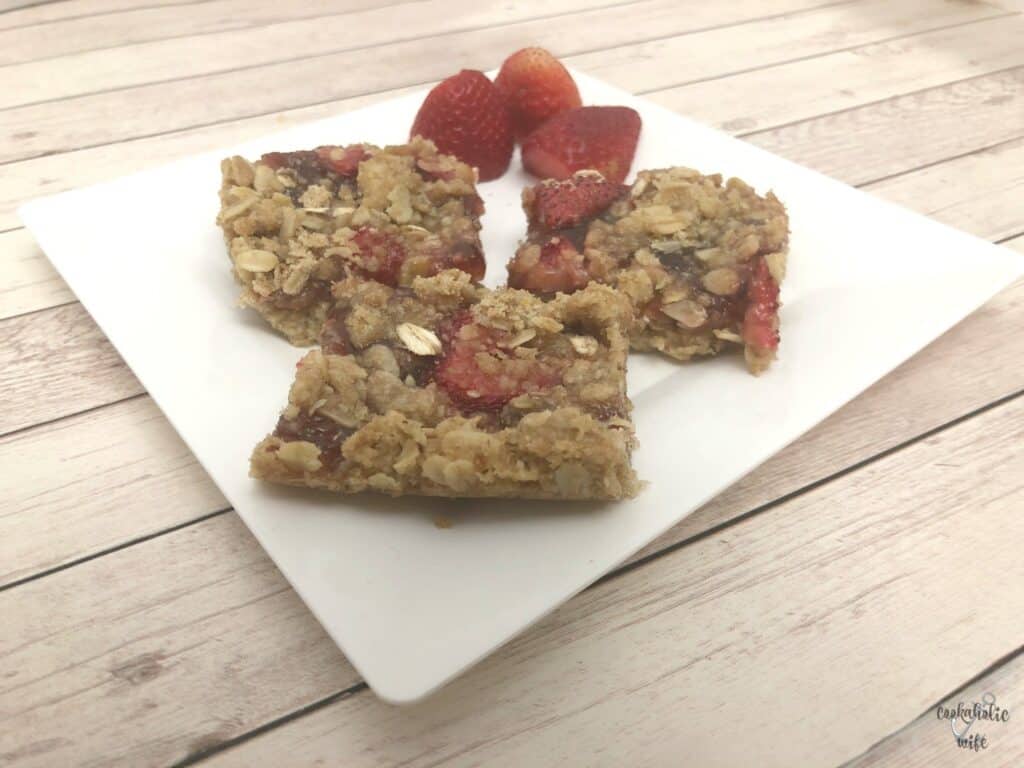 Is rhubarb available in your area? I honestly haven't been able to find it fresh for the last two years. I was hoping to get lucky this year as I picked the ingredients for April's Improv Cooking Challenge to be strawberry and rhubarb. And yet, I still haven't. Maybe it's still too early?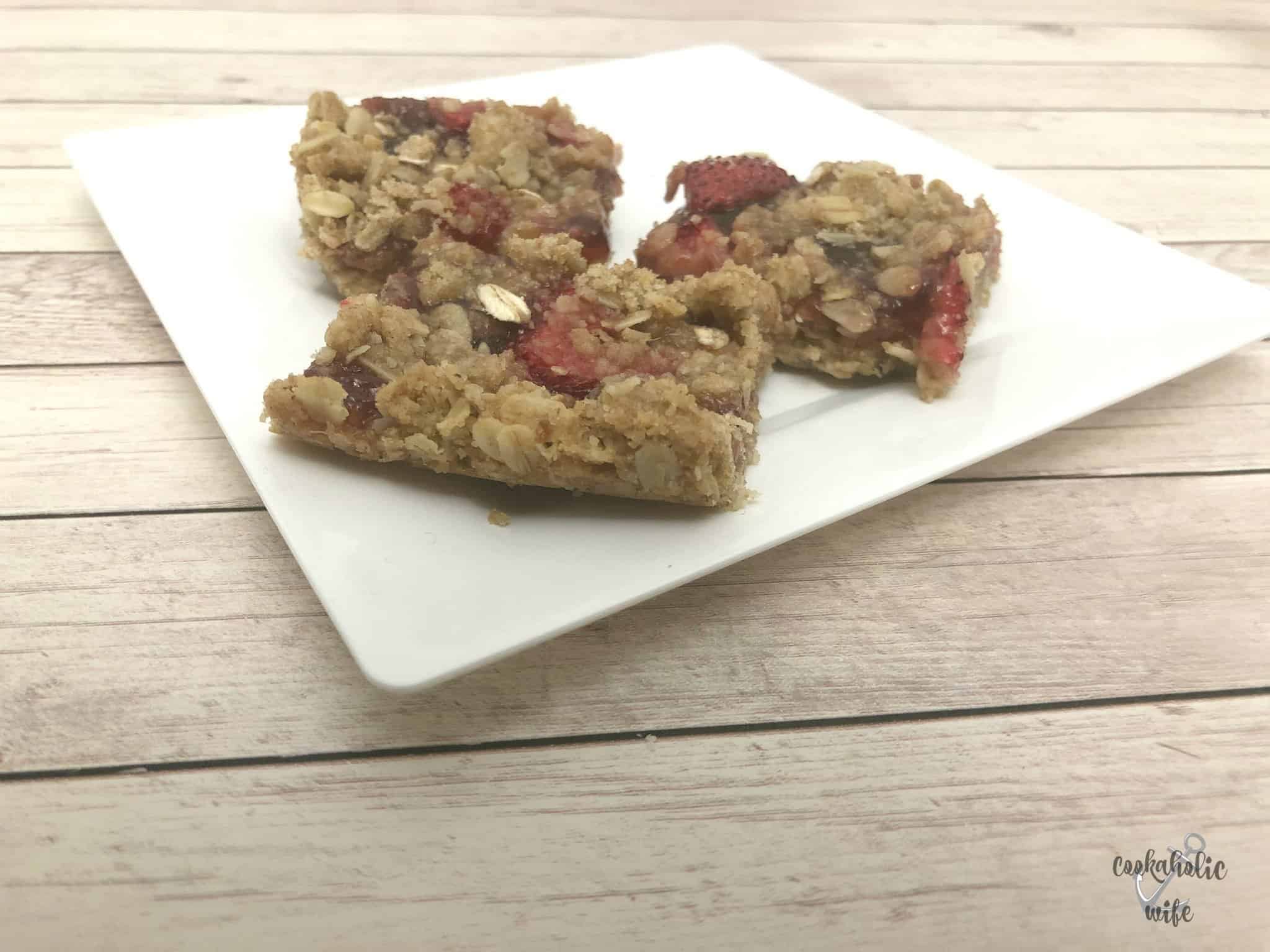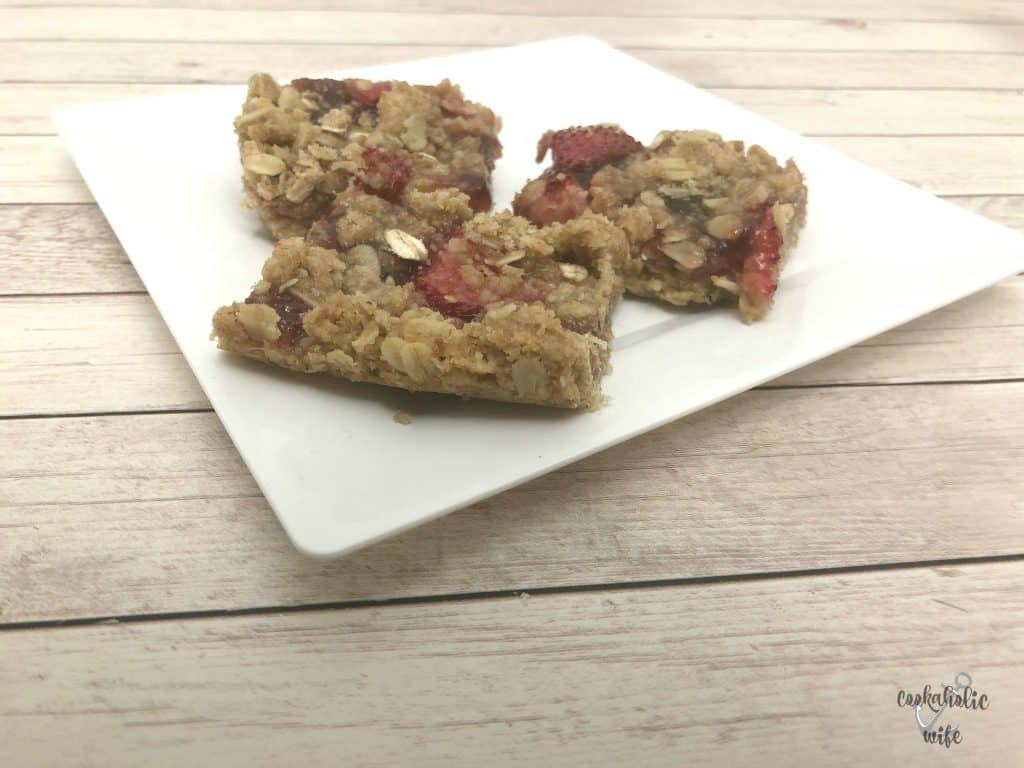 So with no rhubarb and it being a main ingredient, I had to get creative. Cooking with frozen rhubarb is nearly impossible because of the way it holds onto water once frozen. Have you ever frozen celery or bell peppers and then cooked them? They get mushy and add too much water to the recipe. Same thing with rhubarb, so I decided to use a premade strawberry rhubarb jam for the basis of this recipe and only add a minimal amount of the fresh (well, frozen) stuff in order to not make this soggy.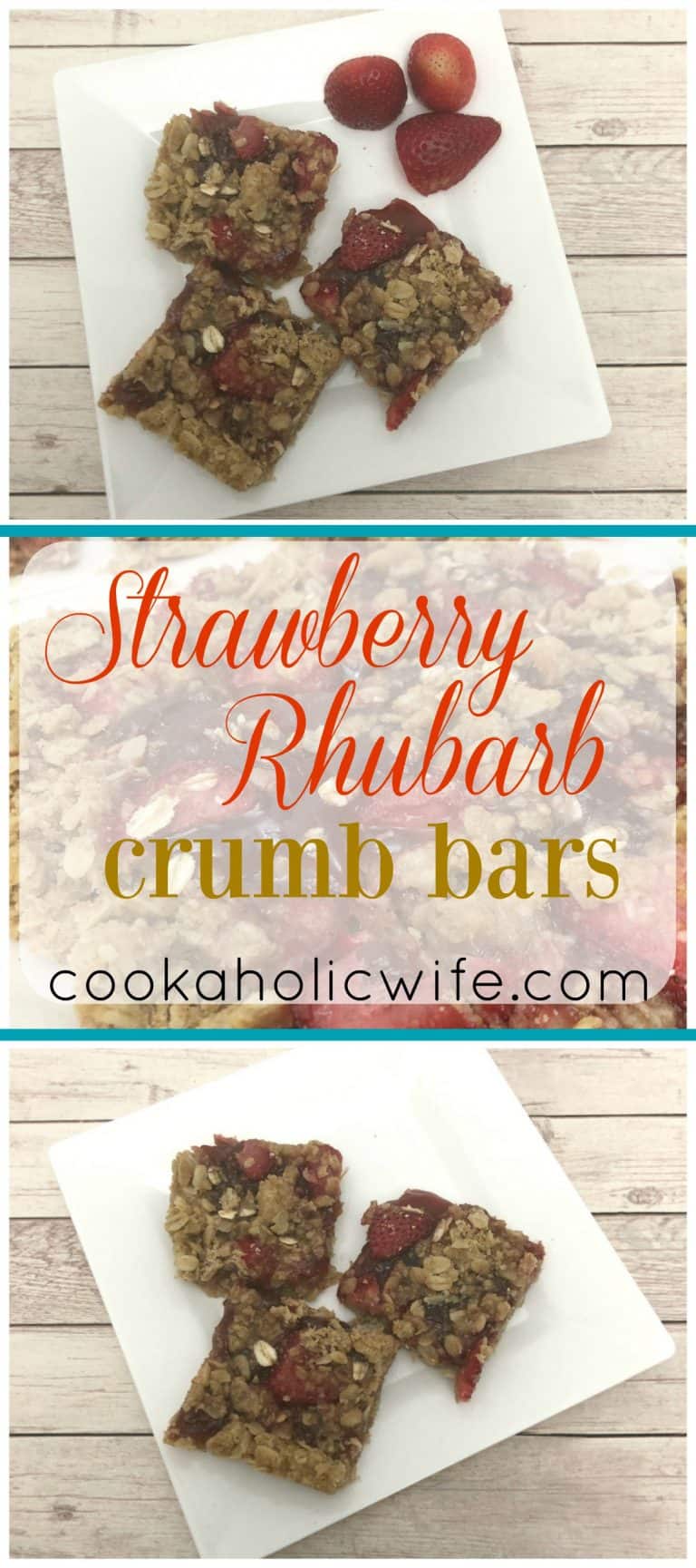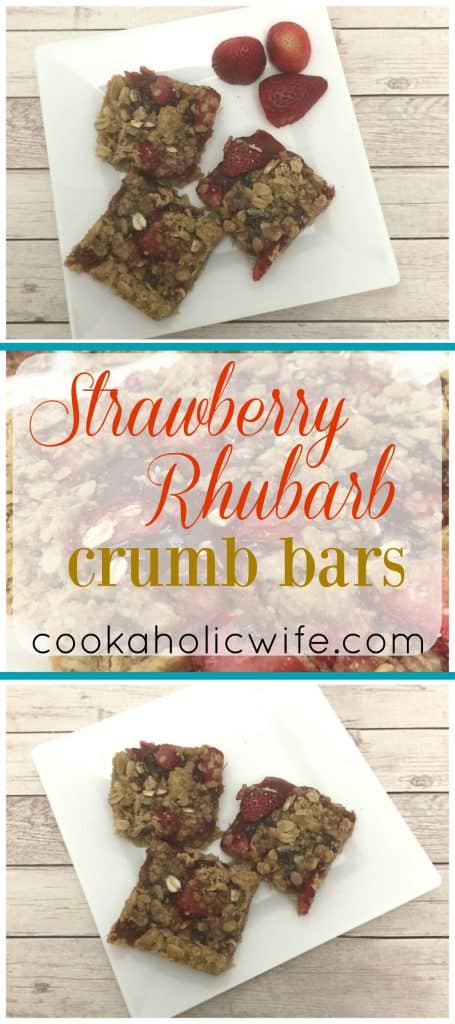 I was crossing my fingers the entire time this was in the oven hoping that it was going to turn out and luckily, it did! Using a strawberry rhubarb jam makes this much sweeter than it would using fresh rhubarb which is pretty tart. I would love to make my own rhubarb jam with lesser sugar and then use that in this recipe to see how it turns out.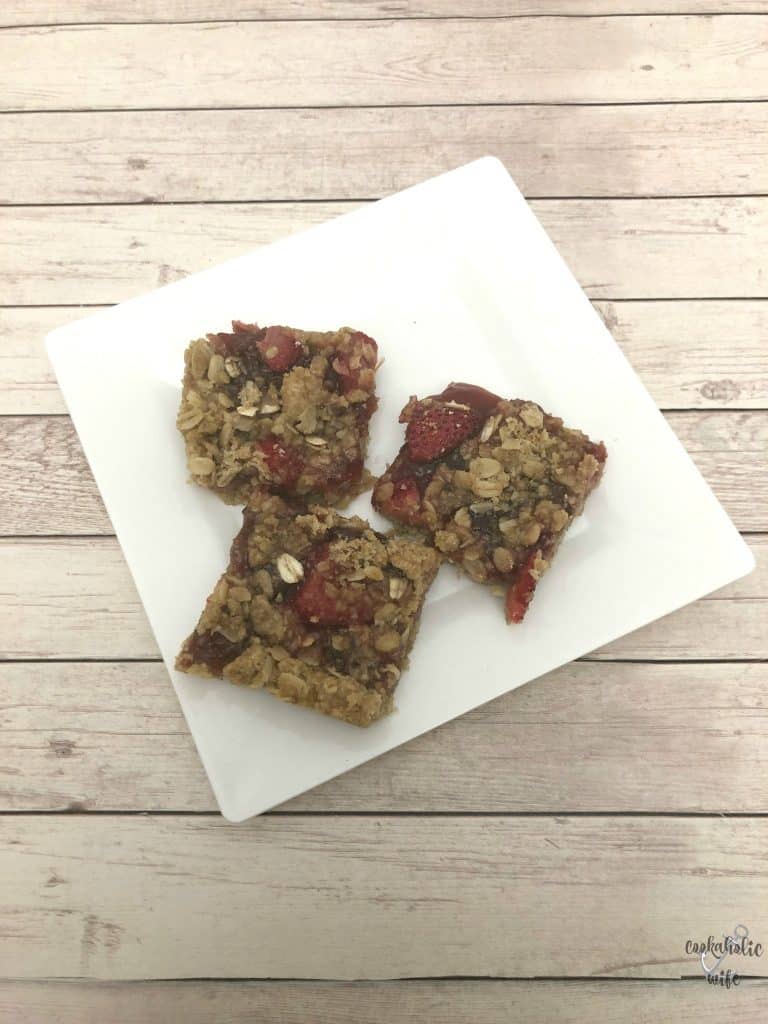 Crumbly and sweet, these bars are so good!
The #ImprovCookingChallenge is a monthly blogging event where two ingredients are assigned to a month. Bloggers can make any recipe they like as long as it features the two ingredients. If you are a blogger and would like to join us, please visit our Facebook page. You can also read more about the event on our our home page.  If you'd like to see previous creations, check out our Pinterest board.
Strawberry & Rhubarb
Recipe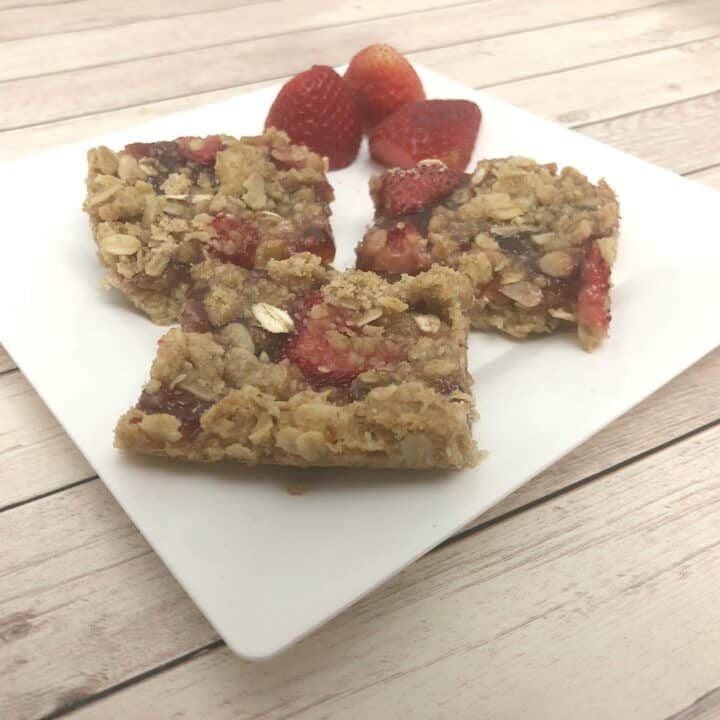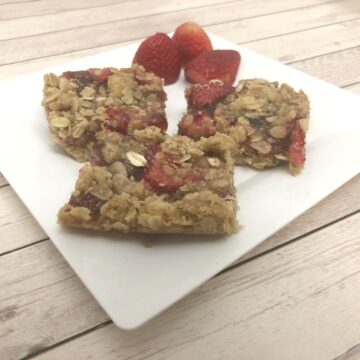 Strawberry Rhubarb Crumb Bars
Strawberry Rhubarb Crumb Bars are made with an oatmeal crust, topped with jam, berries and rhubarb and are baked to sweetened perfection, only using 8 ingredients!
Ingredients
For the Crust:
2

cups

old-fashioned oats

1

cup

whole wheat flour

or all-purpose

⅔

cup

brown sugar

1 ½

sticks unsalted butter

chilled

½

teaspoon

salt
Strawberry Rhubarb Topping:
9

oz.

strawberry rhubarb jam

¼

cup

fresh strawberries

chopped

¼

cup

frozen rhubarb

thawed and patted dry
Directions
INSTRUCTIONS
Preheat the oven to 350 degrees. Line a 9×13 baking dish with parchment paper.

In a large bowl, whisk together the oatmeal, flour, brown sugar and salt.

Cut the butter into pieces and add to the bowl. Use a pastry cutter or two forks to cut the butter into the flour mixture until it resembles coarse crumbs.

Set aside 1 cup of the mixture.

Press the remaining mixture into the prepared baking dish into an even layer.

Bake for 20 minutes or until golden brown.

Remove from the oven and let cool for 10 minutes.

Spread the strawberry rhubarb jam on top of the crust. Add the strawberries and rhubarb on top and then sprinkle the remaining crumb mixture on top.

Bake for 35 minutes or until the top is golden brown.

Cool to room temperature and then refrigerate for 2 hours (or up to overnight) before slicing and serving in 16 squares.
Notes
The crust will be thin and crumbly. Allowing it to harden up in the refrigerator before slicing makes it easier to cut into bars.
Recipes on Cookaholic Wife are for information purposes only. Nutritional Data provided has not been evaluated by a nutritionist.