I'm terrible at eating on the weekends. During the week, I tend not to have a lot going on, but my weekends are always super busy. Even if it's not running errands, there are recipes to make and blog, photographs to take and edit and now a house that never seems like it's going to stay clean for more than a few hours.
So I wake up on the weekend and within 30 minutes I'm in go-mode for at least the next couple of hours, which is great for getting a lot of things done, but absolutely terrible for my metabolism because I pretty much starve myself until my stomach is growling so loudly that I have no choice but to stop ignoring its pleas for food.
Of course, when I get to this level of hungry, there is absolutely no interest in eating something that is going to take more than 5 minutes to prepare. I then have to rely on ingredients that can quickly come together, such as a sandwich, or resort to bags of microwave popcorn. Let's not talk about the number of bags of microwave popcorn I go through in a month though, okay?
This recipe came from one of those hungry afternoons where I needed to quickly put something together to eat. A few days before I had picked up some crackers from the grocery store. I prefer eating crackers to bread, but hardly ever remember to pick up a new box after I finish the last one. In addition to the crackers, there was deli turkey and sharp white cheddar cheese. While those three could have been enough on their own, it was the weekend where I had made the cranberry-apple jam and had a little bit leftover that wouldn't fit into a canning jar.
Turkey and cranberry is a delicious combination for Thanksgiving, but I love it at any time of the year. You could make this using leftover turkey from Thanksgiving or using deli turkey at any time of the year. If you don't have a cranberry jam, you could use cranberry sauce or any other fruit-flavored jam.
Recipe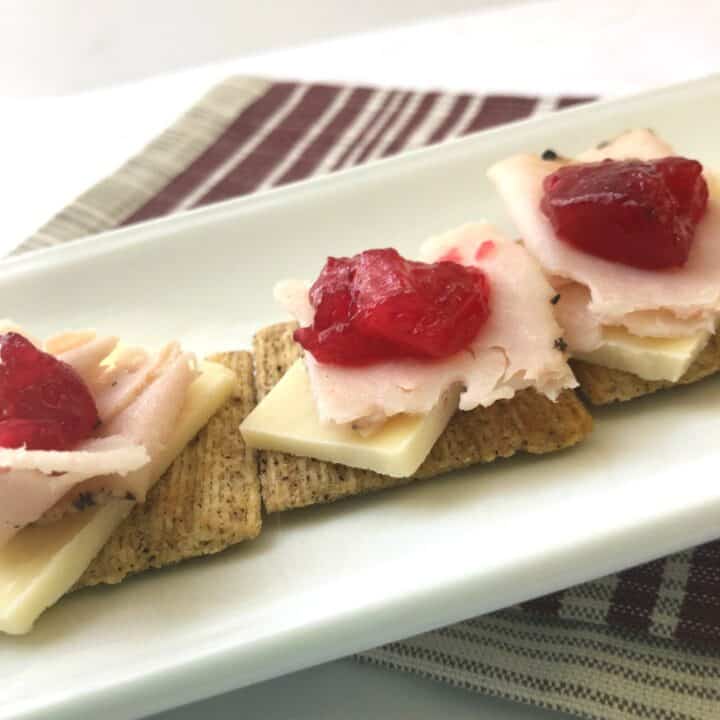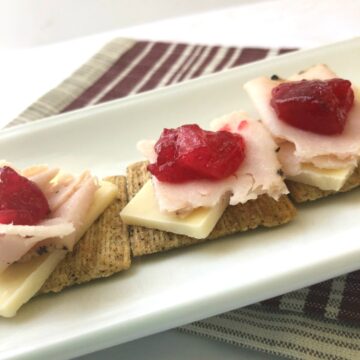 Turkey Cranberry Cracker Bites
An easy appetizer that can be made using deli turkey meat or leftovers from Thanksgiving.
Ingredients
12

crackers

such as Triscuits

12

squares sharp white cheddar cheese

3

slices

deli turkey

½

cup

cranberry apple jam
Directions
Arrange 12 crackers on a plate. Place a square on cheese on top.

Divide each piece of deli turkey into quarters and place on top of the cheese.

Top with a small dollop of the cranberry apple jam. Serve immediately.
Recipes on Cookaholic Wife are for information purposes only. Nutritional Data provided has not been evaluated by a nutritionist.
These little cracker bites come together in a matter of minutes so they're perfect for those starving afternoons or a quick snack to whip up for kids after school. Or, you could always serve them to those unexpected guests that you had no idea were visiting.