I love cherries but hate how expensive they are. For such a small fruit that requires a decent amount of work, they're pretty darn expensive! I went a bit overboard on buying them when they were on sale at the grocery store. I had planned out a dinner and dessert involving them with some extras left over for snacks. After making the dinner and dessert, I still had quite a bit left over. So I randomly decided to make cherry sorbet without the help of my KitchenAid Ice Cream Maker, because my freezer was too full to hold the bowl.
Recipe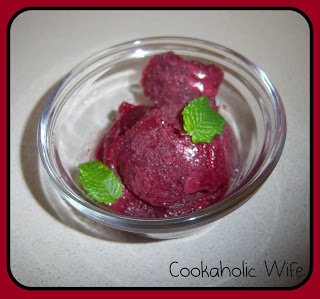 Cherry Sorbet
4 ingredient easy sorbet made using fresh cherries.
Ingredients
½

lb.

fresh cherries

pitted

½

cup

water

2

tablespoon

sugar

1

teaspoon

lemon juice
Directions
1. In a medium saucepan, add the water, sugar and lemon juice over medium-high heat. Stir constantly until the sugar has dissolved.

2. Add the cherries to the saucepan and bring to a boil. Remove from the heat and let cool slightly.

3. Transfer the mixture to the blender and pulse until smooth.

4. Place a mesh sieve over a plastic container and strain the cherry mixture, discarding any pieces large pieces of skin.

5. Seal the container and refrigerate for 6 hours to overnight.
Recipes on Cookaholic Wife are for information purposes only. Nutritional Data provided has not been evaluated by a nutritionist.