Disclaimer: I receive free products to use in my recipes. All thoughts and opinions are my own. 

Edible cookie dough is like the new biggest thing. For years people have been sneaking hunks of traditionally prepared cookie dough, ignoring the warning that you're not supposed to eat it, and now finally we don't have to worry about that anymore.
To be honest, I kinda feel like a part of my childhood has been destroyed. I mean, really, isn't part of the fun in eating the cookie dough the fact that you're not supposed to do it? Anyway, I needed to check out this version free of raw eggs and flour and see what everyone was getting all excited over.
Seeing that this is part of Choctoberfest, chocolate was a given. But should I go classic with chocolate chip cookie dough? It was tempting, but then I received my items from Davis Chocolate and one small handful of their peanut butter chips had me quickly deciding that chocolate peanut butter was the flavor I needed to make.
Those peanut butter chips are pretty cool. Not only are they the only organic peanut butter chips available, but they're also soy and dairy free. As I've mentioned oh a thousand times or so, I'm lactose intolerant and while typically small amounts of dairy don't bother me, sometimes when it's combined with other ingredients (say, eggs and butter to make cookies), I end up feeling crappy.
As I've also mentioned before, one of my coworker's is vegan, and lately I've had a lot of fun trying out recipes for baked goods where dairy isn't included or is substituted.
Recipe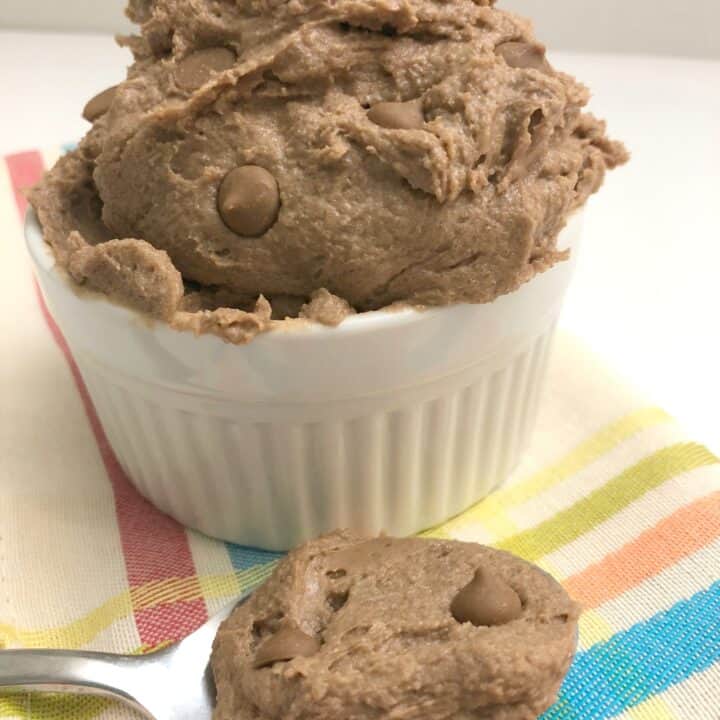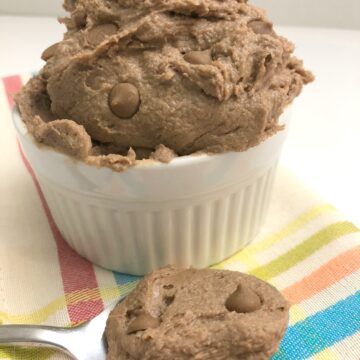 #Choctoberfest: Edible Chocolate Peanut Butter Cookie Dough
Edible chocolate peanut butter cookie dough is easy to make at home.
Ingredients
¾

cup

all purpose flour

1

stick unsalted butter

softened

⅔

cup

brown sugar

such as Imperial Sugar

⅓

cup

peanut butter

1

cup

peanut butter chips

such as Peanutta chips from Davis Chocolate

2

tablespoon

cocoa powder

1

tablespoon

vanilla extract

1

teaspoon

salt
Directions
1. Preheat the oven to 350 degrees. Line a baking sheet with parchment paper.

2. Spread flour out evenly on the parchment paper and bake for 5 minutes.

3. In the bowl of your stand mixer, add the butter and brown sugar and beat on medium speed until combined and creamy. Add the peanut butter, cocoa powder, vanilla and salt and mix until combined.

4. Slowly add in the cooked flour, mixing until combined then add in the peanut butter chips.

5. Try not to eat it all yourself. 🙂
Recipes on Cookaholic Wife are for information purposes only. Nutritional Data provided has not been evaluated by a nutritionist.
If it isn't obvious already, you NEED this in your life. 
Don't forget to enter the giveaway! You can find it here, on Monday's welcome post.