Disclaimer: I received extracts from Nielsen-Massey Vanillas in exchange for creating this recipe. All opinions are my own.
About two weeks ago we had our holiday party for work. I work with all guys and the holiday party is usually when I meet their significant others. We have a quite a few new people working with us so there were a bunch I hadn't met before.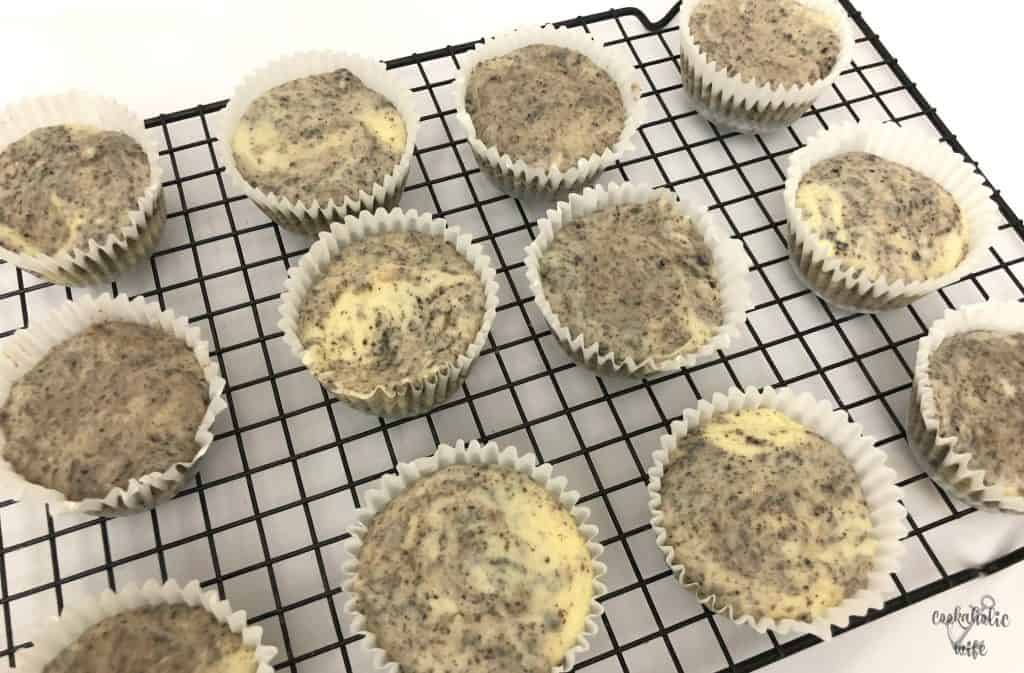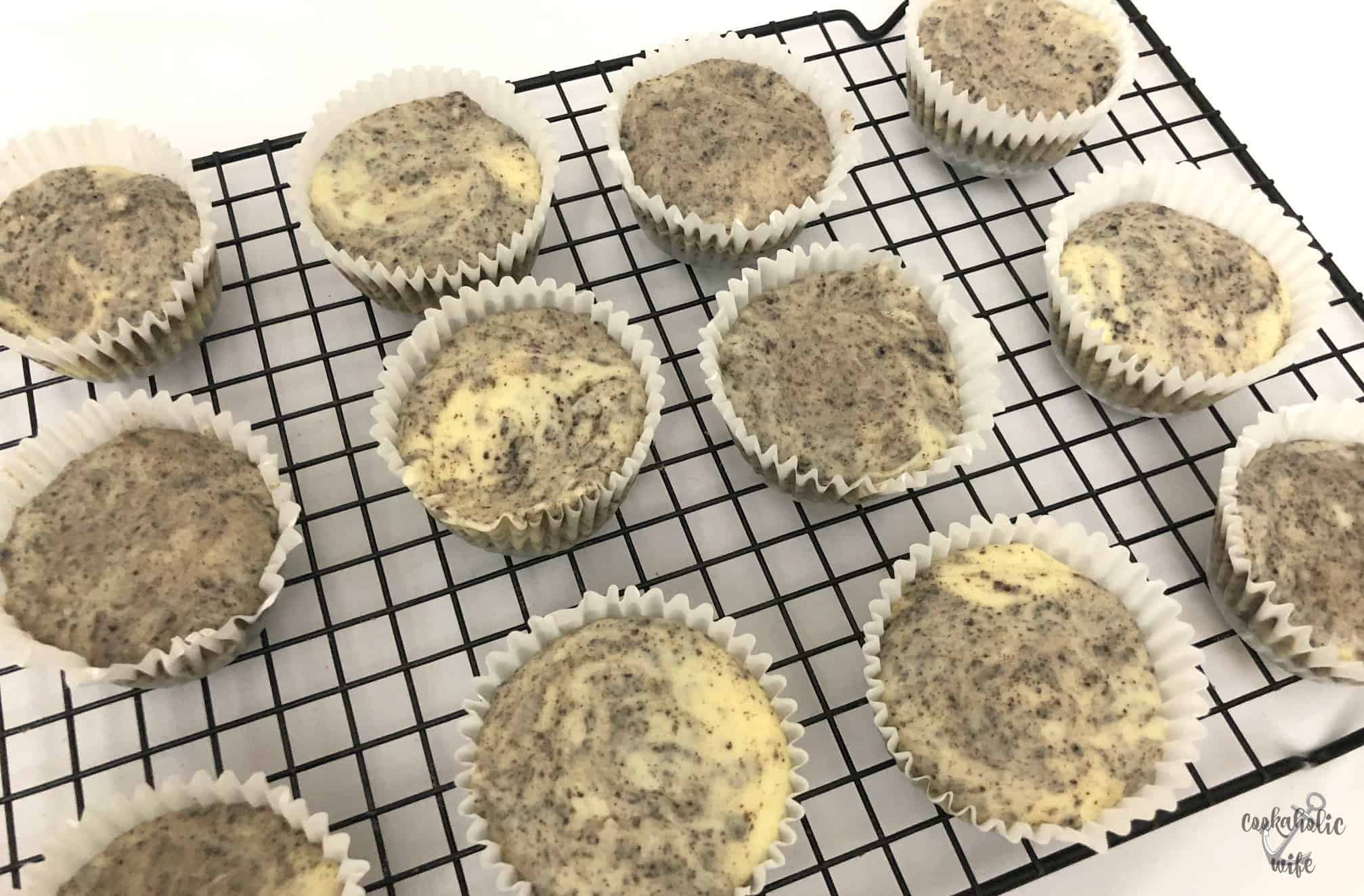 The introduction always goes the same way. "This is Nichole. She's the one that bakes all the stuff." It doesn't matter that I'm the bookkeeper or the human resources person or that I have to occasionally yell at them all to empty the trash cans, I am always introduced the same way. "The one who bakes all the stuff." I found out that a few of my coworkers even take pictures of what I bring in and text it to their girlfriends. This cracks me up.
Anyway, the restaurant where we had our party offered us a dessert menu which was full of different types of cheesecake. Of course, this got them talking and asking me when I was going to make a cheesecake for them. I said that I would do cheesecake cupcakes instead.
So, here we are.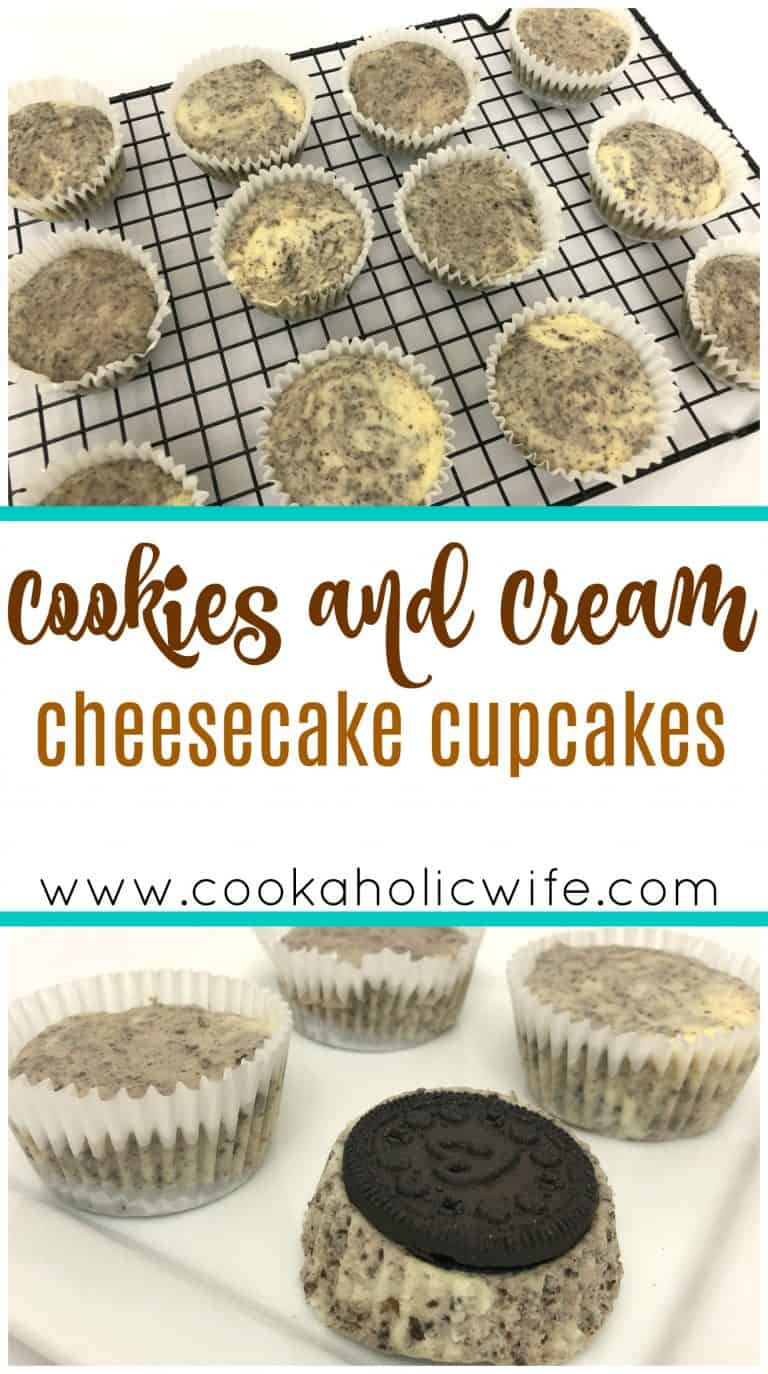 Recipe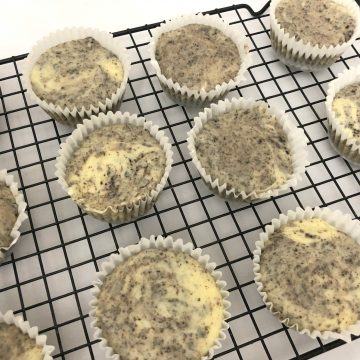 Cookies and Cream Cheesecake Cupcakes
Cookies and Cream Cheesecake Cupcakes are made with only 6 ingredients and come in perfect individual portions. 
Ingredients
36

chocolate sandwich cookies

24

oz

cream cheese

at room temperature (3 bricks)

¾

cup

sugar

3

large

eggs

lightly beaten

1

teaspoon

vanilla extract

½

tsp

salt
Directions
Preheat the oven to 375 degrees. Line two cupcake pans with liners.

Place a whole sandwich cookie (24 total) into each cupcake liner.Take the remaining 12 sandwich cookies and place them in a food processor. Pulse until smooth, about 2 minutes. 

In the bowl of a stand mixer, beat the cream cheese on medium speed until smooth and whipped, about 3 minutes. Add in the sugar and mix for 3 more minutes.

With the mixer on low speed, slowly pour in some of the beaten egg and allow the mixer to mix until fully incorporated before adding more. 

Finally, add in the vanilla, salt and crumbs of the sandwich cookies, mixing for another minute. 

Divide the cream cheese mixture into each cupcake liner, filling each until almost full, about 2 heaping tablespoons, depending on the size of your cupcake pans.

 Bake for 11 minutes, then rotate the pans and bake for another 11 minutes.

Remove from the oven and cool on a wire rack for 1 hour, then transfer to the refrigerator and cool for 4 hours, but up to overnight. Serve chilled. 
Notes
If your cream cheese is not softened, place the foil wrapped cream cheese on a baking sheet and place in your oven while it is preheating. Flip over after 1 minute and remove within 3 minutes total. 
Nutrition
Calories:
215
kcal
Carbohydrates:
20
g
Protein:
3
g
Fat:
14
g
Saturated Fat:
7
g
Trans Fat:
1
g
Cholesterol:
54
mg
Sodium:
231
mg
Potassium:
87
mg
Fiber:
1
g
Sugar:
15
g
Vitamin A:
415
IU
Calcium:
35
mg
Iron:
2
mg
Recipes on Cookaholic Wife are for information purposes only. Nutritional Data provided has not been evaluated by a nutritionist.
I was contacted by Nielsen-Massey Vanillas a few months ago to participate in their #NielsenMasseyInspires campaign by sharing a recipe using their Nielsen-Massey Holiday Flavors Bundle. When I explained that I missed the deadline to share a recipe because I'd been sick for over a month, they graciously let me still share a recipe with you.
While the holidays may be behind us, I use extracts year-round. The holiday bundle included their Madagascar Bourbon Pure Vanilla, Pure Almond and Pure Peppermint extracts. I know the name says "pure" but you can really taste the difference in your products and I hope that you'll purchase them to use in your own baking endeavors.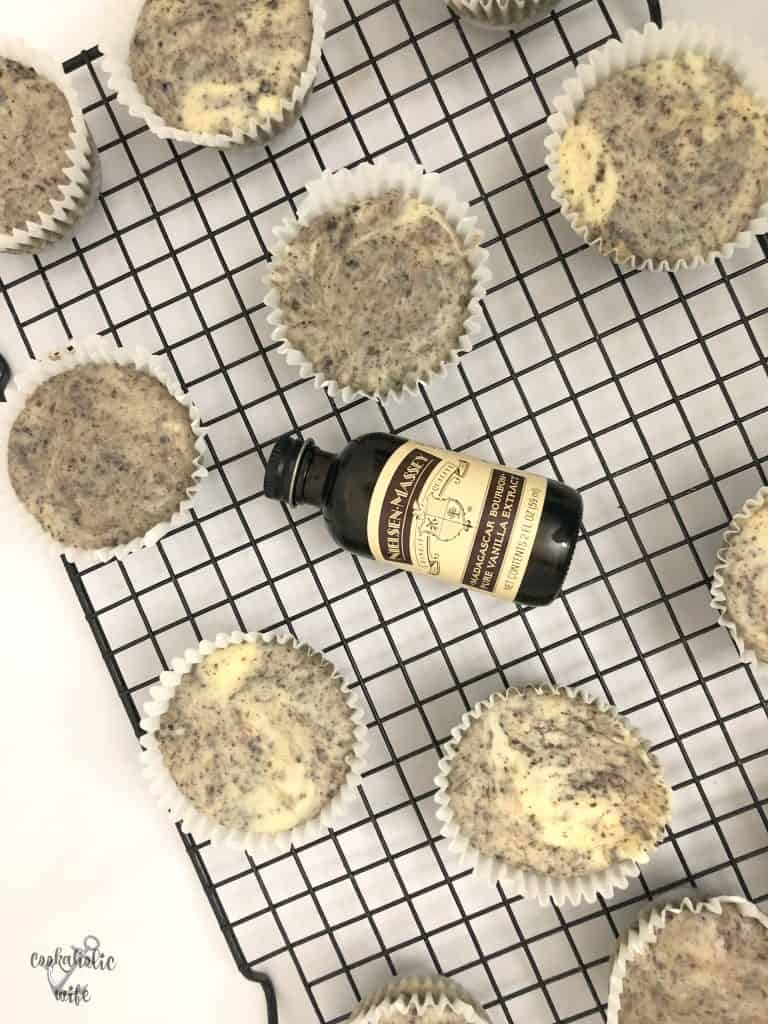 Now back to these cheesecake cupcakes...
Sweet. Light. Decadent. Perfectly portioned.
I love when my coworkers give me requests. Feeding people makes me happy. (Side note: I actually debated on changing my tag line to that.) There's just something about taking ingredients and turning it into something that people love. As expected, these cupcakes were devoured in no time at all.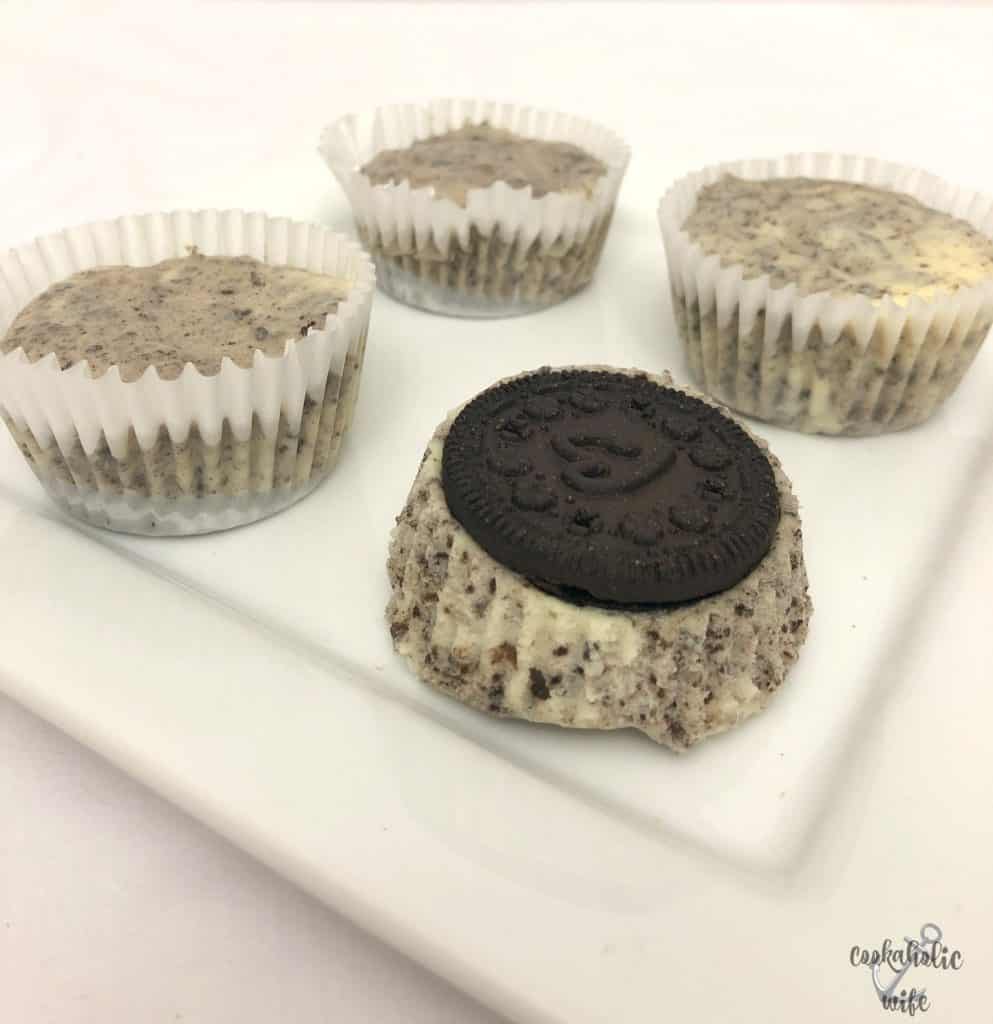 Picture this...the cupcakes were brought in a cupcake carrying case and placed on the counter of the lunchroom at 9:00 am. Lunchtime rolls around and I enter the lunchroom to find the lid of the carrier askew, the cupcakes entirely devoured and nothing left in the carrier, not even a crumb. The trash can is full of paper liners.
And then, there was this. Every time I bring something in, I write what it is on a sticky note and attach it to the container. This time, I got a response.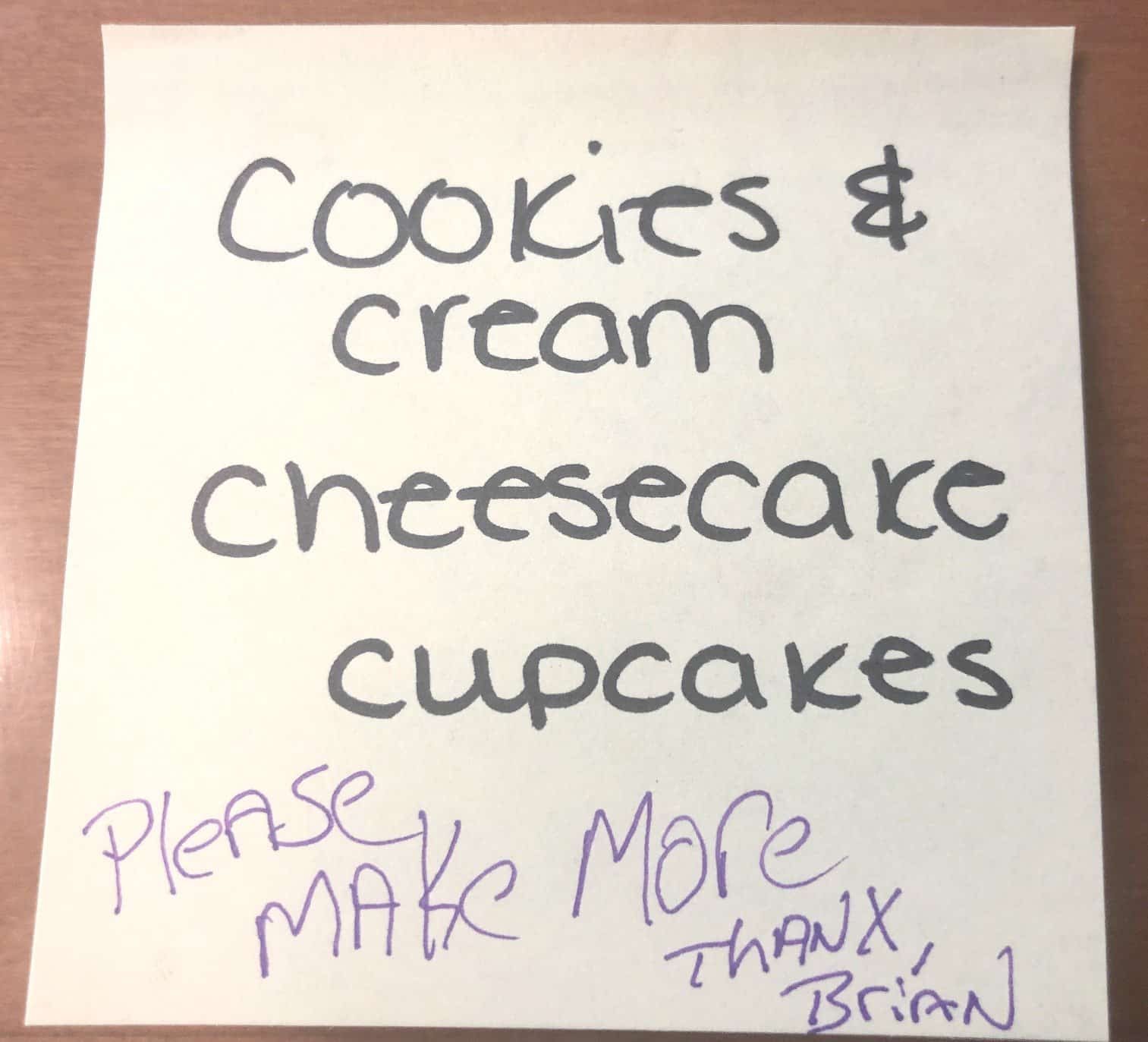 I bake because I love baking. There's something about precise measurements and exact ratios and the smell of something sweet wafting out of the oven that I find relaxing. Coming in a close second to the beach, my kitchen is my happy place. And of course the compliments are nice, but I don't do it for that. I do it because I love the process, I love the outcome and I love seeing the reactions of someone when they try something.