Crispy Chicken Cutlets with Butter-Chive Pasta and Arugula Salad is a quick weeknight meal sure to please any family member. Thin-pound chicken cutlets are coated in Panko breadcrumbs and pan fried. Linguine pasta is tossed with butter and fresh chives and the entire dish is rounded out with a simple arugula salad that encompasses all of the flavors of summer veggies and herbs.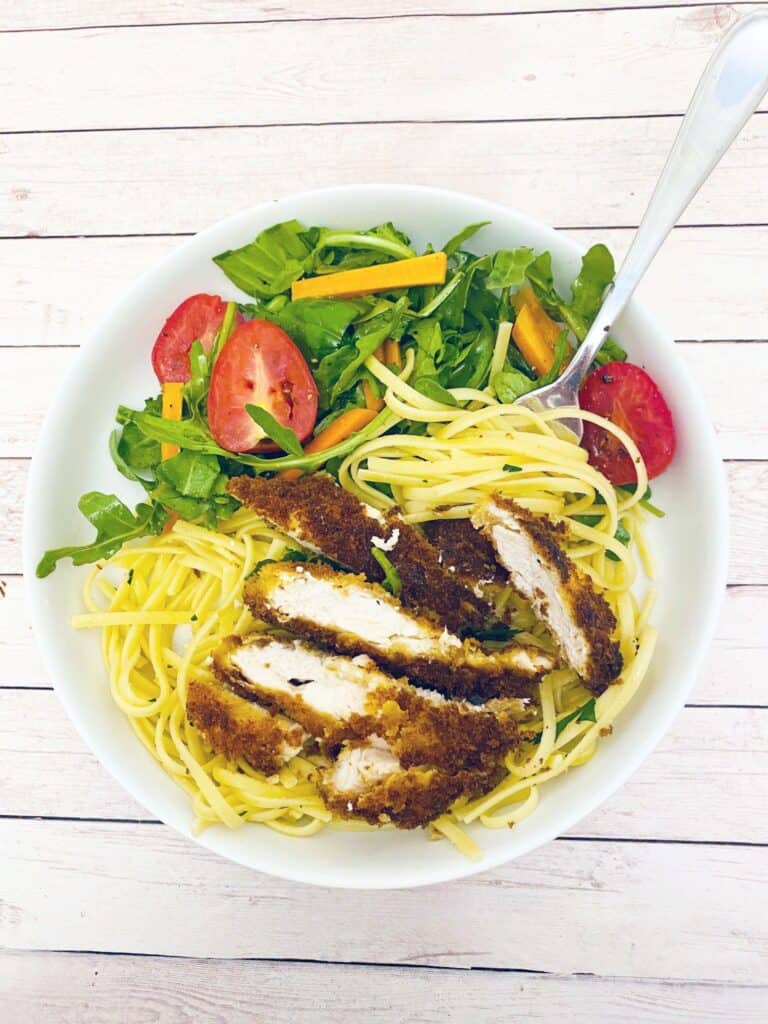 Original Recipe Posted: 06/01/2015 Updated Recipe Posted: 07/23/2020
I don't know about you, but I often struggle to come up with different side dishes that compliment the rest of the meal I am making. Growing up, we were very much a meat-potatoes-vegetable family and despite what I've tried, that still seems to be ingrained into my head. Meat gets a starch, starch gets a vegetable. I'm not the only one, right?
So when I came across this recipe in Cooking Light magazine, I was pretty shocked that I wanted to make the dish in it's entirety. Usually, the side dishes are something that I wouldn't be able to convince Tom to eat and then I'm stuck doing something boring and basic liked a baked potato.
But this? No, this I wanted to make exactly as it was listed. (Okay, let's be real - I knew there was no way I was going to get Tom to eat the salad, but that was something I was willing to accept)
What is Crispy Chicken Cutlets with Butter-Chive Pasta and Arugula Salad?
A mouthful of a recipe name,  but also a delicious meal that you can easily get onto the table with minimal fuss and work. This recipe takes a little over 30 minutes to prepare and cook.
Chicken cutlets are coated in a flour, egg wash, Panko mixture and then pan-fried in a little bit of oil. Linguine pasta is boiled and then tossed in butter and fresh chives. The arugula salad comes together with tomatoes, carrots, radish and fresh herbs like mint and parsley. It's finished with a simple olive oil and lemon juice dressing.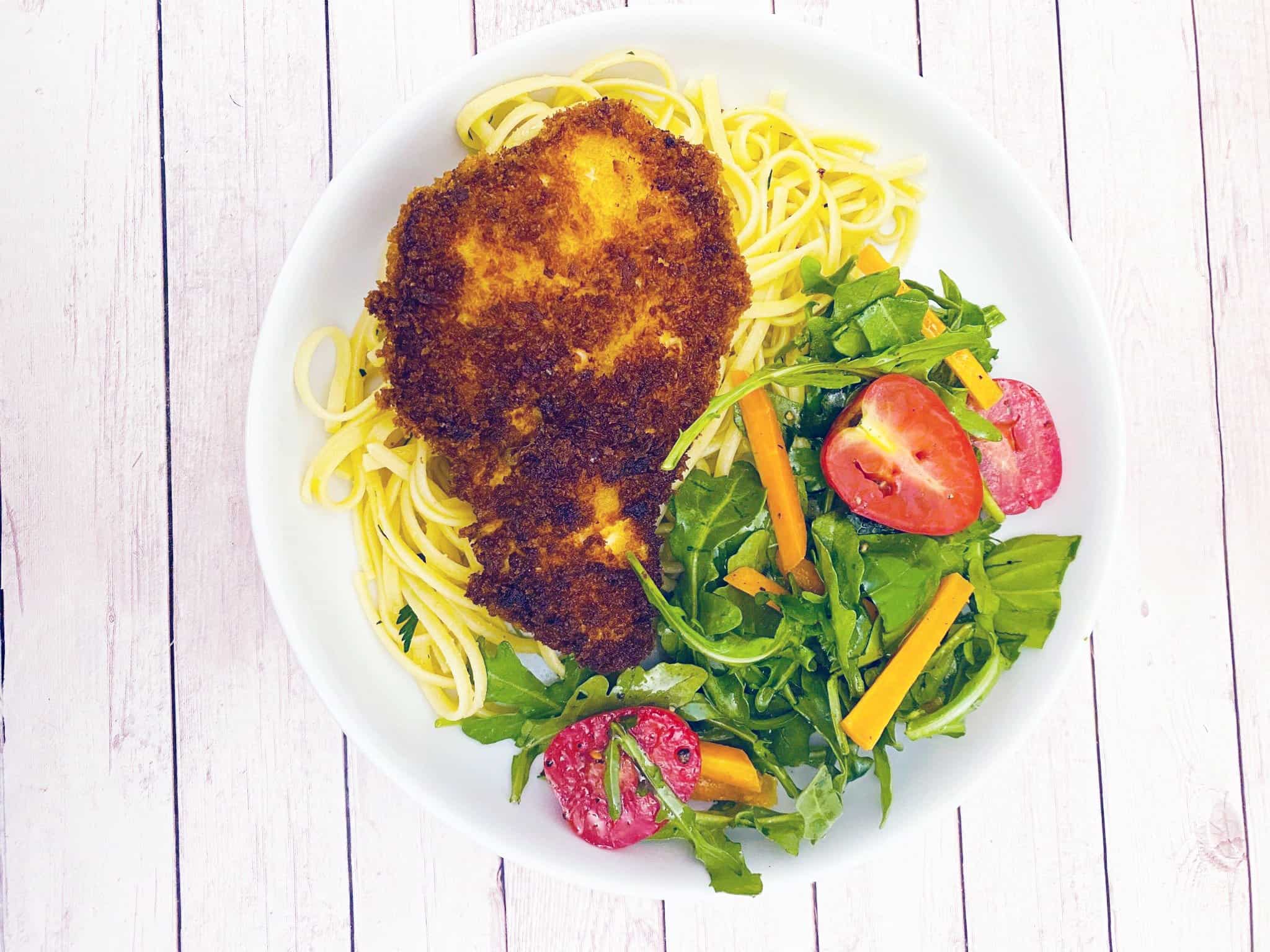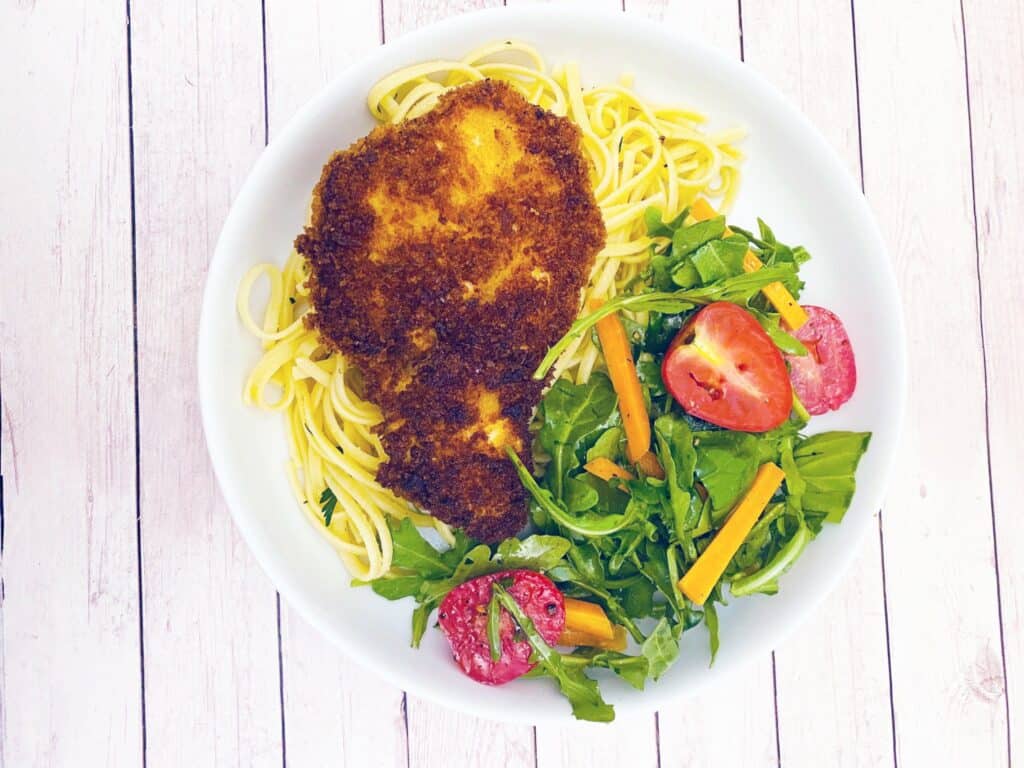 Ingredients for this dish:
Chicken Cutlets - chicken cutlets are trimmed, thinner chicken breasts. If you can't find them in the store it's easy to make your own. Just scroll down for the info
All Purpose Flour - the classic flour used for so many dishes is used for the first step in coating the chicken
Eggs - large eggs are used in this recipe to provide the egg wash on the chicken
Panko - Panko is a Japanese bread crumb that is larger than your traditional bread crumbs.
Linguine - this is a flatter, wider pasta noodle. However, you can use what you have on hand, such as fettuccine, spaghetti or angel hair
Butter - a decent quality butter will make this dish sing, but a standard unsalted butter will work just as well
Arugula - Arugula is a peppery, slightly bitter leaf that pairs really well with this dish because of the other simple flavors
Veggies - carrots, radish and cherry tomatoes are used to make up the salad, but you can use anything you have on hand
Herbs - fresh chives are used in the pasta for a light onion flavor. Mint and parsley are added to the salad for additional flavor
What are chicken cutlets?
A chicken cutlet is simply a trimmed, smaller chicken breast. In this recipe, the chicken cutlets are pounded out to an even thickness. This ensures that they will all cook through at the same time and you'll be able to get dinner on the table quickly.
If you can't find chicken cutlets in the store, you can easily slice a chicken breast in half lengthwise. Boom, chicken cutlets are made!
Why should I use Panko bread crumbs?
Because they're the best?
No, not good enough? Okay, so Panko is a larger bread crumb than the others you can find in the store. It's typically used in Japanese cuisine because it creates a crispier, crunchier coating. A smaller breadcrumb, like the other types that you can find in the grocery store is much smaller and will not get as crispy.
Of course, if all you have is regular breadcrumbs, go for it. It won't make the dish any less delicious, but it will change the texture as it's just not as crispy. ...I've typed "crispy" so many times it's lost all meaning now...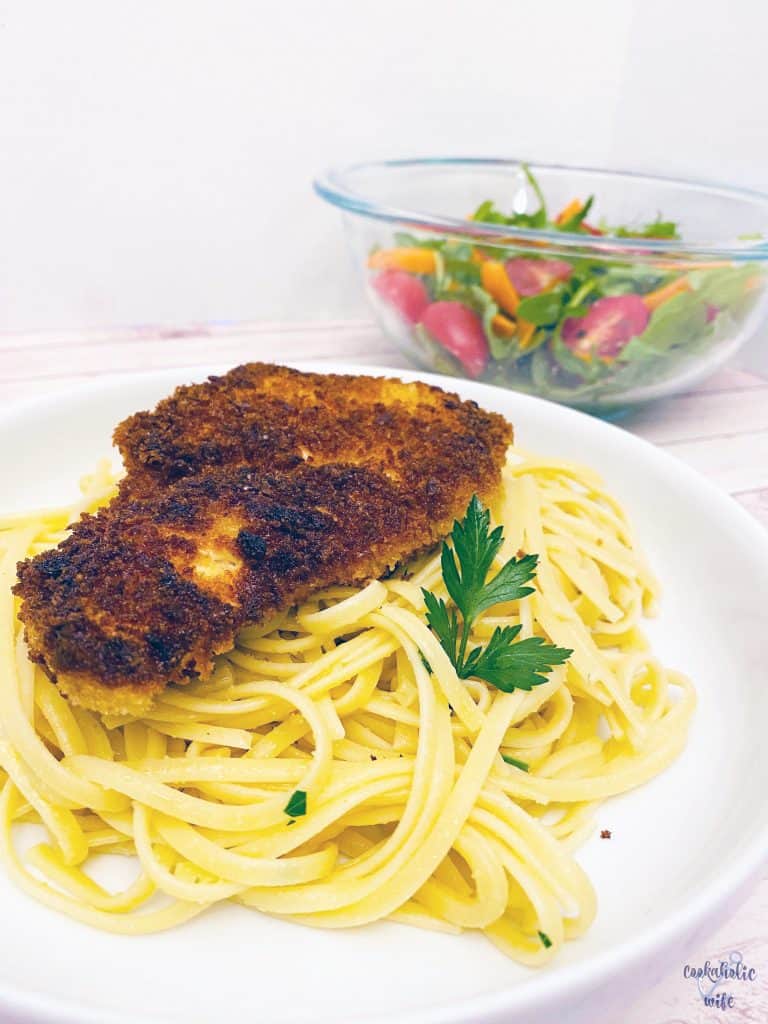 How to make this recipe:
The pasta takes the longest, so start there. Bring salted water to a boil and then add in your pasta.
Cook according to package directions, then drain. Stir in butter and fresh chives. Place a lid on the pot to keep warm while you're finishing up the rest.
While your pasta is boiling, grab 3 dishes a little bigger than the chicken cutlets. Add the flour, paprika, salt and pepper to one. Whisk the eggs in the other and add the Panko into the third.
Pat your chicken cutlets dry with a paper towel, then dip into the flour, followed by the egg wash, then into the Panko. Shake off excess and place onto a plate until ready to cook.
Heat the oil over medium high heat. Cook the chicken for 3-4 minutes on each side, until it reaches an internal temperature of 165 degrees F.
While the chicken is cooking, cut up your carrot and radish for the salad. Add all salad ingredients into a bowl. Wait until the entire dish is done to drizzle the olive oil and lemon juice on top. You don't want the arugula to wilt!
Substitutions and additions for this recipe:
If you aren't a chicken eater, replace the chicken cutlets with thin-sliced boneless pork chops
Replace the pasta with a whole wheat version, rice or something like zucchini noodles
Add a little more flavor to the chicken by adding 1 tablespoon of hot sauce to the egg wash
Don't have fresh herbs? Used dried!
SAVE THIS RECIPE FOR LATER! PIN IT TO YOUR FAVORITE PINTEREST BOARD AND FOLLOW ME AT COOKAHOLIC WIFE FOR MORE DELICIOUS RECIPES!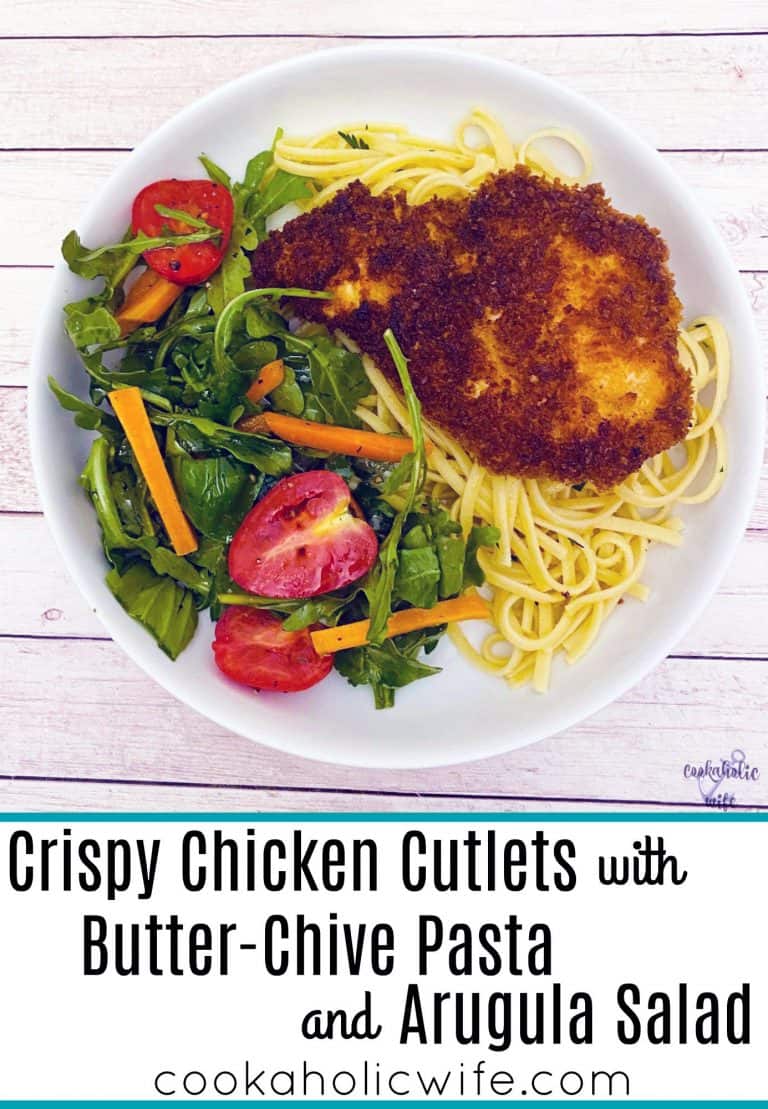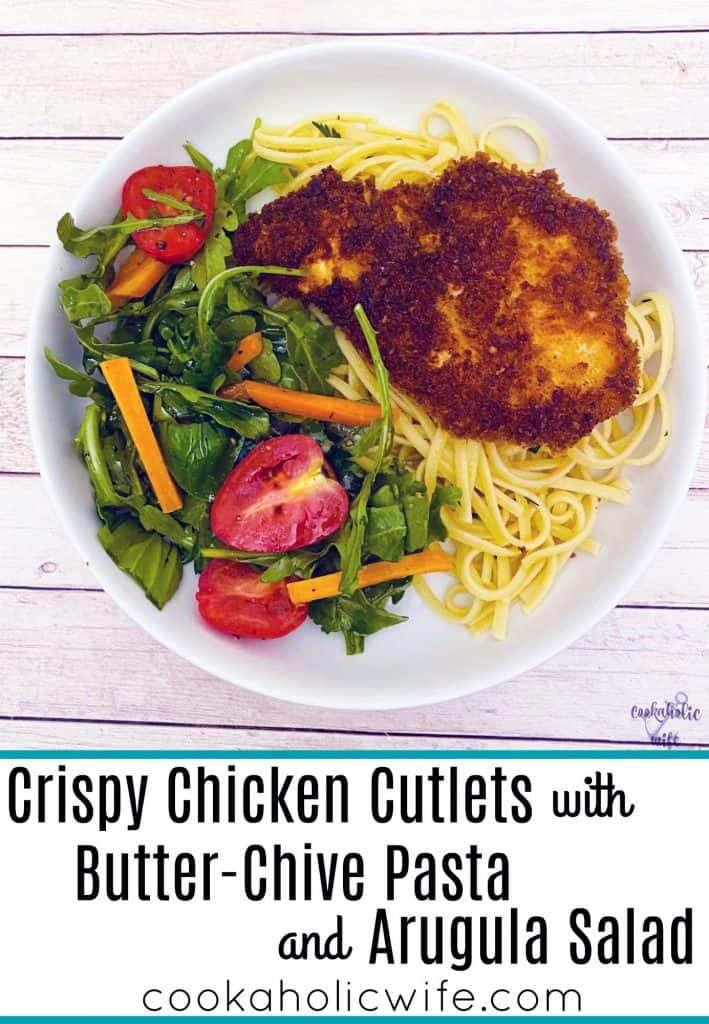 Recipe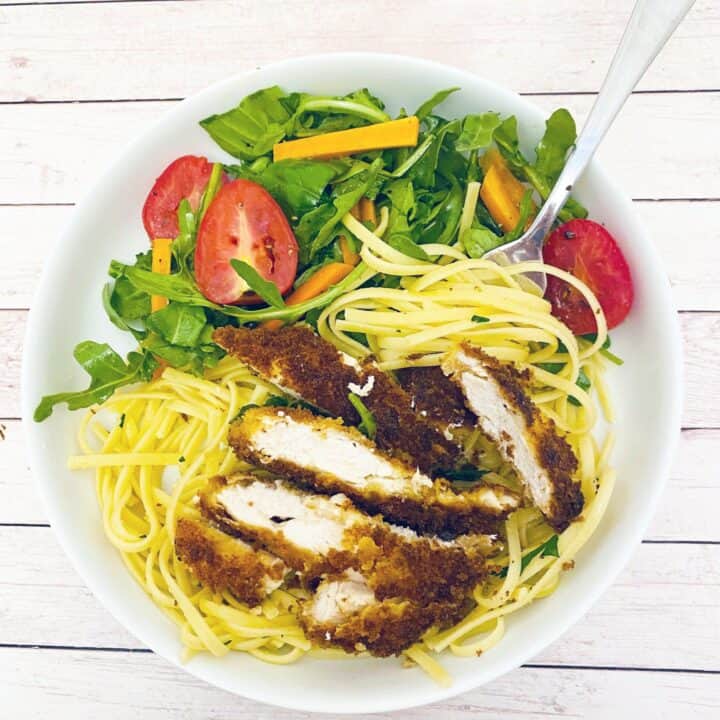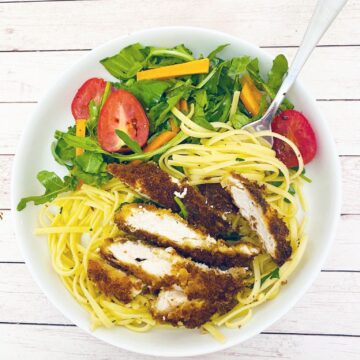 Crispy Chicken Cutlets with Butter-Chive Pasta and Arugula Salad
Crispy Chicken Cutlets with Butter-Chive Pasta and Arugula Salad is an all-inclusive dish with tons of flavor that can be on the dinner table in just about 30 minutes!
Ingredients
For the Chicken
4

chicken breast cutlets

(4-6 oz each)

½

cup

all purpose flour

2

large

eggs

1

cup

Panko bread crumbs

1

teaspoon

salt

1

teaspoon

pepper

1

teaspoon

paprika

⅛

cup

canola oil
For the Pasta
8

oz

linguine

4

tablespoon

unsalted butter

¼

cup

fresh chives

chopped
For the Salad
2

cups

arugula

½

cup

carrots

chopped

½

cup

cherry tomatoes

halved

2

radishes

sliced

¼

cup

fresh mint leaves

¼

cup

fresh parsley leaves

2

tablespoon

olive oil

2

tsp

lemon juice
Directions
For the Chicken
Place the chicken cutlets between two sheets of plastic wrap and pound them to even thickness.

Arrange 3 shallow dishes. Place the flour, salt, pepper and paprika in the first one. Whisk the eggs together in the second one. Add the Panko to the third one.

Pat chicken dry with a paper towel. Dip the chicken into the flour, then egg wash, then Panko, shaking to remove excess after each step.

Set chicken aside on a plate. Heat canola oil in a large skillet over medium high heat.

Cook chicken for 3-4 minutes per side, or until it reaches 165 degrees F at the thickest point.

Set chicken on a paper towel to absorb excess oil.
For the Pasta
Before prepping your chicken, bring a large pot of salted water to a boil.

Add pasta and cook according to package directions, usually 8 minutes.

Drain pasta and return to the pan.

Stir in the butter until melted and sprinkle the parsley on top. Set aside.
For the Salad
Combine arugula, carrots, cherry tomatoes, radish, mint and parsley in a large bowl.

When ready to serve, drizzle olive oil and lemon juice on top.
To Serve
Divide pasta among plates and top with the chicken cutlets. Add salad to the plate or serve in a bowl.
Nutrition
Calories:
618
kcal
Carbohydrates:
45
g
Protein:
35
g
Fat:
33
g
Saturated Fat:
10
g
Cholesterol:
195
mg
Sodium:
880
mg
Potassium:
701
mg
Fiber:
4
g
Sugar:
3
g
Vitamin A:
4311
IU
Vitamin C:
17
mg
Calcium:
88
mg
Iron:
4
mg
Recipes on Cookaholic Wife are for information purposes only. Nutritional Data provided has not been evaluated by a nutritionist.