Day 3 of #FarmersMarketWeek! Have you enjoyed the recipes I've shared with you so far? I have one more after this one, scheduled for Friday. You've also checked out what the other bloggers have made right? Everything looks so delicious!
I had brought a thin-crust pizza dough to my aunts house with the intent to make a flatbread as an  quick lunch, but Mother Nature had blessed us with two really great sunny days and we decided to take advantage of those instead of spending time in the house. And then it was the evening before we were going to leave and I hadn't made it! We decided to have the flatbread as dinner, with neither of us being very hungry and with my uncle deciding he'd have his along with some steamed shrimp and corn on the cob.
I had brought along a zucchini as well, knowing I wanted to include that in the flatbread but other than that, I really had no idea what I was going to make. We decided to entirely wing it in the kitchen and the result was fantastic! For not being hungry due to a late lunch, my aunt and I both ate two pieces of this and debated on going back for thirds!
Recipe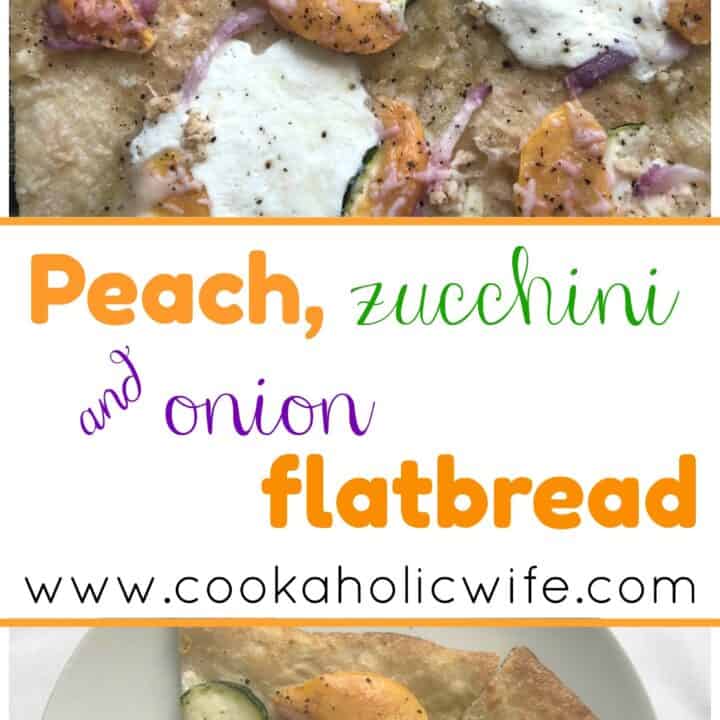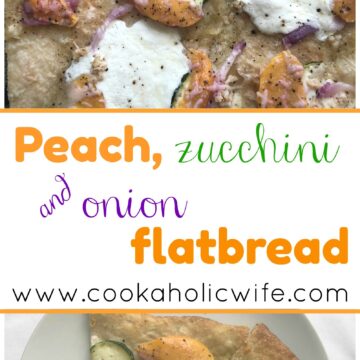 #FarmersMarketWeek: Peach, Zucchini and Onion Flatbread
Fresh peaches adorn this easy to make flatbread, along with garden fresh zucchini and onions.
Ingredients
1

teaspoon

cornmeal

1

thin crust refrigerated pizza dough

1

tablespoon

olive oil

¼

cup

grated Parmesan cheese

½

tablespoon

minced garlic

½

cup

zucchini

thinly sliced

½

cup

red onion

thinly sliced

1

peach

peeled and thinly sliced

3

oz.

fresh mozzarella cheese

1

cup

shredded mozzarella cheese
Directions
1. Preheat the oven to 425 degrees. Line a large baking sheet with foil.

2. Lightly dust the foil with cornmeal and then roll out the pizza dough on top, pressing to the edges of the baking sheet.

3. Brush the olive oil over the pizza dough and sprinkle with Parmesan cheese. Bake for 7 minutes or until lightly golden.

4. Arrange the zucchini, red onion, peaches and fresh mozzarella on top of the dough. Sprinkle the garlic on top and then toss the shredded mozzarella over everything.

5. Bake for another 7-8 minutes or until the cheeses have melted and the crust is lightly browned.

6. Let cool for 5 minutes before slicing and serving.
Recipes on Cookaholic Wife are for information purposes only. Nutritional Data provided has not been evaluated by a nutritionist.
It's sweet, it's salty and its full of great fresh flavors. We debated putting some roasted tomatoes on it or even proscuitto but in the end, decided to keep it as simple as possible as to not overload the thin crust and to allow the fresh flavors of the zucchini, onion and peach to really shine through.
Wednesday #FarmersMarketWeek Recipes