I'm back with another recipe for Holiday Side Dish week!
I've probably mentioned this a million times but my mom has never been a great cook. But one thing that she always did was make homemade mashed potatoes. I honestly didn't even know that you could get "mashed potatoes" from a box until I was in my early 20's. You peeled the potatoes, boiled them, mashed them with milk and butter and that's just the way it was. It was also one of the few recipes that picky childhood Nichole would eat without complaining, so I'm sure that's part of the reason why she continued to make them.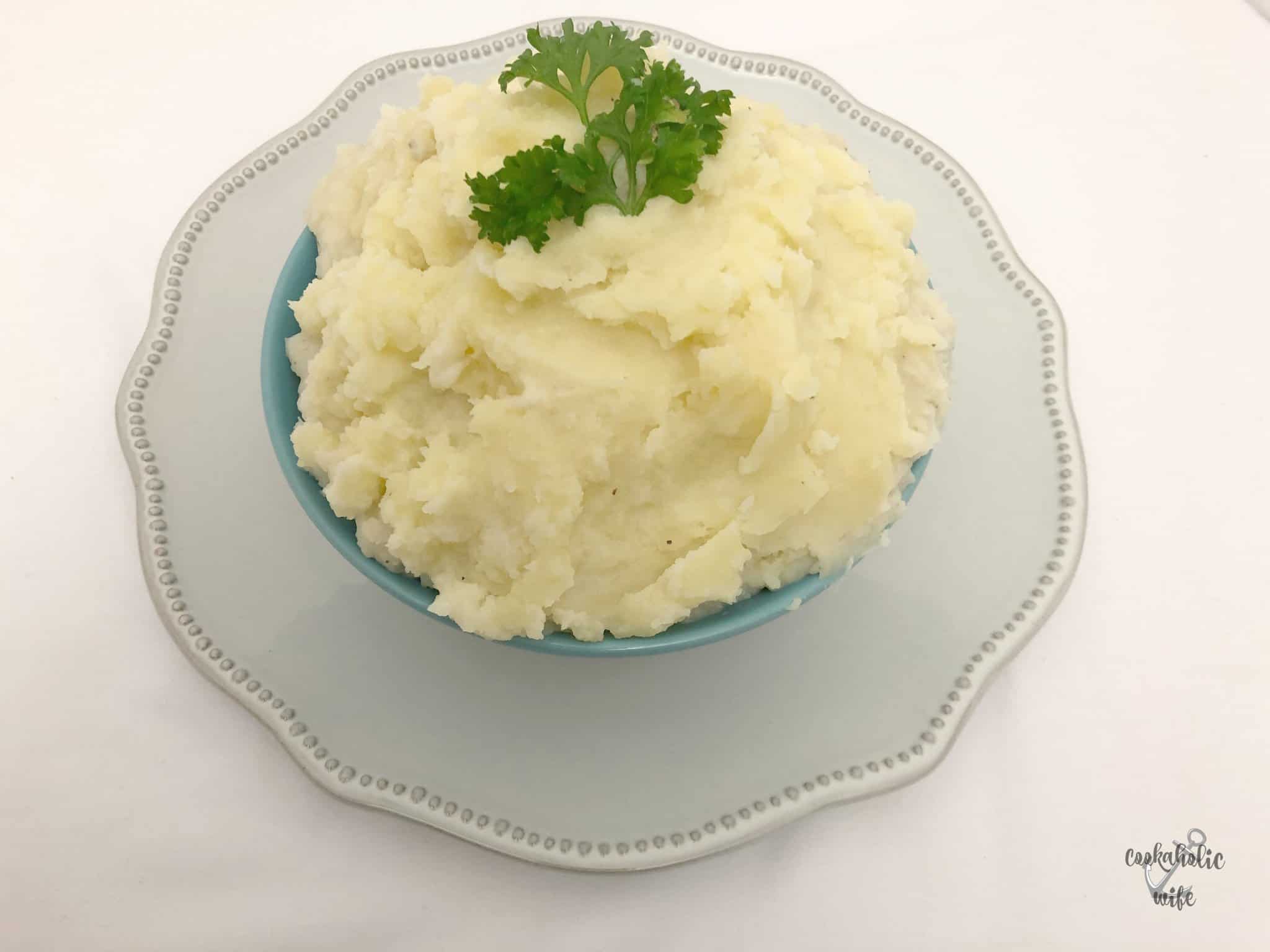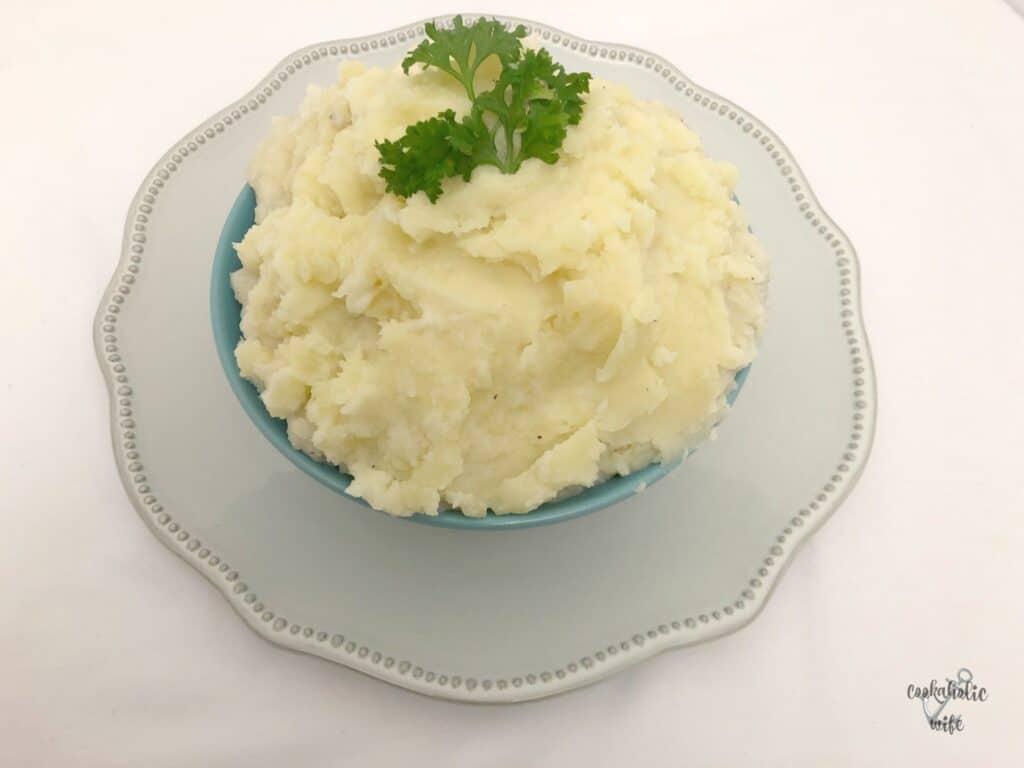 For years, I did the same thing. While I'd cave and used canned vegetables or pick up a cooked rotisserie chicken, I'd always make mashed potatoes from scratch. And then I got a job where I didn't get home until 6:30 pm. Which for a lot of people really isn't that late, but I like to go to bed around 10 pm. Most nights we don't eat dinner until at least 7:30 and I'm sure it would be even later if I kept making mashed potatoes from scratch. So I caved and we started getting the prepared ones that you can find in the refrigerator section.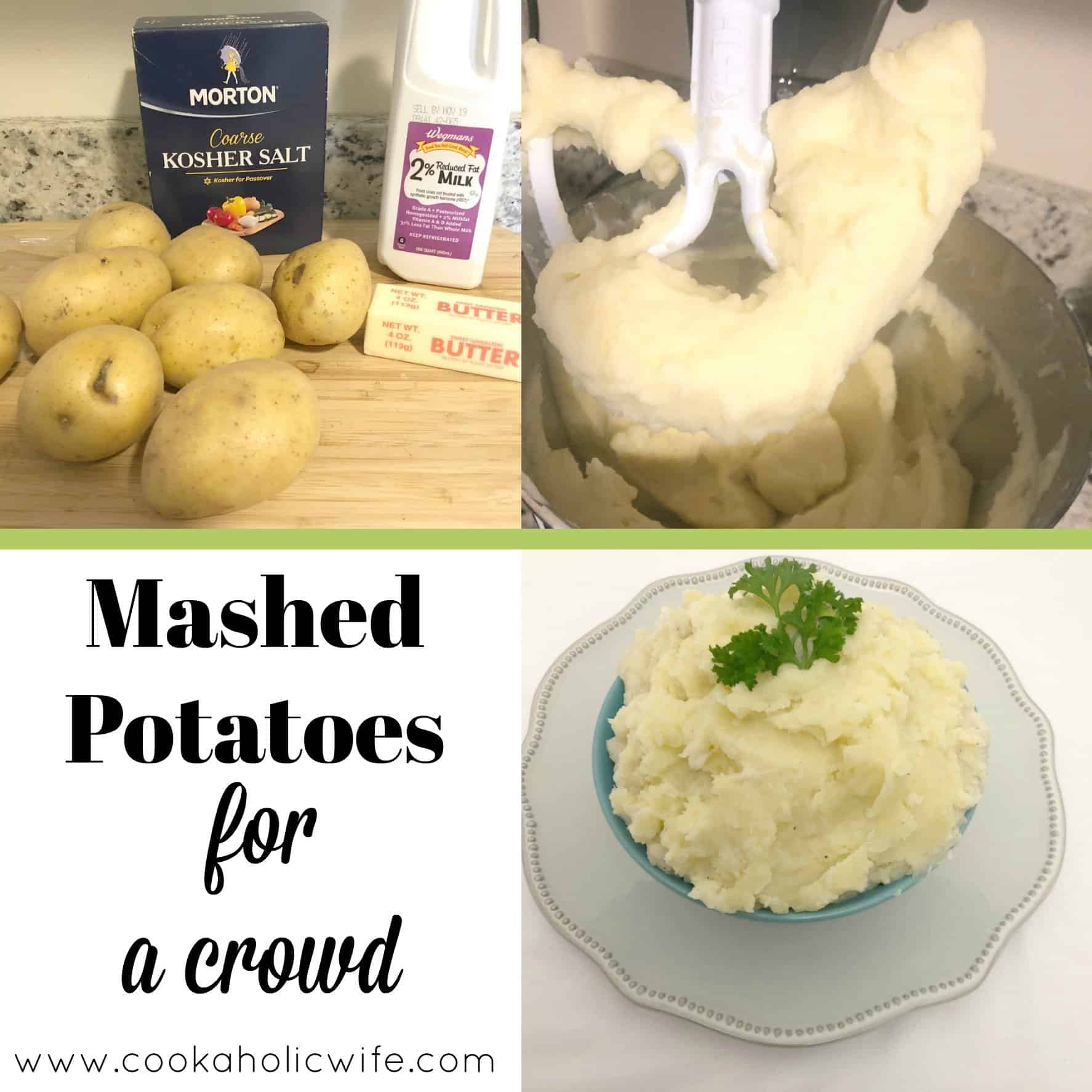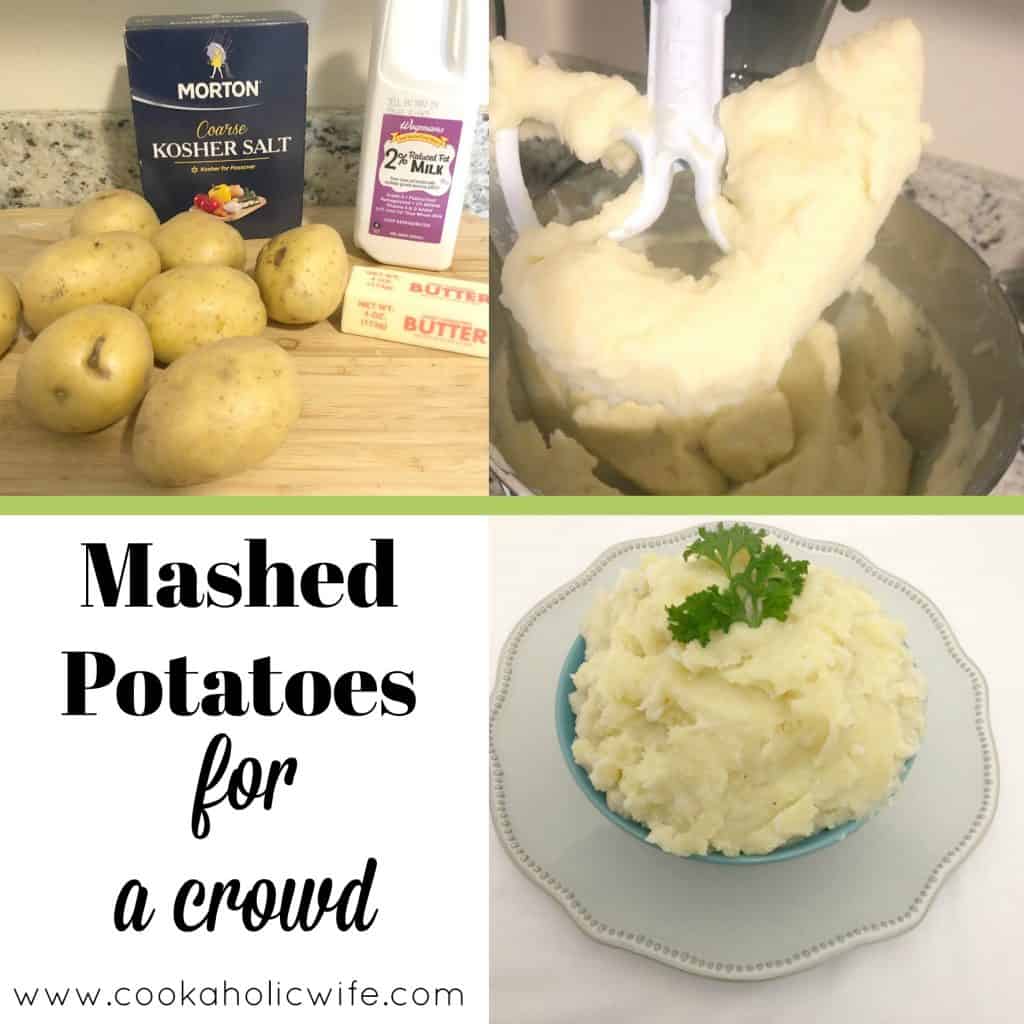 But for holidays, I make mashed potatoes from scratch. When I host the enormous Thanksgiving dinners, that's 10 pounds of potatoes. Did you know your thumb can go numb from peeling? One year I made the potatoes and two apple pies and yeah, I couldn't feel my thumb until sometime in the middle of the day on Thanksgiving. 🤷
Anyway, if you are making mashed potatoes for a bunch of people, you know how long it can take to get them prepared. And then you're going to read this recipe and be so happy. These mashed potatoes can be made ahead of time and reheated the day of Thanksgiving or any other holiday you're serving them for. I learned this trick a few years ago and kept expanding on it, make it easier and easier each time. While it's still not as easy as buying the ready made ones, it's delicious mashed potatoes that can be made in advance but still taste like you just finished cooking them. What's better than that?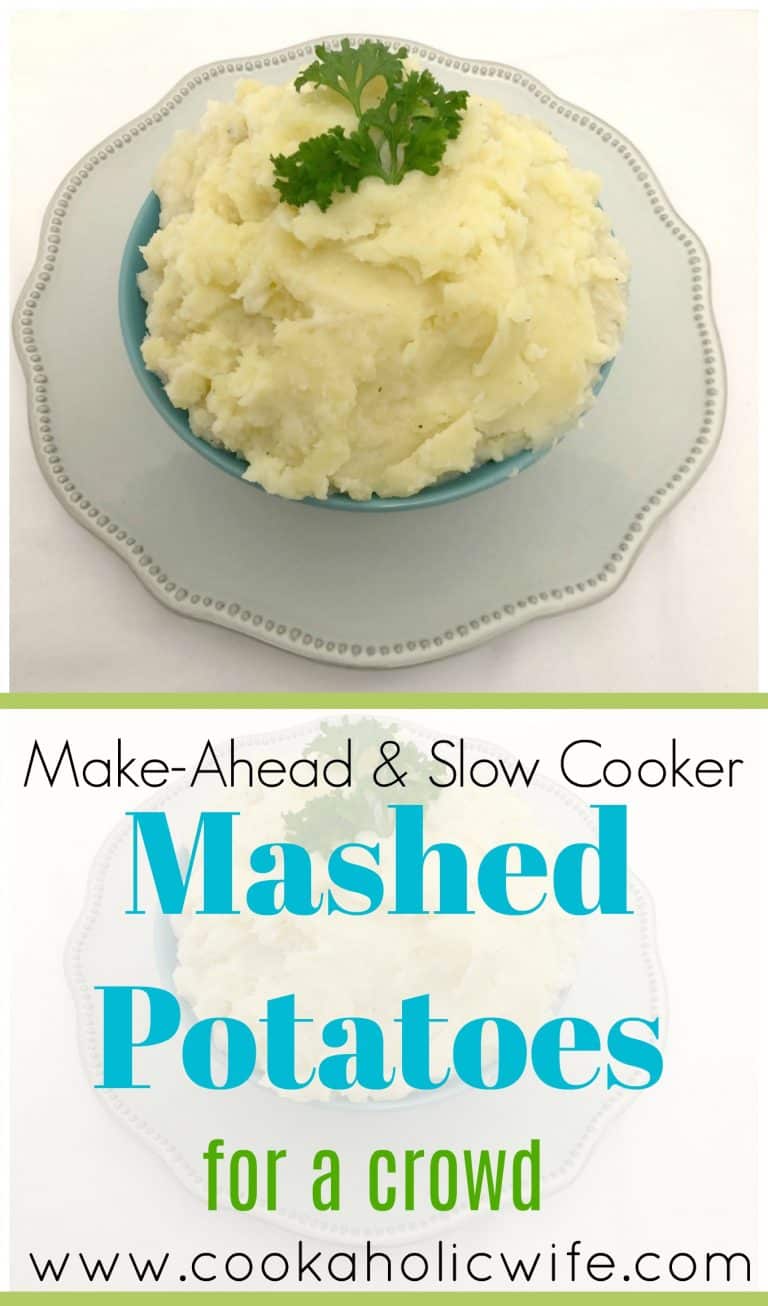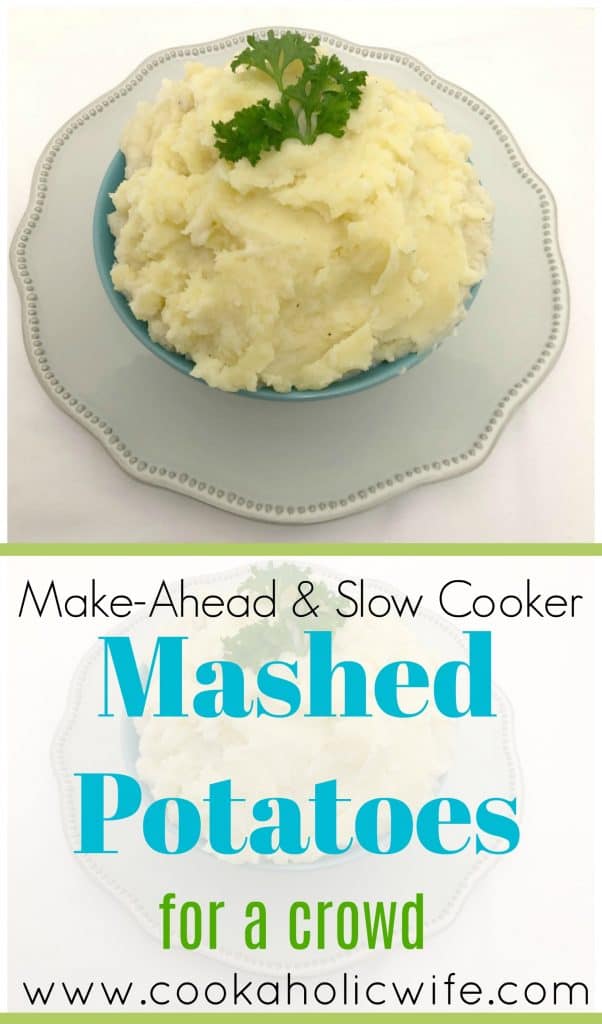 Recipe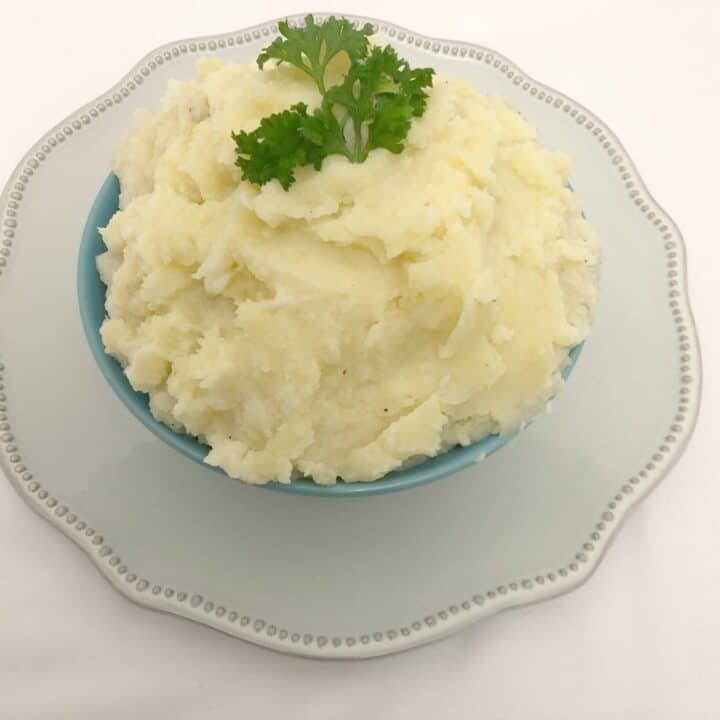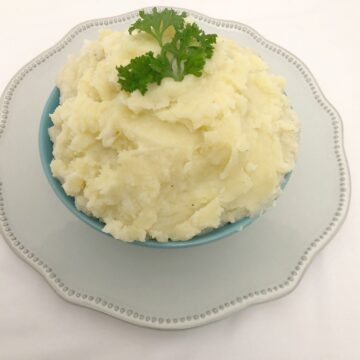 Mashed Potatoes for a Crowd
Fluffy, creamy homemade mashed potatoes for a crowd that can be made ahead of time.
Ingredients
5

lbs

Yukon Gold potatoes

1

cup

milk

half-and-half or cream

1

stick unsalted butter

cut into pieces

1

tablespoon

kosher salt

additional milk and butter

if making ahead
Directions
Peel and cut potatoes into 1 inch cubes.

Place potatoes in a large pot and cover with cold water. (You may need to cook in two batches depending on the size of your pot) Generously salt the water.

Bring to a boil over high heat and cook for 15-18 minutes or until potatoes are fork tender.

Drain and transfer potatoes to a large bowl. Add milk, butter and salt and mash until you reach your desired consistency.
Tip:
Put the boiled potatoes, milk, butter and salt in the bowl of your stand mixer with the beater attachment. Beat on low speed for 2 minutes, then increase to medium speed for 4 minutes. You'll get perfectly whipped potatoes.

5. Season to taste with additional salt. Add more milk/cream if you like a creamier consistency.

6. Spray the insert of a slow cooker with cooking spray or put a liner in it. Transfer potatoes to the slow cooker and turn on keep warm until ready to serve.

Note: Potatoes will thin out in the slow cooker so make them a little thicker than you'd typically serve them.
To cook from refrigerated:
Transfer mashed potatoes to a slow cooker. Cook on high heat for 30 minutes.

Stir and reduce heat to low.

Potatoes can be kept on low for 2-4 hours prior to serving. Stir every 30-60 minutes.

If potatoes are too thick, add up to ¼ cup milk/cream and 4 tablespoons butter 30 minutes before serving to thin them out.
Notes
Yukon Gold potatoes have a thin, buttery skin. You can save time by not peeling them if you don't mind a chunkier mashed potato.
For creamier potatoes, add in 4 tablespoons of cream cheese.
Roasted garlic, chives, parsley and cheese are great additions to these potatoes.
Make Ahead Tips:
Peeled and chopped potatoes will keep if covered completely in water 24 hours before cooking, or you can boil and mash the potatoes, cool them for 1 hour and then refrigerate overnight.
Refrigerated mashed potatoes will dry out a little overnight but the condensation from the slow cooker will help. Add up to ¼ cup milk/cream and 4 tablespoons butter 30 minutes before serving to reach your desired consistency.
Recipes on Cookaholic Wife are for information purposes only. Nutritional Data provided has not been evaluated by a nutritionist.
These potatoes are one of my favorite recipes to share with people who are cooking Thanksgiving dinner. It saves so much time and is so easy that you really can't NOT make them right? One of the first times I hosted Thanksgiving, I made the mashed potatoes the day of. The next time I thought to myself "there has to be an easier way than this" so I peeled and cut them up, then made them in the morning. The next year I decided to take it a step further and cook them the night before and warm them up in the crock pot. And then the year after that, I decided to not expend all of my energy mashing potatoes by hand and put them in the stand mixer.
Check out all the Holiday Side Dish Recipes: