Mint Chocolate Cupcakes are super tasty cupcakes, where the cupcake is infused with fresh mint. Then, they're topped with a rich chocolate buttercream frosting.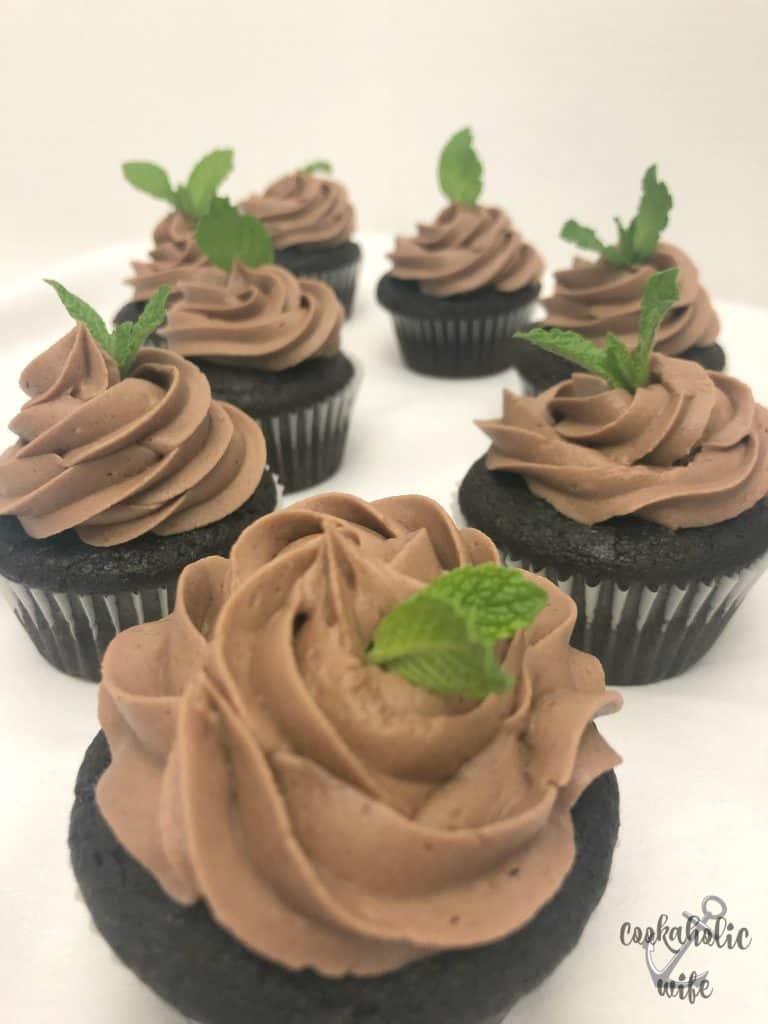 I love fresh mint. I've grown it (or at least tried to) for the past couple of years now. It's done moderately well, but I think I still have some room for improvement. But fall came along too fast last year and I wasn't able to get all of my herbs harvested before the frost came. Mint and basil are what I'm most sad about. They were doing really well at the end of the summer and I was looking forward to drying both of them out. Maybe this year!
(Side note: are there any gardeners out there that can give me some herb planting and care advice?)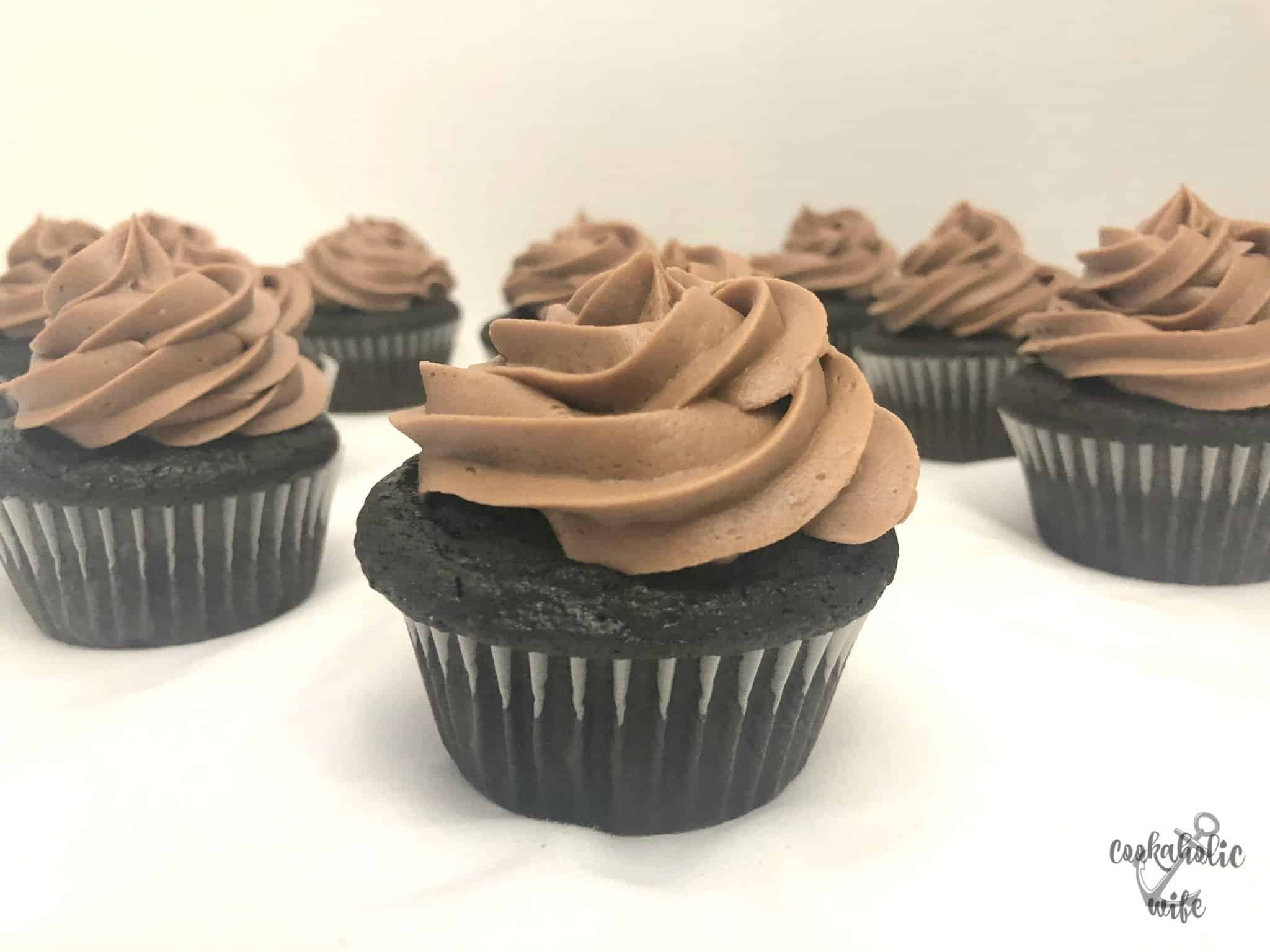 When I saw that the ingredients for this month's Fantastical Food Fight were mint and chocolate, I was pretty excited. There are not a lot of recipes out there using fresh mint for some reason. Iced tea, mojitos, lemonade, detox water, simply syrup....what if I didn't want a drink? Well, there were more than drink recipes.

There are an absolute ton of recipes that include fresh mint in salads. But that doesn't exactly work well with chocolate.
All of this is a really long winded way of saying, I looked at a lot of ideas before deciding to make some cupcakes and get the fresh mint flavor into them via infusion.
Coffee already helps to bring out a stronger chocolate flavor in baked goods, so I thought infusing the coffee with the mint would be a great way to get that minty flavor in. And just in case it didn't work, a little mint extract was added to ensure that mint flavor was really there!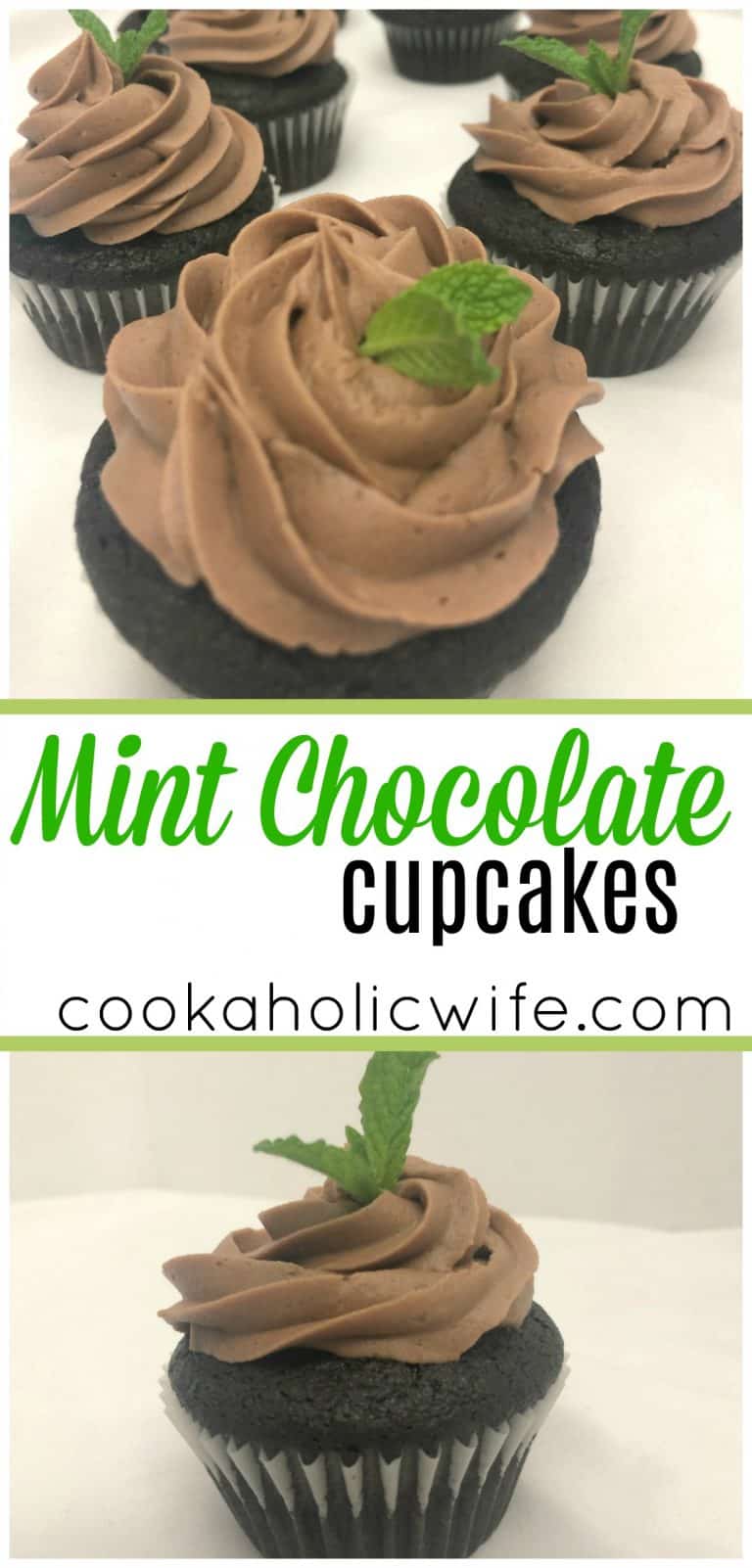 Recipe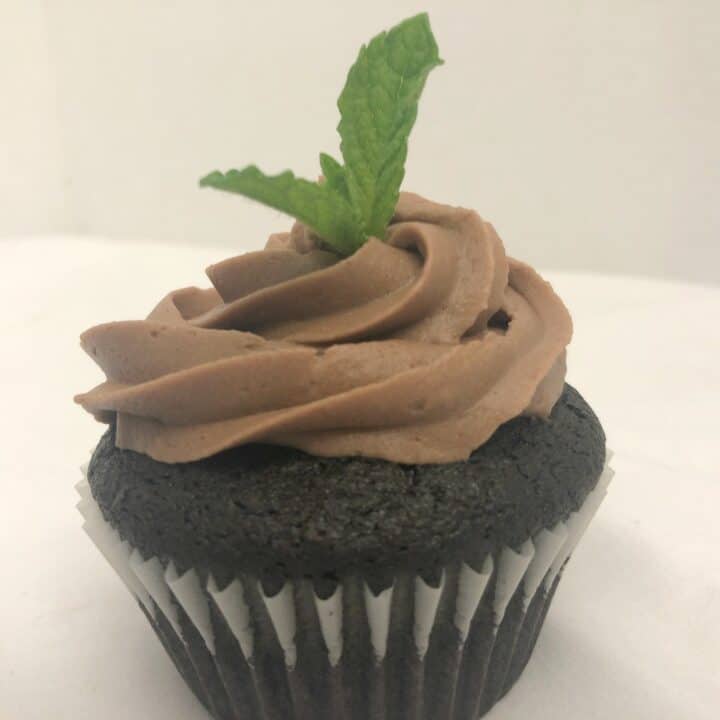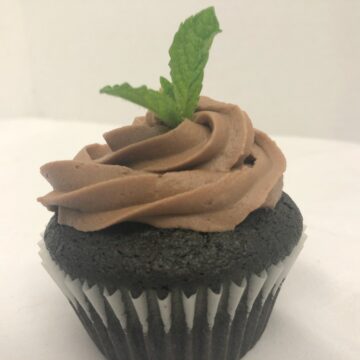 Mint Chocolate Cupcakes
Mint Chocolate Cupcakes super tasty cupcakes, where the cupcake is infused with fresh mint. Then they're topped with a rich chocolate buttercream frosting.
Ingredients
For the Cupcake:
1

cup

hot brewed coffee

8-10

large mint leaves

2

eggs

1

cup

buttermilk

½

cup

unsweetened applesauce

¼

cup

canola oil

1

teaspoon

vanilla extract

¼

teaspoon

mint extract

2

cups

all purpose flour

1 ½

cup

sugar

¾

cup

cocoa powder

2

teaspoon

baking soda

1

teaspoon

baking powder

1

teaspoon

salt
For the Frosting:
3

sticks unsalted butter

at room temperature

2

tablespoon

cocoa powder

3-4

cups

powdered sugar

2-3

tablespoon

milk or cream

1

teaspoon

vanilla

½

teaspoon

salt

additional mint leaves

for topping
Directions
Preheat the oven to 350 degrees. Line two cupcake pans with paper liners.

Muddle the mint in a small bowl, then add to the freshly brewed coffee. Let steep for 15 minutes.

In a medium bowl, whisk together the eggs, buttermilk, applesauce, canola oil and vanilla.

In a large bowl, sift the flour and cocoa powder. Add in the sugar, baking powder, baking soda and salt.

After the 15 minutes of steeping, strain the coffee into the buttermilk mixture, discarding the mint leaves.

Pour the buttermilk mixture into the flour mixture and mix until combined.

Divide the batter into the cupcake pans, filling each ¾ of the way full.

Bake for 20 minutes.

Cool on a wire rack.

While the cupcakes are cooling, prepare the frosting by combining the butter and cocoa powder in the bowl of a stand mixer. Beat on medium speed for 3 minutes.

Add in the powdered sugar, 1 cup at a time, then add in the milk, vanilla and salt.

Transfer the frosting to a piping bag and pipe frosting on top of cooled cupcakes. Decorate cupcakes with additional fresh mint leaves if desired.
Recipes on Cookaholic Wife are for information purposes only. Nutritional Data provided has not been evaluated by a nutritionist.

Don't have buttermilk?
Add 1 tablespoon white vinegar to dairy milk and let sit for 5 minutes.
Don't have unsweetened applesauce? Or oil?
If you have sweetened applesauce, reduce sugar to 1 cup.
If you don't have any applesauce, use all oil (¾ cup total)
If you don't have canola oil, use vegetable oil.
If you don't have oil, use ¾ cup unsweetened applesauce.
How do you feel about chocolate and mint? It appears that you either love it or you don't like it at all. There is no in between. Personally, I'm a fan. Yet my husband wouldn't touch these cupcakes if they were the last bit of chocolate on the earth. And when I brought them into work, they didn't disappear in an hour, meaning most of my coworkers must think along the same lines of my husband.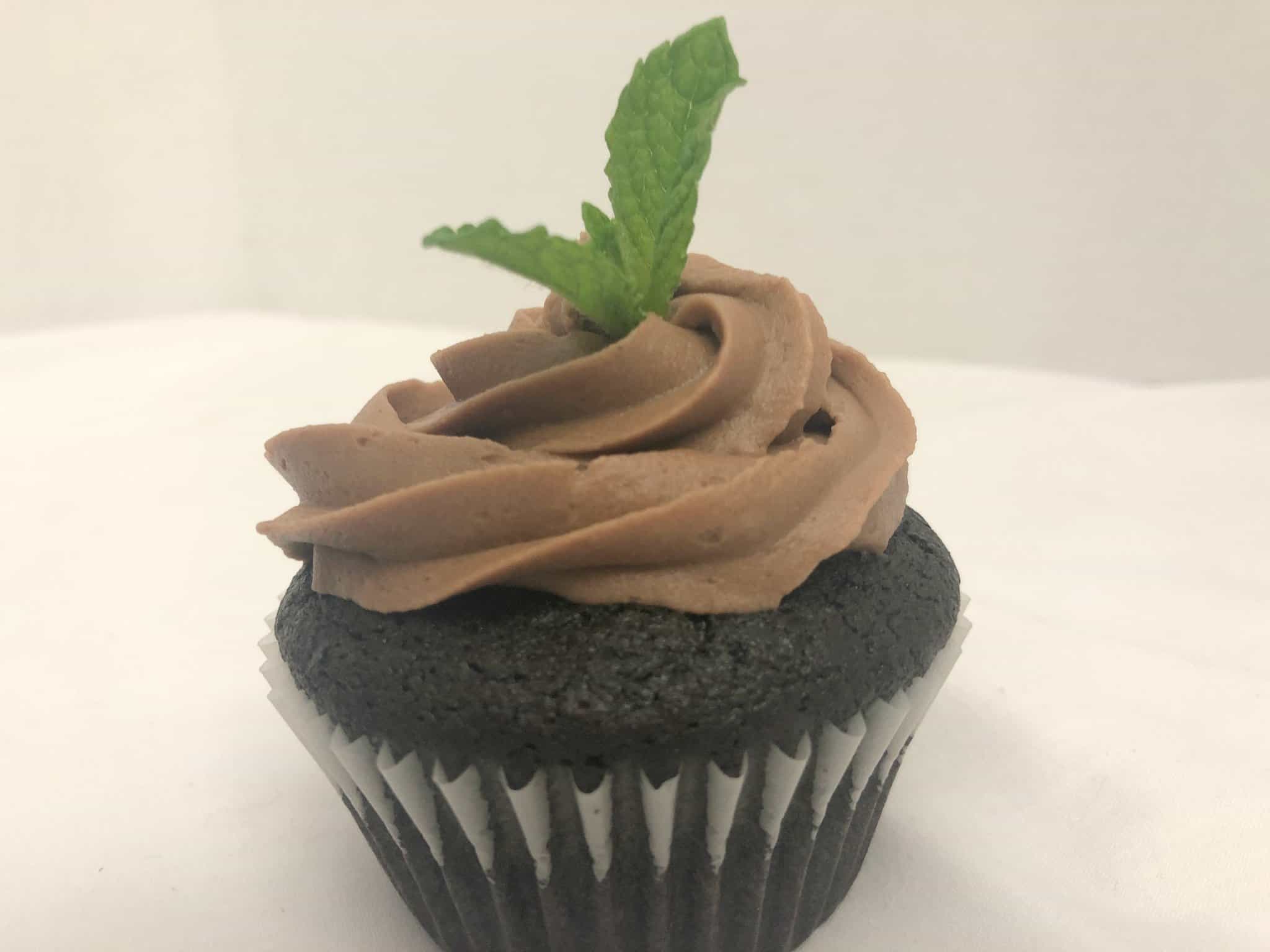 The mint definitely comes through in these Mint Chocolate Cupcakes. The cupcake is light, moist and full of flavor thanks to the buttermilk, coffee and fresh mint leaves. And can you ever go wrong with a classic chocolate buttercream? Nah! You could melt up some chocolate, add it into the butter and go from there, but adding in cocoa powder works just as well and allows the buttercream to shine. At least in my opinion!
Check out what the other bloggers have made!
Inlinkz Link Party