Did you know August is National Peach Month? I couldn't help picking up a basket of peaches at the Farmer's Market over the weekend. They smelled delicious! So be warned, there will be quite a few peach recipes posted this month. 🙂
I had a plan for two of the peaches I purchased but no idea what to do with the remaining 4 in the basket. I looked around for recipes but every one I found would have required a trip back to the grocery store to pick up additional ingredients. Finally I decided to just make a peach sorbet.
Recipe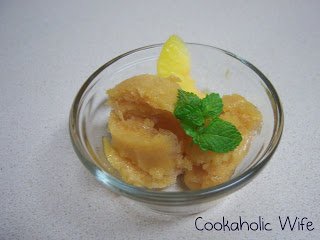 Peach Sorbet
Easy sorbet made using fresh peaches. Perfect for the end of summer when peaches are at ripe perfection!
Ingredients
4

peaches

ripe

½

cup

water

3

tablespoon

sugar

1

teaspoon

lemon juice
Directions
1. Using a knife, make a X in the bottom of each peach.

2. Bring a large pot of water to a boil. Fill a large bowl with ice water.

3. Add the peaches to the boiling water, making sure they're completely submerged. Blanch the peaches for 1 minute.

4. Remove the peaches from the boiling water and immediately place them into the ice water. Let them cool for 1 minute and then remove, patting them dry.

5. Once they're cool enough to handle, peel the skin off from the X marks in the peaches.

6. In a small saucepan, add the water, sugar and lemon juice over medium-high heat. Stir until the sugar has dissolved and then remove from the heat.

7. Meanwhile, cut the peaches into slices and place them into a blender.

8. Pour the sugar water mixture over the peaches and pulse until smooth.

9. Pour the peach mixture into a plastic container and freeze for at least 6 hours.
Recipes on Cookaholic Wife are for information purposes only. Nutritional Data provided has not been evaluated by a nutritionist.