Sausage Green Bean Alfredo is a budget friendly dinner made with an alfredo pasta, green beans and sausage.
September is Hunger Action Month – a time to bring attention to food insecurity. According to the US Department of Agriculture, 1 in 8 Americans were food insecure in 2017. That's 40 million people – more than 12 million of which are children – with a lack of consistent access to enough food for an active, healthy life.
That honestly breaks my heart. Food is not optional. It is a necessity and should be a basic human right.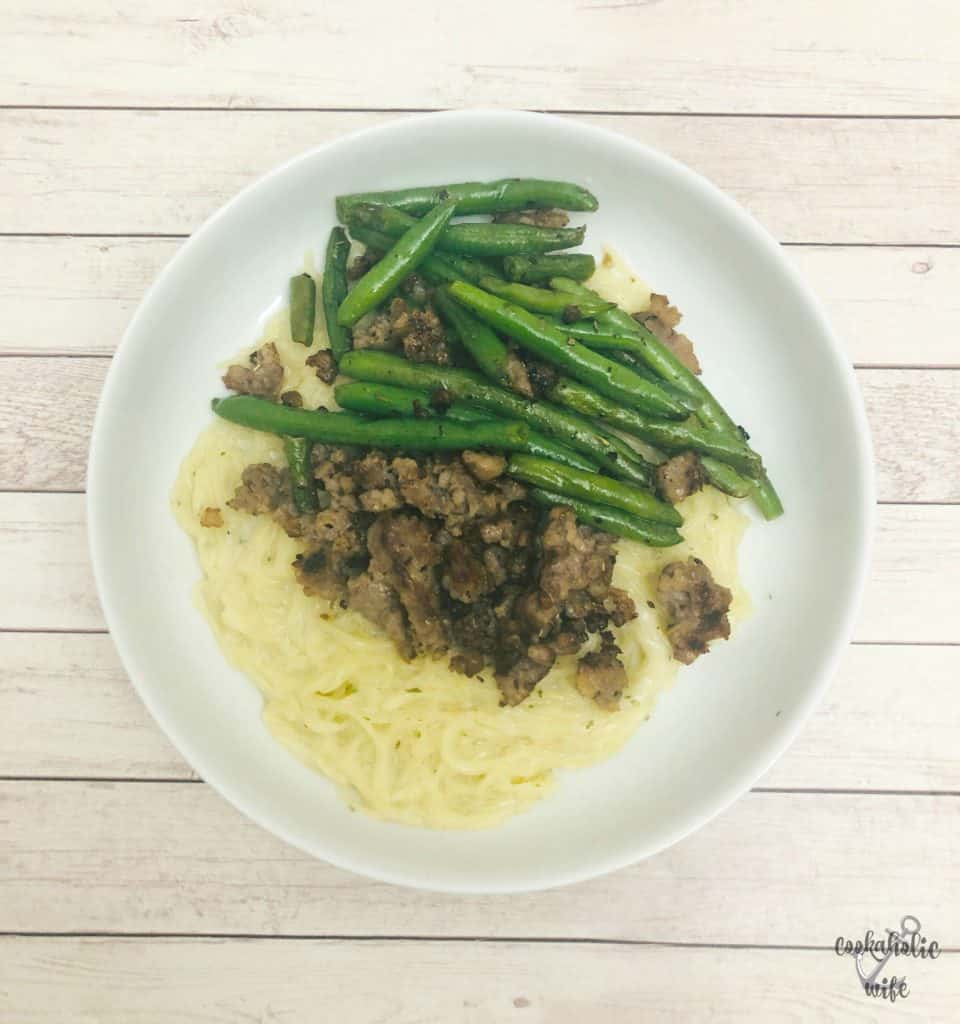 Programs, such as SNAP, provide assistance to those who are unable to afford food on their own. However, the daily allotment for a family of four is $16 a day, or about $5.50 per meal. I don't know what the food costs in your area are like, but in mine I can tell you that is a pretty difficult number to stay within if you'd want to cook anything even mildly nutritious.
Without grocery stores like Aldi, I honestly don't know how some of these families eat. When I signed up for this challenge, I knew there wasn't a chance I could stay within the $5.50 per meal guidelines without shopping there. I wanted a healthy, nutritious recipe that kept was easy to prepare and kept a family of four full until breakfast.
To be completely honest, it was HARD. I spent nearly an hour in Aldi, price checking ingredients over and over again trying to come up with something that fit not just within my own guidelines, but within the minimal amount of money I had to spend.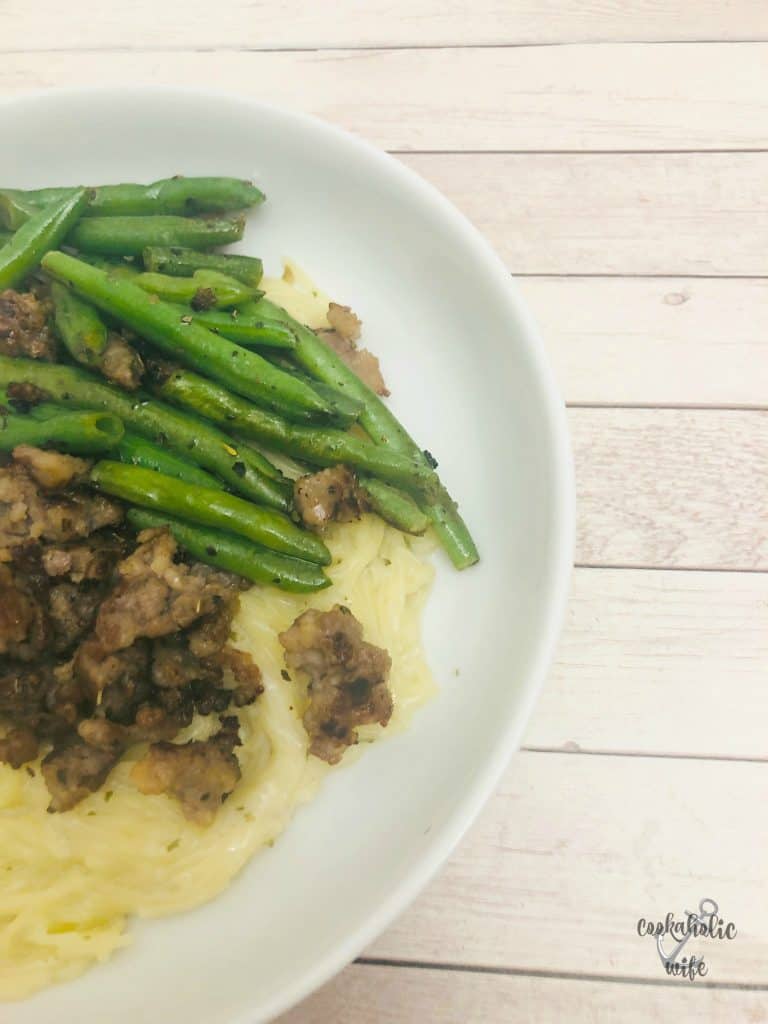 MISCONCEPTIONS ABOUT BUDGET MEALS
Use items from your pantry. Many of us have pantries that contain the basics like flour, sugar, oil, seasonings and spices. However, that is not the case for all SNAP recipients.
Buy in bulk. Of course bulk purchases are cheaper, but it doesn't mean they're affordable. A grocery store near me sells family packs of 5 lbs of ground beef for $18. Yes, that could make 5 meals, but when your entire budget is $116, that's a lot of money to part with.
Eat what is in season. There is some truth to this statement, but we can quickly ship items all around the country now. Sometimes you never even see a savings even when an item is in season. (Cherries and peaches, I'm looking at you!) Typically, frozen vegetables are cheaper than their fresh counterparts.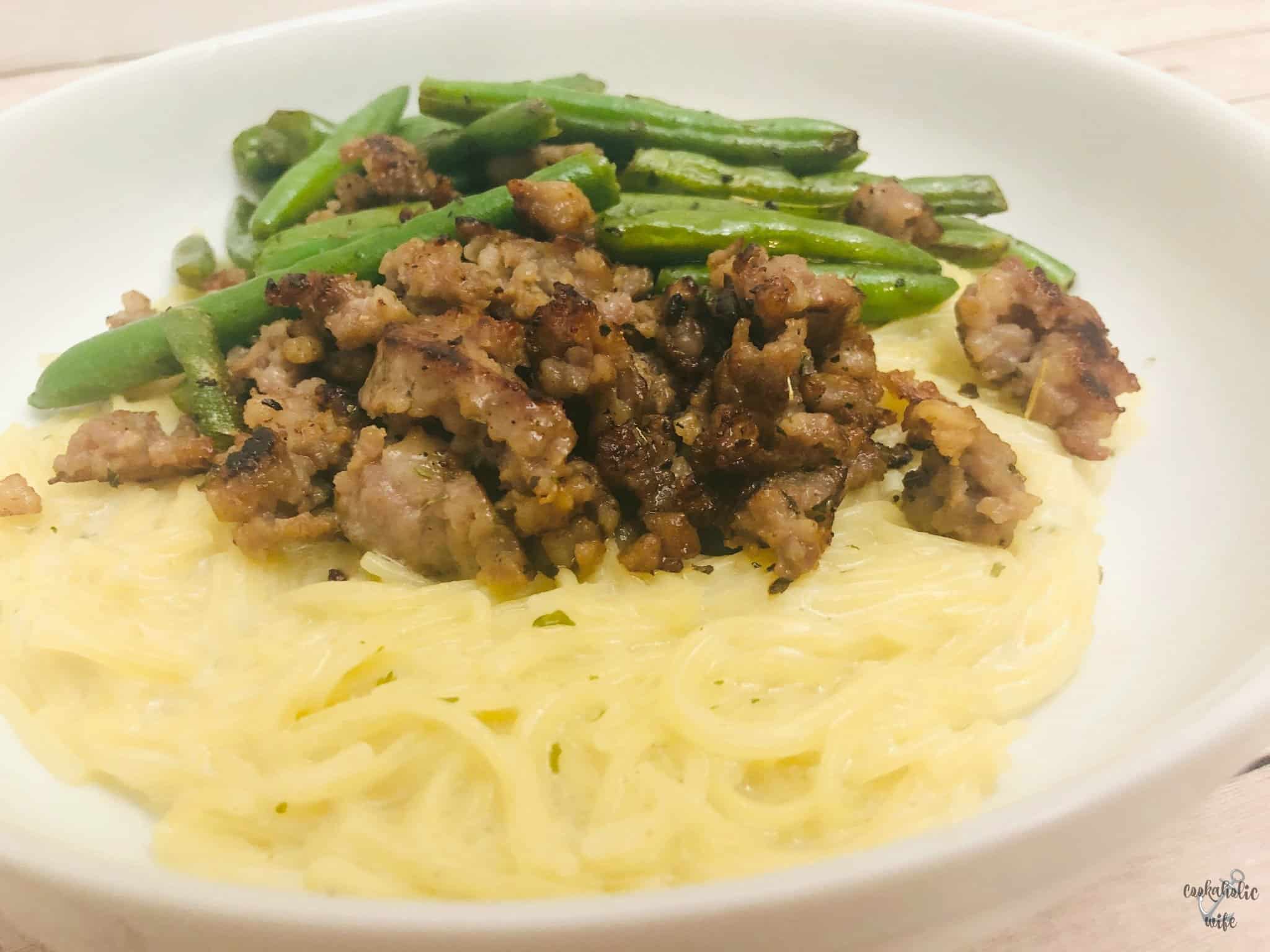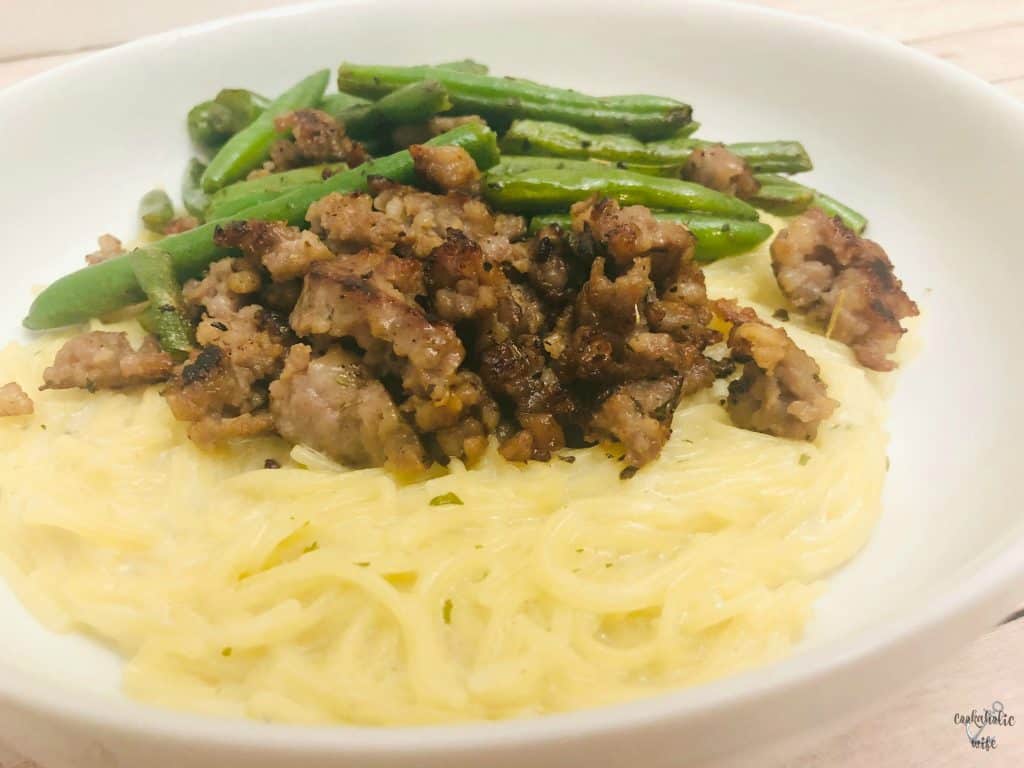 REAL BUDGET MEAL TIPS
Look for items that you can reuse in multiple recipes. For example, a box of plain corn flakes can not only serve as a breakfast cereal, but provide a coating on chicken or vegetables. It can also be ground into crumbs used as a binder for meatballs, meatloaf, etc.
Compare prices and quantities of frozen and canned vegetables. While canned are usually cheaper, sometimes you can get double the amount of frozen veggies for less than double the price.
Multi-purpose and spice blends add flavor for less. You don't need a fully stocked spice cabinet to give your meals flavor. Look for store-brand spice mixes that combine a lot of spices into one jar. Dry packet mixes, typically used to make soups or dips, can be as cheap as $0.25 per packet and contain a variety of spices.
Meal Plan. I know how annoying it can be to carve out time in your week to plan out your meals and this is coming from a food blogger who actually likes cooking. But by doing this, you have the opportunity to pick recipes that repeat ingredients so you use everything you buy without over buying or wasting anything.
SAUSAGE GREEN BEAN ALFREDO INGREDIENTS
Pasta entrees Parmesan cheese flavored pasta
Original flavored breakfast sausage
Milk & butter
frozen green beans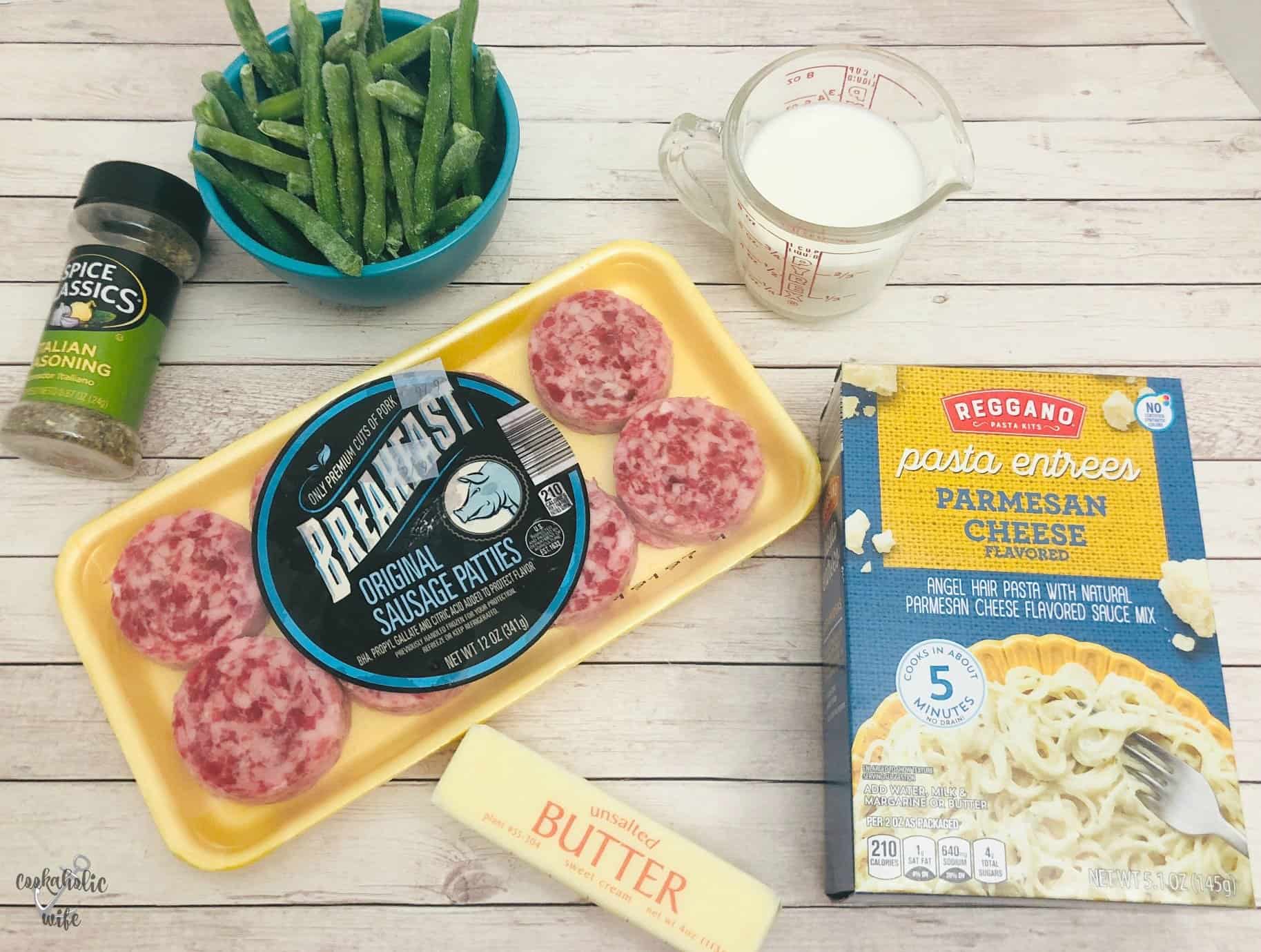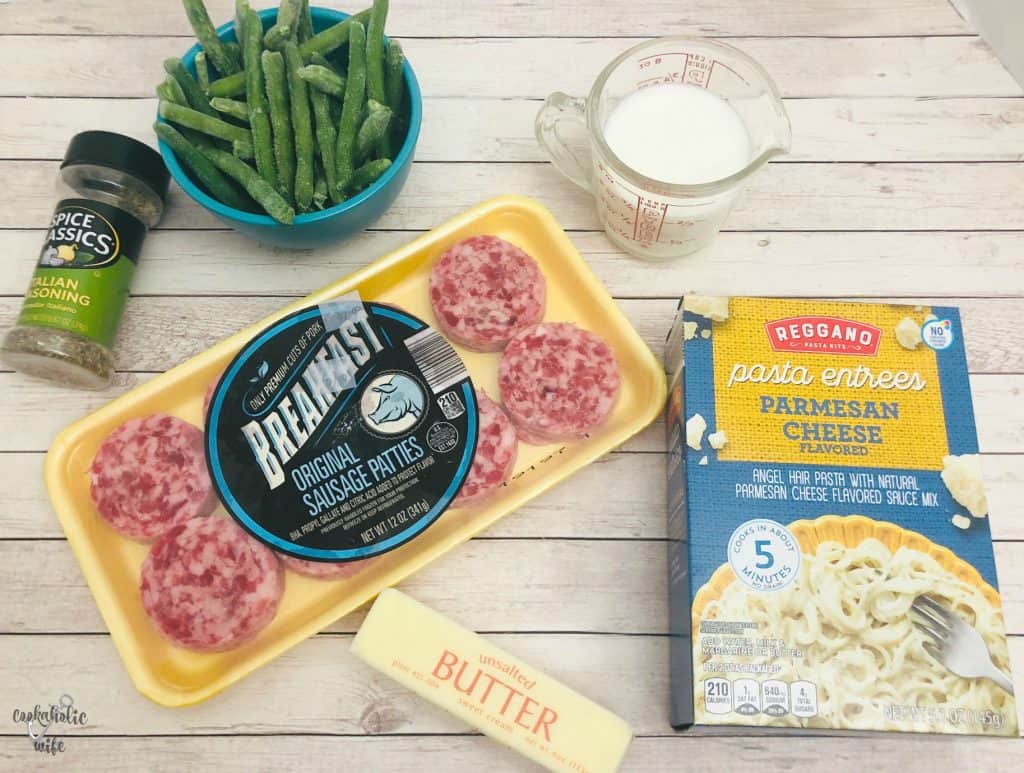 WHY BREAKFAST SAUSAGE AND GREEN BEANS?
Price check in your store, but the breakfast sausage patties were less expensive than the sausage links.
You could easily substitute green beans for any other vegetable. If I had chosen frozen broccoli or peas, I would have stayed within the $5.50 price allotment, but I hate broccoli. I wanted this to be a recipe that I would enjoy eating as well.
I try to avoid packaged meals because they're typically high in sodium, but I found it pretty unavoidable in this case. In the notes section of the recipe I have included a link to a recipe for homemade alfredo sauce, which will go over the $5.50 allotment, but will be healthier. If a family is shopping for the week, versus the meal, some of the ingredients can be used over again in other recipes to help cut down the per meal cost.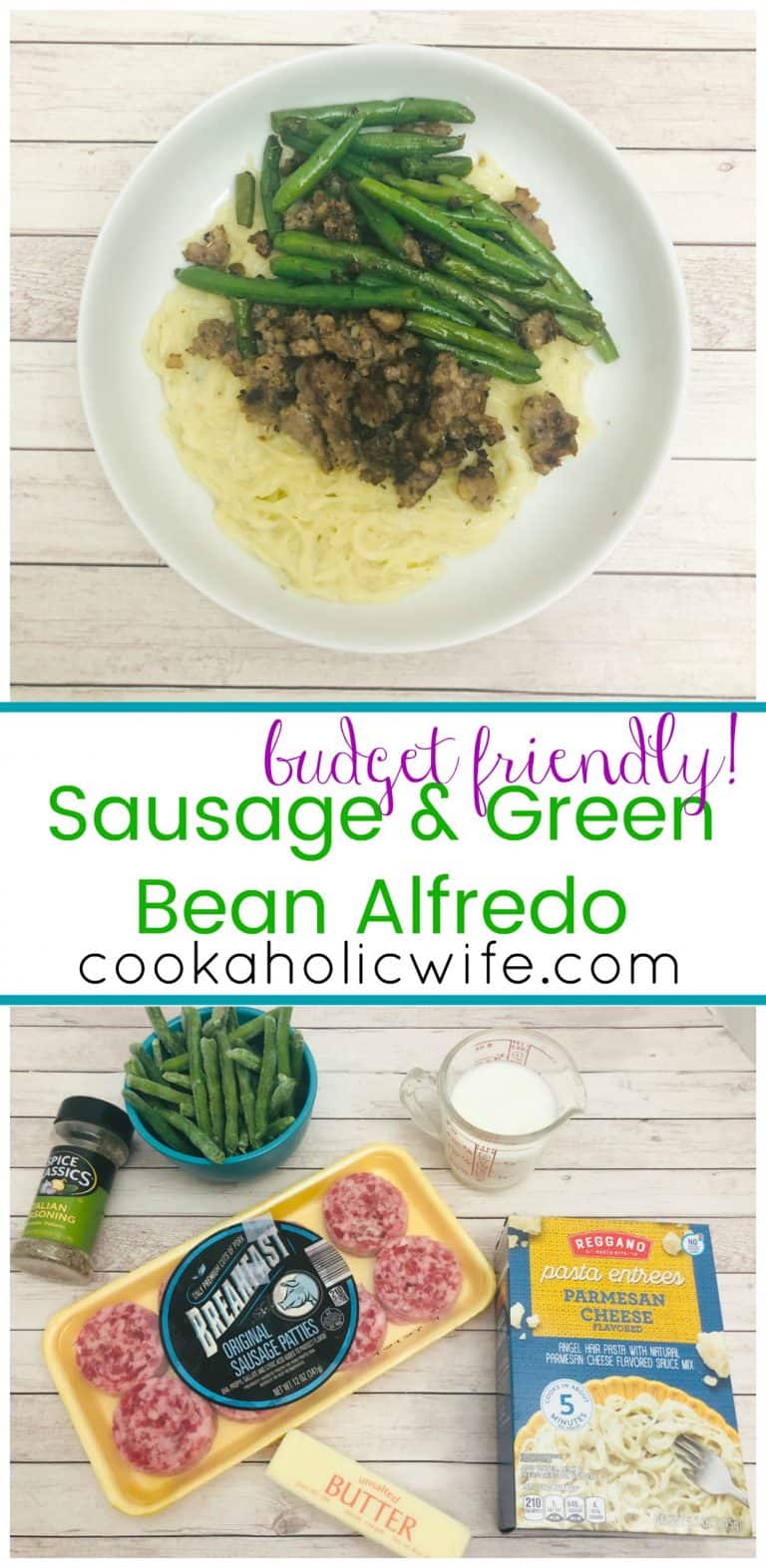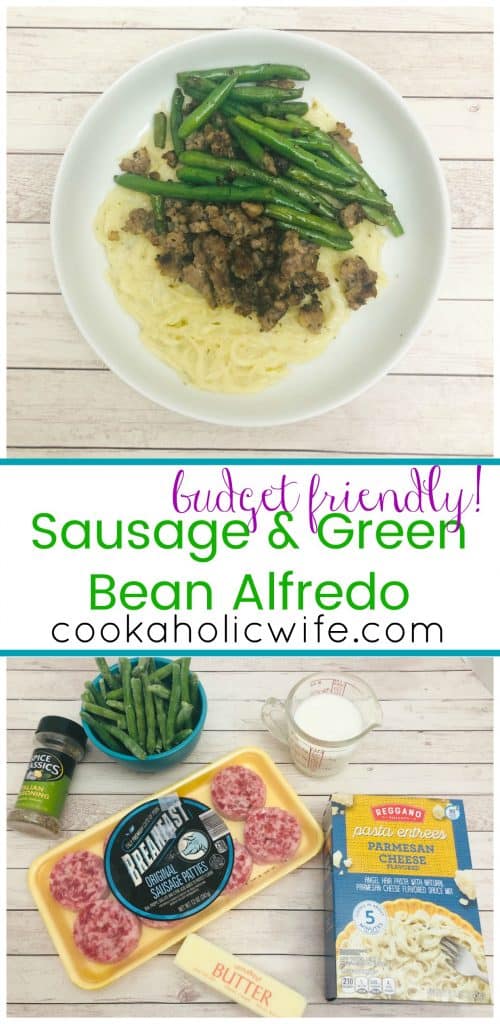 Recipe
Sausage Green Bean Alfredo
Sausage Green Bean Alfredo is a budget friendly dinner made with an alfredo pasta, green beans and sausage. 
Ingredients
2

packages Reggano Pasta Entrees Parmesan Cheese Flavored pasta

Original flavored breakfast sausage patties

⅔

cup

2% milk

2

tablespoon

butter

16

oz.

frozen green beans

1

tablespoon

Italian seasoning
Directions
Bring water, milk and butter to a boil over medium high heat.

Reduce the heat to medium low and stir in the pasta and seasoning packet. Return to a boil and boil uncovered for 3-4 minutes, stirring frequently.

Remove from the heat and let stand 1-2 minutes for the sauce to thicken up.

In a large skillet, add the sausage patties over medium heat and cook, crumbling the sausage, until cooked through, about 5 minutes.

Remove the sausage to a plate and add the green beans to the skillet, using any fat from the sausage to cook them. Stir frequently until cooked through, about 5 minutes.

Divide pasta among 4 plates. Top with sausage and green beans. Season to taste with Italian seasoning.
Recipes on Cookaholic Wife are for information purposes only. Nutritional Data provided has not been evaluated by a nutritionist.
SAUSAGE GREEN BEAN ALFREDO BREAKDOWN OF COSTS
Reggano Pasta Entrees Parmesan Cheese Flavored $0.89 x 2 = $1.78
Original flavored breakfast sausage $1.99
½ gallon 2% milk $0.99 (8 cups = $0.12/cup)
1 lb unsalted butter $2.89 (4 sticks = 32 tablespoon = $0.09/tbsp = $0.18)
16 oz. frozen green beans $1.79
Italian Seasoning $0.95 (15 tablespoon = $0.06/tbsp)
TOTAL COST $10.39 / COST FOR 4 SERVINGS $5.92
So close! 42 cents stands between me and this meal meeting the $5.50 allotment. Margarine would have been a cheaper choice than unsalted butter and I could have chosen a different vegetable, but like I said, I wanted this to be something I was willing to eat, not just a recipe simply made to be cheap.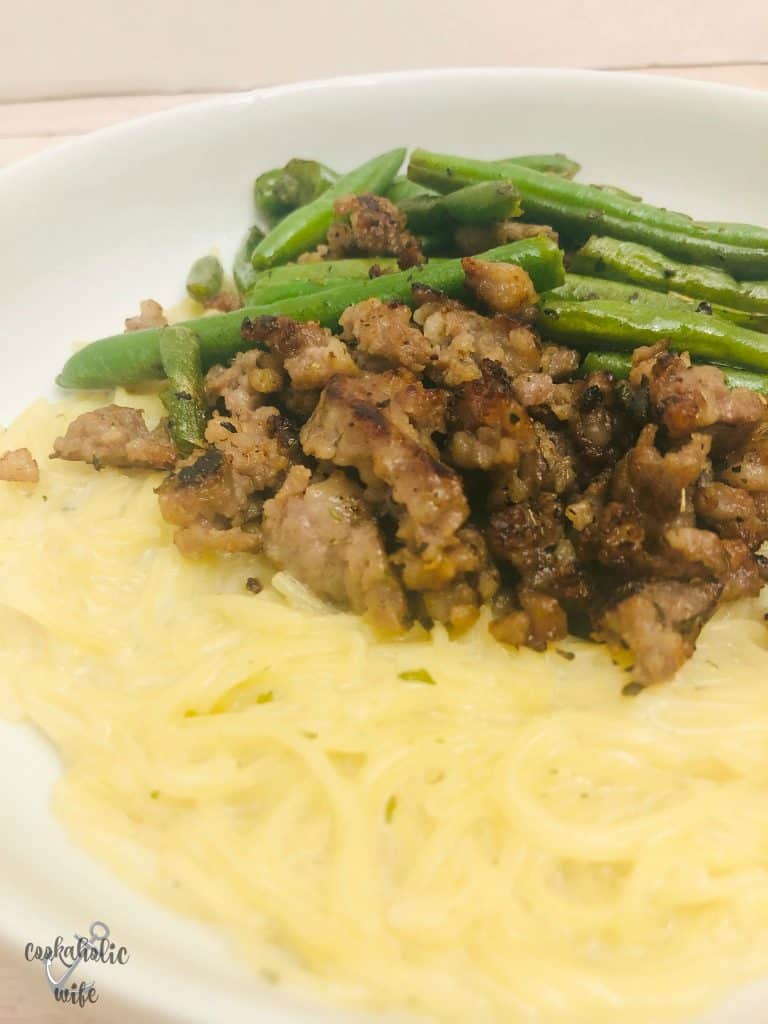 FOR MORE BUDGET FRIENDLY RECIPES, INCLUDING A HOMEMADE ALFREDO SAUCE, CLICK THE LINK BELOW:
The meals below were made with a budget of $5.50 – the average amount a family of four would have for a meal on a SNAP budget. We're sharing these recipes today to show you how far these dollars go – or don't go – and to encourage you to donate to organizations addressing hunger issues. Feeding America and local food banks are the boots on the group helping feed your neighbors daily.
As a group, we're supporting Feeding America's efforts to end hunger. We are collecting donations for Feeding America here: http://help.feedingamerica.org/goto/FoodBloggers Will you forego your morning coffee stop and donate $5 to help feed the needy instead? There are also many great local organizations fighting hunger too, including the Maryland Food Bank and the Baltimore Hunger Project.
Hunger Action Month Recipes
Thanks to Kate of Kate's Recipe Box for organizing this event!