Strawberry Hot Chocolate Bombs are the best way to drink hot chocolate! A sphere is filled with hot chocolate mix, strawberry powder and marshmallows. When placed in hot milk, the bomb "explodes" into a flavorful hot chocolate drink.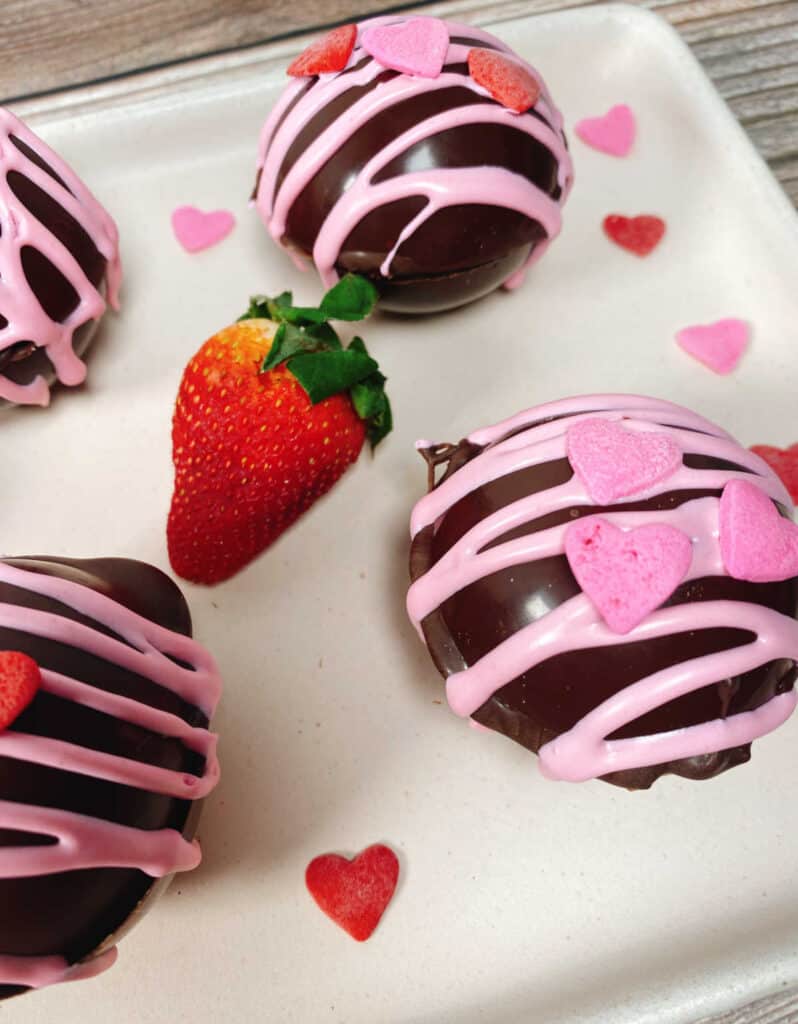 What are strawberry hot chocolate bombs?
Hot Chocolate Bombs have become all the rage lately! Melted chocolate is poured into a silicone half sphere and hardened. Then one half of the sphere is filled with hot chocolate powder, strawberry powder and marshmallows. The other half of the sphere is attached and when the bomb is placed into hot milk, it truly takes on its name "exploding" into a strawberry flavored hot chocolate drink!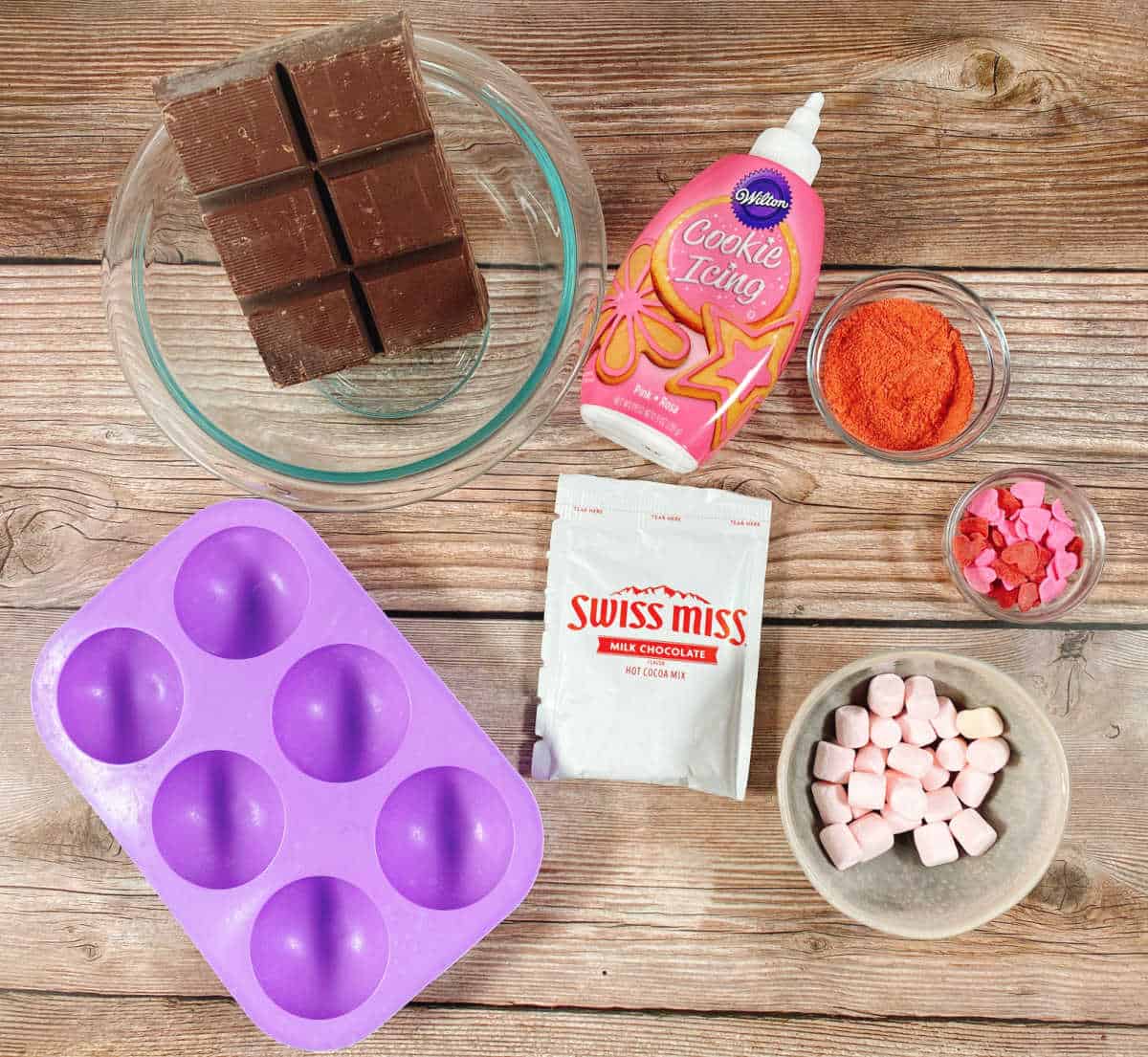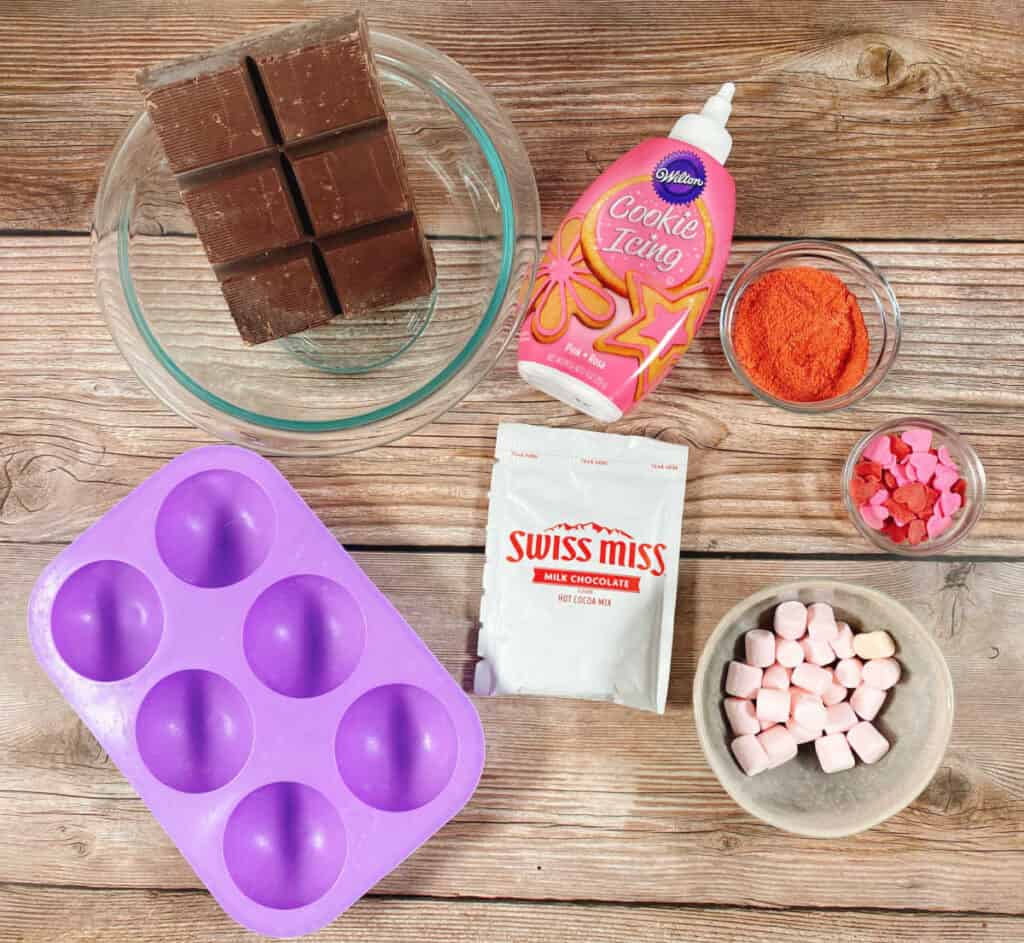 🥘 Ingredients for this recipe
chocolate candy melts or almond bark
powdered hot chocolate mix
freeze-dried strawberry powder
strawberry mini marshmallows
optional: cookie icing and/or sprinkles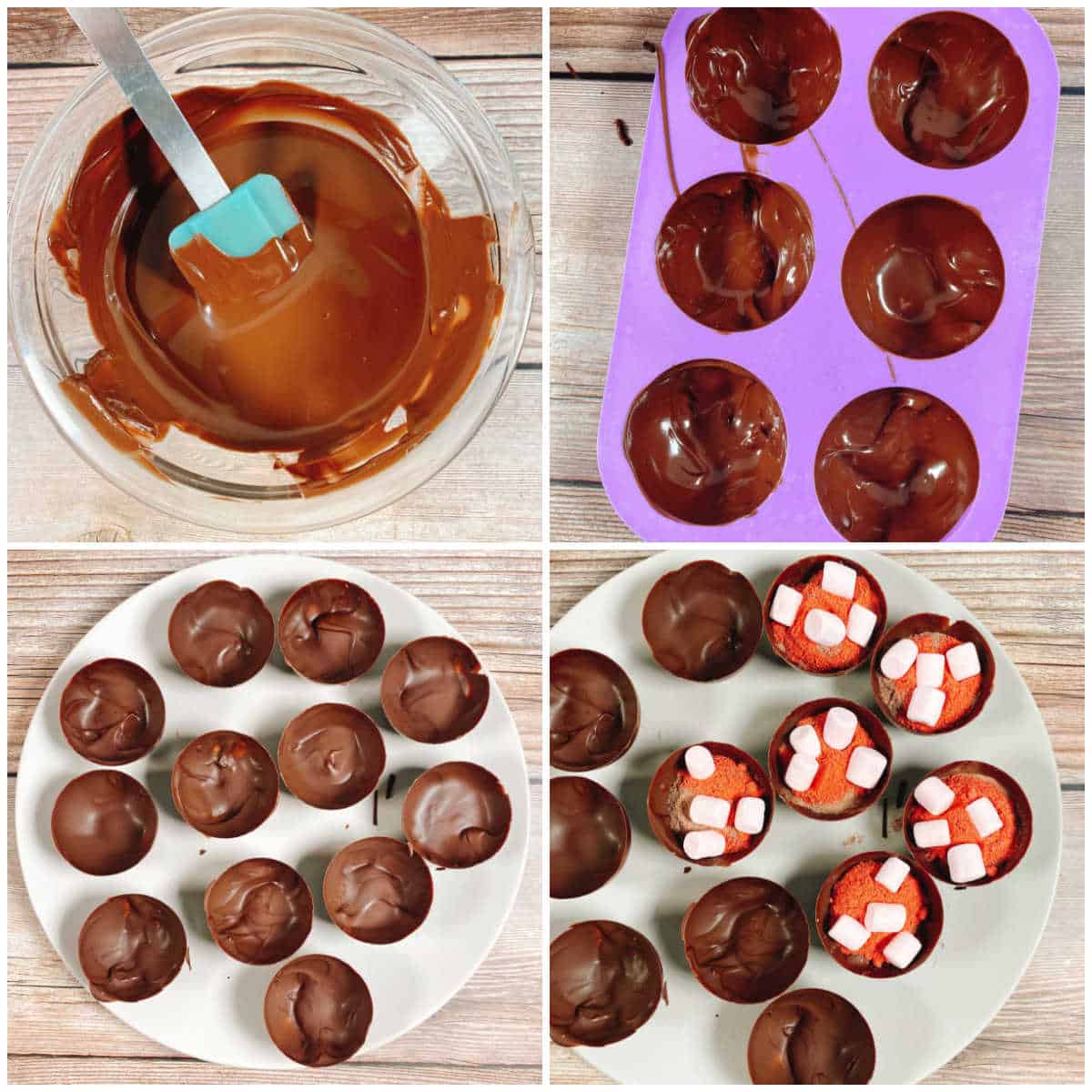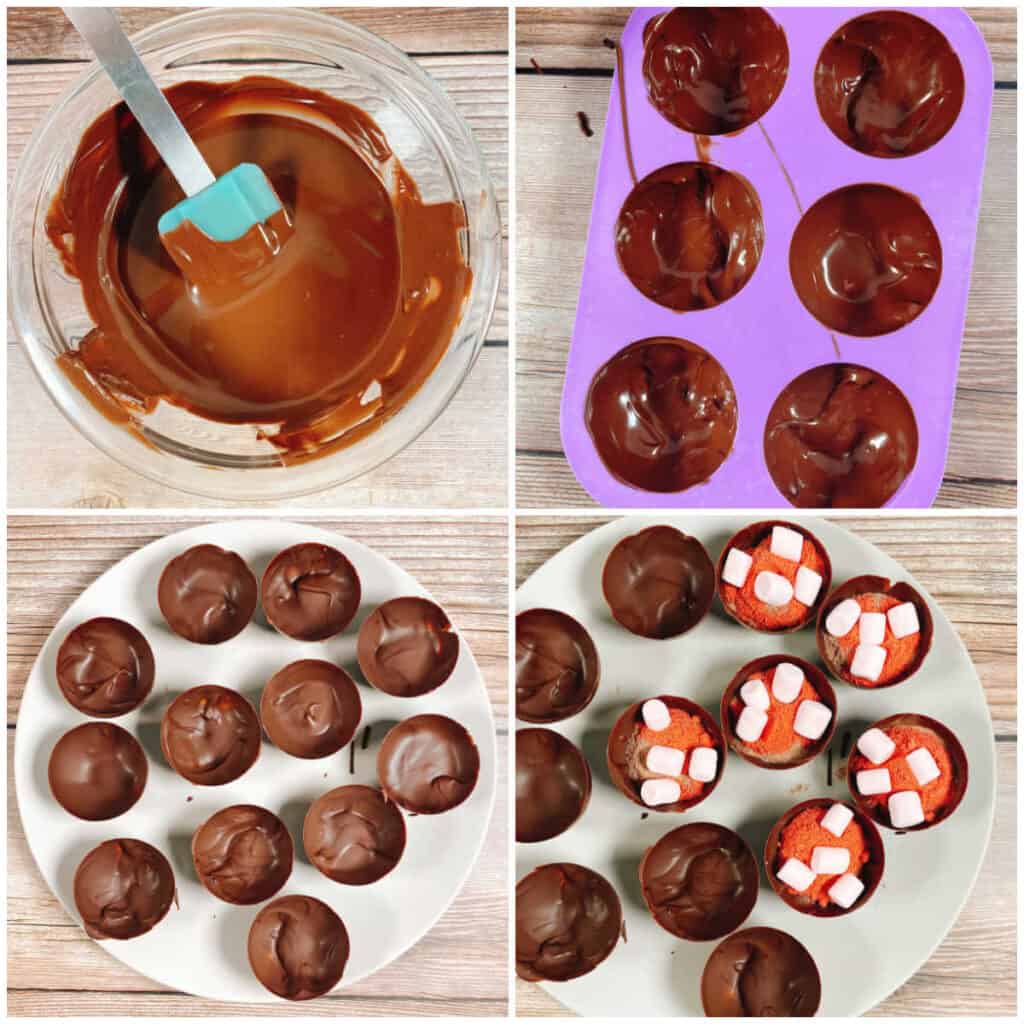 🔪Instructions for this recipe
First, melt the chocolate. In a microwave safe bowl, melt the chocolate in 30-60 second increments, stirring until smooth.
Then fill the spheres. Spread the melted chocolate into the sphere mold, making sure to really coat the sides and bottom, then let it harden.
Next, fill the spheres. In one half of each bomb, place the hot chocolate mix, strawberry powdered and marshmallows.
Then assemble and decorate. Take the unfilled half of the sphere and swirl the edges in the remaining melted chocolate. Place it on top of the filled sphere to create a circle. Decorate with cookie icing or sprinkles if desired. Let sit for a few minutes.
Finally, explode the hot chocolate bomb! Heat milk to almost boiling. Place a strawberry hot chocolate bomb into a mug or glass. Pour the hot milk on top and watch it explode with flavor. Stir before drinking.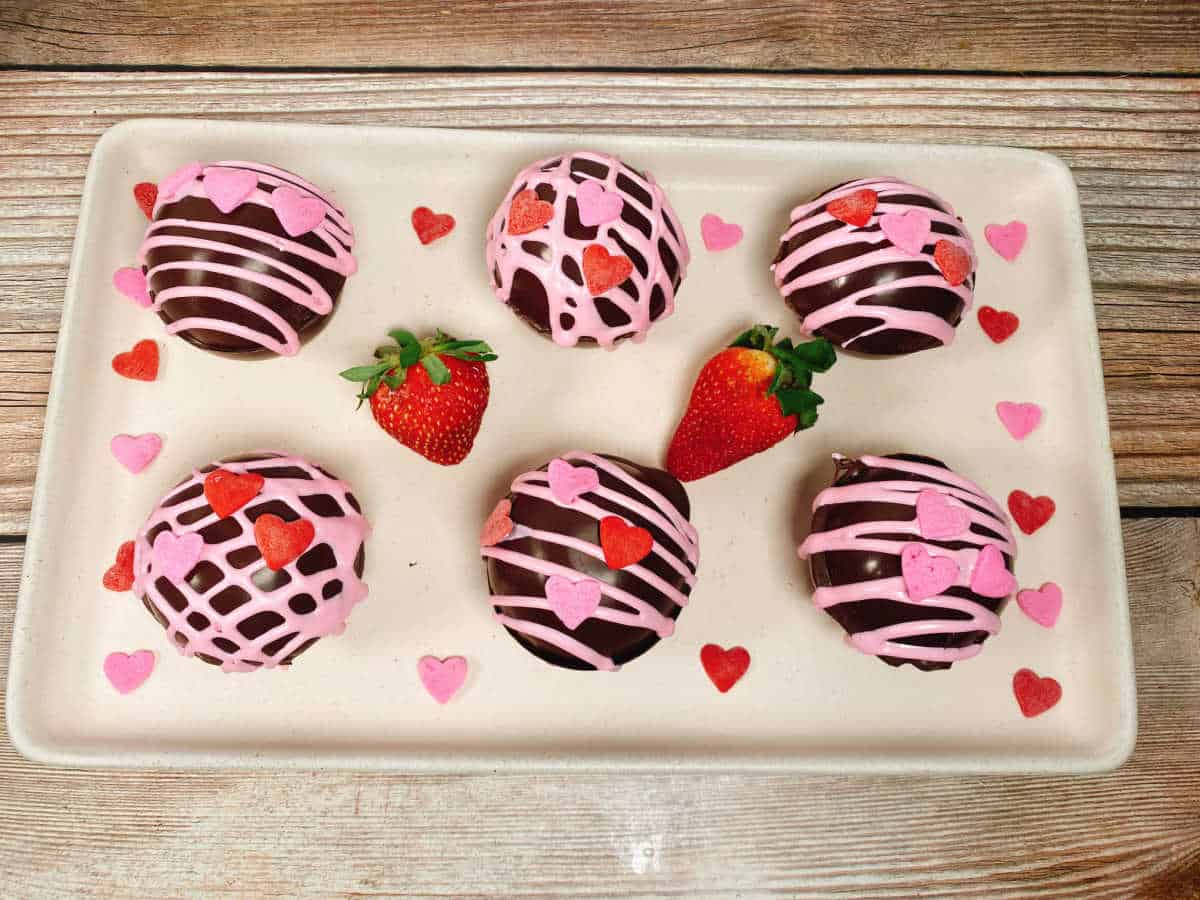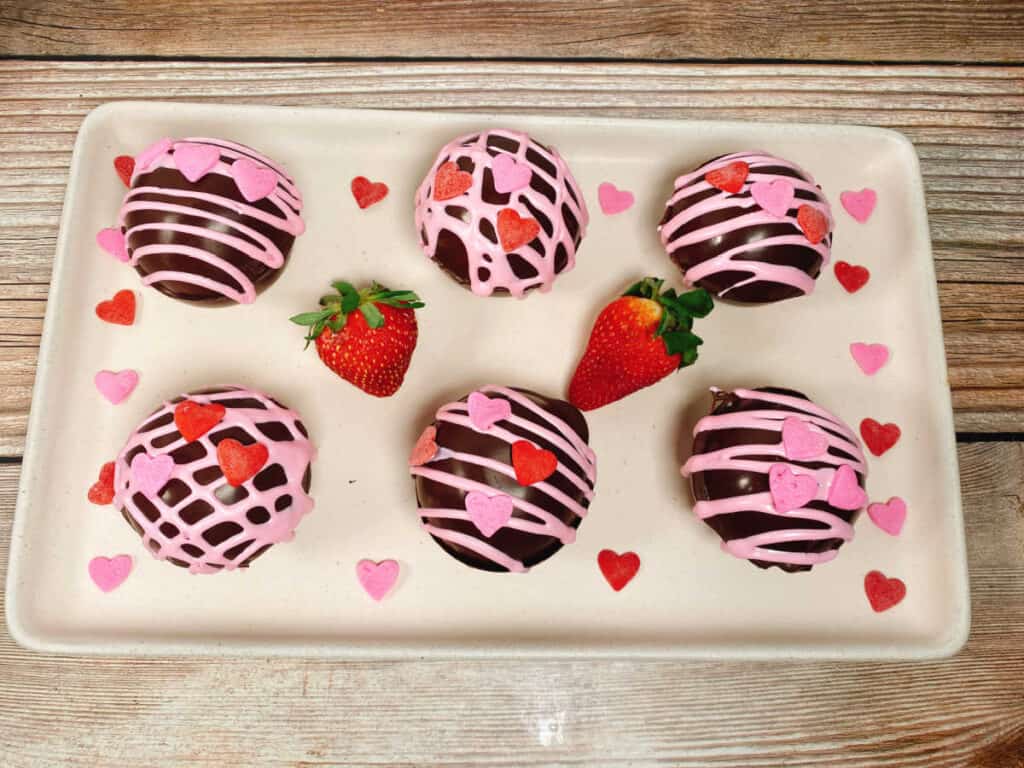 FAQ's for hot chocolate bombs
This section contains Affiliate Links for items I purchased on Amazon. I may receive a small commission for items purchased. Please see my disclosure page for more information.
You'll need silicone sphere molds to make this recipe.
A small spoon is great for transporting the melted chocolate to the mold. Really make sure to get up the sides as that's what needs to be strong enough to hold the mold together.
To decorate these bombs, I used cookie icing and sprinkles.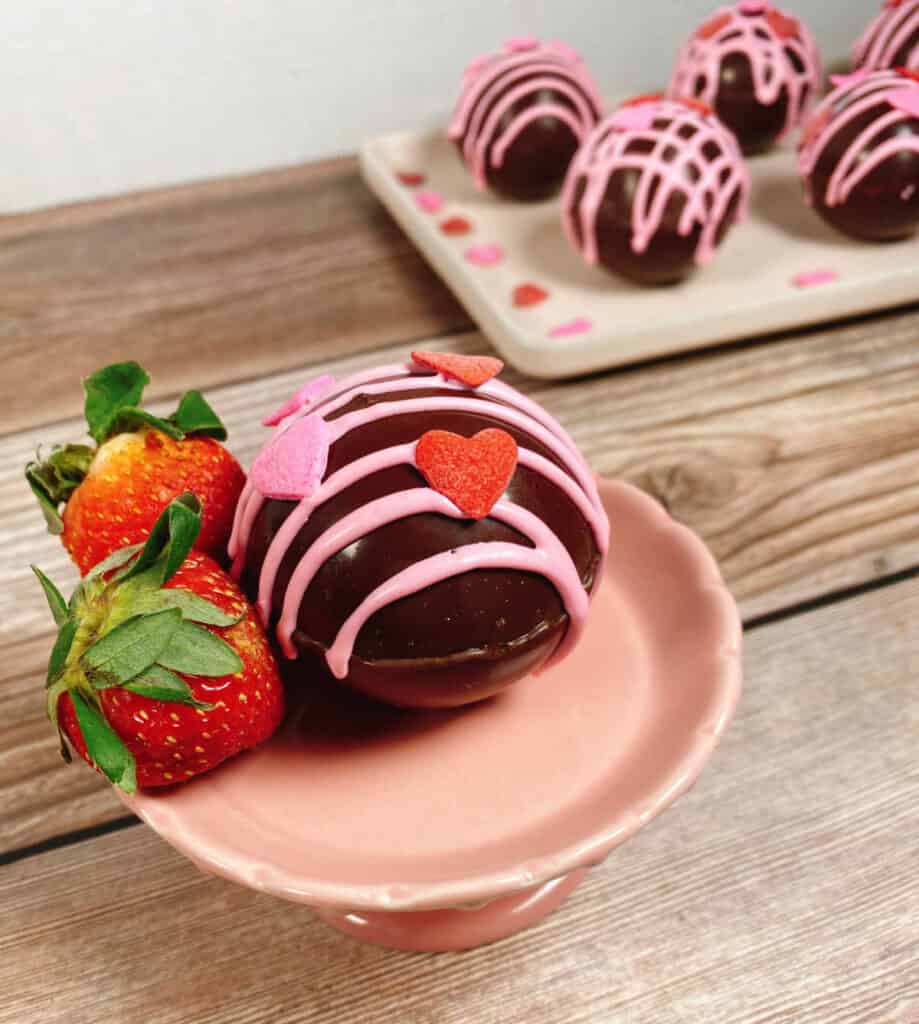 Substitutions
Hot Chocolate Bomb varieties are endless! If you think you'd like it in a hot drink, you most likely can make it into a hot chocolate bomb!
Strawberry Freeze Dried Powder: this is optional and another item I had previously purchased off of Amazon. My husband pointed out that Strawberry flavored Quick would likely work the same.
Strawberry Marshmallows: plain mini marshmallows are fine, I just happened to get a pack of flavored ones and picked out the strawberry for this recipe.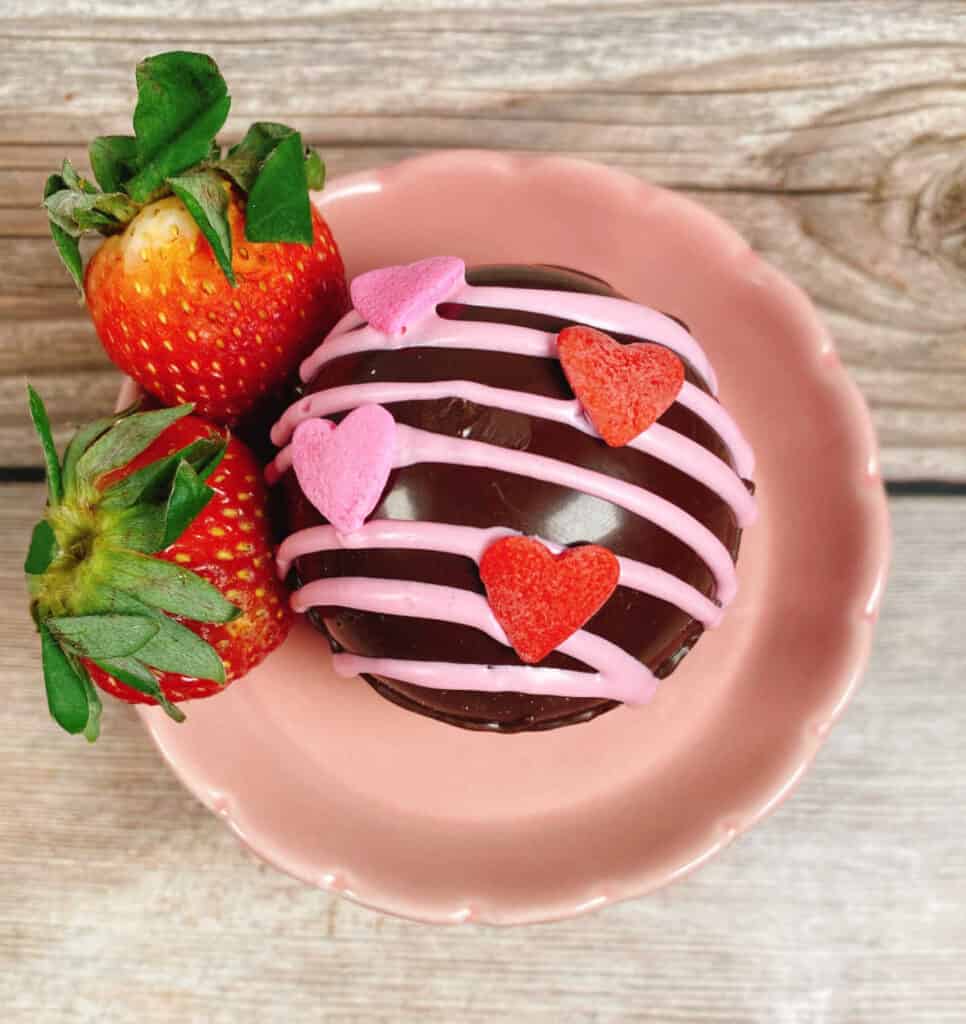 More Bomb Recipes from my friends
More Recipes I think you'll love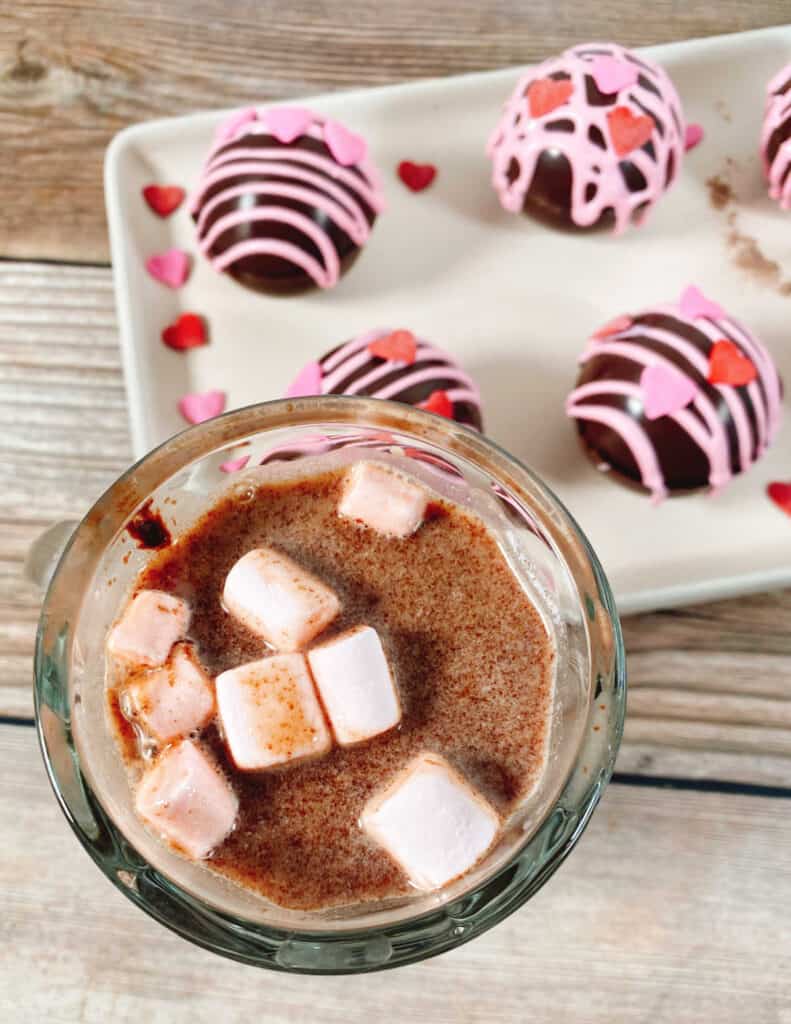 Want to save this recipe for later? Follow me on Pinterest! Rather watch a video? See if I've made this recipe by following me on Tiktok!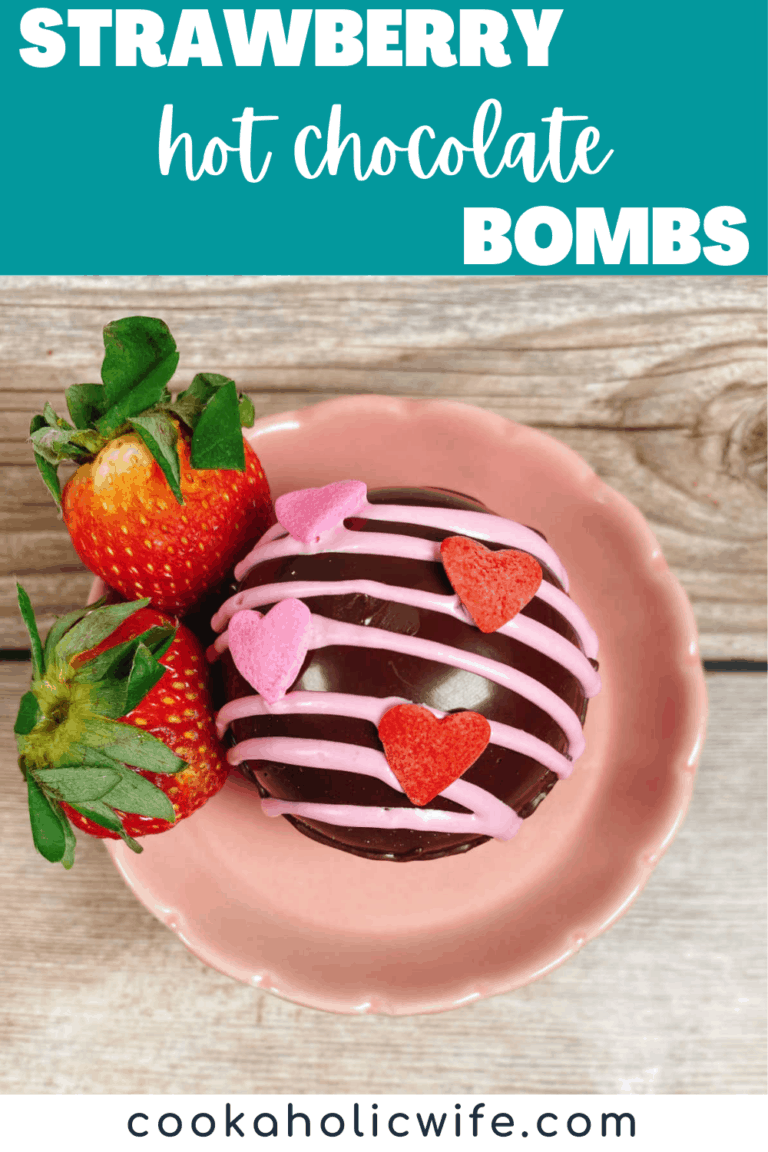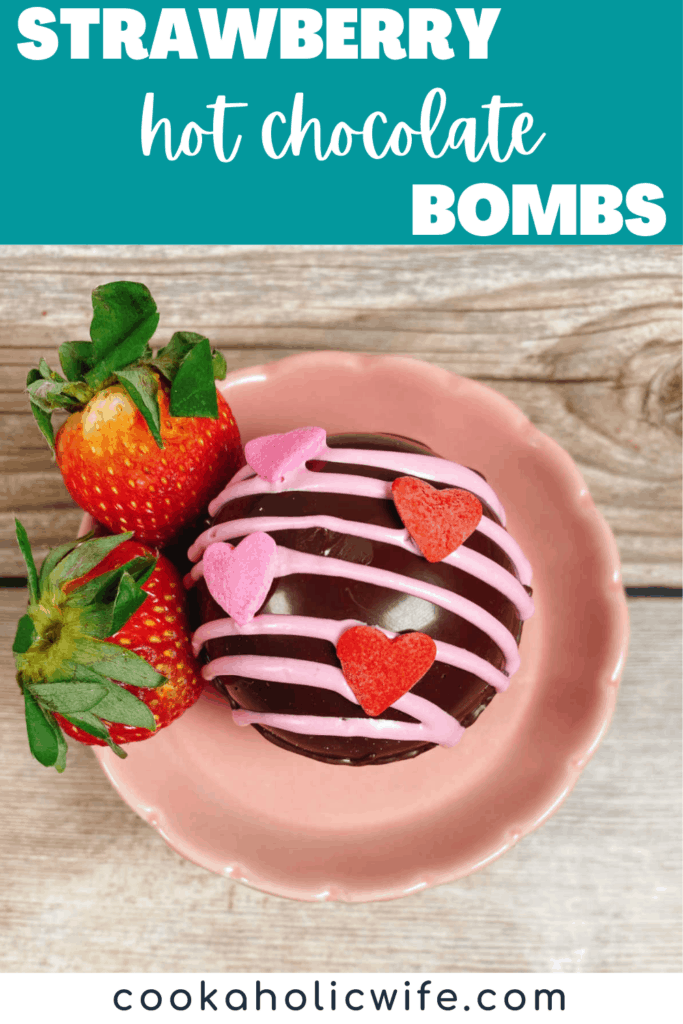 Recipe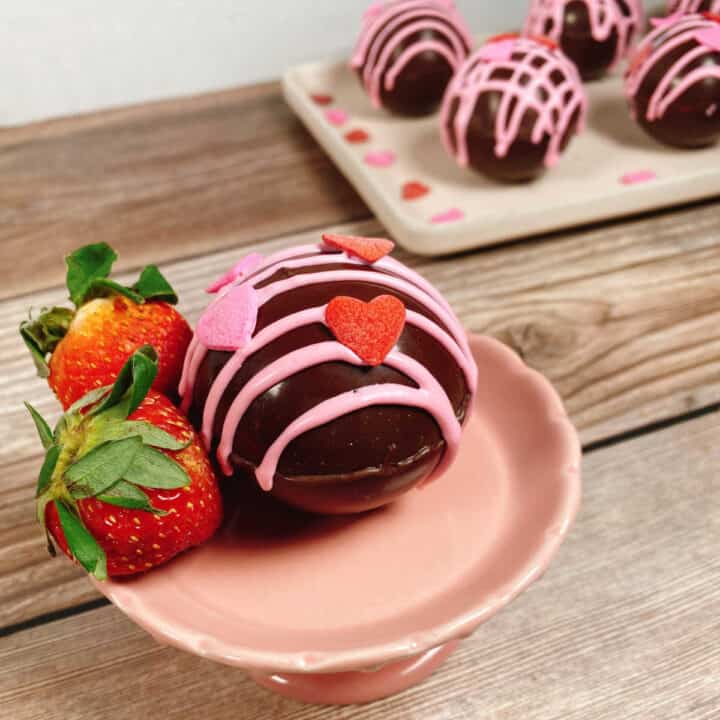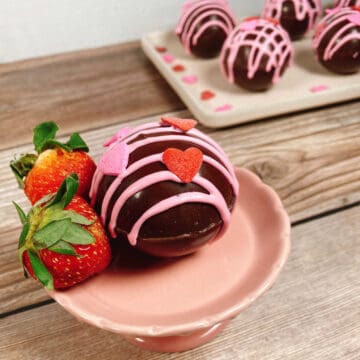 Strawberry Hot Chocolate Bombs
A fruity take on the hot chocolate bombs, this version features strawberry powder and strawberry flavored marshmallows.
Ingredients
12

oz

almond bark

2

packets

powdered hot chocolate mix

2

tablespoon

freeze dried powdered strawberries

48

mini marshmallows

cookie icing

heart sprinkles
Directions
In a microwave safe bowl, add the chocolate bark and microwave for 90 seconds. Stir, and continue to microwave in 30 second intervals until chocolate is melted and smooth.

Spread melted chocolate into the spherical molds, making sure to coat the sides and top edges with enough chocolate. Let sit for 10 minutes.

Remove the chocolate shells from the mold. Fill half the molds with 1 tablespoon each of powdered hot chocolate mix, 1 teaspoon of the freeze-dried strawberry powder and 4 mini marshmallows.

Take another shell and lightly swirl it in the remaining melted chocolate. Carefully press the top shell to the bottom shell to create a sphere. Use a butter knife or small paint brush to brush out any globs of chocolate that appear from attaching the two pieces together.

Let sit 5 minutes, then decorate with the cookie icing and press the candy heart sprinkles on top. Let sit another 5 minutes for everything to harden.

To Drink: place the hot chocolate bomb into a mug. Heat ¾ - 1 cup milk (dairy or non-dairy) to a boil. Carefully pour the milk over the hot chocolate bomb and watch it "explode". Stir to combine and top with additional mini marshmallows if desired.
Nutrition
Serving:
1
bomb
Calories:
2172
kcal
Carbohydrates:
298
g
Protein:
1
g
Fat:
98
g
Saturated Fat:
97
g
Trans Fat:
1
g
Sodium:
143
mg
Potassium:
396
mg
Fiber:
3
g
Sugar:
283
g
Vitamin A:
1
IU
Vitamin C:
361
mg
Calcium:
10
mg
Iron:
7
mg
Recipes on Cookaholic Wife are for information purposes only. Nutritional Data provided has not been evaluated by a nutritionist.