Victoria Sponge Cupcakes are a light and airy cupcake filled with blackberry jam and a sweet buttercream frosting.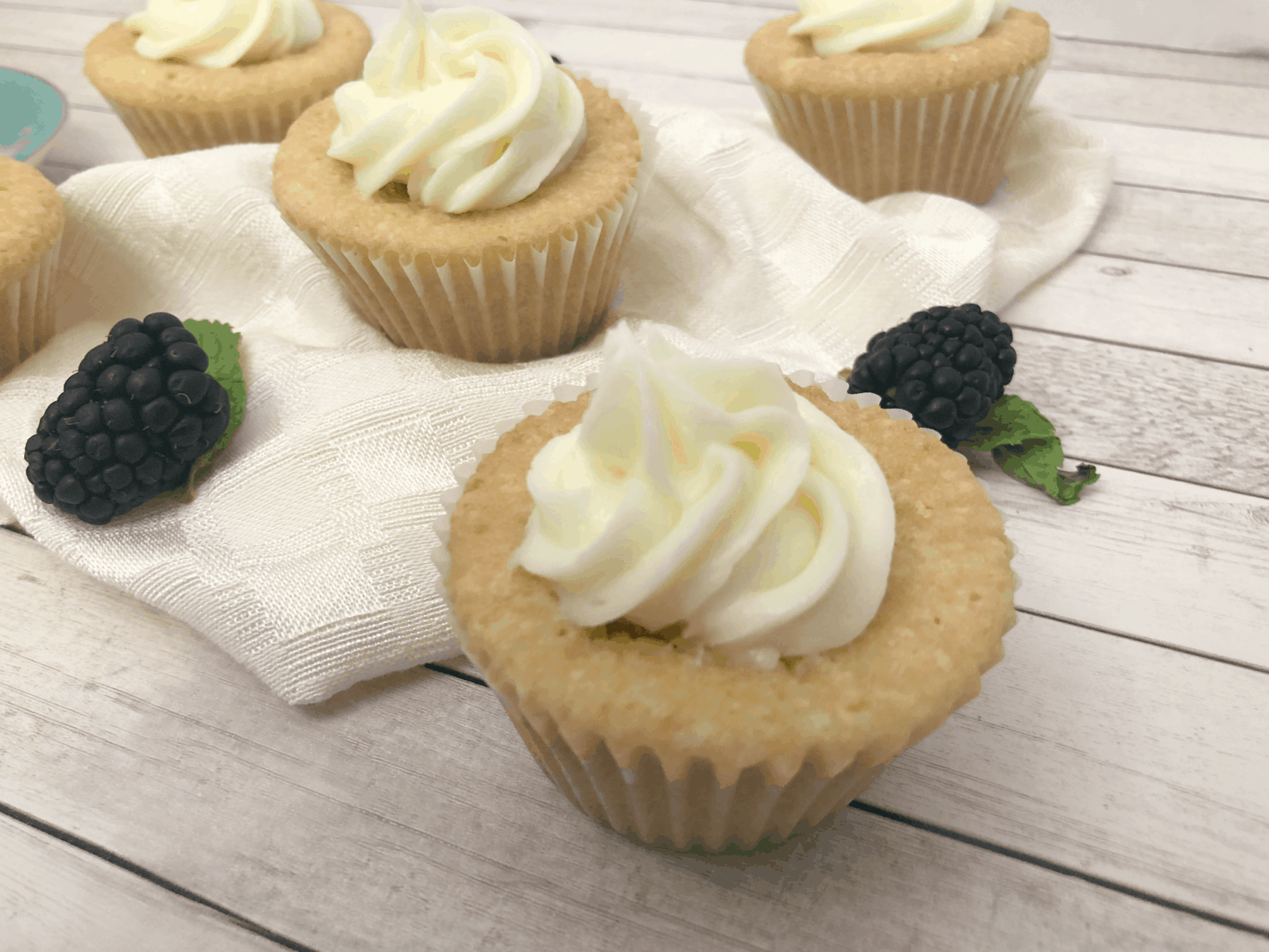 The theme for #BakingBlogger this month is Baking for a Tea Party. Would you believe I've never had a tea party? Even as a kid, I didn't host them for my stuffed animals or anything. Not like I need an excuse to have a party, but I think I need to plan one and have it be for high tea.
What would be more fun than getting to dress up and eat finger foods and sip tea? It sounds the like perfect girls only party to me!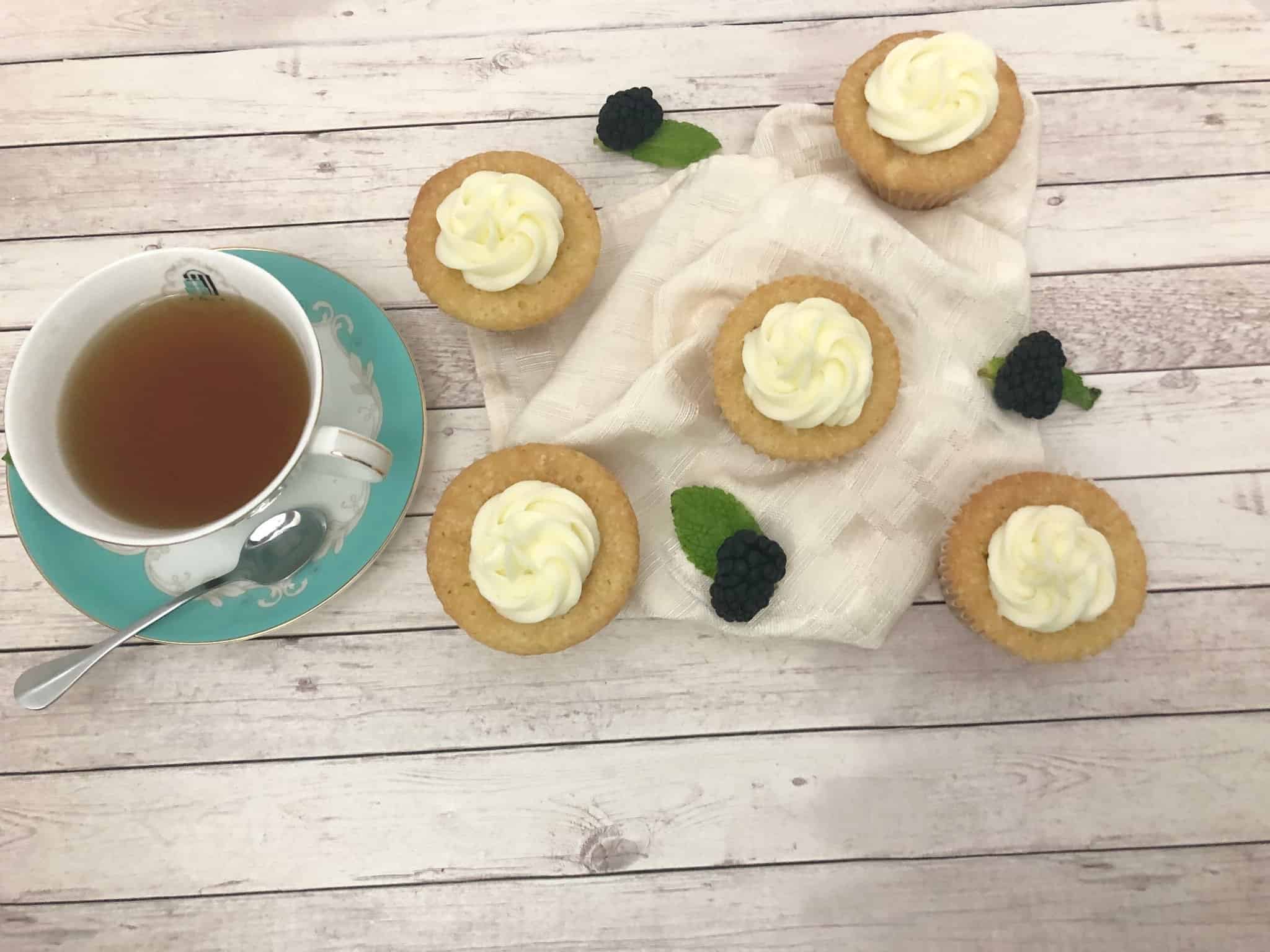 Victoria Sponge Cake was named after Queen Victoria who enjoyed having a slice of the cake with her afternoon tea. It is traditionally a sponge cake of two layers with whipped cream and strawberry jam in between the light and fluffy layers of cake. Because I feel like most food for tea parties is finger food, I decided to switch these out to cupcakes and forego the whipped cream as a frosting because of stability. (It's humid here already!)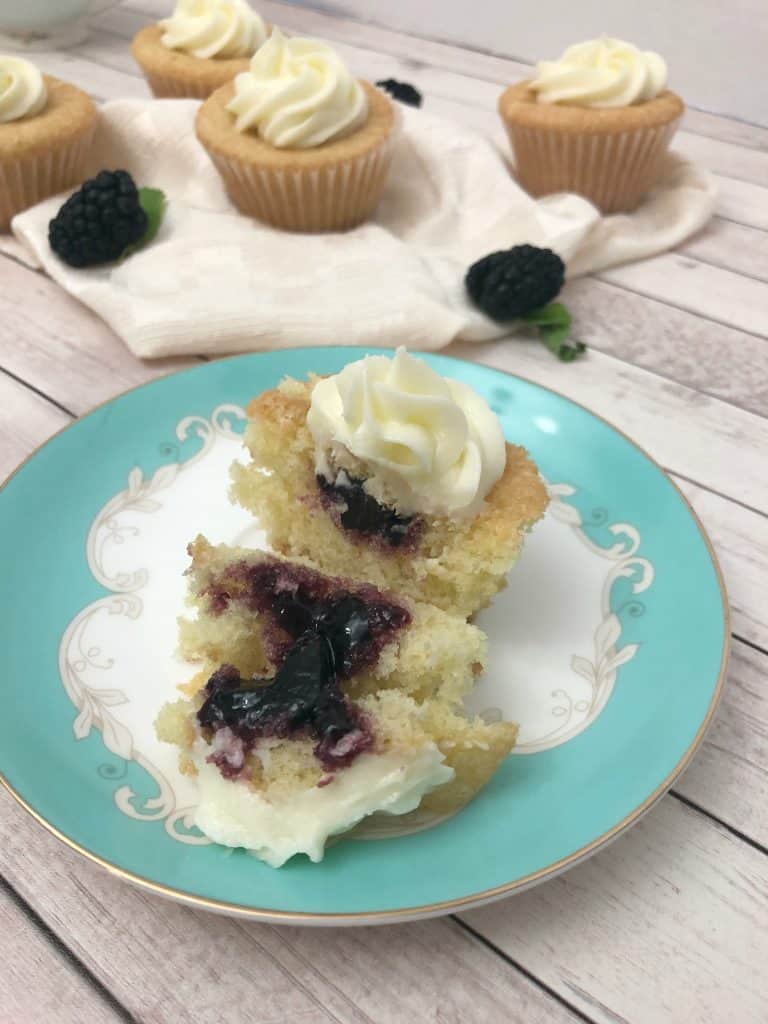 And while traditionally made with strawberry jam, I've had a jar of fancy blackberry jam sitting in the fridge waiting to be used for something special. These cupcakes were totally it!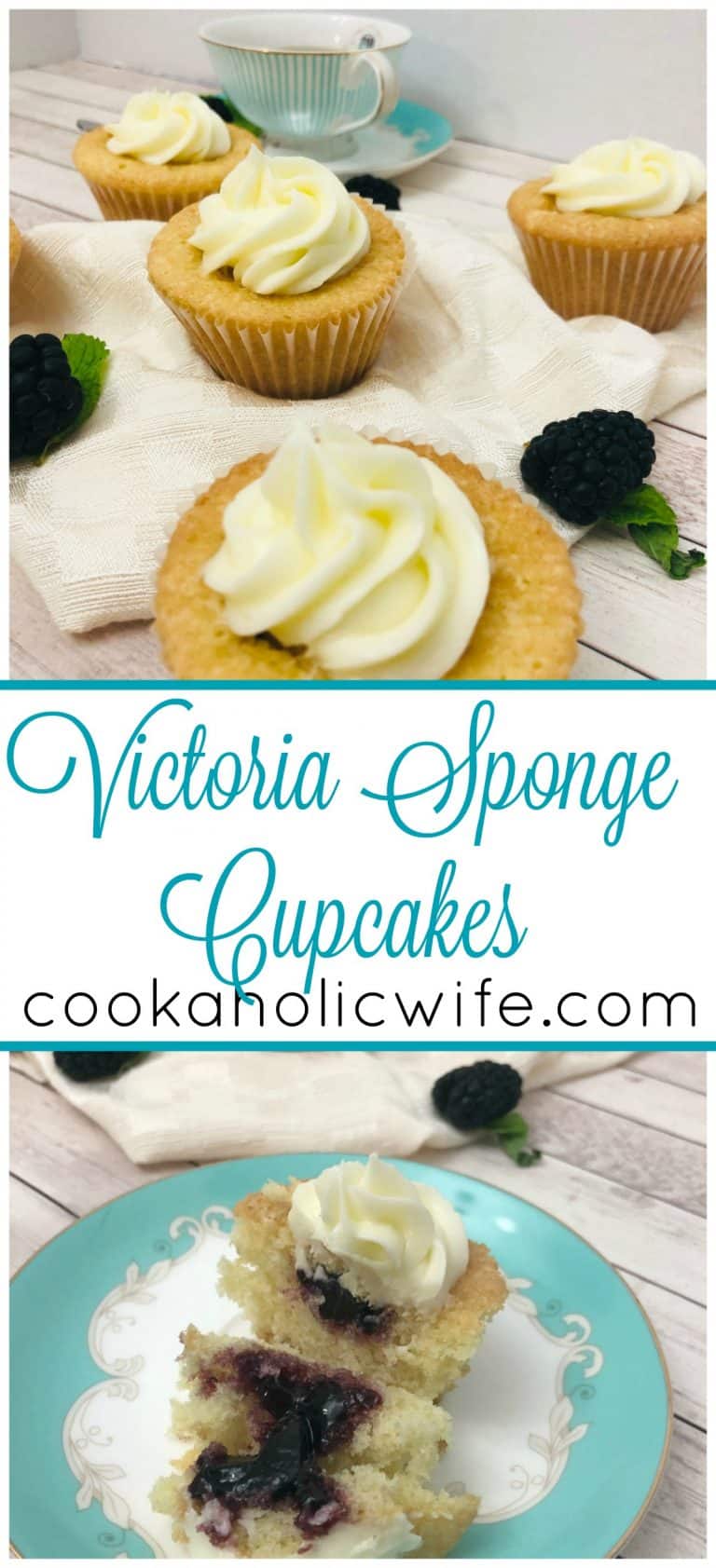 Recipe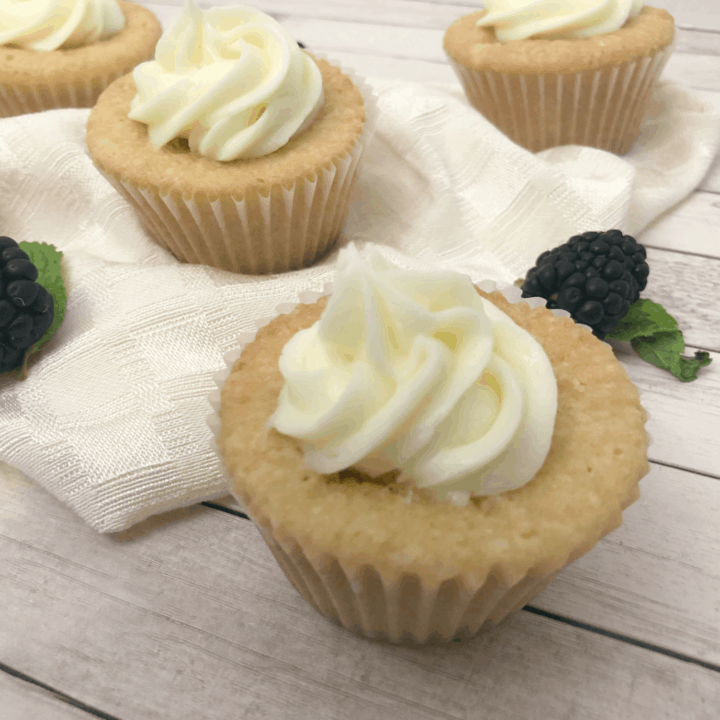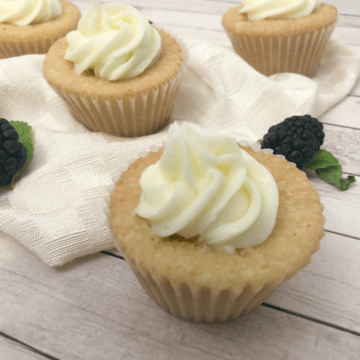 Victoria Sponge Cupcakes
Victoria Sponge Cupcakes are a light and airy cupcake filled with blackberry jam and a sweet buttercream frosting.
Ingredients
For the Cupcakes:
2

sticks unsalted butter

softened

1 ¼

cups

caster sugar

4

eggs

at room temperature

1

teaspoon

vanilla

1 ½

cups

all-purpose flour

1

tablespoon

+ 1 teaspoon baking powder

½

teaspoon

salt
For the Filling:
blackberry jam

about ½ cup
For the Frosting:
2

sticks unsalted butter

softened

2

cups

powdered sugar

1

teaspoon

vanilla

¼

teaspoon

salt
Directions
For the Cupcakes and Filling:
Preheat the oven to 350 degrees and line cupcake pans with 22 liners.

Add the butter to the bowl of your stand mixer and beat on medium speed for 2 minutes, then add the sugar and beat for 2 minutes more.

Add in the vanilla then the eggs, one at a time.

Add in the flour, baking powder and salt and beat until combined.

Divide the batter into the prepared cupcake pans, not filling more than ½ way.

Bake for 16-18 minutes or until lightly golden.

Cool on wire racks.

Cut a small circle out of the top of the cupcake and save the cake.

Fill each cupcake with about ½ teaspoon of jam each and place the top back on.
For the Frosting:
Beat the butter on medium speed for 3 minutes. Add in the powdered sugar slowly until fully combined. Beat in the vanilla and salt.

Transfer buttercream to a piping bag and pipe a small dollop on top of each cupcake.
Notes
If you can't find caster sugar, add granulated sugar to your food processor and pulse a few times until its smaller granules, but not as fine as powdered (confectioners) sugar.
Do not fill batter more than half way full or the cupcakes will spill over.
The buttercream is only meant to cover the hole filling the jam. To completely cover the cupcake with frosting, double the recipe.
Recipes on Cookaholic Wife are for information purposes only. Nutritional Data provided has not been evaluated by a nutritionist.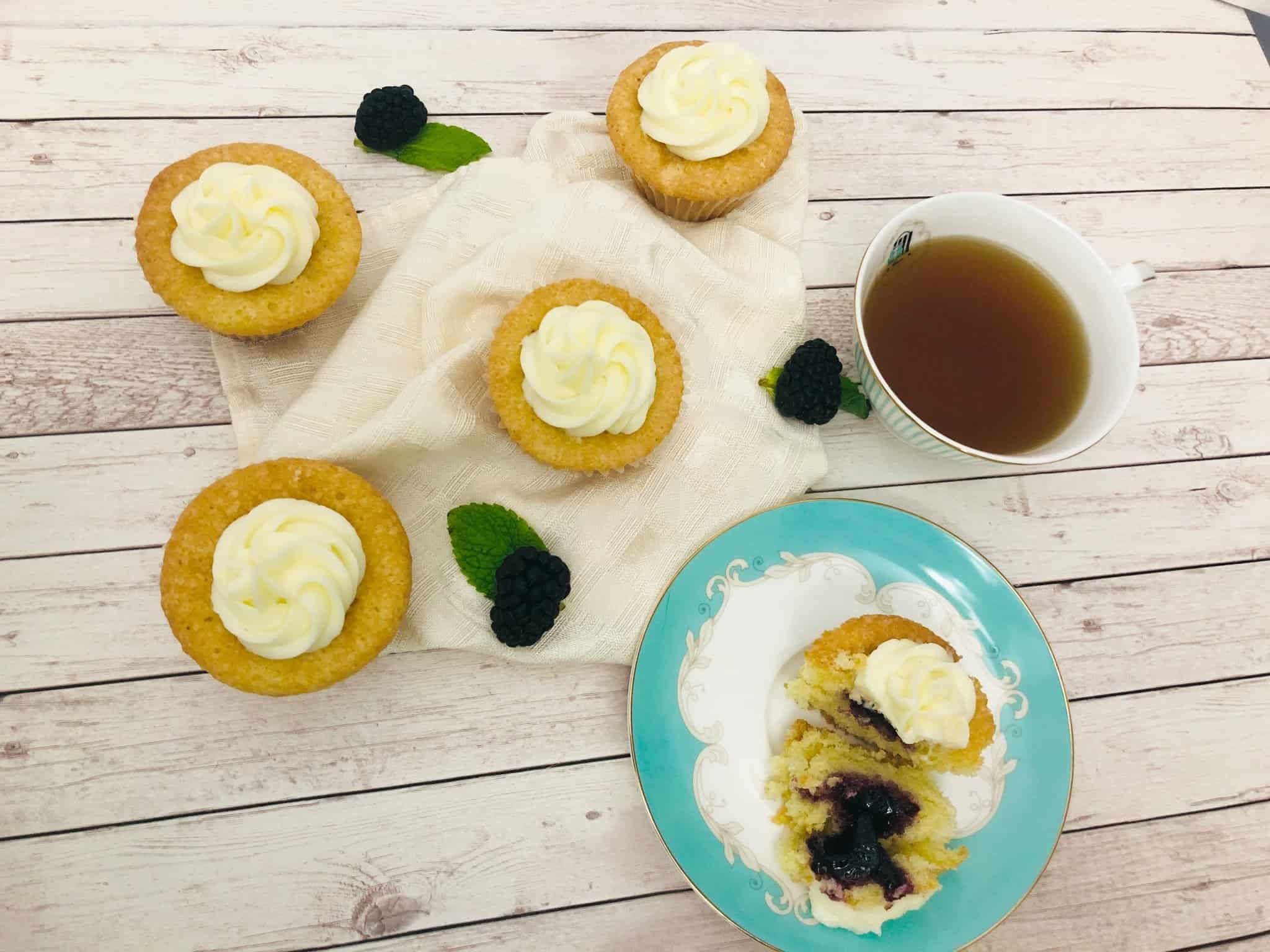 I've made and eaten a lot of cupcakes in my life (so far) but this was definitely one of the best ones I've ever had. Seriously! The cake portion practically melts in your mouth and then it's perfectly sweetened with the blackberry jam. I honestly didn't even need that little dollop of buttercream on top, but it definitely makes for a much pretty presentation!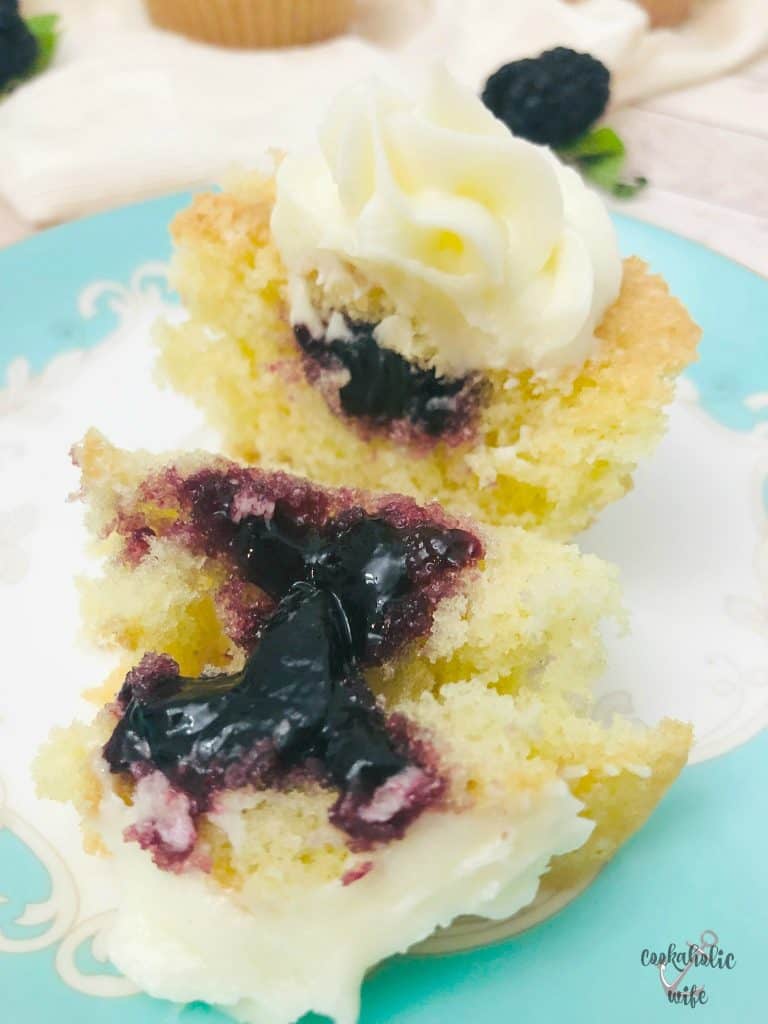 Baking Bloggers
Baking for a Tea Party