Eggplant Prosciutto Caprese Panini is a mouthful of a sandwich - literally. Grilled eggplant, fresh sliced tomato and mozzarella and salty prosciutto come together in a ciabatta bun for a flavorful sandwich you're sure to love.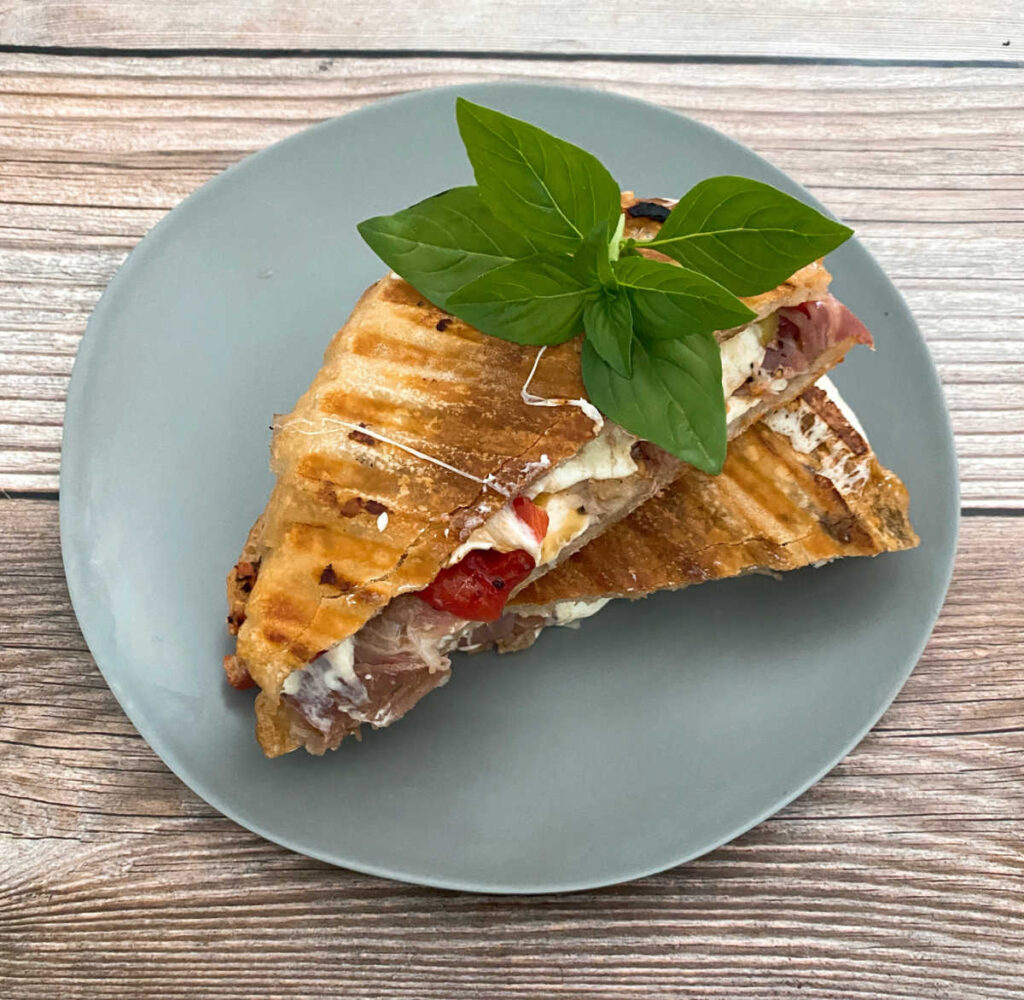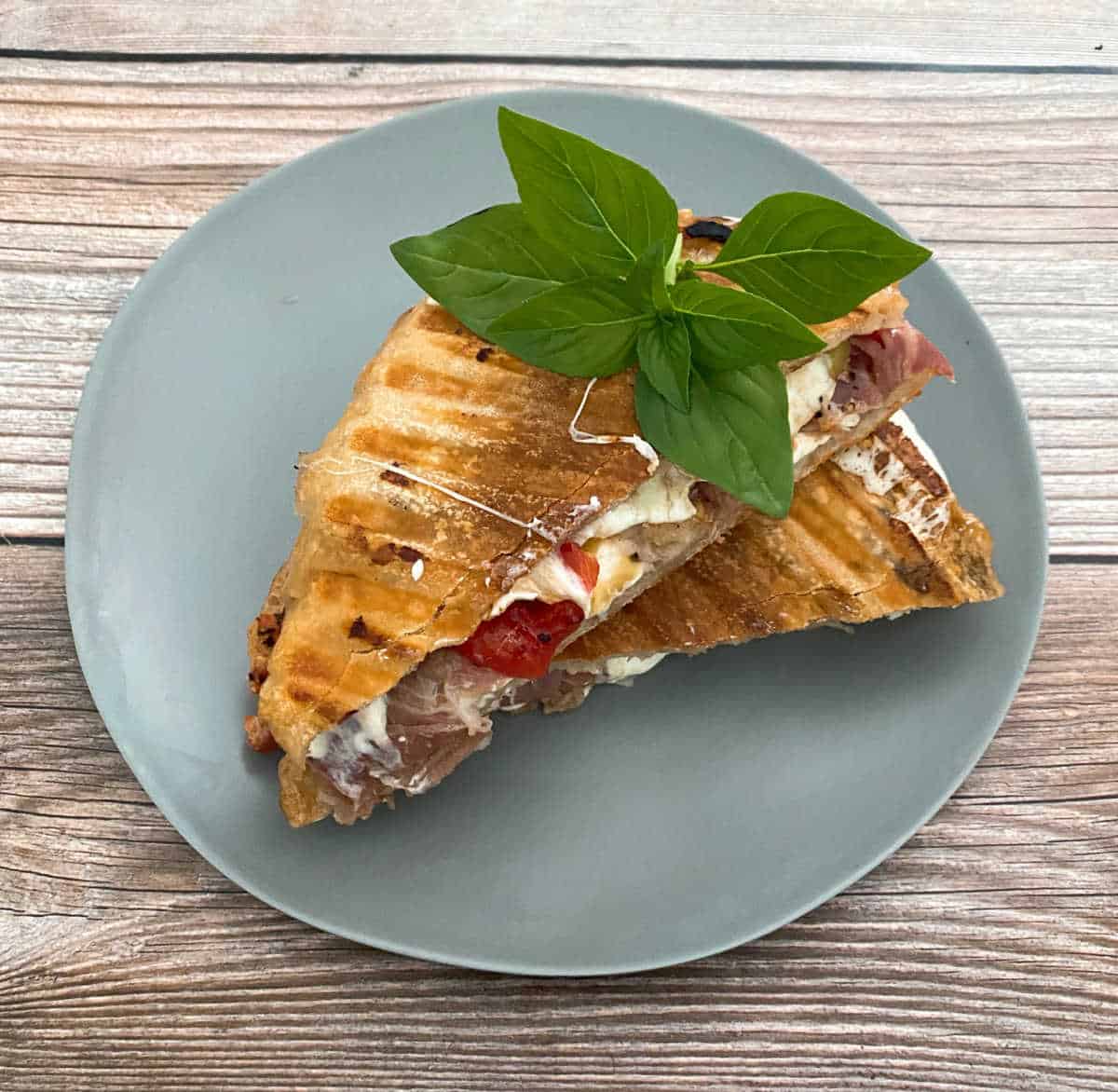 It has been ages since I've had a panini. We used to have an Italian restaurant nearby that one of the most delicious caprese prosciutto paninis I've ever tasted. Craving that recipe, I decided to elevate it a little bit by adding in some grilled eggplant. Enter the Eggplant Prosciutto Caprese Panini!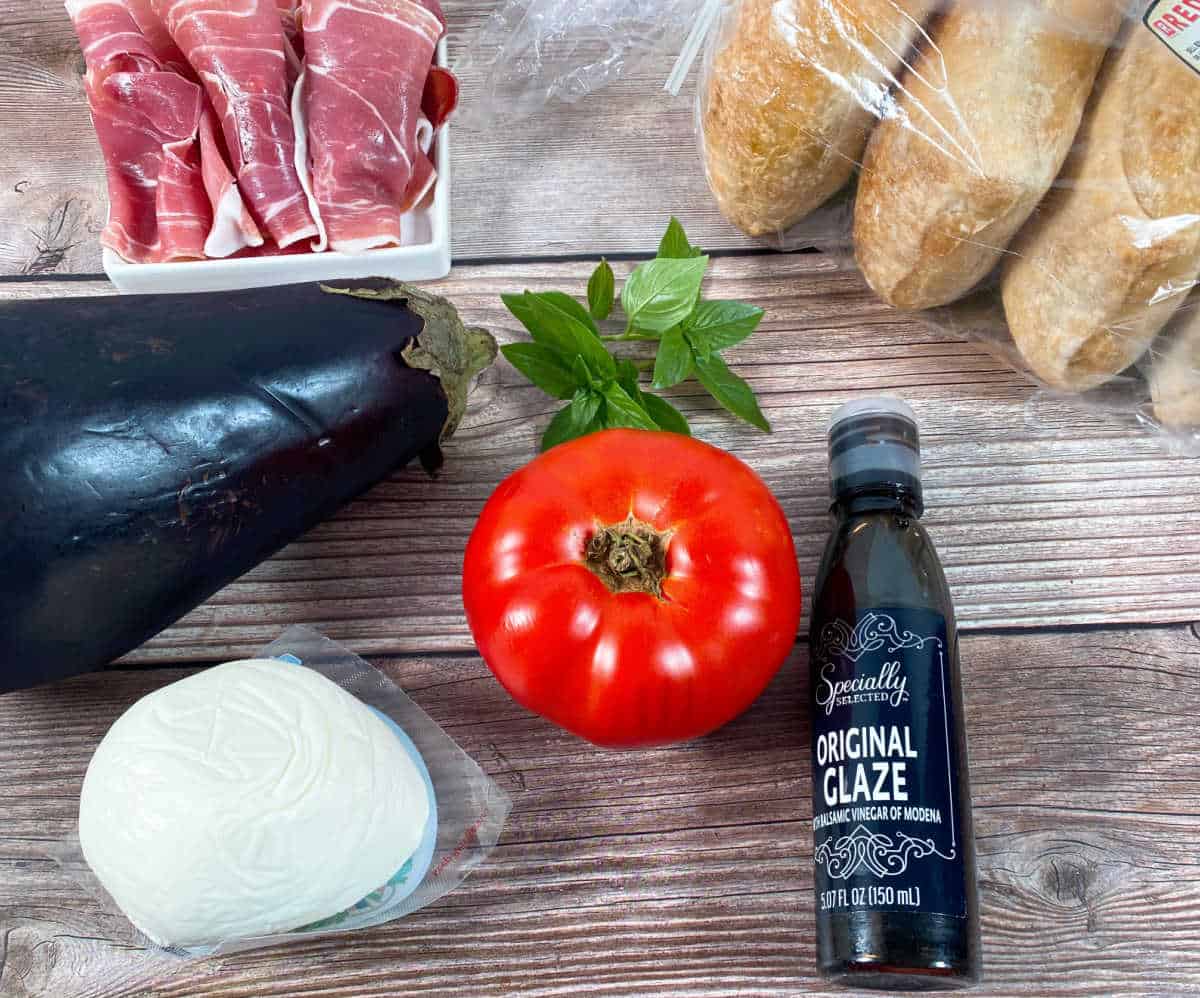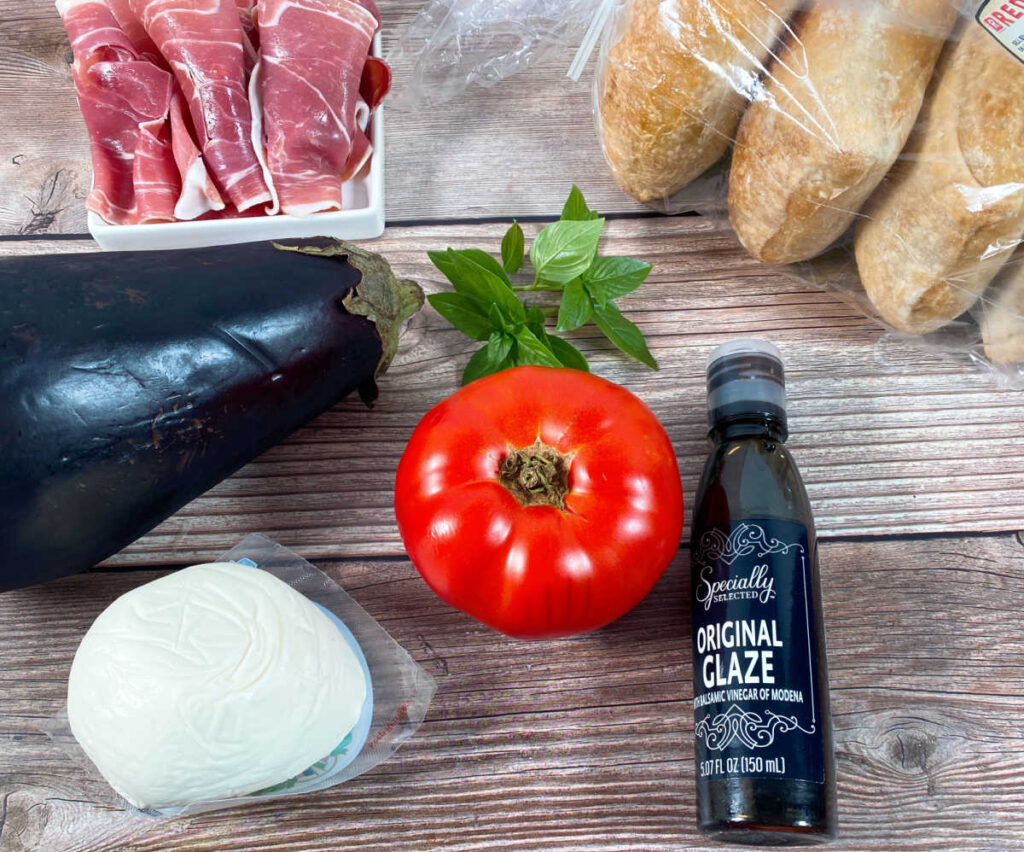 🥘 Ingredients for this recipe
eggplant, peeled
tomato
fresh mozzarella cheese
prosciutto
fresh basil
balsamic glaze
ciabatta bread
salt and pepper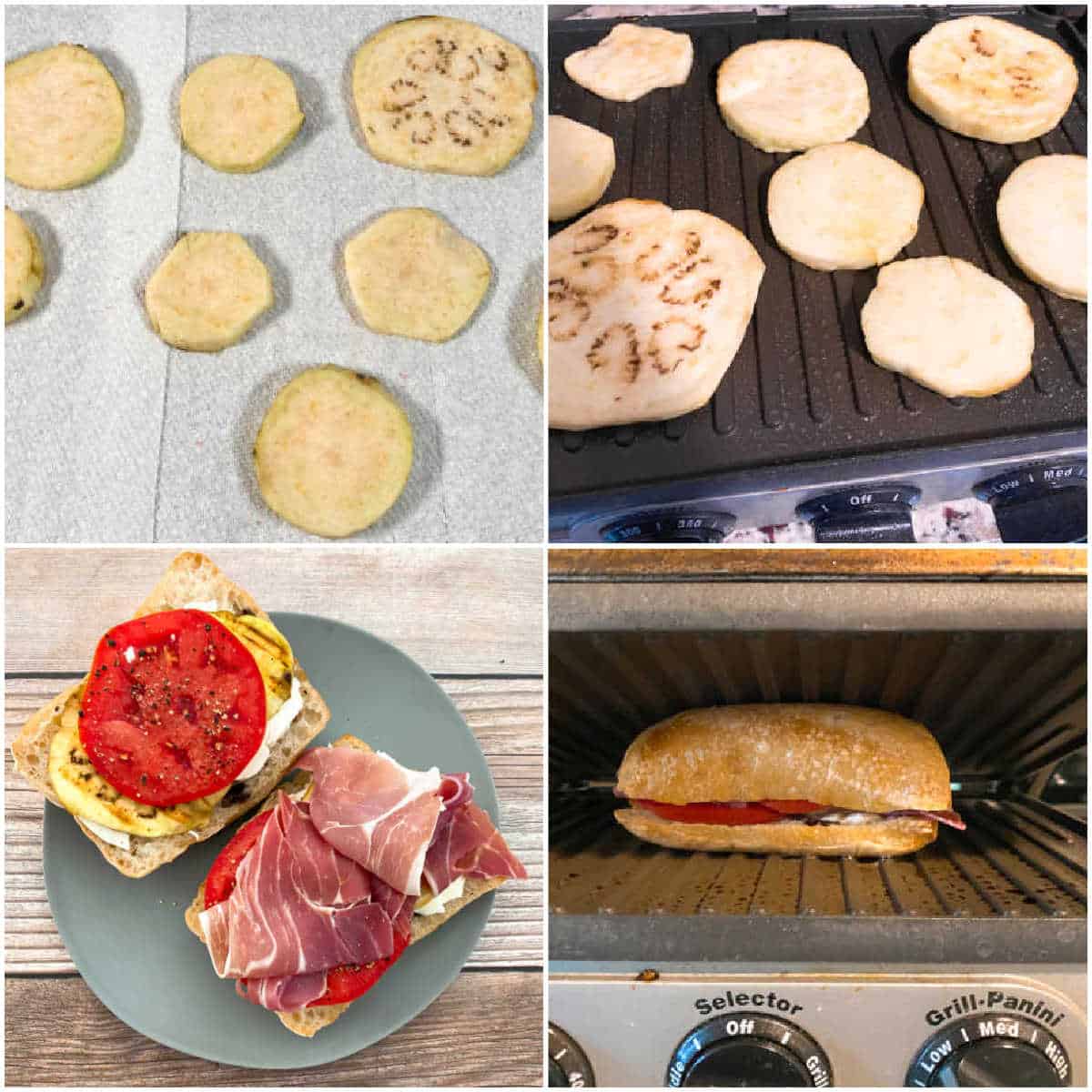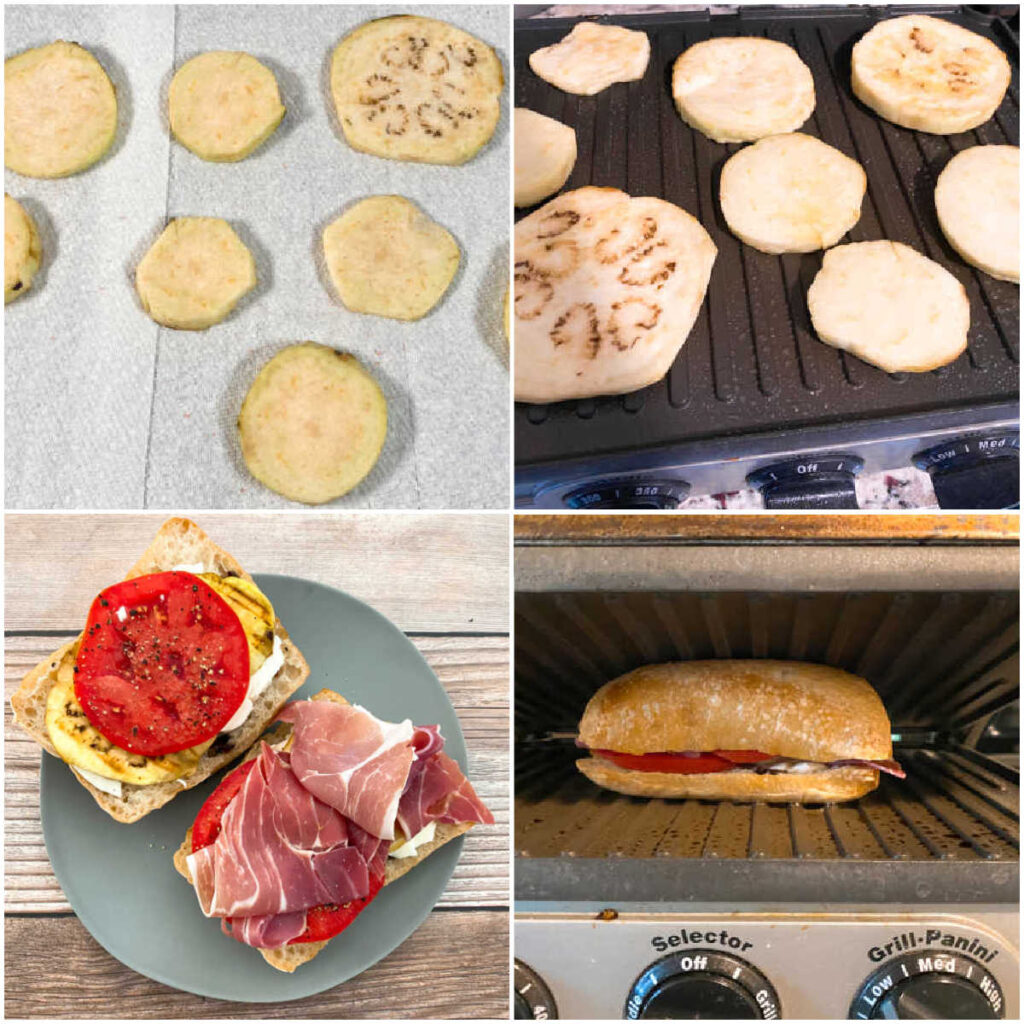 🔪Instructions for this recipe
First, prepare the eggplant. Slice peeled eggplant into ¼ inch rounds and place on a paper towel. Sprinkle salt on top to draw out the moisture. Let sit for 30 minutes. Then rinse and pat dry.
Then preheat the panini press or grill. Preheat to medium high heat.
Cook the eggplant. Drizzle or spritz eggplant with olive oil and cook on the panini press or grill for 4 minutes on each side, until softened and cooked through.
After that assemble the sandwich. Slice open the ciabatta bread and drizzle both sides of the bread with the balsamic glaze. Then add two slices of eggplant, one slice each of mozzarella and tomato, a few basil leaves and two slices of prosciutto to each sandwich. Close the sandwiches and spritz or brush lightly with olive oil.
Finally, cook the sandwiches. Add the sandwiches to the panini press or grill (if grilling you'll need to find something to press down the top of the sandwich, ex. bottom of a heavy pan) and cook for 2-3 minutes or until the mozzarella cheese has melted and the sandwich is golden brown.
Slice and serve. Cut the sandwiches on a diagonal and serve immediately.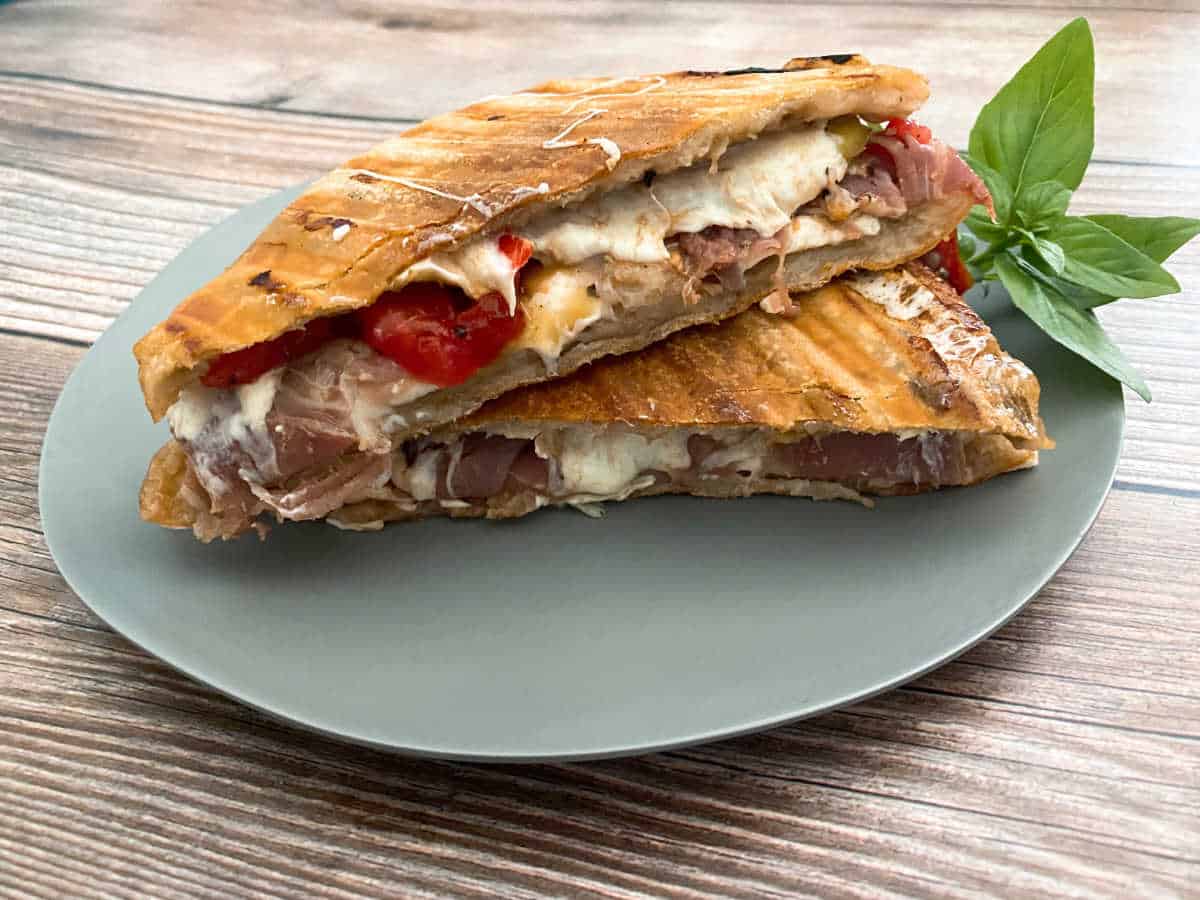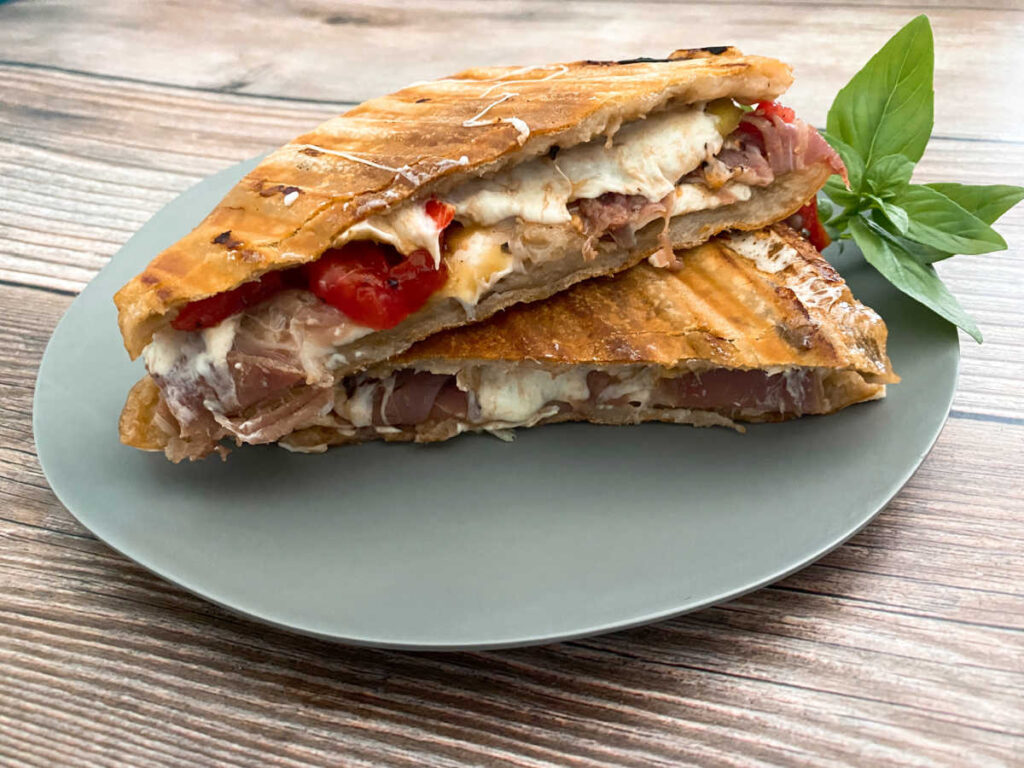 Substitutions for this panini
Lower Carb: ciabatta is great, but the slices of eggplant can also serve as the bread for this panini
Burrata: use mozzarella's more sophisticated cousin, burrata, on this sandwich instead
Meats: omit the prosciutto entirely or use thinly sliced deli ham or other Italian cured meats like sopressata, capicola, etc.
Toppings: pesto or roasted red pepper sauce would be great substitutions for the balsamic glaze I used
Arugula: to add a slightly peppery taste to this panini, add in some arugula!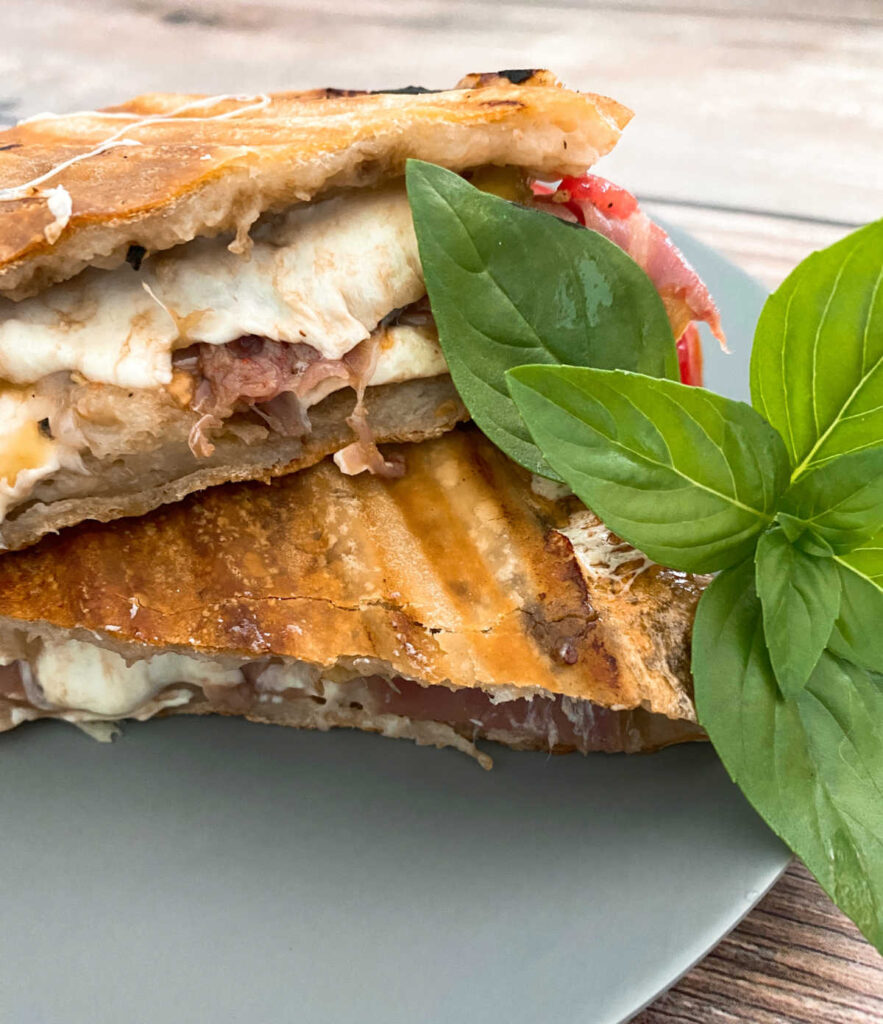 FAQ's for the best eggplant panini sandwich
How do you cook eggplant without it getting soggy? Eggplant has a spongey flesh which will soak up oil making it greasy. To prevent this, follow step 1 of the recipe where the eggplant is salted. This process is called sweating and allows the air pockets within the eggplant to be filled with moisture, meaning there isn't room to absorb all the oil.
Why do you soak an eggplant before cooking? Soaking an eggplant is another option to ensure that its not greasy or has an odd texture. Eggplant can be soaked in milk for 30 minutes, which serves the same purpose as salting it, it fills the air pockets so they don't get laden with oil.
Can I cook vegetables on a panini press? Yes, think of a panini press as a tiny grill. If you wanted to serve this sandwich with squash, mushrooms, asparagus, etc. you can cook it right on the panini press.
Should you peel an eggplant? It depends on the eggplant. A young eggplant will still have an edible skin, but as the eggplant gets older, the skin becomes more bitter. If you're not sure, err on the side of caution and peel the eggplant.
How many calories are in an eggplant panini? This recipe has 373 calories, but is dependent on the brand of ciabatta bread you use. If you skip the bread, the recipe would be approximately 211 calories.
Serve this eggplant panini with:
Air Fryer Parmesan Squash Fries, Open-Faced Tomato Sandwiches or Pan Fried Corn Fritters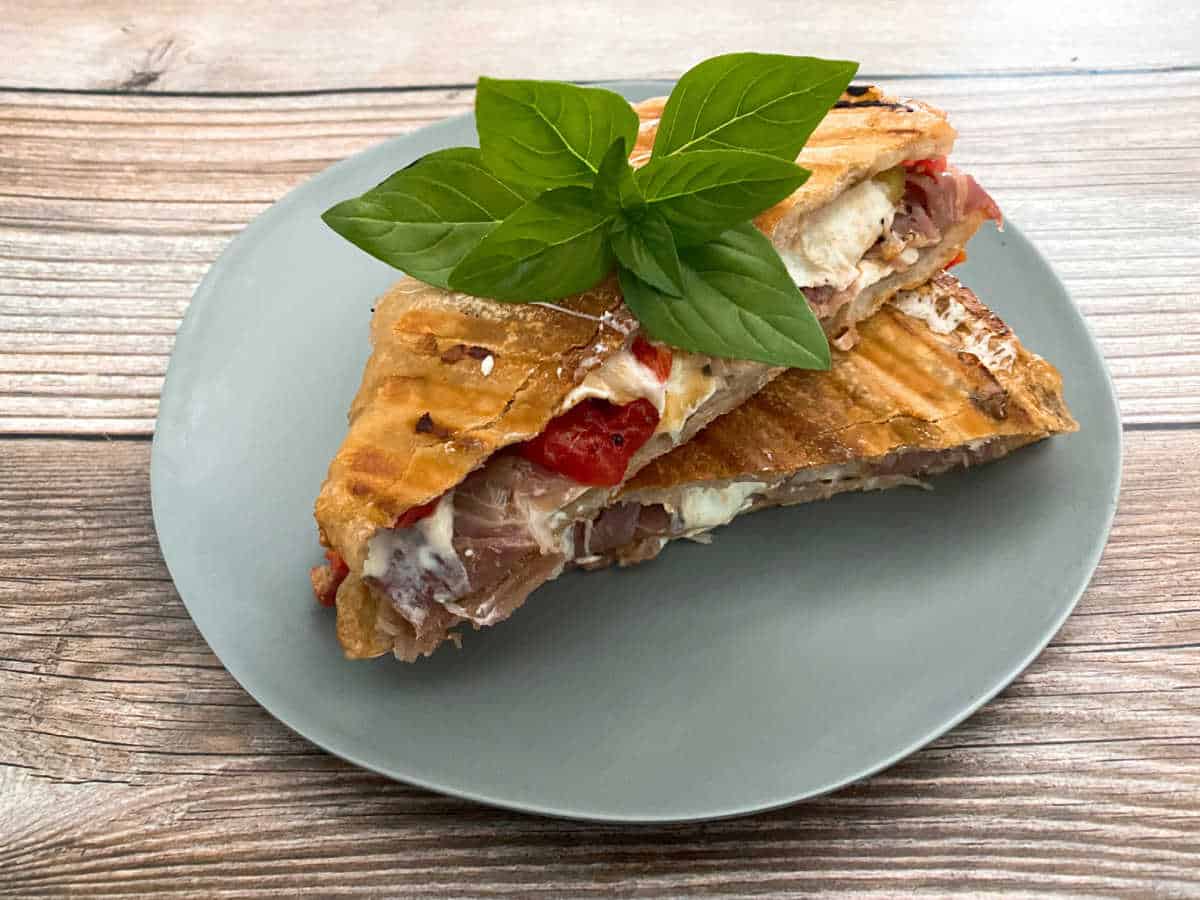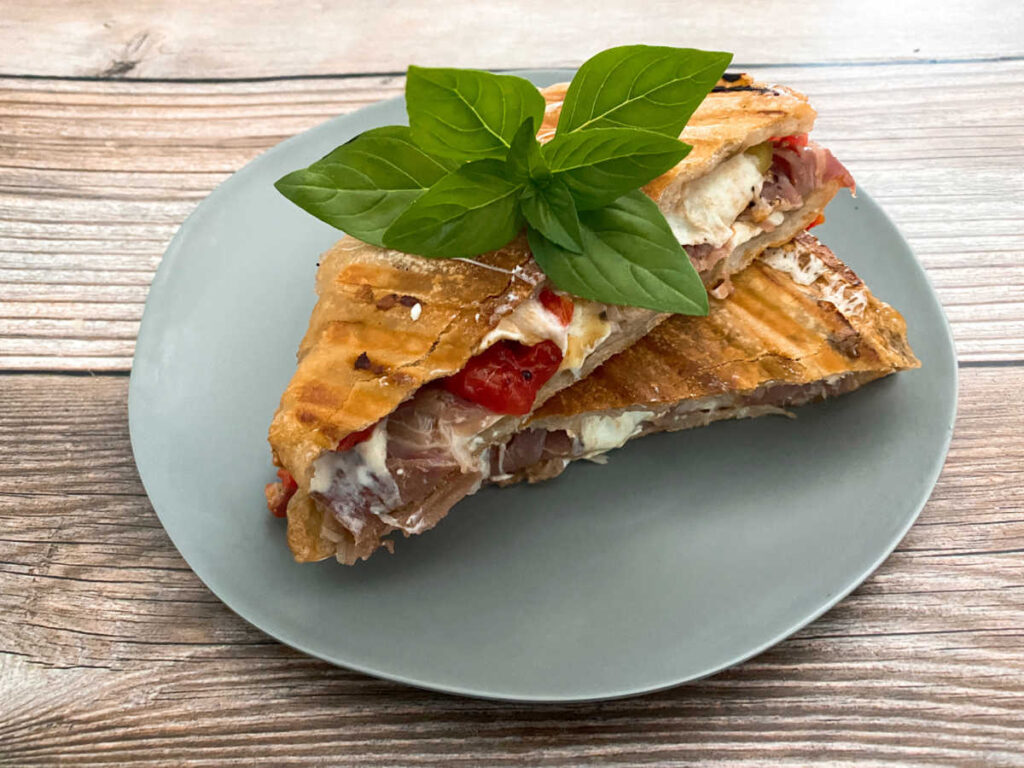 The Improv Cooking Challenge is a monthly blogging event where two ingredients are assigned and bloggers can make any recipe they like as long as it includes those ingredients. If you're a blogger and would like to join us, please visit our Facebook page, or if you'd like to see previous recipes we've made, please visit our Pinterest page.
The Improv Cooking Challenge ingredients for August are eggplant and tomato. Check out what the other bloggers have made using these two ingredients!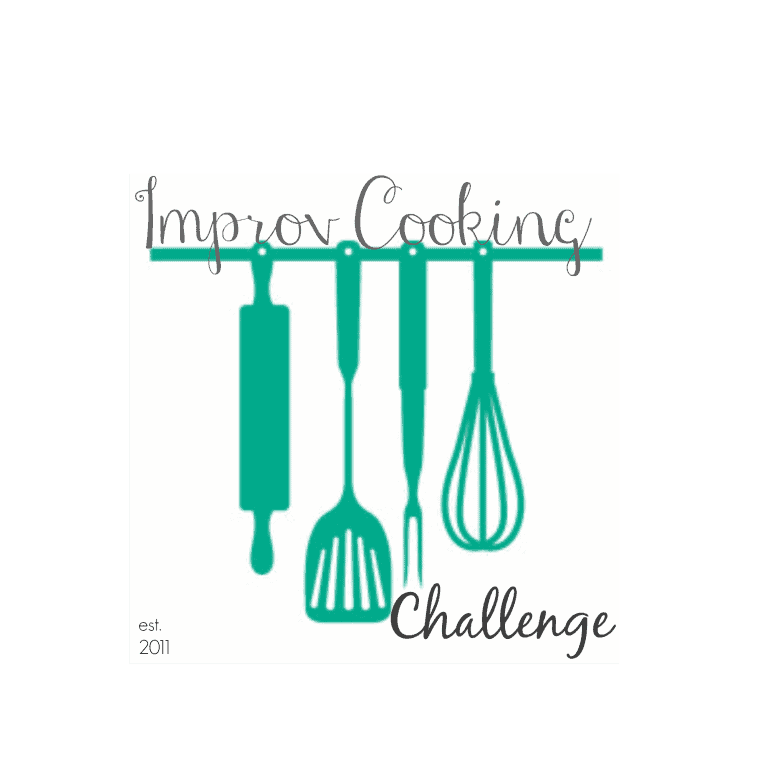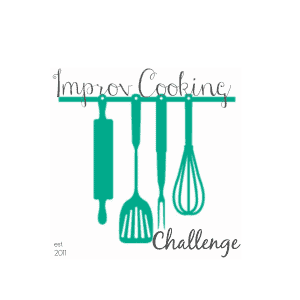 Improv Cooking Challenge: August 2021
Want to save this recipe for later? Follow me on Pinterest! Rather watch a video? See if I've made this recipe by following me on Tiktok!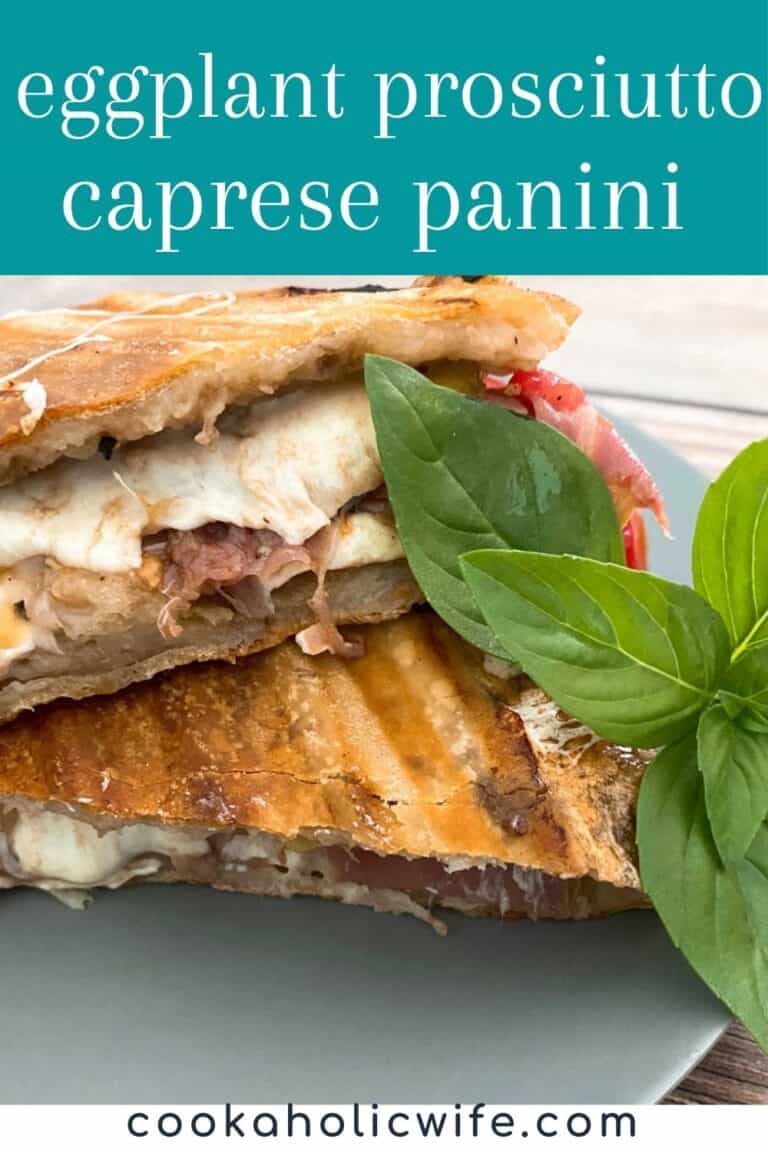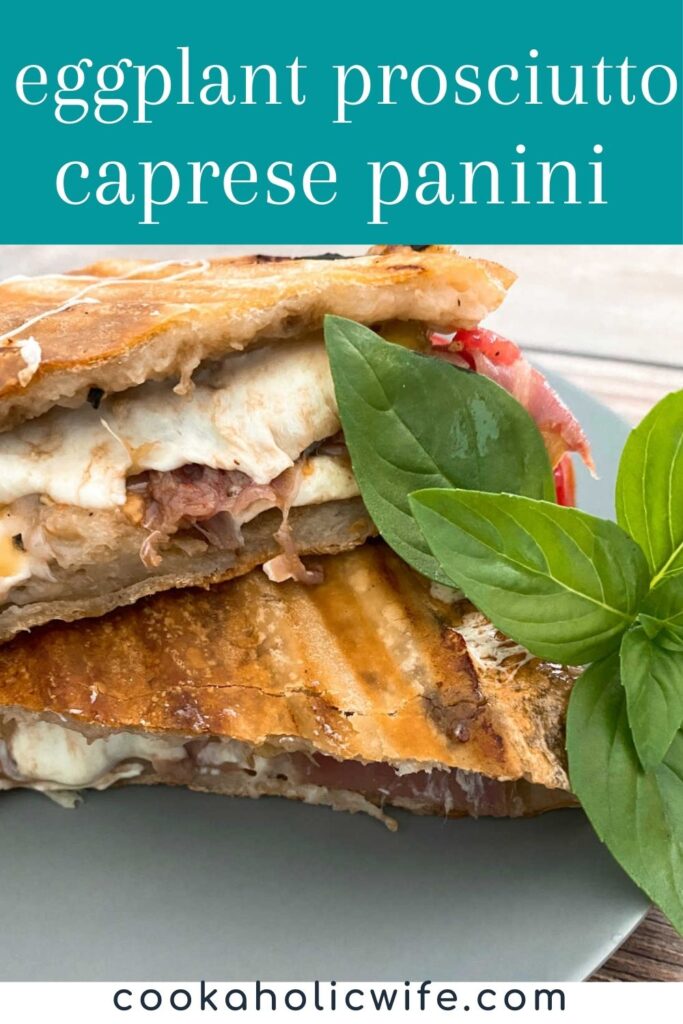 Recipe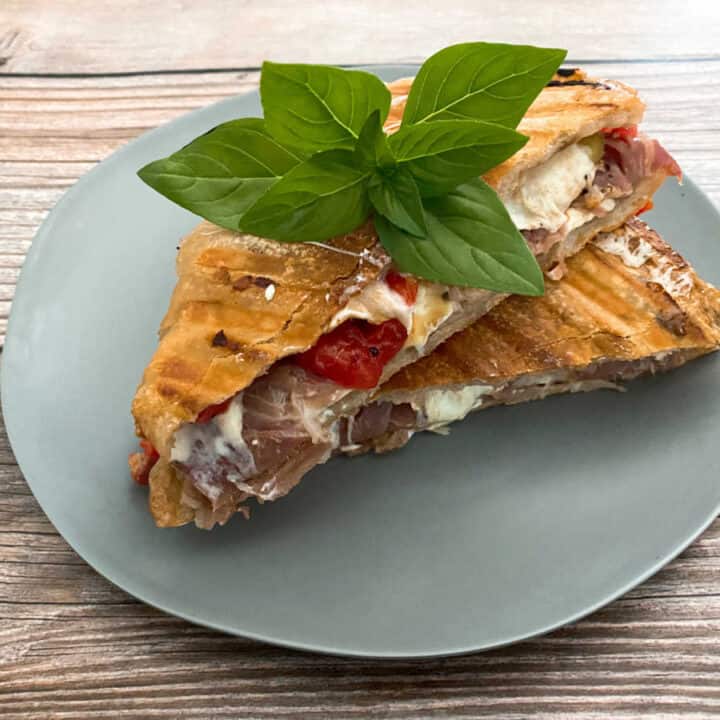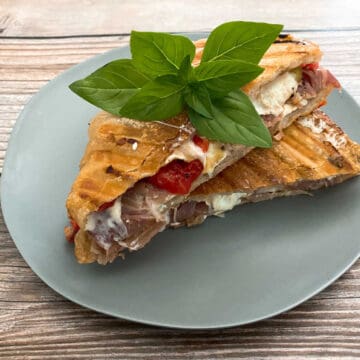 Eggplant Prosciutto Caprese Panini
This delicious sandwich features eggplant, fresh tomatoes and mozzarella and prosciutto in a crispy ciabatta bread panini.
Equipment
panini press, griddler or grill
Ingredients
1

medium

eggplant

peeled

1

large

tomato

sliced

4

oz

fresh mozzarella

sliced

8

oz

prosciutto

fat trimmed

2

tablespoon

balsamic glaze

4

rolls

ciabatta

2

tablespoon

fresh basil

salt and pepper,

to taste
Directions
Slice the eggplant into ¼ inch rounds. Place a paper towel on a baking sheet. Place the sliced eggplant in a single row and sprinkle salt on the eggplant.

Let the eggplant sweat for 30 minutes, then rinse and pat dry. Season again with salt and pepper. Spritz or lightly brush with olive oil.

While the eggplant is sweating, heat a panini press, Griddler or grill over medium high heat. If you have grill plate options, use the raised grill side, not the flat top side.

Place the eggplant slices at a diagonal on the grill and cook for 4 minutes on each side or until softened and grill marks are visible. Remove from the grill.

Slice open the ciabatta roll and drizzle balsamic glaze on both sides of the roll. Layer the sandwich with two slices of the grilled eggplant, a slice of fresh mozzarella and tomato, some basil leaves and two slices of prosciutto. Close the sandwich and spritz or lightly brush with olive oil. Repeat with remaining sandwiches.

Place the sandwiches on the grill and close to press down. Cook for 2-3 minutes on each side, until lightly golden and the cheese has melted.

Remove the sandwiches from the grill and slice on the diagonal. Serve immediately.
Notes
Substitutions: skip the bread and use the grilled eggplant as the bread instead. Replace mozzarella with burrata cheese. Replace balsamic with pesto or roasted red pepper sauce. Prosciutto can be omitted or replaced with ham or Italian meats like sopressata or capicola. Add arugula for a peppery flavor. 
Nutrition
Serving:
1
panini
Calories:
373
kcal
Carbohydrates:
14
g
Protein:
15
g
Fat:
29
g
Saturated Fat:
11
g
Polyunsaturated Fat:
4
g
Monounsaturated Fat:
12
g
Trans Fat:
1
g
Cholesterol:
60
mg
Sodium:
563
mg
Potassium:
507
mg
Fiber:
4
g
Sugar:
7
g
Vitamin A:
671
IU
Vitamin C:
9
mg
Calcium:
163
mg
Iron:
1
mg
Recipes on Cookaholic Wife are for information purposes only. Nutritional Data provided has not been evaluated by a nutritionist.