Spicy Parmesan Pork Chops are spicy, breaded pork chops cooked in the Air Fryer for maximum crispiness and a quick weeknight meal.
I love how simple these spicy parmesan pork chops are to make! Some basic breading ingredients, hot sauce, spices and Parmesan cheese are all you need to make this recipe!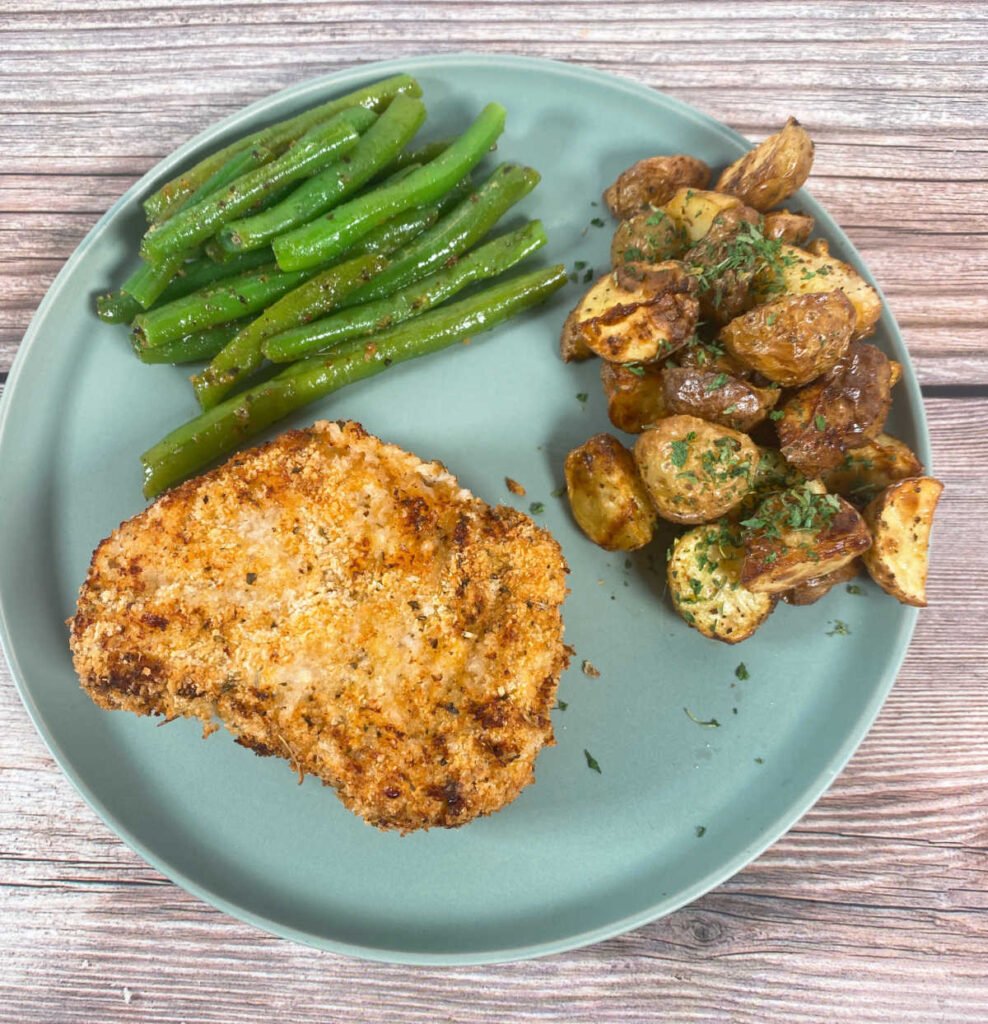 I was kind of late to get on the Air Fryer train, but I absolutely love this small appliance. When it's super hot in the summer I love making meals in it so I don't need to heat up the kitchen by turning on the oven.
what are spicy parmesan pork chops?
This recipe is similar to any Panko-crusted recipe, where the meat is dipped in flour, egg and then Panko. Hot sauce is added to the egg wash to add some spice to these pork chops and I added a little more flavor by adding spices to the Panko.
Panko crusted pork chops can be made on the stove or oven, but in this version I make them in the air fryer.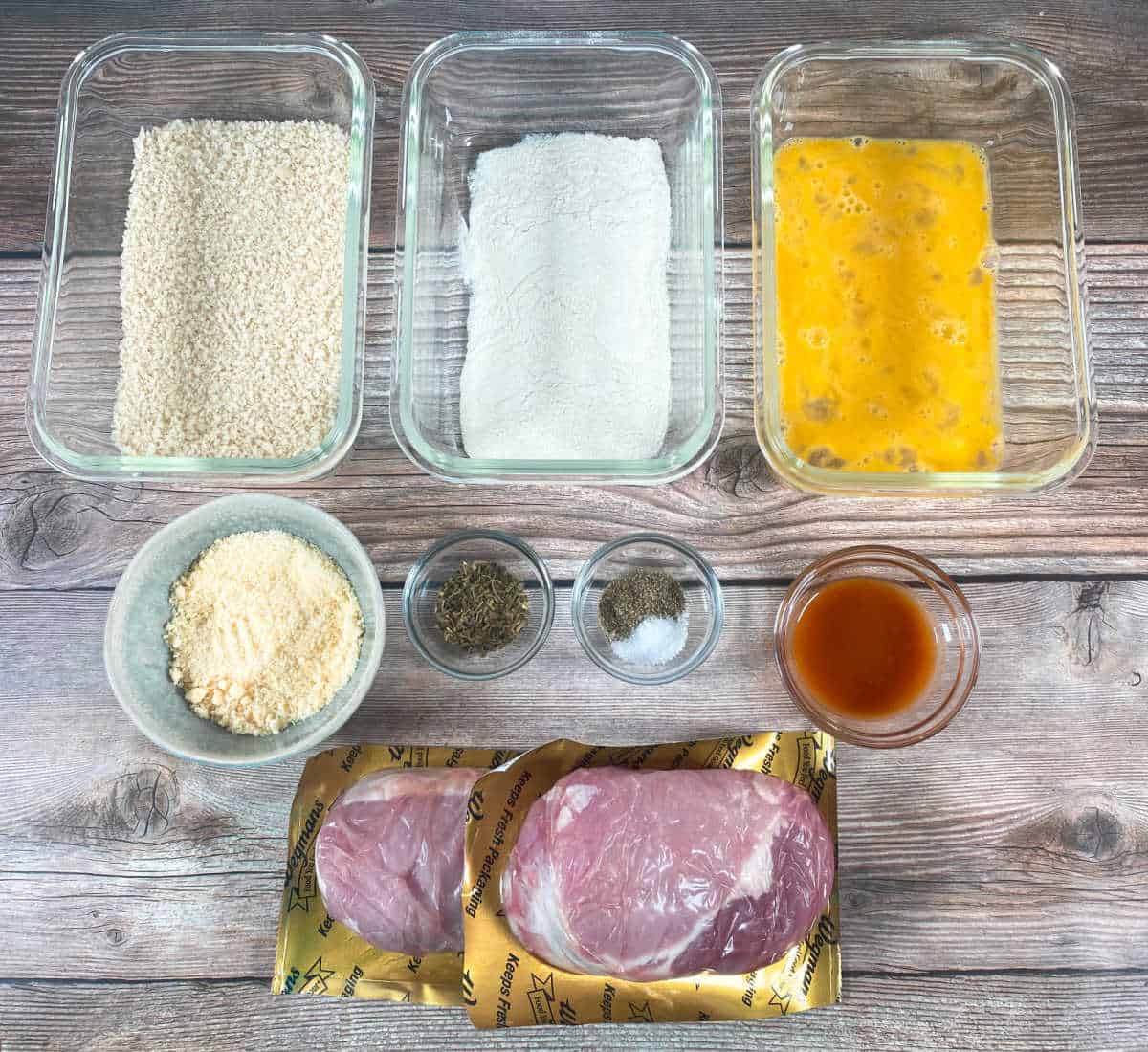 🥘 Ingredients for this recipe
Pork chops
Wondra flour
egg
hot sauce
Panko
Parmesan cheese
Italian seasoning
salt and pepper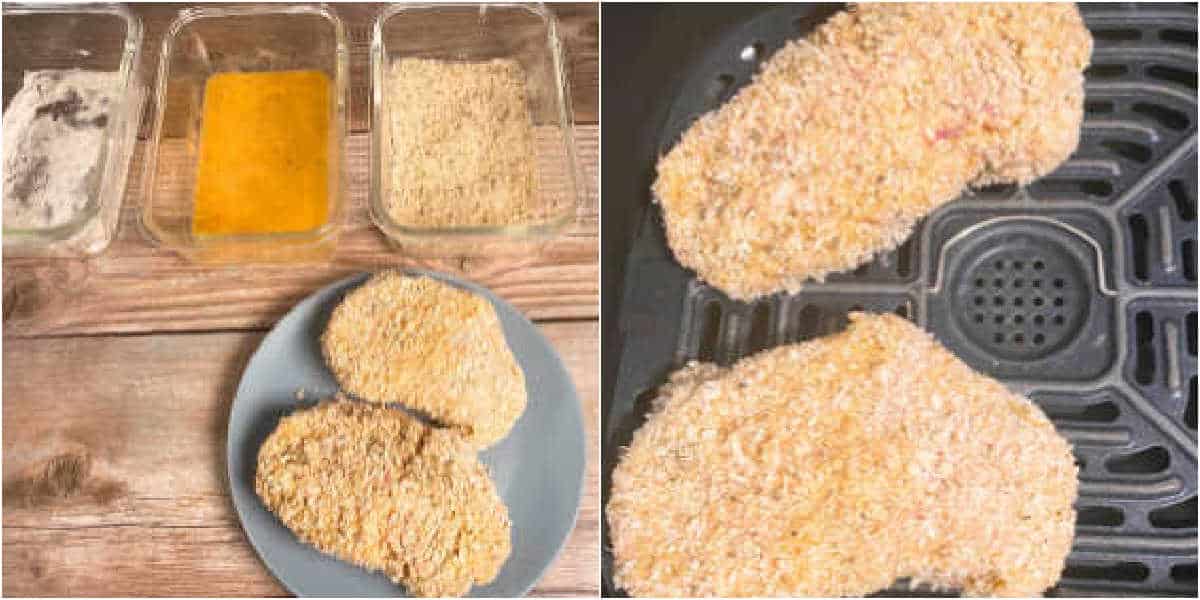 🔪Instructions for this recipe
Start off by preparing your breading ingredients. In one dish add flour, salt and pepper. In the second dish, whisk together an egg and the hot sauce. And in the third dish, combine the Panko with Parmesan cheese and Italian seasoning.
Then get a crust on the pork chops. Pat the pork chops dry with a paper towel. Dip the pork chops into the flour, then spicy egg wash, followed by the Panko.
Finally, cook the pork chops. Air fry the pork chops at 385 degrees for 13-15 minutes, turning over halfway through the cooking process.
What is Wondra Flour?
Wondra flour is cooked and dried, making it drier and more finely ground than all purpose flour. It is lower in protein and protein can hold moisture against the meat when you are breading something – hence soggy breading. Wondra prevents that from happening. Of course, if you only have all purpose flour, you can use that for this recipe.
How do you get breading to stick to pork?
First, make sure you pat off the pork chops with a paper towel. Then dip them in flour, followed by the egg wash and then the Panko. Make sure to shake off the excess flour and excess egg wash before adding to the Parmesan and Panko mixture.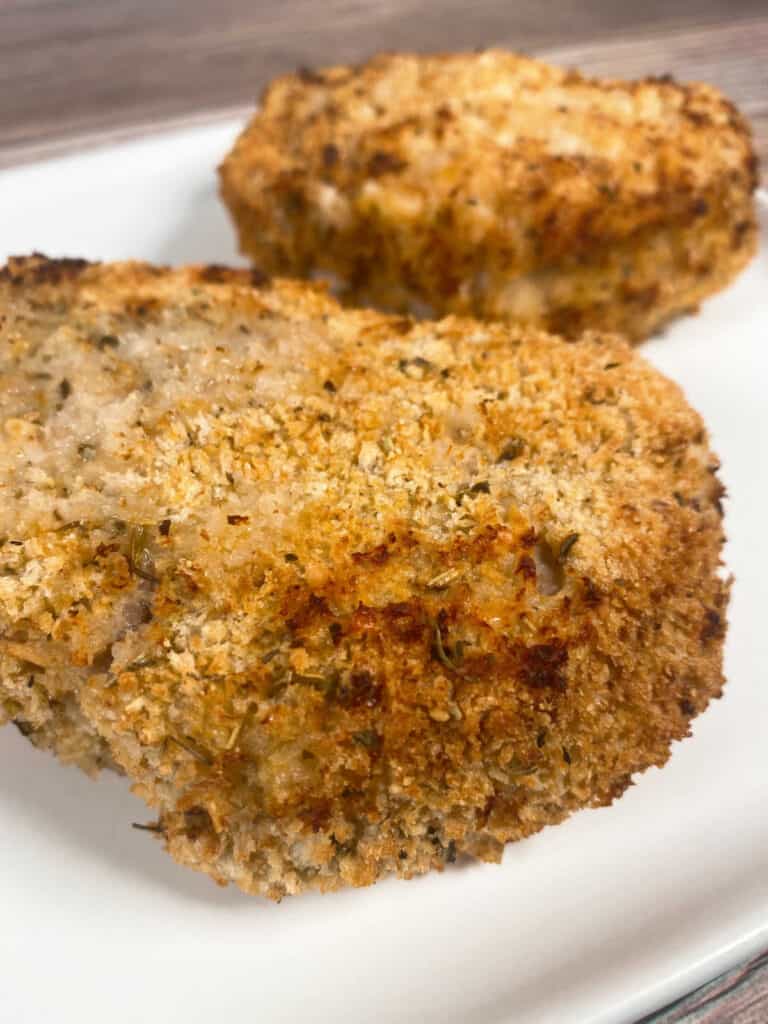 How long does it take to cook pork chops in the air fryer?
It depends on how thick your pork chops are. I like to cook mine at 385 for around 15 minutes, flipping them over halfway through. Pork should be cooked to an internal temperature of at least 145 degrees F. At that temperature the pork will still be juicy and sometimes just barely pink in the center. If you want it fully cooked, aim for 155, which should take about 20 minutes for a 1 inch thick pork chop.
Alternate Cooking Methods:
If you don't have an air fryer, I recommend using a combination of the stove and oven to make this recipe, especially if you have thicker pork chops. Follow the recipe as instructed above, but start by preheating your oven to 350 degrees and lining a baking sheet with foil. Place a cooling rack on top of that and spray it with non stick spray.
Then add just enough oil (canola or vegetable) to a large skillet to cover the bottom. Heat it over medium high heat and once the oil is hot, place the pork chops into the oil. Cook for 3-4 minutes on each side, until nicely browned and crispy. Then transfer to the prepared baking sheet/cooling rack and bake for 12-14 minutes or until they reach at least 145 degrees.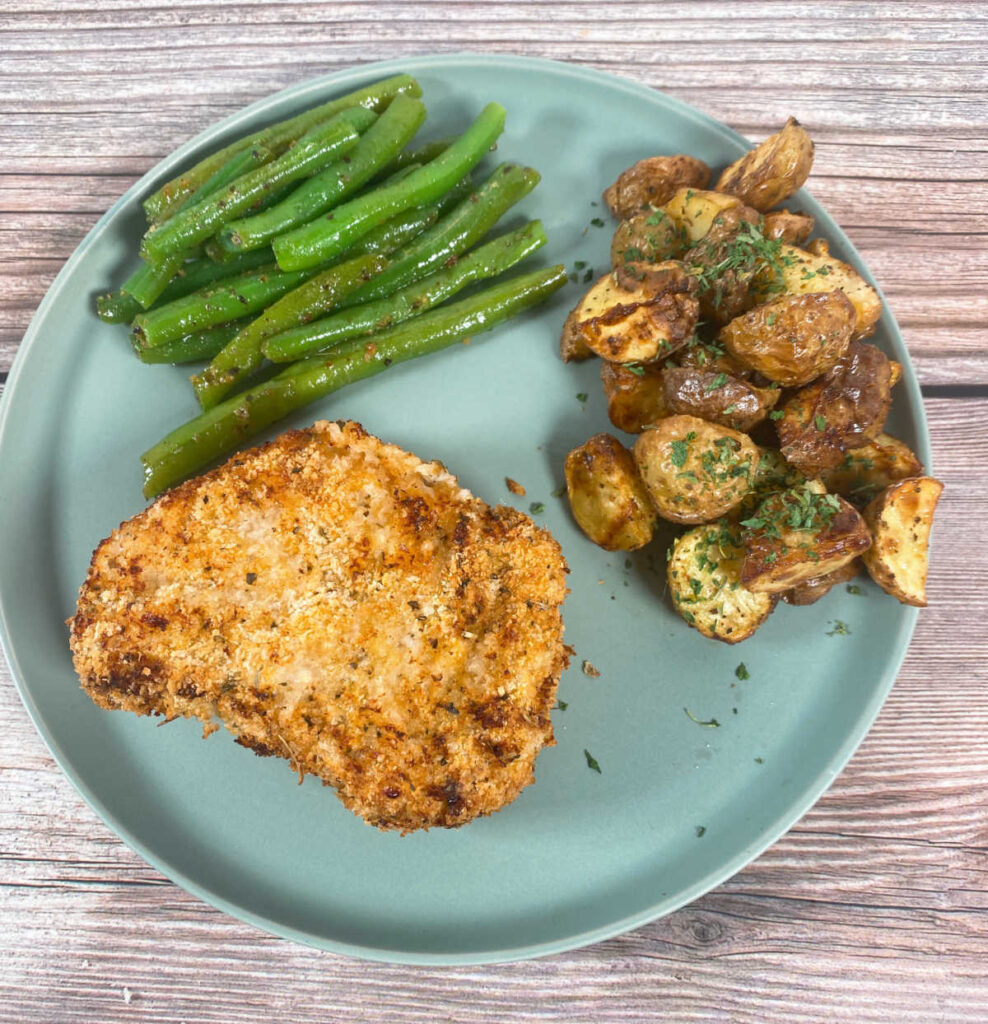 Serving Suggestions
Roasted Potatoes – if your air fryer is big enough, you can cook these with the pork chops!
Multicooker Monday is a group of bloggers who get together and share recipes made in small appliances like air fryers, Instant Pots, slow cookers, etc. Recipes are shared on the third Monday of each month. Here's what the other bloggers made this month:
Multicooker Monday
Recipes using small kitchen appliances
Want to save this recipe for later? Pin it to your favorite Pinterest board and follow me for more delicious recipes!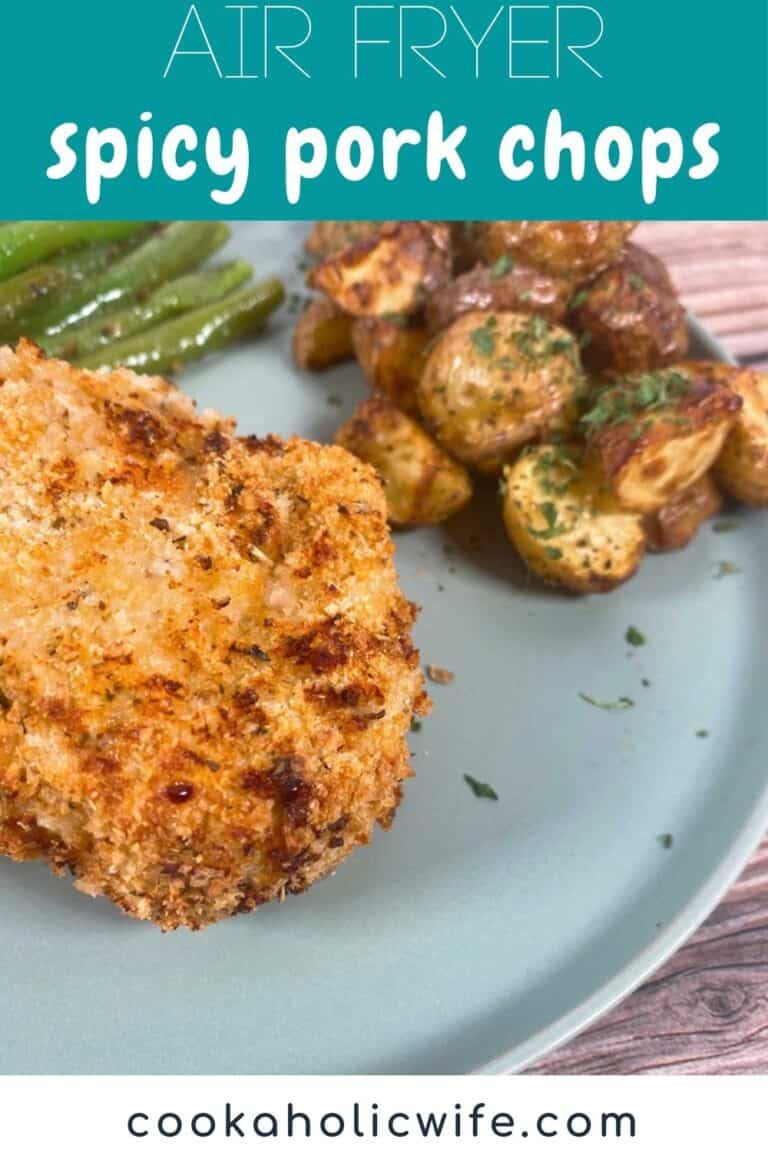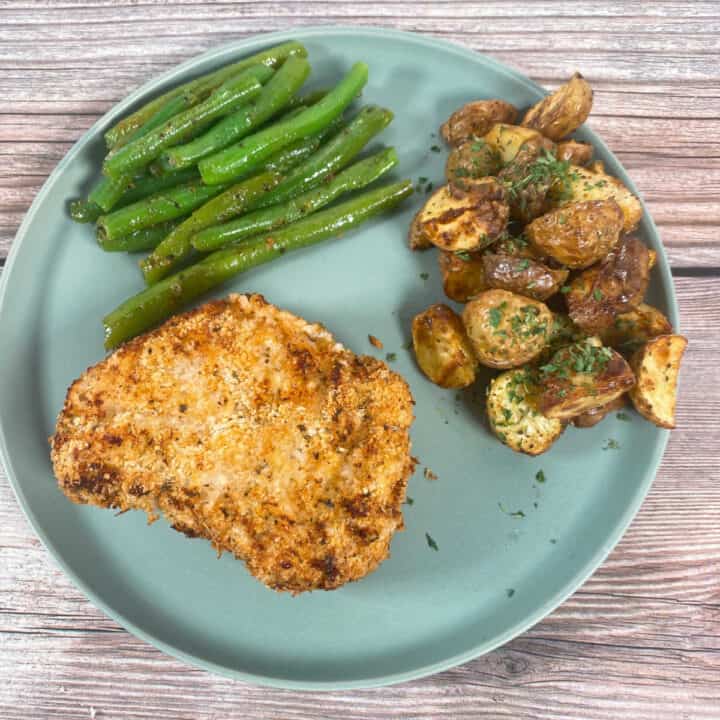 Spicy Parmesan Pork Chops
Spicy Parmesan Pork Chops are spicy, breaded pork chops cooked in the Air Fryer for maximum crispiness and a quick weeknight meal.
Ingredients
2

thick cut pork chops

¼

cup

Wondra flour

1

large

egg

1

tbsp

hot sauce

or more, to taste

½

cup

Panko bread crumbs

¼

cup

grated Parmesan cheese

1

tbsp

Italian seasoning

1

tsp

salt

1

tsp

pepper
Directions
Lay out 3 shallow dishes. In the first dish add the flour, salt and pepper. In the second dish, whisk together the egg and hot sauce. In the third dish, combine the Panko, Parmesan and Italian seasoning.

Pat the pork chops dry with a paper towel. Dip the pork chop into the flour and shake off the excess. Then dip into the egg wash mixture and shake off excess. Finally, dip into the Panko mixture and press on the pork chop to get the bread crumbs to adhere. Place the pork chops on a plate.

Set your air fryer to 385 degrees and allow it to pre-heat if instructed per manual. Once heated, place the pork chops into the air fryer and cook for 10-15 minutes, flipping over halfway through.

Pork should reach at least 145 degrees to be fully cooked. Optionally: before cooking, spritz pork chops with cooking spray to get a darker crisp on them.
Notes
Cooking times may vary depending on brand of air fryer and thickness of pork chop. The pork chops I used were about 1 inch thick. Make sure pork reaches an internal temperature of 145 degrees. 
Nutrition
Serving:
1
chop
Calories:
416
kcal
Carbohydrates:
25
g
Protein:
41
g
Fat:
16
g
Saturated Fat:
6
g
Polyunsaturated Fat:
2
g
Monounsaturated Fat:
6
g
Trans Fat:
1
g
Cholesterol:
194
mg
Sodium:
1736
mg
Potassium:
634
mg
Fiber:
3
g
Sugar:
1
g
Vitamin A:
307
IU
Vitamin C:
5
mg
Calcium:
235
mg
Iron:
4
mg
Recipes on Cookaholic Wife are for information purposes only. Nutritional Data provided has not been evaluated by a nutritionist.